The next NBA season is drawing nearer, and 95% of the offseason business is complete. We still await news on what team Lauri Markannen will play for, and at a certain point, Sam Presti has to reduce his stockpile of draft picks over the next several years.
(The bet here is that he packages as many of them as possible to the team/teams most likely to be in the lottery next year, so that he can increase his chances of landing Gonzaga recruit Chet Holmgren with the No. 1 pick.)
With sports gambling now legal in roughly half of the United States, and coming soon to a bunch of remaining states, it is time for a look at what types of odds are out there on a bunch of different NBA wagers.
We're going to take this team-by-team on this particular Monday, because summer is a time for hope, and hoping for the best is what gets us through all 30 in the NBA. So let's begin.
ATLANTA HAWKS: After the Hawks took a bow at Madison Square Garden following their takedown of the Knicks, we can only wonder what is next for Trae Young. His scoring average actually dropped last season by 4.3 points to 25.3 points per game, but we know he is capable of being a 30-point scorer. If he were to do that, and the Hawks were to improve significantly on last season's 41-31 record, the kid will be in the MVP discussion. Right now his odds range from (+1800) at DraftKings Sportsbook to (+2100) at FanDuel. Also, Nate McMillan is (+1500) to (+1600) to win Coach of the Year.
BOSTON CELTICS: With Brad Stevens now running the front office, Al Horford manning the middle again and Dennis Schroder coming in as a capable backup point guard — Marcus Smart reportedly is expected to be the starter — this is a transitional year for the Celtics, who are listed at 40-1 to win the championship after their .500 (36-36) finish last season. Ime Udoka has been named the 18th coach in the franchise's 75-year history, and coincidentally, he is 18-1 to win Coach of the Year. Jayson Tatum is among the MVP favorites, with the best odds (+3300) available at PointsBet.com.
BROOKLYN NETS: These guys are favored for just about everything, and with good reason. Kyrie Irving and James Harden are expected back healthy, Kevin Durant just won his third Olympic gold medal and Patty Mills has been brought aboard from the San Antonio Spurs. Steve Nash is the co-favorite along with Erik Spolestra for Coach of the Year, and Harden is favored to lead the league in assists. Cam Thomas, the co-MVP of Summer League, has been added to the Rookie of the Year wagering slate with odds all over the board; 60-1 at FanDuel is quite enticing.
CHARLOTTE HORNETS: The team with the reigning Rookie of the Year, LaMelo Ball, had somewhat of a quiet offseason, but made a deal on draft night to acquire Mason Plumlee. The 31-year-old slots in as Charlotte's new starting center. Plumlee was under the radar last season playing in Detroit, but was ranked 64th in VORP (Value Over Replacement Player), just behind Kelly Olynyk and ahead of Jarrett Allen. The Duke grad averaged 10.3 points, 9.4 rebounds and 3.6 assists per game. Plumlee is 200-1 at PointsBet to lead the NBA in rebounding, and despite the addition of Kelly Oubre Jr., PJ Washington can be found at 100-1 odds for Most Improved Player.
CHICAGO BULLS: We told you Saturday that bettors are pounding the Bulls on the season win total Over/Under like no other NBA team, because big things are expected from the team that acquired Lonzo Ball, DeMar DeRozan and Alex Caruso. There are two enticing wagers here. Patrick Williams, entering his second season after averaging 9.2 points and 4.6 rebounds per game as a rookie, is 100-1 for Most Improved Player at PointsBet.com. And Billy Donovan, about to enter his second season at the helm, is 10-1 for Coach of the Year at DraftKings, putting him just behind Steve Nash and Erik Spoelstra (both 9-1).
CLEVELAND CAVALIERS: Jarrett Allen ranked 13th in defensive rebounds and 10th in blocks last season. His defensive win share stats are low, but he will be playing a full season with the Cavs after signing long-term in the offseason, and a bump in rebounds from the 9.9 boards he averaged in 51 games for the Cavs last season could get him into the Defensive Player of the Year debate. He is 40-1 at PointsBet for Defensive Player of the Year and 30-1 to lead the league in rebounds.
DALLAS MAVERICKS: Perhaps Jason Kidd can find a way for Luka Doncic (the consensus MVP favorite) and Kristaps Porzingis to thrive together in a loaded Western Conference. Kidd is 15-1 to win Coach of the Year, but the most intriguing wager here is Moses Brown — who played with Oklahoma City last season before being traded this offseason to Boston and rerouted to Dallas — to lead the league in rebounding. Yes, Luka Doncic normally leads the Mavs in boards, so this is like the ultimate flyer bet. But if it hits, those who took Moses at (+7000) could name their new boat "Mark Cuban bought me this yacht." (Clint Capela of Atlanta is the rebounding favorite, by the way). Doncic is second behind Bradley Beal to lead the NBA in scoring, and fourth behind James Harden, Russell Westbrook and Trae Young to lead the league in assists (+600).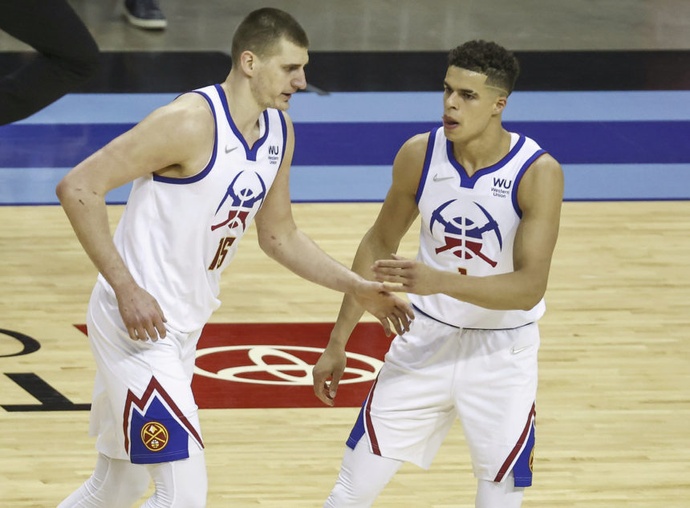 DENVER NUGGETS: Nikola Jokic is the defending MVP, but is not the favorite (Doncic is) to win Most Valuable Player this season. Michael Porter Jr. is the favorite for Most Improved Player; in my opinion, Porter should have received stronger consideration last year. If you like players with the same first and last name, Bol Bol is almost dead last on the futures page for Most Improved Player at PointsBet with odds of (+100000). Only Andrew Wiggins (+250000) has longer odds.
DETROIT PISTONS: For obvious reasons, Cade Cunningham is the top choice for Rookie of the Year. But that race is up for grabs, as a good young player on a terrible team can break out over the course of the regular season and outperform someone who was taken quite a few spots higher. This is one of the few awards where a team's final record plays little role in who wins the award. It is purely stat-driven. For that reason, look for players whose time on the floor is high. Signed by Detroit this summer, Kelly Olynyk was a beast for the Houston Rockets after they acquired him from Miami, and he should get lots of burn behind Isaiah Stewart at center and Jerami Grant at power forward. That makes him an enticing pick for Sixth Man of the Year at odds of 66-1 at PointsBet.com.
GOLDEN STATE WARRIORS: Before the NBA rechristened it Most Improved Player, the award was known as Comeback Player of the Year. And if that was still the case, all we would be discussing in this category would be Klay Thompson, who is two seasons removed from playing competitive hoops. None of the major U.S sportsbooks even list him in that category, but FanDuel has him at (+150000) for Most Valuable player. Nobody is listing odds on James Wiseman for Most Improved, and in Rookie of the Year odds, Jonathan Kuminga is listed highest at Fan Duel at (+3400). Moses Moody is (+6600) at PointsBet.com.
HOUSTON ROCKETS: Jalen Suggs is second behind Cunningham for Rookie of the Year, and Kevin Porter Jr. is on the board for Most Improved Player at various odds, the best of which are (+1400) at FanDuel and PointsBet. Christian Wood is (+9000) to lead the league in rebounding.
INDIANA PACERS: Rick Carlisle is the new head coach after the Nate Bjorkgren fiasco, and we shall see what he can do with one of the most underachieving teams in the NBA last season. He is (+1600) to win Coach of the Year, Domantas Sabonis is (+700) to lead the league in rebounding, Myles Turner is (+700) to win Defensive Player of the Year and Malcolm Brogdon is 130-1 for Most Improved Player at FanDuel. The best Rookie of the Year odds on Chris Duarte are (+4600) at FanDuel.
LOS ANGELES LAKERS: LeBron James did not receive any votes from his peers for best NBA player, so that may just fuel him. He is not a favorite anymore for MVP, and the best odds you can find on him in that category are (+1500) at DraftKings, where Anthony Davis is also listed at (+2500). Kendrick Nunn is (+2000) on the board for Sixth Man of the Year, and Frank Vogel is (+1400) for Coach of the Year at BetMGM. One of the biggest line disparities involves Davis for Defensive Player of the Year. He is the (+350) favorite at FanDuel and the fourth choice (+1000) at BetMGM.com.
LOS ANGELES CLIPPERS: With Kawhi Leonard likely out for most of the season with an ACL injury, there is just not a lot of buzz around the secondary tenants at Staples Center. Paul George is going to have to be the leader of this team, and his MVP odds are alluring. He is (+4000) at Caesars/William Hill and lower everywhere else. Keon Johnson is (+6600) at PointsBet.com for Rookie of the Year, but much lower elsewhere.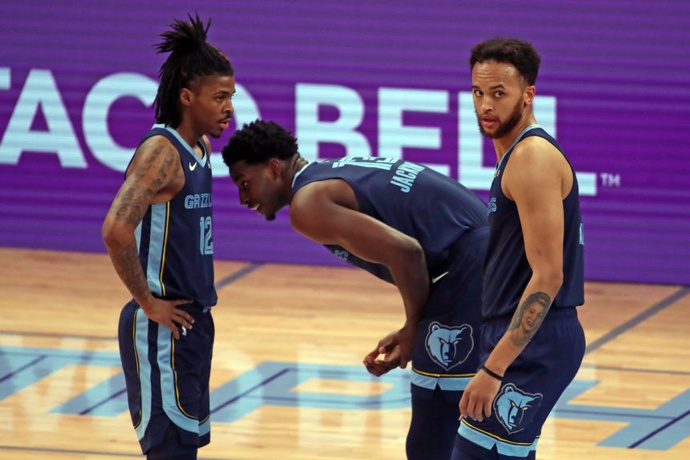 MEMPHIS GRIZZLIES: Theoretically, Memphis could do what Phoenix did last year and sneak up on everybody, and the Grizzlies are 50-1 to win the West. Individually, this very young team has one decent sleeper pick in Jaren Jackson Jr. for Most Improved after he played only 11 games last season. He is listed between 14-1 and 16-1 at various books. Ja Morant is in the 45-1 range for MVP.
MIAMI HEAT: We have already mentioned that Spoelstra is one of the heavy favorites for Coach of the Year, so if you really want an interesting flyer wager, you could do a lot worse than Jimmy Butler at 55-1 for MVP and Kyle Lowry at 300-1 — not a misprint — for the same award. The only player with somewhat of a chalk line is Duncan Robinson at 11-1 to lead the league in three-pointers made per game. (Steph Curry is a nutso favorite with a line of (-165)).
MILWAUKEE BUCKS: It is safe to say that Giannis Antetokounmpo is in the mix for a third MVP award if he can stay healthy and make free throws without setting the knee-knocking record, and he is on the board at odds of 8-1 pretty much everywhere. Defensive Player of the Year awards do not usually go to on-ball defenders, but we all got a close look at how good Jrue Holiday is in that category during the NBA Finals and the Olympics. Holiday is (+2700) in that category at FanDuel, and (+3000) everywhere else. Pat Connaughton, who had a nice postseason, is 100-1 for Sixth Man of the Year at PointsBet.com. Nobody has him listed for Most Improved.
MINNESOTA TIMBERWOLVES: OK, we scrape the back of the brain for something nice to say. They did not have a first- or second-round draft pick, so Rookie of the Year is sort of out of the question. Karl-Anthony-Towns is (+9000) to win MVP, and that probably isn't happening unless he gets traded. And with that, we have run out of nice things to say.
NEW ORLEANS PELICANS: This revamped roster includes Devonte' Graham as the team's new point guard, and if he gets extremely good at lobbing he ball to Zion Williamson and Jonas Valanciunas — and finding Brandon Ingram — he might just lead the NBA in assists. If you think that is a realistic possibility, you seem to be alone. No sportsbook lists Graham among the contenders to lead the league in assists. The best you can do is (+6000) on him at PointsBet for Most Improved. Zion Williamson's MVP odds are 40-1 pretty much everywhere.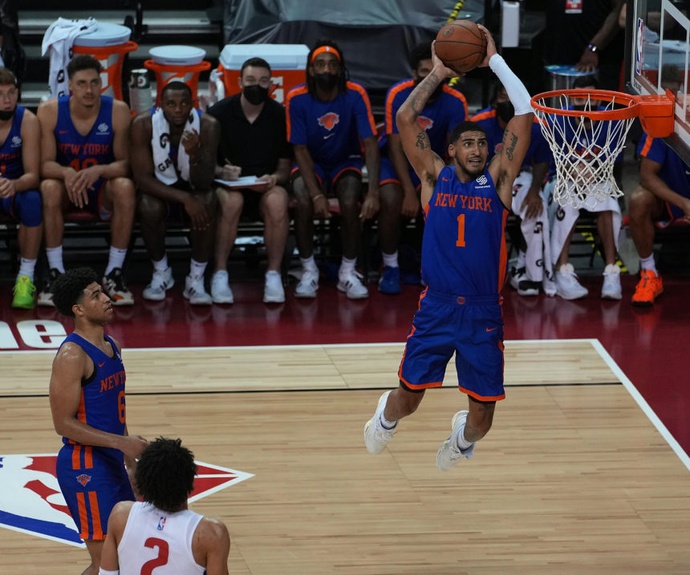 NEW YORK KNICKS: Obi Toppin is coming off a heck of a Summer League, so he has to be in consideration for Most Improved Player if Tom Thibodeau believes in him. He was Player of the Year two years ago in college, so the talent is there. Problem is, the best MIP odds on him are nowhere to be found. He is not listed at any of the major U.S. sportsbooks. For true believers in the orange and blue, Kemba Walker is 400-1 for MVP at DraftKings.
OKLAHOMA CITY THUNDER: Because Shai Gilgeous-Alexander may as well play 48 minutes per game and average 59 points per game until Sam Presti realizes he is damaging his tanking chances, he is a nifty flyer bet at 100-1 (DraftKings) to lead the NBA in scoring.
ORLANDO MAGIC: Do not bet on the Orlando Magic in the futures market, okay? Well, alright, we will give you one thing to consider. Markelle Fultz, back after missing all of last season, is (+8000) for Most Improved Player at DraftKings — though we'll see what his role looks like in a crowded backcourt.
PHILADELPHIA 76ers: A mystery team until we find out what they plan to do with Ben Simmons. Joel Embiid was a worthy runner-up for MVP last season, and he is again atop the list of favorites. Curiously, Embiid is 25-1 to lead the league in rebounds while his backup, Andre Drummond, is 20-1. Seth Curry is 80-1 for Most Improved Player, but is not on the board for most three-pointers made per game.
PHOENIX SUNS: The second-place finishers in the NBA Finals are returning pretty much the same cast, with Devin Booker (20-1) listed way ahead of Chris Paul (100-1) in MVP odds. One intriguing possibility is Deandre Ayton for Most Improved, because he did not receive enough of the credit last season for this team's success despite shooting 62.2% in his third NBA season. It's hard to see him improving on that percentage, but should Ayton get into the 70% territory (only Wilt Chamberlain, DeAndre Jordan and Mitchell Robinson have done so), Most Improved could be within his sights. The best odds on that are (+4500) at DraftKings.
PORTLAND TRAIL BLAZERS: Chauncey Billups has the same odds (30-1) as Willie Green of the Pelicans to win Coach of the Year. Both are being put in charge of taking their teams to the next level, and Billups has the better team, in my opinion. Damian Lillard is a top-six choice for MVP everywhere except PointsBet, where he is eighth at (+1600). Robert Covington, the Patrick Beverley of forwards, is 100-1 to win Defensive Player of the Year.