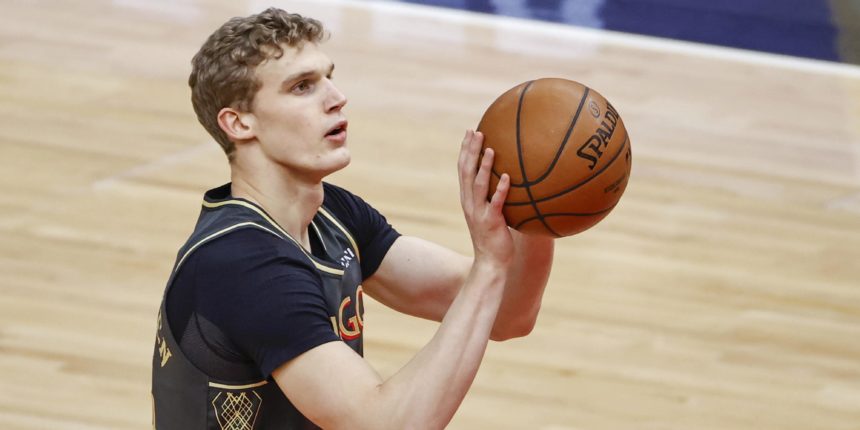 Examining potential free-agency destinations for Lauri Markkanen
NBA free-agency activity fizzled out after many teams spent all of their available cap space. However, there's one situation that may not be resolved anytime soon: Lauri Markkanen and the Chicago Bulls are in a stalemate over his impending future.
Markkanen's restricted free agency has been a nightmare for the seven-foot Finnish big. Many teams pivoted to other options once Markkanen overvalued his worth on the open market. The fact that the Bulls could match any offer sheet for the 24-year-old likely scared some teams away too.
The Charlotte Hornets were very interested in Markkanen, reportedly preparing an offer sheet for the Bulls' power forward. At the last minute, Charlotte went in a different direction and signed Kelly Oubre Jr. to a two-year deal. The San Antonio Spurs also poked around and inquired about Markkanen, but decided against bringing him onboard in the DeMar DeRozan sign-and-trade with Chicago.
During the 2017-18 season, Markkanen flashed as one of the best rookies in the 2017 NBA Draft class. Averaging 15.2 points and 7.5 rebounds in just under 30 minutes per game, while shooting 36.2% on three-pointers, Markkanen looked the part of an eventual long-term building block for the Bulls. However, over the last three years, the former No. 7 overall pick hasn't shown much else.
His averages over the last three seasons have been nearly identical to his rookie year: 15.7 points, 6.9 rebounds and 36.9% from three in 29.3 minutes. Although the former Arizona Wildcat finally improved his three-point efficiency in 2020-21 (shooting 40.3% from deep), he's become stagnant everywhere else. Is Markkanen worth over $15 million per year as a floor-spacing stretch big who is a subpar rebounder and even worse defender? The quick answer is no, and teams seem to agree judging by how they've approached the early stages of Markkanen's free agency.
Chicago is willing to let Markkanen exit, but they're playing hardball. The Bulls want a future first-round pick while also not taking salary back in a potential sign-and-trade scenario. This not only limits the pool of teams, but it also requires the franchise that wants Markkanen to give up additional draft capital they may not want to relinquish.
At this moment, a return for Markkanen to the Windy City for his fifth season is certainly on the table. Markkanen's qualifying offer is $9 million, so this could be a scenario where he signs the dotted line, then becomes an unrestricted free agent next offseason.
However, if Markkanen eventually gets his wish with a fresh start elsewhere, which teams make the most sense for him? Let's explore several possible landing spots.
DALLAS MAVERICKS
If a team wants to get involved in a sign-and-trade for Markkanen, they need to have one of these two things: a traded player exception (TPE) or salary-cap space. At this point, there are very few teams with enough wiggle room to give Markkanen an annual salary above $10 million, so the TPE could be the best bet to make a move occur.
Dallas certainly fits the billing, as they own a $10.9 million TPE. Does Markkanen want to sign a three-year deal that pays just $1.9 million more than his qualifying offer? Unless he's dead set on never returning to Chicago, it's not the best financial move for Markkanen.
If the Mavericks want to acquire Markkanen while saving their TPE, they would need to offload Dwight Powell's $11 million salary for 2021-22 plus another piece. For example, to meet the Bulls' own demands, Dallas sends Chicago a heavily protected future first-round pick, while a team willing to absorb big salary (like the Oklahoma City Thunder) takes on Powell, plus whatever else, while also receiving their own draft compensation for the courtesy.
In terms of fits for Markkanen, Dallas certainly stands out as the best one remaining. With the potential to start alongside Kristaps Porzingis at power forward, Markkanen would play a low-usage role as a floor-spacing big who can open up the floor even further for Luka Doncic. The defensive fit between Markkanen and Porzingis is potentially horrific, but the offense could be bolstered even further with the Finnish product's arrival.
NEW ORLEANS PELICANS
New Orleans currently possesses the largest traded player exception in the NBA after offloading Steven Adams and Eric Bledsoe in a draft-day trade with the Memphis Grizzlies, and they can use their $17.1 million TPE to absorb Markkanen for a price that works for both sides.
The Pelicans need to keep adding perimeter shooters alongside Zion Williamson and Brandon Ingram. Right now, there's not enough. Although they acquired Devonte' Graham via sign-and-trade, plus drafted sharpshooting wing Trey Murphy III at No. 17 overall, they need to keep adding more to their arsenal. Markkanen would certainly provide fit in that role, coming off the bench in the Bayou for around 25 minutes per game.
Jonas Valanciunas will be the starter alongside Williamson in the Pelicans' frontcourt, but Markkanen could be primed to slot in as an eventual starter down the road. The fit between Williamson and Markkanen is actually really solid, especially if the Pelicans' former No. 1 overall pick is able to emerge as a rim protector like he showed in college.
BOSTON CELTICS
Markkanen in Boston would certainly be an intriguing scenario. Operating as a floor-spacing reserve big, Markkanen would provide another scoring punch to a retooling Celtics roster that's banking on further internal development from their fortified young core.
Boston only has a $9.7 million TPE at their disposal, which means they would need to get creative to fit Markkanen on their books. Josh Richardson, who was recently acquired from Dallas, best fits the salary-matching requirement to make a complicated Markkanen sign-and-trade work. Richardson is eligible to be traded again on August 19.
Adding Richardson's $11.6 million alongside another piece on their roster, for example Grant Williams at $2.6 million, gives Markkanen close to his desired annual value. Dumping Richardson and Williams onto a team like Oklahoma City makes this three-team scenario work for all sides. (However, it remains to be seen if Boston would be willing to part with Richardson and Williams to land Markkanen.)
If Boston decided to pull the trigger, the rotation would look like this after adding Markkanen:
Starters: Marcus Smart, Jaylen Brown, Jayson Tatum, Al Horford, Robert Williams
Second Unit: Dennis Schroder, Romeo Langford, Aaron Nesmith, Lauri Markkanen, Enes Kanter
That's a legitimate 10-man rotation, including a nice mix of versatility off the bench for the Celtics. Keep an eye on Boston as a dark-horse destination for an eventual Markkanen sign-and-trade.
MINNESOTA TIMBERWOLVES
How ironic would it be for Markkanen to end up with the organization that initially drafted him? When Markkanen walked across the stage on draft night, he donned a Timberwolves hat, and then he and Zach LaVine were dealt to the Bulls as part of the Jimmy Butler blockbuster trade. Maybe we'll see a pseudo reunion in the cards soon? Minnesota has reportedly showed interest in the 24-year-old.
Minnesota possesses no TPE, so they would need to offload salary to a third team to meet Chicago's negotiation price. Luckily for the T-Wolves, they have a few different scenarios to make a Markkanen sign-and-trade occur. The first one revolves around Taurean Prince's $13 million expiring, which is eligible to traded again on August 18. Another example features Jarrett Culver and Juancho Hernangomez, combining to make $12.4 million next season.
Whichever direction Minnesota decides to go, they can make a Markkanen deal happen (defense be damned). Adding Markkanen alongside Karl-Anthony Towns, D'Angelo Russell and Anthony Edwards would give Minnesota quite possibly the worst quartet ever assembled defensively.
There's a chance Markkanen could start for the Timberwolves or come off the bench behind ascending prospect Jaden McDaniels, who's a better complement alongside Towns in frontcourt combinations. Markkanen would provide a nice scoring boost for Minnesota, likely sliding in as their sixth man of the future.
OKLAHOMA CITY THUNDER
Mentioned multiple times already in this exercise as a potential dumping ground to make complicated sign-and-trade scenarios work, would the Thunder actually be interested in Markkanen themselves? It's an interesting thought, especially when you realize they can outright sign him without issue or use their $12.8 million TPE in a trade. With 35 draft picks over the next five years, maybe they value Markkanen enough to relinquish one to pair him alongside Shai Gilgeous-Alexander?
The Thunder are creating an all-in scenario revolving around high-upside swings in the draft featuring boom-or-bust prospects like Aleksej Pokusevski, Darius Bazley, Theo Maledon and Josh Giddey. Bringing at least an established presence on board could provide a win in the short and long-term for Oklahoma City. If Markkanen is able to reach his near-ceiling outcome eventually, Oklahoma City would have a nice scoring combination in their starting lineup.
Does Thunder GM Sam Presti even want to get involved in the Markkanen sweepstakes, though? That's the big question. The more likely scenario involves Presti adding more picks to his ever-growing collection of future draft capital thanks to Markkanen being shipped off elsewhere.