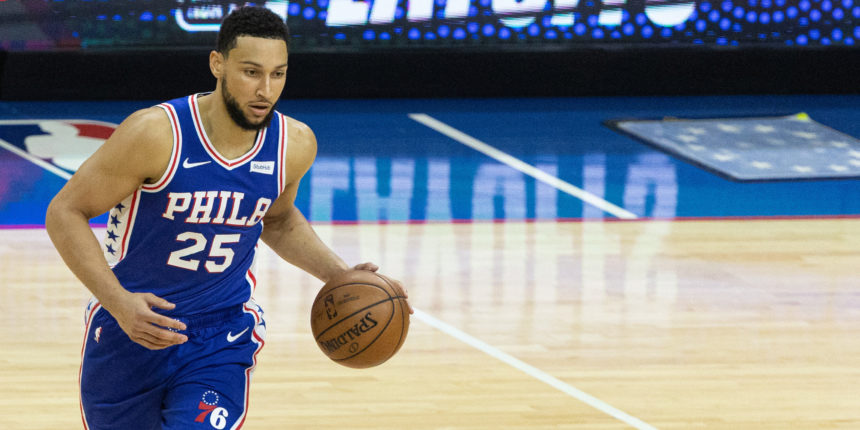 Examining potential trade destinations for Ben Simmons
The biggest offseason domino yet to fall is Philadelphia 76ers point guard Ben Simmons.
Coming off a forgetful playoff run where he seemed allergic to having the basketball in his hands late in games, Simmons and the Sixers are at a crossroads. Will the 25-year-old max All-Star stay in Philadelphia, or will he be shipped off elsewhere before the 2021-22 season begins?
Last season, Simmons averaged a career-low 14.3 points to go along with 7.2 rebounds and 6.9 assists. However, he's been a plus-defender his entire career; there's no denying the impact he has on that end of the floor. Coming off two consecutive seasons in which he was named to the All-Defense First Team, any organization should be able to utilize the jumbo-sized, uber-athletic point-forward on both offense and defense.
However, it's fair to wonder whether Simmons can reach his full potential in a Sixers uniform. With Joel Embiid, Simmons isn't utilized as a post-passing savant who can abuse mismatches against slower-footed bigs. In an offense built entirely around Simmons, he could flourish with more freedom.
Simmons is an interesting case study for star-caliber players on massive salaries. With his trade value at an all-time low, Philadelphia is still asking for an enormous return — four first-round picks and an All-Star has been reported. Nobody will give Sixers GM Daryl Morey that much value in any Simmons deal, so what makes sense in a potential package?
Let's go ahead and take a look, name some teams that should be calling Philadelphia and assemble some trade packages.
SACRAMENTO KINGS
The pressure is on for Sacramento to finally field a winning team and snap their 15-year playoff drought. Whether it be Simmons or Pascal Siakam, I've suggested that the Kings finally push their chips into the middle of the table for an aggressive win-now move.
Simmons would be the perfect piece to fit into their puzzle alongside De'Aaron Fox and Tyrese Haliburton. The Kings' backcourt duo had a positive net rating last season, and adding Simmons to the mix gives them a very fun playmaking trio that can play off one another.
Playing the four alongside Richaun Holmes provides little spacing, but Simmons could become the de-facto primary ball handler with Fox and Haliburton providing spacing around the perimeter. A potential starting unit featuring Fox, Haliburton, Harrison Barnes, Simmons and Richaun Holmes could hold up on both ends of the court.
Philadelphia receives: Buddy Hield, Marvin Bagley III, two first-round picks
Sacramento receives: Ben Simmons
MINNESOTA TIMBERWOLVES
In a similar position as Sacramento, Minnesota could rise in the Western Conference with an impact move. Karl-Anthony Towns is a bonafide superstar, while Anthony Edwards has great potential. Tossing Simmons into the Timberwolves' lineup would be exactly how they can become a more well-rounded team.
The question is, would Minnesota pull the trigger on trading Towns' good friend D'Angelo Russell? If so, Minnesota's new Big 3 would be outstanding.
Imagine the endless possibilities with Simmons flanking Towns and Edwards. The Wolves' primary scoring duo could still have their way offensively, but Simmons would be the glue holding everything together from a playmaking and defensive standpoint.
Philadelphia receives: D'Angelo Russell, Jaden McDaniels, future first-round pick
Minnesota receives: Ben Simmons
SAN ANTONIO SPURS
What exactly are the Spurs up to right now? Signing Doug McDermott and Bryn Forbes, San Antonio might be picturing a scenario where they are good enough to push for the playoffs. The strategy for San Antonio should revolve around tanking and focusing on the internal development of their young core.
However, if the Spurs want to make one more big push before head coach Gregg Popovich's presumed retirement, maybe a Simmons trade could go down.
San Antonio has a strong ecosystem in which Simmons could rebuild his value. Surrounded by plus three-point shooters, Simmons can reach his ceiling in a role where everything is built around his strengths.
Philadelphia receives: Dejounte Murray, Lonnie Walker, Thaddeus Young, future first-round pick
San Antonio receives: Ben Simmons
GOLDEN STATE WARRIORS
Would the Warriors even be interested in Simmons? It's a real question to ask with Draymond Green already playing a similar role. However, as Green ages, he's the perfect mentor for Simmons to learn from.
Golden State has one big move left up their sleeve with Andrew Wiggins' contract and a lot of young prospects — James Wiseman, Jonathan Kuminga, Moses Moody and Jordan Poole. Surely they have their eyes on All-NBA talents such as Damian Lillard and Bradley Beal, but Simmons could be the most realistic player to add with their current collection of assets.
Imagining Simmons flanked by Stephen Curry and Klay Thompson is a fun exercise, too. Maybe down the line, this is the type of environment where Simmons could become a player where the offense is adequately spaced for him to feast on drives to the basket.
Philadelphia receives: Andrew Wiggins, James Wiseman, Jordan Poole, two future first-round picks
Golden State receives: Ben Simmons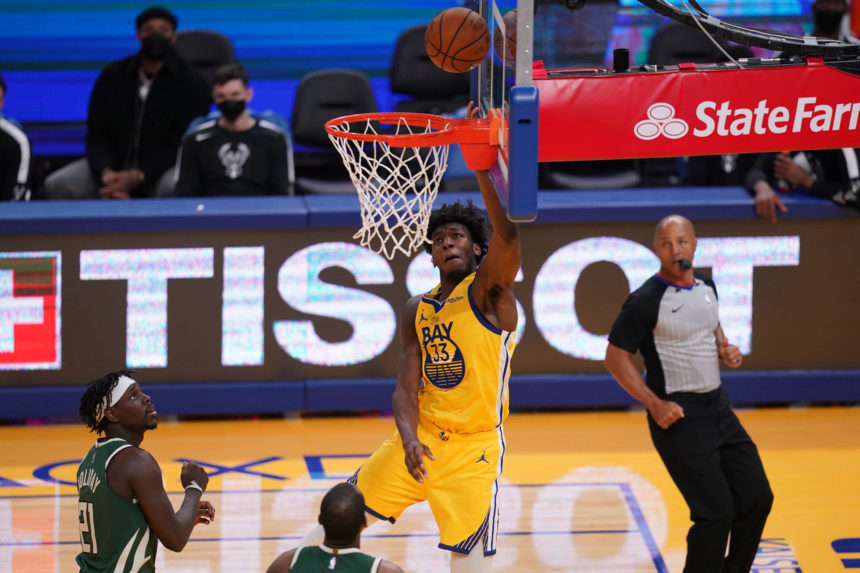 WASHINGTON WIZARDS
One team that has finally tried to build around their star the right way is Washington, which is set to give Bradley Beal a competent roster for the 2021-22 season. However, Beal is entering the final year of his deal.
Would Simmons work well alongside Beal? That's a legitimate concern, but a home run swing that could be necessary for Beal to commit long-term in the nation's capital.
Simmons and Beal flanked by shooters and prospects is a nice foundation for Wizards GM Tommy Shepard to build around for the next five-plus years.
Philadelphia receives: Davis Bertans, Kyle Kuzma, Deni Avdija, two future first-round picks
Washington receives: Ben Simmons
TORONTO RAPTORS
Another team facing a fork in the road with their current roster construction, Toronto has to decide on what happens with Pascal Siakam. Will Toronto keep Siakam around with their young core, or flip him for more long-term value?
If the Raptors want to make an aggressive win-now push while also offloading Siakam, enter Simmons.
A potential lineup of Simmons with Fred VanVleet, OG Anunoby, Scottie Barnes and Precious Achiuwa sounds like something Toronto would love to try.
Is Simmons open to moving across the border? If so, this could be a win-win deal for both sides as they begin new eras for their respective organizations. Siakam and Embiid is a terrifying frontcourt for Philadelphia, and the duo would allow Tobias Harris to slide back into the small forward position. Meanwhile, Toronto brings Simmons aboard as their new face of the franchise with a solid young nucleus surrounding him.
Philadelphia receives: Pascal Siakam
Toronto receives: Ben Simmons
INDIANA PACERS
No surprise, Indiana is another team that could be staring down the barrel of important, franchise-altering decisions within a year. The Pacers have a great, well-balanced roster that's been plagued by injuries over the last few seasons. T.J. Warren, who broke out in a huge way during the Orlando Bubble, only played four games during the 2019-20 campaign. Caris LeVert missed time due to a cancerous tumor that was discovered after the James Harden trade. Myles Turner and Malcolm Brogdon continue to miss time here and there due to various injuries, not helping remove the "injury-prone" labels placed on them in the past.
Rick Carlisle is making a triumphant return to Indiana after more than a decade, and the Pacers feel a coaching switch and better health might be their best bet to jump up another rung in the Eastern Conference standings.
Indiana has sniffed around Simmons' availability already this offseason, though. Having a tough time being able to pitch top free agents on coming to Indianapolis, making an aggressive trade might be the only way for it to happen.
Although one of Myles Turner or Domantas Sabonis would need to be moved to a third team in this hypothetical scenario, Indiana going star hunting could be the necessary tweak to change their long-term fortunes.
Philadelphia receives: Malcolm Brogdon, Jeremy Lamb, two future first-round picks
Indiana receives: Ben Simmons
CLEVELAND CAVALIERS
After drafting Evan Mobley No. 3 overall in the 2021 NBA Draft, Cleveland has a bright, young core. Darius Garland, Mobley, Jarrett Allen, Isaac Okoro and Collin Sexton will be fun to watch, but do all of the pieces actually fit together? The Cavaliers have reportedly shopped Sexton this offseason with a big-money extension potentially waiting for him in 2022. Cleveland prefers Darius Garland, who has continued to develop in his first two seasons. Being able to play off the ball as well, Garland has already shown the ability to function alongside another primary ball handler.
Kevin Love is the odd man out of Cleveland right now, but a buyout doesn't seem to be on the horizon; he has two years remaining on his extension.
Could Philadelphia and Cleveland build a win-win package around Simmons for Love and Sexton? It's a long-shot, but one that might have already been explored. Longtime NBA insider Marc Stein mentioned earlier this offseason that Cleveland is another team who has previously expressed interest in acquiring Simmons.
A core in Cleveland consisting of Simmons, Garland, Mobley, Allen and Okoro is something that's at least intriguing on surface level.
Philadelphia receives: Kevin Love, Collin Sexton, two future first-round picks
Cleveland receives: Ben Simmons
PORTLAND TRAIL BLAZERS
This is Portland's last chance to build a Finals contender around Damian Lillard. So far this offseason, they haven't come close. Re-signing Norman Powell was a necessary step, but retooling their bench with Cody Zeller, Tony Snell and Ben McLemore won't get it done.
The Blazers are stuck in the middle, which is the worst place to be. With that being said, it's time to finally break up the Lillard, C.J. McCollum backcourt. Whether it be Simmons or Siakam, Portland needs to finally make an aggressive push to appease their disgruntled superstar.
A deal revolving around Simmons and McCollum makes sense for both parties. McCollum can function as a score-first combo guard who can play well off Embiid, while Simmons provides a beautiful blend of playmaking and defense alongside Lillard.
Philadelphia receives: C.J. McCollum, Nassir Little, two future first-round picks
Portland receives: Ben Simmons
Simmons' future is the biggest question remaining in an already eventful 2021-22 offseason. Odds are, he'll be moved to the highest bidder. Perhaps it'll end up being one of the aforementioned teams.