There were 229 minutes in which Raptors forward OG Anunoby was on the floor without Kyle Lowry and Pascal Siakam last season.
Lowry, as he had been for several years, was the offensive engine. The transition pusher, floor general, pick-and-roll initiator. Siakam was the hesi-pulling, cross-to-spinning Top Dawg tasked with carrying the primary scoring load.
In those 229 minutes without them, the Raptors were roughly neutral in terms of net rating, per PBP Stats (plus-0.6). But in the case of Anunoby, we saw a natural shift in role.
He didn't become a primary initiator — he often shared the floor with at least one of Fred VanVleet or Malachi Flynn, and often both — but he was tasked with more on-ball responsibility.
The occasional post-up. A pindown that would lead into a ball screen. Some "hand-back" action in early offense that would lead into a ball screen.
Anunoby did his thing in those minutes, posting per-36 averages of 19.4 points while shooting 50% from two, and 44.4% from three (5.7 attempts per 36), 5.7 rebounds and 1.6 assists (yuck, more on that later). Those averages aren't too far off from his overall post-All-Star-Break numbers: 18.3 points (55.6% from two, 40.1% from three on 6.9 attempts), 5.3 rebounds and 2.8 assists.
Both samples are relatively small — 229 minutes without Lowry and Siakam; 20 games after the All-Star break — and require context, but the samples are intriguing nonetheless. And for the Raptors, those samples are important to parse through as they head into next season.
The Lowry-less, Siakam-less sample will grow. Lowry is taking his two-way talents to South Beach, while Siakam isn't expected to make his season debut until November at the earliest due to shoulder surgery. Not only should the Raptors explore if Anunoby's second-half surge is indicative of a leap, but they may also need it to be in order to fill the creation void they're facing.
If that is the case, a simple question presents itself: What is the path to Anunoby succeeding in a bigger role?
THE FOUNDATION
Hey, remember that time Anunoby flipped Dennis Schroder after a wrap-up foul and was genuinely surprised that he did so?
This is to say that Anunoby is a strong human being. So strong, that it's fair to question if he even recognizes how strong he is.
The encouraging portion of Anunoby's post-ASB stretch was that it seemed like he was starting to get it. He became a more effective driver last season compared to the year prior, but specifically flourished after the break. His volume of drives — and shot attempts following drives — nearly doubled while his efficiency also improved.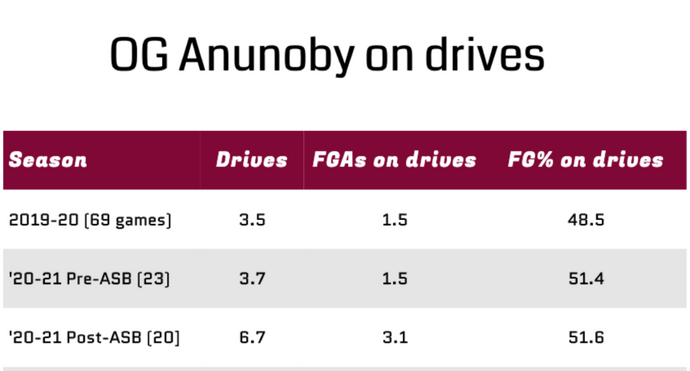 Anunoby did a better job of creating space when attacking the basket. His shoulder became his weapon of choice, either subtly leaning into a defender once gaining inside leverage, or flat-out chucking dudes out of the way. Like-sized wings barely stood a chance, and even rim protectors struggled to keep Anunoby out of favorable positions.
While power was his primary method of space creation, Anunoby flirted with other avenues. While not an advanced ball-handler (more on that later, too), he did start mixing in basic-dribble combos to set up drives.
A hang dribble into a hard cross and drive here; a subtle in-and-out to throw off a backpedaling big there. He explored Eurosteps and spin moves. It didn't always work, but he didn't look completely out of his element by the end of the season.
It was (and remains) important for Anunoby to find craft-based solutions as a driver. He can overpower most players, but he can't overpower everyone. Even if he could, the predictability of those shoulder nudges can lead to offensive fouls if defenders know they're coming.
In terms of the actual rim attempts, the set-ups — dribble moves and/or displays of fancy footwork — are ways to create bigger and more efficient finishing windows.
Anunoby tends to jump off one foot versus powering off two, and he isn't a super explosive leaper to begin with. He relies on extension-based finishes quite a bit at this stage. It's a diet he can live on, but one with a smaller margin for error — one that requires a blend of strength and craft to generate space before the shot.
Anunoby showcased encouraging flashes in that regard. This is the natural progression to 1) having the ball more and 2) needing to get downhill effectively because of teams running him off the three-point line more often.
It's funny to look back on now, but Anunoby's jumper was a bit of a question mark heading into the 2017 draft. Outside of a funky second season (33.2% on 3.0 attempts overall, 26.6% clip from the corners), he's more than quieted those concerns.
Anunoby is coming off a season in which he shot nearly 40% from deep on north of six attempts per contest. The encouraging part was the split; he converted 41.3% of his corner threes (2.9 attempts), and 38.3% of his non-corner looks (3.1 attempts).
ROOM FOR IMPROVEMENT
Thrusting Anunoby into a more prominent role doesn't just mean more shots; it means having to make more decisions.
He'll be tossed into more handoffs, more ball screens, more post-ups against mismatches. More attention will be shown to him by proxy of Siakam (and Lowry) being unavailable. There will be more playmaking opportunities for Anunoby; this is important since playmaking is the weakest aspect of his game.
This might be my favorite possession of Anunoby's film from last season, largely because so many things pop.
I posted this clip on Twitter with a simple question: What stands out to you?
Many pointed out Michael Porter Jr.'s poor screen navigation. Nikola Jokic's surprisingly sturdy rep in drop coverage popped for others. Neither of those are wrong answers.
What stood out to me, with the obvious caveat that I was focusing on Anunoby for this piece, is that you could actively see Anunoby going through a mental checklist on this possession. The lack of reacting — the lack of feel — sticks out like a sore thumb.
Okay, Porter is caught on the screen. Let me slow down to get him on my hip.
(Crap, I can't feel him.)
What is Austin Rivers doing? Tagging? Okay, the pocket pass to Khem Birch isn't there anymore.
Crap, I'm in the paint. Let me gather.
[Jokic contests]
Craaaaaaaaap.
Sure, you can make the argument that after the pocket pass window closes, Anunoby could fit in a wrap-around once he engages Jokic on the roll. But that's the kind of short-area reactiveness he's trying to add to his bag, and that only comes with reps. Synergy only has Anunoby pegged for 75 pick-and-roll possessions (passes included) total last season — also known as "two Trae Young games."
Anunoby is very much expanding his palette as a passer. He's comfortable making pocket passes and dump-offs to rolling bigs. Corner kick-outs are far and few between in his film, especially of the live-dribble variety. He certainly isn't at the stage of manipulating weakside helpers, though that's okay. Again, that comes with reps.
Going back to the Nuggets clip: the other alternative for Anunoby was a pull-up jumper after Porter gets caught on the screen. There's a slight dig from Aaron Gordon at the nail, but not enough to really disrupt Anunoby if he wanted the shot.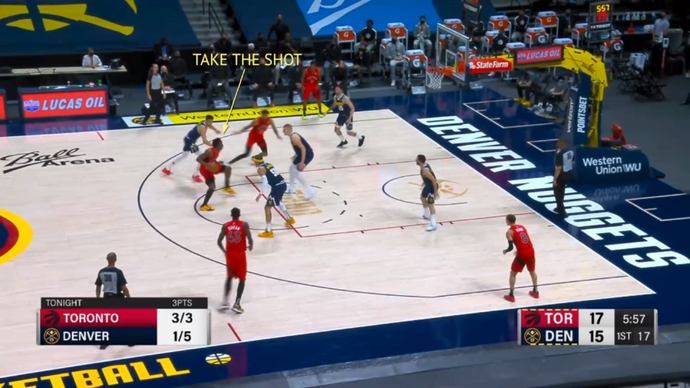 But that's the thing: He didn't really want the shot.
This is a two-fold issue for Anunoby right now. He's not a fluid (or loose) athlete on the offensive end. That shows itself when he flows into pull-up jumpers. The mechanics are a bit awkward for him, particularly on forward momentum shots. Between the natural dip on his gather and his relatively slow load-up, it's no surprise that he doesn't go into those kind of looks unless he has an acre of space to dribble into.
His off-the-dribble makes from last season are mostly of the "get comfortable behind the screen his defender is ducking under" variety, like this:
Anunoby took 56 shots off the dribble last season per Synergy, and converted just 32.1% of those looks.
That leads us to the larger issue: Anunoby isn't comfortable with his handle, particularly in tight areas.
Adding the counters he did towards the end of last season is genuinely encouraging. Zoom out, and it's still fair to dub Anunoby's handle as slightly below average.
He's not an And-1 Mixtape ball-handler, which isn't an inherent issue. But you have to be able to get to your shots; you have to be able to get to your spots.
Anunoby isn't there right now, which is why many of his best half-court reps come with the defense already being scrambled, or the Raptors running some sort of action to get him attacking on the move.
But even when that's the context, helping or recovering defenders can still make him uncomfortable. Sometimes, it doesn't take that. He may lose his handle just because he loses the handle.
The handle really does impact everything. You can't flow into pull-ups, side-steps or stepbacks comfortably without having the ball on a string. Can't make live-dribble passes if your dribble is shaky. Can't capitalize on drives if your handle can be bothered.
Anunoby developing a tighter handle is the single most important part of his offensive development.
Having a more natural transfer between his dribble and his gather will unlock a broader shot profile for him. Considering he's turned himself into a good shooter, the avenue to becoming a three-level scorer wouldn't be farfetched at all.
Take this possession against the Jazz, for example. This is a tremendous isolation rep that ends in a solid shot, but it's ruined because the handle-to-gather transfer is botched.
A tighter handle would help him puncture the rim more effectively. Heck, it would help puncture the rim more. More paint touches, in theory, would lead to more shots, more free throw attempts and, if he forces extra attention, more kick-out opportunities.
As it stands now, Anunoby can provide value as a moderately-high volume, spot-up shooter with enough juice to beat close-outs and scrambling defenses. That, combined with his own elite defense — how has he not made an All-Defensive team yet? — makes for a darn good player.
But the path to becoming more is there. More finishing craft, better and quicker decisions as a passer. More than anything, though, the handle must improve.
If that comes, a leap won't just be possible — it'll be imminent.