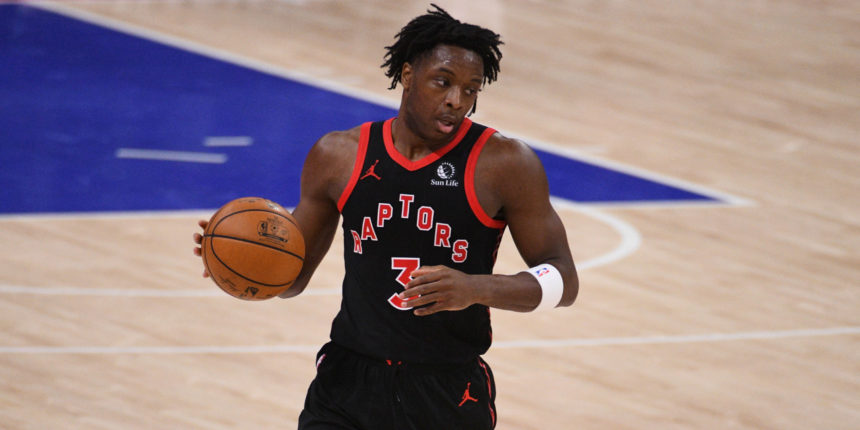 NBA Roundtable: Which player is poised to break out next season?
Believe it or not, NBA training camps are right around the corner, which means a blank slate for everybody.

Recently, our staff discussed which organizations had the best offseason, which teams did the worst, plus this summer's most underrated moves. Now, we're going to turn our attention to individual improvement. Today, we asked our staff:

Which player is poised to break out next season?
Nekias Duncan: No Kyle Lowry, Pascal Siakam missing the first month or so of the season, plus a strong second half of last season leads me to believe that OG Anunoby could be in line for a production bump — as I wrote over the weekend.
Alex Kennedy: It feels like De'Andre Hunter is on the verge of breaking out... if he can stay healthy. Last year, as a sophomore, he was outstanding in the first half of the season, averaging 17.2 points, 5.4 rebounds, 2.2 assists, 1.7 threes and a steal on 51.4/36.6/87.7 shooting splits prior to the All-Star break. Then, he hurt his lateral meniscus in his right knee and needed surgery. After a brief return, he tore that same meniscus, which also required surgery. Despite losing Hunter early in the second round, the Atlanta Hawks advanced to the Eastern Conference Finals. Now, Hunter is expected to be healthy in time for training camp, so this could be the year he takes a major leap forward and shows why he was drafted No. 4 overall in 2019. The 23-year-old has all of the tools to be a difference-maker on both ends of the court.
Jackson Frank: OG Anunoby made considerable strides offensively last season with his handle, driving craft and general self-creation. Yet he was beset by various ailments and only played 43 games, despite averaging a tidy 16-5.5-2-1.5 on 60.5% True Shooting. I'm betting he'll get some All-Star buzz and continue his development on a fun, funky Raptors squad.
Imman Adan: OG Anunoby is poised to have a breakout year. With Kyle Lowry gone, the Raptors enter their next phase. Siakam is expected to miss some time rehabbing from shoulder surgery, so the Raptors should see a lot of offensive possessions go to Anunoby.
Spencer Davies: You know, Darius Garland had one hell of a summer. He grew an inch or two, added some muscle and just really seems ready to take that leap following a successful run with Team USA's Select Team. Before he went down with an injury that ended his season prematurely for the Cleveland Cavaliers, Garland was on a post-All-Star-break tear, averaging 19.5 points and 6.5 assists per game on over 40% from long distance. He and Collin Sexton began to develop a solid relationship on the floor, and based on what Isaac Okoro did at summer league, we can probably expect those cutting abilities to help Garland's case as a passer as well; plus, the third-year point guard is a confident knockdown shooter coming off dribble hand-offs and in transition, and can throw up lobs with the best of them. Defensively, his efforts are there, and now that he has Evan Mobley along with Jarrett Allen behind him, there's enough protection to cover those angles. Year 3 is typically the time when prospects put what they've learned into action, and Garland just seems to have the right personnel surrounding him for success.
Evan Sidery: I'm going to cheat here, listing two names that are poised for breakout campaign: Anthony Edwards and OG Anunoby. After the All-Star break, Minnesota's No. 1 pick averaged almost 25 points per game. With another year of seasoning, it's very possible that Edwards could be a top contender for Most Improved Player in 2021-22. Another name to keep an eye on is Anunoby. With Kyle Lowry's departure from Toronto, more opportunity opens up for Anunoby to become a primary scoring option. Anunoby's continued shooting development gives me strong indications he's poised for a massive breakout with an increased workload.
Ethan Fuller: OG Anunoby was already on the verge of a breakout last season after posting career-highs in points (15.9), rebounds, (5.5) assists (2.2), steals (1.5), three-point percentage (39.8%) and True Shooting percentage (60.5%). That doesn't account for him being one of the best defenders on the Toronto Raptors. Anunoby is only 24 years old, and as the Raptors look to get back in the playoff hunt, expect him to be a key contributor.
Jesse Blancarte: If you watched Game 6 between the Utah Jazz and Los Angeles Clippers, then you have a good idea why Terance Mann is poised to have a breakout season. In that crucial game, Mann posted 39 points, 2 rebounds, 2 steals and an assist. Mann shot 15-of-21 from the field, 7-of-10 from beyond the arc and was instrumental in the Clippers' come-from-behind victory. Mann is athletic, a good defender and hustles on both ends of the court. He's also improving as a playmaker and shooter. With Kawhi Leonard possibly out for the entire season, Mann will play a large role in filling the void left behind by Leonard.
Drew Maresca: Obi Toppin. At summer league, Toppin averaged 21 points and 8.3 rebounds per game and slashed 44.5 / 34.4 /88.9. Once again, he wowed with his athleticism, had a significantly better-looking jumper and made quicker decisions with and without the ball. Toppin's biggest hurdle in breaking out continues to be his inability to crack an NBA rotation. He plays behind Julius Randle, and Randle will probably be a leader in minutes played again next season. But when he's given an opportunity, Toppin will be ready to prove the doubters wrong.
Chris Sheridan: Keldon Johnson of the San Antonio Spurs.