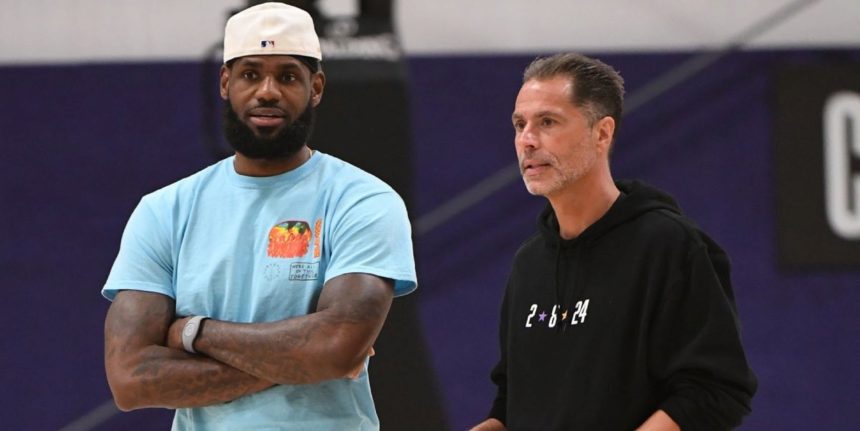 Roundtable: Which NBA team had the best offseason?
There have been plenty of fireworks during the 2021 offseason. From blockbuster trades to notable free agents changing teams, the 30 teams around the Association have given us plenty to talk about.
Recently, our staff discussed this summer's most underrated moves. Today, we asked our writers:
Which NBA team had the best offseason?
Nekias Duncan: They're another minor move away from rounding out the roster, but I think the Heat were pretty big winners. Being able to snag Kyle Lowry without giving up a pick or their best prospect is a win. Adding frontcourt depth, young (Omer Yurtseven) and old (P.J. Tucker, Markieff Morris) was smart. Bringing back Victor Oladipo on the minimum is the kind of low-risk, moderately-high-reward move that could swing some games in the second half of the season.
Alex Kennedy: After being super aggressive at last year's trade deadline, Nikola Vucevic told me that the Chicago Bulls "sent a strong message to the rest of the league that they really want to win now." This offseason, they doubled down and were even more active — adding Lonzo Ball, DeMar DeRozan, Alex Caruso and Ayo Dosunmu to their core of Vucevic, Zach LaVine, Patrick Williams, Coby White and Lauri Markkanen (RFA). Prior to the Vucevic trade, there was a month-long stretch where LaVine was averaging nearly 33.0 points. While it was incredible to watch LaVine put the team on his back, it was clear that he needed help. Now, just five months later, the roster looks completely different and the supporting cast is significantly better. This is the most talent that LaVine and Vucevic have ever had around them, and Chicago seems like a lock to make the playoffs for the first time since 2016-17 (and perhaps win a series for the first time since 2014-15). Last year, LaVine told me that he's "extremely hungry" to make his postseason debut and now it's absolutely within reach. (Also, getting Derrick Jones Jr., a lottery protected first-rounder and a future second-rounder back in the Lauri Markkanen sign-and-trade is a win.)
Jackson Frank: The Heat acquiring Kyle Lowry and P.J. Tucker, while retaining Victor Oladipo, give them the nod in my eyes. They went from a first-round out to a team that could make a deep playoff run. Lowry is a fringe All-Star and offers significant offensive versatility that should help reignite a stagnant attack. Tucker, although circumstantial defensively and rather limited offensively, remains a useful rotational big who helps maintain Miami's defensive ethos. Oladipo's offense is highly dependent on his jumper these days, but the defense was quite good last season and he clearly seems to want to be in Miami. Health is a looming question mark, but he can help them when out there.
Jesse Blancarte: The Los Angeles Lakers entered the offseason with Dennis Schroder hoping to leverage the team's limited cap flexibility into a $100 million contract. The Lakers passed on Schroder, opting to trade for Russell Westbrook, re-sign Talen Horton-Tucker and fill out the roster with solid veterans on minimum deals (including Dwight Howard, Carmelo Anthony, Trevor Ariza, Kent Bazemore and Wayne Ellington). The Lakers even snagged a few talented, younger players with upside in Malik Monk and Kendrick Nunn. L.A. loses some points for reportedly not doing much to re-sign Alex Caruso, but the team added significant depth. Age will be an issue for this roster, but the talent and depth are there for another championship run.
Spencer Davies: This may be an unpopular opinion since all of their additions came via trades, but the Washington Wizards intrigue me as a playoff contender in the Eastern Conference. Spearheaded by the acquisition of Spencer Dinwiddie — who should fit like a glove next to Bradley Beal and take some of the playmaking load off the three-time All-Star — the team has retooled well. Something tells me that Kyle Kuzma will be able to breathe a little easier in D.C., and Kentavious Caldwell-Pope is easily the best sniper with defensive upside that Washington has thrown out there in years. Montrezl Harrell is going to be highly motivated after being dealt away, and perhaps he can develop a rapport with Aaron Holiday as a part of an energetic second unit. Let's not forget that Deni Avdija and Thomas Bryant will return at some point from their injuries too. Throw in a growing Rui Hachimura and Daniel Gafford — plus a new head coach in Wes Unseld Jr. — and the Wizards have some real firepower and could make a solid push.
Imman Adan: It's definitely the Nets; they managed to get better despite already being the favorites. However, I'm going with the Miami Heat because they got their guy — Kyle Lowry — and didn't have to give up very much to get him. They also managed to pick up P.J. Tucker and, if he has anything left in the tank, he can help fill the void Jae Crowder left.
Evan Sidery: Although it remains to be seen how exactly all the new parts fit together, credit to the Chicago Bulls for finally going for it. Lonzo Ball is a perfect backcourt complement for Zach LaVine, while DeMar DeRozan provides a legit scoring punch as well. If 2020 No. 4 overall pick Patrick Williams takes a leap — and Summer League is showing that's a strong possibility — Chicago looks the part of a top-six team in the Eastern Conference. Ever since Derrick Rose's prime, Chicago has been yearning for a competitive team. In 2021-22, they have an opportunity to make noise.
Ethan Fuller: The Miami Heat reeled in the biggest available free-agent name in Kyle Lowry without giving up a treasure trove of talent. Sure, Precious Achiuwa is a tough loss for an aging team, but Lowry is a clear upgrade over Goran Dragic in the short-term. The Heat also signed two underrated additions in P.J. Tucker and Markieff Morris without losing rotation players of consequence. Miami is older, more expensive and potentially injury-prone, but the squad is also more talented and more potent as a defensive unit.
Drew Maresca: Shockingly, the Washington Wizards. Most importantly, they got out from under Russell Westbrook's contract, swapping Westbrook for Kyle Kuzma, Kentavious Caldwell-Pope and Montrezl Harrell. They also added Spencer Dinwiddie, who better complements Bradley Beal than Westbrook did — a hugely important aspect of his addition. If Dinwiddie bounces back to his old self, the Wizards will compete for a playoff spot in a newly competitive Eastern Conference — and that might enough to convince Beal to extend.
Chris Sheridan: It is a close call between the Nets, Heat and Lakers... so close that I am going to make it a three-way- tie. I absolutely love Brooklyn's acquisition of Patty Mills. He is a fourth star, if you ask any Australian. They needed a second perimeter defender aside from Bruce Brown, whom they were lucky to keep, and they needed someone off the bench to replace Jeff Green. Miami got Kyle Lowry, which is HUGE, along with Markieff Morris on a one-year deal, which should incentivize him to play to his full potential. Also, they got P.J. Tucker, which I feel is the offseason's most underrated move. For the Lakers, acquiring Russell Westbrook may go down in history as the biggest and best move they could have ever made to facilitate another championship run with LeBron James. He is a vast upgrade over Dennis Schroder, who ended up being too greedy for his wallet's own good. The other role players the Lakers added seem to fit nicely, especially Carmelo Anthony, Kent Bazemore and Wayne Ellington for perimeter shooting and Dwight Howard for messing with the minds of opposing centers. They will miss Alex Caruso's defense (and it remains to be seen who can provide that), but they had an impressive offseason.
Jannelle Moore: The Lakers had the best offseason because they knew they didn't have much salary-cap space, but they got creative and still managed to land a star in Russell Westbrook. Many people doubted whether the Lakers could make a splashy move, but they managed to pull off a blockbuster trade with the Wizards. Carmelo Anthony and the role players they brought in were great additions as well.