After spending eight-and-a-half years with the Orlando Magic, Nikola Vucevic was dealt to the Chicago Bulls two weeks ago in exchange for Wendell Carter Jr., Otto Porter Jr. and two first-round picks. Not only was this the biggest deal to go down prior to the trade deadline, but it was also the most shocking.
Of all the rumors that were circulating in the weeks leading up to the deadline, there weren't many involving Vucevic. Most reports indicated that Orlando wanted to keep their three-time All-Star, and that their asking price had been high when teams called to gauge his availability. All signs seemed to point to the Magic keeping Vooch...until they didn't.
With this deal, Chicago has bolstered its roster for a playoff push, and they can build around their All-Star duo -- Vucevic and Zach LaVine -- going forward. They have a nice mix of veterans (Vucevic, LaVine, Thaddeus Young, Tomas Satoransky, Daniel Theis, Garrett Temple, Al-Farouq Aminu) and youth (Lauri Markkanen, Coby White, Patrick Williams, Troy Brown Jr.).
For the Magic, they bring in two first-round picks and a 21-year-old as they rebuild. Orlando also dealt Aaron Gordon and Evan Fournier, so it's clear that the team wants to add talent through the draft and develop their young core of Carter Jr. (21), Cole Anthony (20), Jonathan Isaac (23), Markelle Fultz (22), R.J. Hampton (20), Mo Bamba (22) and Chuma Okeke (22).
Since joining the Bulls, Vucevic is averaging 22.9 points, 10.3 rebounds and 3.6 assists while shooting 51.7% from the field, 41% from three and 89.5% from the free throw line.
BasketballNews.com caught up with Vucevic for his first one-on-one interview since the blockbuster trade went down. He opened up about how he learned of the trade, why leaving Orlando was emotional for him and his family, forming a one-two punch with LaVine, his excitement about this Bulls squad, his first impression of Chicago and more.
How did you find out about the trade? Where were you?
Nikola Vucevic: "I was actually with my son; I had taken him to this activity that he has because it was our day off. So, I went with him and then I got a call from the GM [John Hammond], and they just called me to let me know that the trade was happening. It wasn't out of nowhere, we'd had discussions prior to it, so it was kind of mutual; it wasn't just out of nowhere. They pretty much just let me know that the trade was happening and said, 'You're going to Chicago.' Honestly, even though I had an idea that it could happen, it was still a big shock to me. I'd never been through it before. And I think the biggest thing for me is that I was in Orlando for so long and I had such a special bond with the franchise, the city, the fans, the people there. I pretty much grew up there. I went from a 21-year-old boy to a 30-year-old man who's married with two kids, so I don't know...it was definitely still a shock, and it took a little bit for me to adjust to it. After a few days, I was able to gather myself and it's been good. It's obviously part of the business that we're in and things like this happen and you just move on."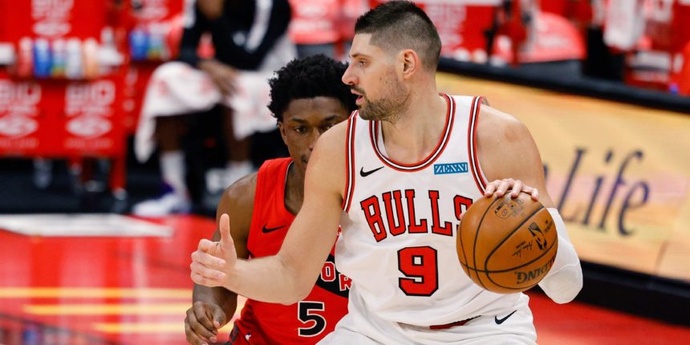 Garrett Temple told me that the Bulls don't have many leaks, so their moves tend to be surprises. You mentioned that you were having discussions with the Magic about their trade talks. Did you know that Chicago was a possibility, or were you surprised when you heard that you were heading to the Bulls?
Vucevic: "I was aware of the teams that were showing interest in me; I knew that there were a couple, but I didn't know where I'd land or all of the details because that's something that the front office was handling. But I knew of the teams that were interested; I knew that part."
Let's talk about leaving Orlando. You were there for eight-and-a-half years, and you have many relationships with people there. But you and I have also talked about how off the court, your family loved it in Orlando. Your wife was comfortable there and your kids were happy. I think fans tend to focus on the basketball side of things when a trade happens, but you also have to relocate your family and leave a city you all loved.
Vucevic: "Even with the basketball part, I became who I am with the Magic and I grew as a player there. I had a great relationship with the owners. We had two front offices [while I was there] and I had great relationships with both, along with the coaches, the players, everything. That's a big part, too. But I think, for me, what made it hardest was that, like I said, I had a very special bond with the city and the fans. I was there for so long. Both of my sons were born there and we had a very good life, very established. We had a lot of friends and everything, so you're leaving a big part of your life behind. That was the hardest part. You're going into this big change that's not only affecting me, but also my family. My wife has to move, my kids have to move -- although they're little, so they won't be as aware of it, but still; my son liked the daycare he was at and had a lot of friends there. My wife had a lot of friends there and had established a nice life. So, you think about all of that and it's not easy. If it had just been me, I think it would've been easier because I could just relocate and it's whatever. But when you have to move your whole family, you're also thinking about how that affects them -- and actually, that was one thing that was really difficult, just making sure that my job doesn't affect them in a negative way. That's the first reaction that you have, which is normal, because it's a big move.
"But then once I got to Chicago, all of the people were great to me and very welcoming -- people from the team, the players, the coaches, the front office, people in the city, everywhere. Even in the hotel that I stayed at the first couple of days, everybody was pretty excited. When you see that, it gets easier. And now, after two weeks, I've found us a place to stay and I found a daycare for my son, so it just gets easier and easier. But I think it's normal once you go through a big change; it's always difficult -- especially when you were so attached to a place for so long. I had a lot of success there, and I had established so many great relationships with so many great people, which I'll have forever -- it's not like those will stop. It's just in that initial moment, it's very difficult because you have to leave all of that behind and go to a new place. It wasn't easy, but at the same time, I was also very excited to join the Chicago Bulls, which is an amazing organization with a lot of history. This is a team that I grew up watching a lot, being a big Michael Jordan fan, so you get excited about that. There's just this crazy mix of emotions that you deal with all at once."
What are your thoughts on this Bulls team and the group's potential going forward?
Vucevic: "That's one thing I'm very excited about: the team has great potential. It has very good structure, and we're built to be successful for years to come, which is very important in this league. Knowing Zach, he's one of the best players at his position in this league and he had a great year this year; he was an All-Star, and I think he will be one for many years to come. It's always great to play alongside a guy like that and it's going to make my life easier, and hopefully I can make his life easier as well on the court. But I believe in Zach and I, and once we really grow our chemistry and build that two-man game, I think we can be very, very good and help our team in many ways and make it difficult for other teams to defend us.
"But we also have guys like Thad [Young] and Garrett [Temple] and guys who have been around the league for a long time. Especially Thad, this is Year 14 for him; I actually played my rookie year with him in Philly, so I've known him for a while. You have [Tomáš] Satoranský, who's only been in the NBA for five years, but he played overseas so he has a lot of experience as well. Then, we also have Lauri Markkanen, Coby White, Denzel Valentine and Pat Williams, and all of those guys are really good players. Then, we also brought in Daniel Theis in a trade, who's also an experienced player. There are some very good pieces and I'm excited. It's a new start, and hopefully with my experience and my knowledge, I can help them get to a higher level, which is my goal. But so far, the whole experience has been very positive. I think I've been fitting in pretty quickly, and I think it's been getting better each day and each game. We're only going to continue to grow and get better, and I think we're going to have success hopefully this season but also for years to come."
In Orlando, you were the focal point of the offense, so Zach should be able to take some of the pressure off of you and vice versa. You guys can be a terrific one-two punch.
Vucevic: "Yeah, I'm very excited. I've never played with anyone who's as good of a scorer as Zach is, so I think it's going to be great for me to have a guy like that on the ball a lot. In some of the games, it's shown already in some of our two-man game action, although we haven't played together a lot. It's going to be hard to defend. I mean, when you're trying to guard a two-man game that has two very good players, two very good scorers, it's hard to defend because it's hard to take away both; one or the other is always going to have a chance to get open or create for themselves, or for the other guy or for somebody else on the team. With me and Zach, it's going to be awesome to play with him. Another thing about him is that he's very unselfish; he's a willing passer, he's willing to make the right play, and that's always a huge plus for the team. Honestly, so far, it's been good. Against Indy, he hit me on seven or eight pocket passes where I just had to shoot it; I made some, but I even missed some very easy ones. But we had a very good connection in that game, and hopefully we can continue to build that because I think it's going to be very important for the team and the success that we have.
"But also, Zach has been great with [welcoming me]. As soon as I got traded, he called me and said he was very excited that I was coming. He was super happy, and he said if there was anything I needed in the city, he could help me. Things like a car, a place to stay, a chef or whatever, he said he could help me out because he's been there for a bit. That's always great to see, when you have the best player on the team welcoming you and helping you with things like that. I really appreciated it. He understands that it isn't easy to move, so I appreciated that."
Earlier this season, we spoke about how this condensed schedule has been difficult. There's less practice time and not many days off. Is it tougher to get acclimated to a new team during this condensed season? Chicago added a number of new players at the deadline, so has it been tough to get everyone on the same page?
Vucevic: "For sure. It's more difficult because you just don't have as much practice time and you play every other day and you have a lot of back-to-backs, so it's a little different than what it would be in a regular season. But it's the same for everyone else, for all of the other teams that also made moves, so we just have to adjust on the go. And I think we've been doing a pretty good job of that, with Coach [Billy] Donovan and the rest of the coaching staff. They've been doing a good job in meetings and in shootarounds and when we've had practice of running through stuff and helping us with the plays, the defense, the schemes and all that. I think we've been able to catch on pretty quickly, which is good. And I think what also helps is that this is a group of guys that is really unselfish and that plays team basketball, and we have a lot of high-IQ players, so that makes it easier to kind of fit in and just play ball. So, for sure, it's not easy at any point. And I think this season, you obviously have all of the COVID protocols and everything is limited, so it is a little more tricky. But I think we've been doing good so far."
You haven't been in Chicago for too long, but what's been your first impression of the city and the fan base?
Vucevic: "I was familiar with the city just from being in the league so long. Whenever we came to Chicago, I'd always take advantage of it and try to walk around and visit it. And I'm a huge restaurant guy and I know that Chicago has some of the best restaurants in the country, so I'm very excited for that. Hopefully when COVID calms down or goes away soon and we can get back to normal life, [we can eat at some]. Hopefully, the vaccination helps; I got my first shot and I'm supposed to get my second shot in a couple days. After that, it'll be easier. I'm very excited about the city. I've only visited part of it, but everybody has told me that it's an amazing city. Obviously, it's one of the best cities in America and people love it. But yeah, we're actually very excited for that part and to get to know the city and learn good areas, good places to go. We heard there are many great things that you can do with kids, so we're excited for that.
"And then, the fan base has been great. On social media, they've been good and they've been welcoming; actually, my followers went up a bit so that's not bad (laughs). But even around the city, one day I was just walking around and going to visit the spot that we're going to move into, and fans around the city were recognizing me and welcoming me. Like I said, even some of the people who work at the hotel I was staying at were excited and welcoming. Obviously, I know that Chicago has a great fan base; it's one of the biggest, for sure, out of all the NBA teams. They're very into sports; it's one of the biggest sports cities in the country. I'm excited for that and it'll be special. The Bulls are one of the biggest franchises and especially for our generation -- we all grew up watching MJ and Pippen and all of them dominate the league -- so we were all big Bulls fans, so I'm very excited about that. The only thing is that I'll have to make sure we get some good winter clothing, which we aren't really used to (laughs). That will probably be the biggest adjustment, but it's okay."
Right now, the Bulls have the 10th-best record in the East. Have you guys talked about making the playoffs this season and made that a goal?
Vucevic: "Yeah, for sure, that is their goal. Coach Donovan even emphasized that in the first meetings when all of us first arrived. I think that's an achievable goal. It's not going to be easy because a lot of teams are going to be fighting for those last couple of spots. Unless we get the sixth seed, we'll have to play in the play-in. It'll be easier if we get seventh or eighth and then we have to play, but if you're ninth or 10th, you have to play two [play-in] games. But I think it'll be huge if we can get to the playoffs. It'll be a great achievement for a lot of these young guys to have that experience and also for the franchise to get back to the playoffs after a couple of years. I think by making these moves, the Bulls already sent a strong message to the rest of the league that they really want to win now, but making the playoffs would send a strong message, too. And when you make that step and have some success, it also attracts other people to want to play for a team like that."
Having two All-Stars in a big market like Chicago, I think other stars will want to come play with you and Zach, too.
Vucevic: "Hopefully!"