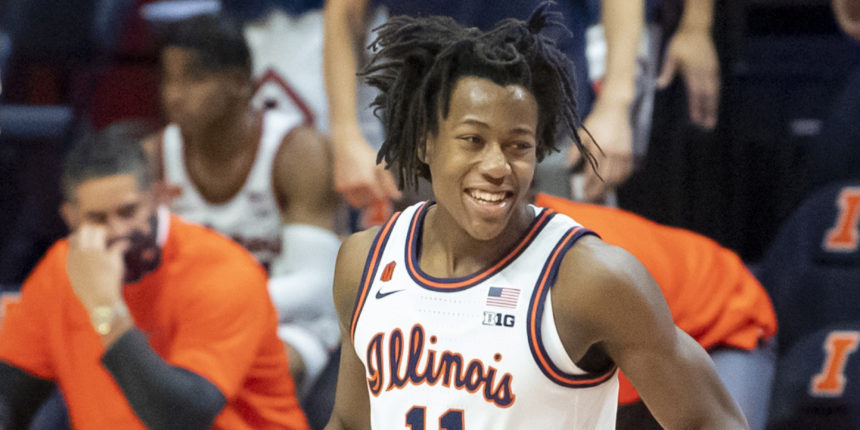 Ayo Dosunmu 'ready to seize the moment' as he becomes complete player
Ayo Dosunmu can't help but to continually refer to himself as "blessed."
Perhaps it's the Illinois Lottery billboard with his face on it that his close friends text him photos of, or perhaps it's because his hometown of Chicago — a place where he felt like a host — was the site of the NBA Draft Combine. Or maybe it has to do with the fact that he feels fortunate to be in a position that countless greats from his city have gone through and will go through, navigating the pre-draft process.
He's not a man of many words, but when he speaks on something, there's an authenticity to it.
"I just think I have that 'it' factor, that factor of not [being] afraid of the moment," Dosunmu said at last weekend's Combine. "Whenever a big moment comes, I think I'll be ready to seize the moment."

After declaring and returning to Illinois last year, Dosunmu believes that he's taken a true leap as he enters the 2021 NBA Draft.
"I think I grew better as an overall player," said Dosunmu, who was the MVP of this season's Big Ten Tournament and First-Team All-Big-Ten. "As a playmaker, being able to observe the court, offensively and defensively. I think I also improved on becoming a complete player. I think my freshman and sophomore season, I don't think I was the complete player that I am now and the complete player I'll continue to be."
Aside from falling short of the team's national title aspirations in the NCAA Tournament, Dosunmu's junior campaign with the Illini was a success. It's a run that he considers "special" and "something I'll remember for the rest of my life." The 6-foot-5, 194-pound swingman painted the stat sheet throughout, averaging career-highs of 20.1 points, 6.3 rebounds and 5.3 assists per contest in over 35 minutes per game. He was also third in the Big Ten in Defensive Win Shares (1.8), as one of the best perimeter and help defenders in the conference.
The winner of the Bob Cousy Point Guard of the Year award, Dosunmu feels as if he's underestimated in the sense of being able to produce for a team right away at the NBA level, and that he's already proven otherwise. He cites his constant growth as a player, whether it was a 10% boost from the three-point line (39.0%), an improved assist-to-turnover ratio (1.58) and grabbing two more boards per contest than he did as a sophomore.
"I still hear certain questions. So you know, it's all about just working hard and staying true to myself," Dosunmu said when asked about misconceptions surrounding his game.
That doesn't mean there's not work to be done. Despite the progression of his jumper, Dosunmu acknowledges that he has to make sure he shoots better on a consistent basis, particularly since the perimeter stretches out further than in college. Shooting more comfortably off the bounce is another part of that as well.
Dosunmu's representation at Excel Sports Management advised him not to play in the 5-on-5 scrimmage or participate in any shooting drills at the Combine. Still, he came away as a winner by increasing his max vertical to 39 inches, just short of his goal of 40. Dosunmu credited the training he did with Andy Luaces at Excel's pre-draft workouts in Miami for the leaping boost, as it was 36 inches just three weeks prior to the high mark Dosunmu set in Chicago.
Thus far, Dosunmu has met with about half the league, and he doesn't sense that he has to sell himself in these interviews the way he did in 2020. For one, the in-person factor is a huge help; he insists that face-to-face conversations are much easier than the Zoom calls he did last year while testing the draft waters. To him, it's a way to feel the room and gain a clear understanding from both sides of the table.
"Most teams I've talked to, they really love me," Dosunmu said. "They see I can fit their style of play and their organization."
In BasketballNews.com's updated NBA Mock Draft, Dosunmu is slotted in the early second round going to the Detroit Pistons at No. 37. If there is a team that would take a chance on him in the first round, he would welcome it. He implies that he's in a win-win situation.
"I'm in a pretty good position," Dosunmu said. "I could go to a team early in the first round, or I might go late in the first-round and go to a contending team... that's gonna be a blessing. A contending team getting a 21-year-old proven player, a true professional. That'd be exciting."
When asked if he has his eyes on a particular team or two that he feels would be a good fit for him, Dosunmu chuckled and admitted that the answer is yes, but that he wasn't going to show his hand.
Amidst all of this, Dosunmu is multi-tasking, as he is one semester away from earning his degree in communications from Illinois. His education is incredibly important to him and it's been a primary focus of his even during this pre-draft process, which is a testament to his character off the floor.
On the floor, Dosunmu just keeps getting better. He has a ton of respect for those who came before him, like Will Bynum, a local legend who opened the door and paved the way for Chicago hoopers to get to the big stage. Dosunmu attended one of his camps when he was younger, and is grateful for what he did for not just him, but everybody from his hometown.
"He means a lot to the city of Chicago 'cause he made it out," Dosunmu said. "Anybody in Chicago who makes it out and paves the way for other Chicago athletes, [it's] always a plus... him being from Chicago, I rooted for him."
On July 29, the roles will reverse, and it will be Bynum rooting for him.
It's Dosunmu's turn to join the list of Chicago natives to play in the NBA, and his city should be proud.