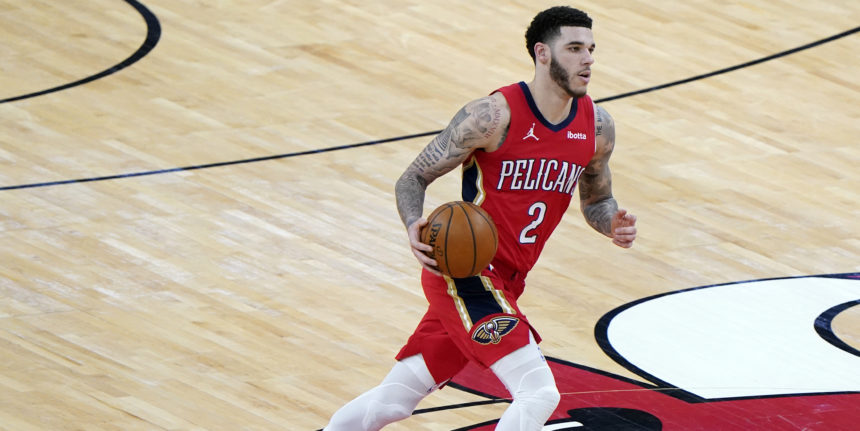 Lonzo Ball, Chicago Bulls form a perfect marriage
Lonzo Ball is officially the Chicago Bulls' new starting point guard.
After inking a four-year, $85 million deal with Chicago, which included a sign-and-trade sending Tomas Satoransky, Garrett Temple and a second-round pick back to New Orleans, Ball joins Zach LaVine to form one of the most intriguing young backcourts in the NBA.
Chicago's front office has been infatuated with Ball for a while, almost acquiring him at the trade deadline in a deal centered around Lauri Markkanen. Instead, Chicago pays a significantly cheaper price to potentially add their missing piece for a playoff run. The Bulls have missed the playoffs for four consecutive seasons, but with Ball, their outlook is a lot rosier for 2021-22 and beyond.
Ball's strengths are exactly what Chicago has missed in their rotation — elite playmaking, versatile defense and adequate floor-spacing. Last season, Ball averaged 14.6 points, 5.7 assists, 4.8 rebounds and 1.5 steals while carrying a career-best 55.1 True Shooting percentage. Alongside LaVine and Nikola Vucevic, Ball won't have immense pressure to carry Chicago's primary creation. The Bulls' dynamic inside-out duo that's already in place has displayed competent ability to the run offense through one another. Adding Ball is the key catalyst to vault Chicago's efficiency to another level.
Chicago is set up to become a run-and-gun team in transition, where Lonzo thrives. Just imagine Ball pushing the pace while it's a race to the rim between LaVine and 2020 No. 4 overall pick Patrick Williams. Not only do those possessions result in easy buckets, but Ball has an uncanny ability to whizz the ball into tight windows from multiple angles. He's a quarterback in the open floor, which is such an underrated weapon in today's game.
Another reason why Chicago felt comfortable paying Ball $21.25 million annually over the next four years is his perimeter-shooting potential. This past season with the Pelicans, Ball converted 40.2% of his catch-and-shoot threes on 5.9 attempts per game. He has made big strides since his first two seasons with the Los Angeles Lakers, when Ball was a below-average 32.5% on catch-and-shoot opportunities. By improving his shot mechanics and overall percentages each season he's been in the Association, Ball is proving he can be a consistent plus-40% three-point shooter moving forward. With ample drive-and-kick opportunities on the way from LaVine, Coby White, and newly signed backup guard Alex Caruso, Ball will work his magic as a spot-up weapon.
Not even 24 years old yet, Ball's upside as a secondary piece within an efficient offense speaks for itself. Throw in the unique playmaking ability and Ball becomes a multi-faceted weapon who is just now scratching the surface of what he could become as a primary or secondary engine.
We haven't even discussed Ball's defense, which has been one of his calling cards through four seasons in the NBA. Ball has an extremely high IQ as a team defender, finishing in the plus-80th percentile for steals. He's able to read an offense one or two moves ahead, and he has an uncanny ability to intercept passing lanes for easy opportunities on the other end. Those extra possessions matter, and it's an area Chicago has been deprived of for years at the guard spot. Ball takes pressure off LaVine in this area, finally helping the team form some sense of long-term defensive identity when flanked on the wing by Williams.
Ball's player profile is unique, but one that fits perfectly in the Windy City. By being able to splash open three-pointers, find the open man as a secondary or primary creator, plus provide hounding on- and off-ball defense, Ball will provide immediate value for the Bulls. And based on his current trajectory, Ball should be able to outplay his contract value over the next four years. It's a roll of the dice by Chicago betting on Ball, but his strengths outweigh the weaknesses in the right situation. Chicago is the ideal spot for Ball to show off why he was the No. 2 overall pick in the 2017 NBA Draft.
Now, with a core of LaVine, Vucevic, Ball and Williams, Chicago is well on it's way to becoming a consistent playoff team throughout the 2020s. And that's an exciting proposition for Bulls fans, who have been waiting for their team to take a leap forward after being stuck in the mud post-Derrick Rose era.
Also, there have been serious rumblings around Chicago pursuing DeMar DeRozan via sign-and-trade. If the Bulls are able to add DeRozan on top of Ball, they become a serious threat to finish as a top-five team in the Eastern Conference next season and beyond.