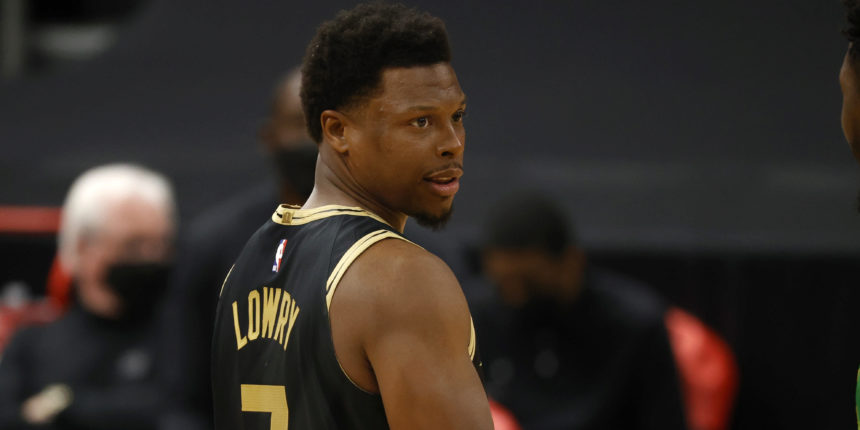 Film study: What Kyle Lowry brings to the Miami Heat
The Miami Heat came into the offseason knowing that changes had to be made.
Fresh off a Finals appearance, the Heat mostly underwhelmed last season. The circumstances were understandable – COVID, injuries, general fatigue due to a shortened offseason just to list a few – but the results are hard to dismiss. The defense, due to the heavy (and mostly soft) switches never felt as good as it ended up being (110.7, 10th in the NBA). The offense, devoid of shot creation and hampered by shooting regression, fell off a cliff.
A groove was found toward the end of the season, but was abruptly snatched away by the eventual-champion Milwaukee Bucks in the first round. Jimmy Butler turned in the worst playoff series of his career; ditto for Bam Adebayo, whose creation limitations were on full display against Milwaukee's deep drop.
The Heat didn't just need a jolt in the arm; they needed to be reshaped. They were able to do that, adding some toughness and (theoretical) shooting in the frontcourt with the signings of PJ Tucker and Markieff Morris.
Their big move, of course, was a sign-and-trade. Out went Goran Dragic and bouncy Precious Achiuwa, in came six-time All-Star Kyle Lowry and his three-year, $85 million deal.
Lowry had his own struggles last season, missing 26 games due to a mixture of injury and maintence.
(Let's be real, Lowry and the Toronto Raptors had little to play for toward the end of last season.)
Still, he was productive when available, averaging 17.3 points (shooting 49.3% on twos, 39.6% on threes), 7.3 assists and 5.4 rebounds. In games that Lowry played, the Raptors were over five points worse per 100 possessions when he was off the floor. That continues a multi-year trend of the Raptors being a completely different team with Lowry than without him.
While DeMar DeRozan, Kawhi Leonard and Pascal Siakam took turns carrying the primary scoring load during Lowry's Raptors tenure, he always operated as the engine, the organizer. His blend of driving, playmaking and pull-up shooting juiced offenses, while his defense – on-ball and off – played a major part in the team defending at a high level.
The Heat are expecting a similar level of impact on both ends. Let's take a look at the specifics of Lowry's game, and how he projects to gel with his new team.
TRANSITION JUICE
The Erik Spoelstra-led Heat don't play fast. You'd have to go back to the 2011-12 season – the first of two titles in the Big Three Era – to find a Heat team that didn't rank in the bottom third of the league in pace.
That number doesn't tell the full story, of course. Selective running exists; it's not impossible to be a squad that hunts early looks before grinding things to a halt. The Heat loosely qualified last season – they ranked 29th in overall pace, but 12th in the percentage of looks that came via transition, per Cleaning The Glass. But look at the year-by-year numbers, and the trend becomes clear: the Heat want to grind you, period.
The Raptors have played much faster. They've ranked in the top five of transition frequency in each of the past three seasons. Lowry has been a figurative and literal driver of this; he's graded in the 70th percentile or better in transition (assists included) in four of the past five seasons, per Synergy.
Lowry's a versatile threat in open-floor scenarios. With him being one of the better guard rebounders in the NBA, he's able to jumpstart possessions by his lonesome. He's not just a willing and efficient pull-up shooter; he's an artist in that regard.
He's then able to use the threat of the pull-up to head-fake and bully his way to the rim against back-pedaling defenders. Hit-aheads are within his wheelhouse as a passer, as well as traditional dump-offs and kick-outs. On occasion, he operates as the league's smallest stretch big by operating as the trail man and stepping into triples, or filling gaps as a cutter.
Lowry won't turn the Heat into the Seven-Seconds-or-Less Suns by himself, but he'll inject some life into their attack. His ability to pressure the rim will be a welcome addition to a team that didn't do so at a high level – not if your name wasn't Jimmy Butler, at least.
What the Heat have lacked in terms of rim attackers, they make up for in off-ball movers. Lowry's ability to bob and weave through traffic should serve as a natural complement to The Others in that regard. Just helping the Heat get into their offense a little earlier should pay immediate dividends.
PICK YOUR (P&R) POISON
Lowry has long been one of the NBA's most dynamic threats in ball-screen scenarios. Lowry graded in the 48th percentile as a pick-and-roll ball-handler (passes included) last season, per Synergy. That number is dubbed as "average" in the database, but it's worth factoring in the injury and Tampa weirdness of last season.
Zoom out, and that 48th-percentile mark is easily the lowest mark of Lowry's Raptors tenure. In fact, Lowry ranked in the 84th, 91st, 83rd percentile in the three seasons prior.
Lowry is a quick processor on the floor. Combine that with a threatening pull-up jumper (and a quick trigger to boot), and you have a player who can dice teams up if he's paired with an effective roller.
Creep up to take away his jumper, and Lowry can slip in pocket passes or toss early lobs to rollers. If your big is hedging out and doesn't 1) move his feet well or 2) doesn't have a keen understanding of angles, Lowry's able to drive past the hedge and cause further panic.
Playing a deep drop against Lowry is asking for trouble. His trigger is too quick and jumper is too buttery. He'll flow into pull-ups until you cry "uncle." Switching can also be problematic if you aren't able to chew up space in the process.
What makes Lowry unique is that he's able to play in both sides of ball screens. He doesn't mind getting his hands dirty, operating as the screener for bigger ball-handlers. It's easy to envision Lowry screening for Butler to create late-game mismatches, or Lowry replacing Duncan Robinson as the screener for Adebayo as part of their "rub" actions.
Lowry represents something new for the Heat: an on-ball guard with the ability to draw two to the ball. As good as Dragic was, his slow load-up on jumpers allowed defenses to play more conservatively. As effective as Dragic was as a driver, his physical, jerky style isn't the type to force defenses into hair-on-fire rotations.
The suddeness of Lowry, as a driver and shooter, should cause different reactions. The threat of the pull-up can open up more short-roll opportunities for Adebayo. Extra eyeballs on that two-man action can lead to relocation opportunities for Robinson, or slot cuts for Butler.
If the Heat were able to get good mileage out of inverted ball screens with Butler and Dragic, why wouldn't the Butler-Lowry combo work once factoring in Lowry's movement shooting?
The fit is a pretty snug one.
OFF-BALL RANDOMNESS
One of the many fun parts of Lowry's game is that he doesn't quit moving. He'll probe pick-and-rolls to their logical end, then probe some more. He'll straight-line attack, loop around, give the ball up, then find a pocket to fill.
He's just as likely to fill the wing in transition as he is to set a random drag screen for a big ball-handler. He'll set up shop in a corner, only to fly above the break to stress a help defender. Impromptu screens in the half-court; random handoffs when the initial action breaks down; quick trips to the dunker spot. You name it, Lowry will do it.
EVENT CREATION
Lowry remains infuriating to dribble against. He's strong and physical, able to impede the path of enemy ball-handlers. He's also a trickster, to be kind. Attempt to dole out the same physicality that he does, and the Hardenian head-jolts will come out. He falls firmly in the "love-him-on-your-team, hate-him-otherwise" camp because of it.
Between injury and aging, it's fair to say that Lowry has fallen out of the All-Defensive class. But he remains a positive as a point-of-attack defender, able to swim, rip and spin around picks like a defensive end. Attachment became an issue against the league's quicker guards – a natural issue for a 35-year-old point guard – but it was still rare to see him completely out of a play.
That Lowry can still navigate screens well is a positive for Miami. That allows them some scheme versatility when necessary. During the Heat's Finals run in 2019-20, they transitioned from a drop-coverage team to a switch-heavy squad. They practically punted on drop coverage last season, largely because their non-Gabe Vincent guards couldn't stay attached consistently. Lowry can change the math on that a bit.
And if there's worry about Lowry's foot speed, the Heat can simply continue leaning into the switching element of their defense. Lowry's strength may be his best physical asset at this stage. He's been able to punch well above his weight for years now, making big-on-small matchups less intimidating than they appear on the surface.
If all else fails, there will be charges. Lots of charges. An infuriating amount of charges if you're on the other side of the coin. Not only is Lowry a master at weakside rotations, he simply doesn't give a bleep about his own safety.
There are concerns to be had. Lowry did experience some physical slippage last season. While it wasn't enough to make him a negative, there's always the fear of the bottom falling out with smaller, older guards.
Lowry won't be tasked with being the top scoring option, but within a championship lens, it's a bit problematic that he may be Miami's best shot creator late in games. He's a player who can score, but not necessarily who you want to feed a heavy dose of isolation possessions to.
But the positives should outweigh the negatives here. At minimum, Lowry complements Miami's other stars on just about every level. His presence should make it easier to sit one of Butler and Adebayo without fear of the second unit hemorrhaging points.
The inverse is also true; Butler and Adebayo will make life easier on Lowry. If Lowry's rim pressure declines, Butler and Adebayo are capable of picking up the slack. More off-ball reps for Lowry won't be a bad thing; he's a strong shooter and a smart mover.
A healthier, rejuvenated Lowry will absolutely help this Heat team. The jury is out on if he'll be enough to lift the Heat into the Bucks-Nets tier at the top of the East. At the very least, he'll put them in the tier below. And as we saw in 2020, all the Heat need is a chance.