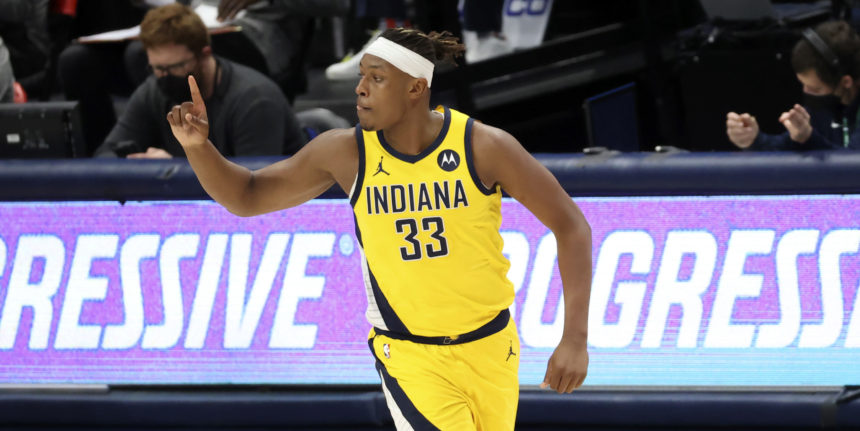 6 players who could be traded during the 2021 NBA Draft
The 2021 NBA Draft is less than a week away. Fireworks are always set off (one way or another) on draft night, making it one of the best dates on the Association's yearly calendar. This year looks to be no different, as certain teams have been very aggressive and plenty of trade rumors have been surfacing recently.
Matt Babcock, our NBA Draft analyst, has been hearing the same rumblings.
"There seems to be a lot of trade chatter this year, so do not be surprised if we have some deals involving lottery picks," Babcock tweeted.
So, who will shake things up once they're on the clock? Which players could be on the move? When looking around the league, six names stand out as possible trade chips.
Myles Turner, Indiana Pacers
What will the Pacers do with their big-man duo of Domantas Sabonis and Myles Turner? I recently wrote about whether Indiana's jumbo-big-man duo can coexist. The numbers show that they shouldn't play Sabonis and Turner together (and Rick Carlisle has talked about staggering them), which means Indiana should definitely shop one or the other on draft night.
Knowing the value of Sabonis as an offensive hub (similar to Nikola Jokic and Nikola Vucevic), the Pacers would be wise to find the best value out there for Turner instead.
Many teams around the league would be clamoring for a win-now piece like Turner, who can be an elite shot-blocking anchor for a defense, while also spreading the floor adequately from three-point range. Multiple teams showed interest in Turner last offseason. For example, the Boston Celtics were in talks with Indiana about a potential Gordon Hayward sign-and-trade involving Turner.
According to The Ringer's Kevin O'Connor, the Golden State Warriors have entered into discussions with Indiana surrounding Turner. The fit for Turner with Golden State is amazing. Stephen Curry and Klay Thompson have always missed a big man with the talents of Turner. Golden State's stars are reportedly pushing for a win-now move, and the team has been trying to deal their two lottery picks (No. 7 and No. 14) for a player who can help elevate them back into the Western Conference's elite tier. Adding Turner alongside Curry, Thompson, and Draymond Green would do just that.
A trade package revolving around Andrew Wiggins and multiple picks could potentially get the job done for Indiana, who would also send out Jeremy Lamb for salary-matching purposes.
Golden State receives: Myles Turner, Jeremy Lamb, No. 13 pick
Indiana receives: Andrew Wiggins, No. 7 pick, No. 14 pick
Kemba Walker, Oklahoma City Thunder
Kemba Walker is in a weird spot right now. After leaving Charlotte for Boston, which didn't go well in terms of the on-court fit alongside the Celtics' young core, Walker and the No. 16 pick were shipped to Oklahoma City in exchange for Al Horford, Moses Brown and a second-round pick.
A player of Walker's caliber shouldn't be long with the Thunder, though. Oklahoma City is in a full-fledged rebuild with countless picks over the next five-plus years. Even with three years remaining on his lucrative contract, Walker should intrigue some teams who are looking to bolster their playoff chances.
How about Kemba finally playing full-time in Madison Square Garden for the New York Knicks? New York will likely want to wait to see what happens with Damian Lillard in Portland before making any decision, but Walker's fit next to their young core is actually pretty interesting. Trotting out a starting lineup featuring Walker, Julius Randle, and R.J. Barrett fortifies the Knicks as a strong playoff team entering 2021-22.
As seen in the Celtics-Thunder trade, Walker's value is not high at all. New York could get the deal done sending one of their first-round picks plus a player to shed some of their own salary.
New York receives: Kemba Walker, No. 34 pick
Oklahoma City receives: Kevin Knox, No. 21 pick
Buddy Hield, Sacramento Kings
Buddy Hield's tenure in Sacramento has been a roller coaster ride, to say the least. Bouncing back and forth from a starter to a sixth-man role, Hield's frustration with the organization feels like it's reached a boiling point. At times, he hasn't even tried to hide his displeasure. With three years remaining on Hield's contract and this divorce seeming inevitable, perhaps the Kings will look to deal him this offseason.
Looking back at the Kings' decision, choosing Hield over Bogdan Bogdanovic was a big mistake. Still, if Hield does become available, many teams would be calling to inquire about the sharpshooter. As one of the best three-point marksmen in the NBA, hitting 40.9% over his last four years, Hield could seemingly fit on any roster.
After a surprising first-round exit in this year's playoffs, the Los Angeles Lakers make so much sense as a potential suitor for Hield. Los Angeles has been floated in almost every rumor surrounding big free agents (from Chris Paul to Kyle Lowry to DeMar DeRozan), but Hield's floor-spacing gravity would open up the offense even more for LeBron James and Anthony Davis.
Just imagine Hield as a third or fourth option, running around the perimeter while LeBron and AD do their damage on drives. This is something that Los Angeles should seriously explore, while also keeping their options open in free agency for potential sign-and-trades for a new starting point guard (*cough, Kyle Lowry, cough*).
For Sacramento, receiving a first-round pick along with a young player who fits their timeline in Kyle Kuzma feels like a win considering their current situation with Hield.
Los Angeles receives: Buddy Hield
Sacramento receives: Kyle Kuzma, Kentavious Caldwell-Pope, No. 22 pick
Andrew Wiggins, Golden State Warriors
Golden State feels destined to make a move on draft night, no matter what size deal it may be. With two lottery picks at No. 7 and No. 14 overall, the Warriors are trying to make one final push for another championship in the Curry era.
Andrew Wiggins' $31.6 million salary for the 2021-22 season puts the Warriors in any discussion for star-caliber players. Already included earlier in a hypothetical Myles Turner trade, Wiggins also makes sense in another scenario.
Pascal Siakam rumors have bubbled up occasionally over the last few weeks, as Toronto decides on their long-term vision. Siakam is "considered available for trade by sources around the league," according to Jake Fischer of Bleacher Report. Holding the No. 4 overall pick in this year's draft, should the Raptors re-tool or rebuild?
If Toronto decides to blow it up, leaving behind only OG Anunoby, Fred VanVleet, and their top-five pick, a deal with Golden State makes way too much sense. The Warriors can send Wiggins, last year's No. 2 overall pick James Wiseman, and their two lottery picks, which is an enticing package that's hard to pass up. This deal also allows both teams to embrace their current directions (with Golden State in win-now mode and Toronto rebuilding).
Toronto receives: Andrew Wiggins, James Wiseman, No. 7 pick, No. 14 pick
Golden State receives: Pascal Siakam, Aron Baynes
Collin Sexton, Cleveland Cavaliers
Darius Garland is the prioritized member of the Cavaliers' young backcourt, so Collin Sexton looks to be on the way out soon. Cleveland is not comfortable paying Sexton a big chunk of money on his looming second contract, so finding the best potential deal on draft night could be the route they're headed.
Sexton is a score-first combo guard who averaged 24.3 points this past season for the Cavaliers. Many teams should be interested in acquiring the 22-year-old, but some organizations will be worried about whether those are empty-calorie stats.
One team that has already been rumored to be interested in Sexton is the New York Knicks. Sexton is a strong fit for the culture that head coach Tom Thibodeau is trying to build in New York, and he's another tantalizing piece to add to their young core alongside R.J. Barrett and Immanuel Quickley. Also, Sexton could be used later on as a trade piece for the next disgruntled superstar who asks out.
Sending Cleveland Obi Toppin, Kevin Knox, the No. 19 overall pick, plus a top second-round pick (No. 32 overall) feels like a fair package for both sides in this scenario.
New York receives: Collin Sexton
Cleveland receives: Obi Toppin, Kevin Knox, No. 19, No. 32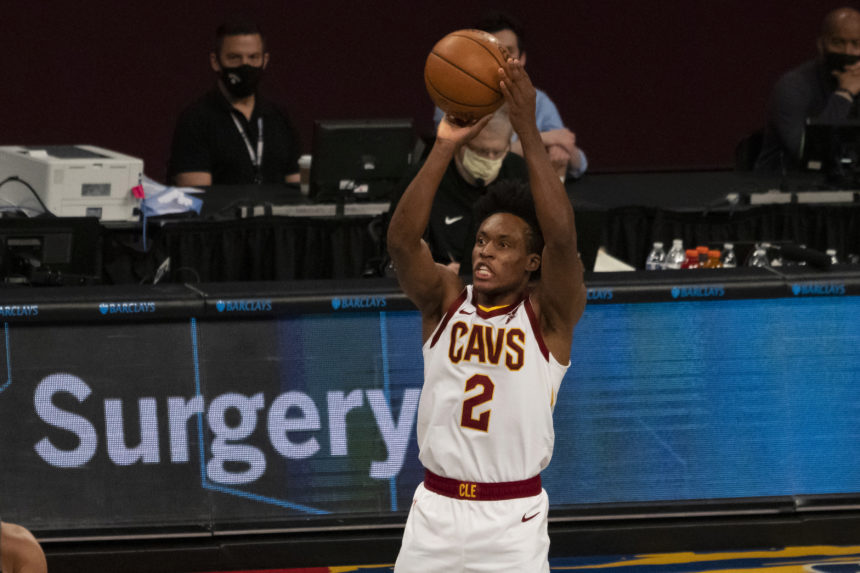 Ben Simmons, Philadelphia 76ers
Something has to give in the city of Brotherly Love this offseason. After an awful playoff performance, the Sixers must explore moving off of Ben Simmons' massive max contract. For years, many have questioned the long-term fit between Simmons and Joel Embiid. After losing to the Atlanta Hawks in the Eastern Conference Semifinals, once again coming up short of an NBA Finals appearance, Philadelphia needs to make some tweaks to reach their ultimate goal.
Longtime NBA insider Marc Stein reported earlier this month that all of the following teams have inquired about Simmons' availability: Indiana, Cleveland, Minnesota, Sacramento, and Toronto.
Out of those five teams mentioned, who makes the most sense to pay the hefty price needed for Simmons? Sacramento strikes me as the one who's desperate enough to pay whatever it takes (outside of their young backcourt of De'Aaron Fox and Tyrese Haliburton).
A package revolving around Buddy Hield, Harrison Barnes, and three first-round picks (including the No. 9 overall pick in the 2021 NBA Draft) could make Sixers GM Daryl Morey seriously consider pulling the trigger.
For Sacramento, a young big three consisting of Simmons, Fox, and Haliburton is their last-ditch effort to try to escape the proverbial abyss. Missing the playoffs for 15-straight seasons, a massive move needs to occur in order to keep Fox happy long-term, while also trying to jump another tier in the loaded Western Conference.
In return for sending Simmons to the Kings, Philadelphia adds a ton of shooting in the short-term, while holding golden tickets in draft capital long-term. If the Sixers are serious about making a Finals push while adding security past that window, this deal makes so much sense.
Sacramento receives: Ben Simmons, George Hill
Philadelphia receives: Buddy Hield, Harrison Barnes, No. 9 pick, 2023 1st, 2025 1st