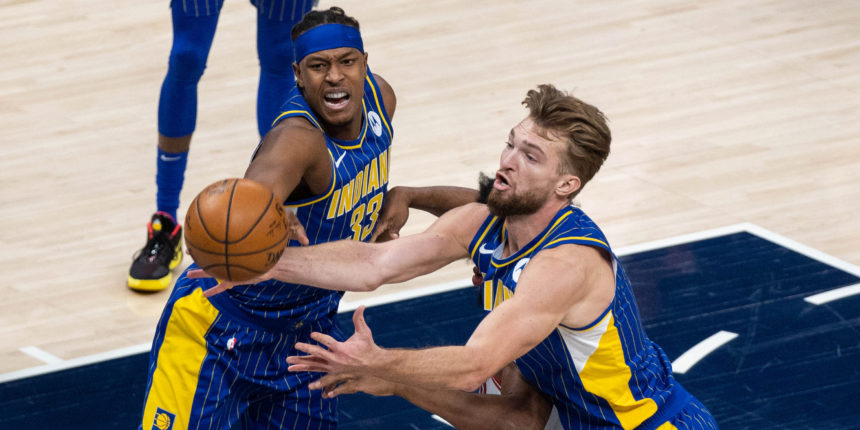 Will the Pacers run it back with Sabonis-Turner duo, or split them up?
The Indiana Pacers are one of the most intriguing teams in the NBA this upcoming offseason.
Indiana has been stuck in no man's land for years, seemingly content with playoff appearances and nothing else one way or the other post-Paul George trade. After the Victor Oladipo-led squad gave LeBron James and the Cleveland Cavaliers a tough first-round test in a seven-game series in 2017, the Pacers have been swept in their two postseason appearances since.
The 2020-21 season was a new low for the Pacers, though.
First-year head coach Nate Bjorkgren was unable to connect with players, which led to his firing after the team's embarrassing blowout loss to the Washington Wizards in the NBA Play-In Tournament. Missing the postseason for the first time in six years, injuries were also a culprit, derailing any momentum they were trying to build. T.J. Warren, the Bubble's breakout star, only played four games before undergoing season-ending foot surgery. Caris LeVert, whom the Pacers acquired in the James Harden trade that rerouted Oladipo to Houston, was found to have a cancerous tumor in his kidney upon a team physical. LeVert returned later on in the regular season, but Indiana's early-season momentum vanished.
Struggling to stay afloat around .500, Indiana finished with a 34-38 regular-season record. With an important year wasted due to to hiring the wrong head coach -- and chemistry unable to coalesce with countless injuries across the roster -- Indiana now sits at a pivotal point. Will Indy run it back after making a huge splash by hiring long-time Dallas Mavericks leader and former Pacers coach Rick Carlisle, or should necessary steps be taken to retool the roster on the fly to best fit their new vision?
With Carlisle back as the Pacers' head coach, the talent on the roster speaks for itself: Warren, LeVert, Domantas Sabonis, Malcolm Brogdon and Myles Turner. Yet to play a single minute together, this 5-man starting unit has the potential to make noise in the Eastern Conference next season. Brogdon and LeVert can share backcourt duties, scoring and playmaking for others, while Warren can light up the scoreboard, as he showed in the Bubble.
The big question for Indiana is its big-man duo of Sabonis and Turner. Nowadays, teams are looking to small-ball lineups to best fit within the modern NBA. Optimum floor-spacing and positional versatility are highly valued. By trotting out Sabonis and Turner, Indiana is attempting to zag while everyone else zigs an entirely different direction.
What a block from Turner, and Sabonis ties the game on the other end: pic.twitter.com/7jxY8WfFiH

— Tony East (@TEastNBA) January 30, 2021
So, what exactly should the Pacers attempt to do with their bigs? Carlisle mentioned during his introductory press conference that he will attempt to stagger Sabonis and Turner as much as possible. And when diving into the numbers, it makes a lot of sense to keep them separated.
In 45 games together this season (totaling 1,058 minutes), Indiana carried a negative-2.3 net rating (106.4 offensive rating, 108.7 defensive rating). Comparing the "Turbonis" advanced metrics around the NBA, Indiana would have finished No. 5 overall in DRTG, but No. 27 in ORTG. Simply put by the numbers, the double-big duo playing heavy minutes together is not a recipe for sustainable success.
Further data-crunching on how Sabonis and Turner each fit with their backcourt duo of Brogdon and LeVert shows more interesting analysis.
Sabonis-LeVert-Brogdon 3-man lineup (404 minutes) = 105.3 ORTG, 105.8 DRTG, -0.5 NET
Turner-LeVert-Brogdon 3-man lineup (222 minutes) = 100.0 ORTG, 104.0 DRTG, -4.0 NET
Each trio finished with a negative net rating -- however, the drop-off on offense from Sabonis to Turner showed more damage than the defensive drop-off from Turner to Sabonis.
To make things even more interesting, let's toss multi-positional wing Justin Holiday into the mix to create 4-man lineup data. Holiday was an integral part to the Pacers' rotation, playing big minutes alongside all of their key building blocks. And with Sabonis and Turner, Holiday served as a small-ball four who could play alongside either big with ease.
Sabonis-LeVert-Brogdon-Holiday 4-man lineup (353 minutes) = 108.0 ORTG, 105.9 DRTG, +2.1 NET
Turner-LeVert-Brogdon-Holiday 4-man lineup (196 minutes) = 98.8 ORTG, 104.3 DRTG, -5.4 NET
Again, the numbers show an even more substantial drop-off offensively for the Pacers when Sabonis sits, while the defense was barely impacted with Turner off the floor with this trio. Carlisle's initial preference to avoid Indiana's big-man duo playing heavy minutes together is the right way to go after realizing what each one can do without the other.
Sabonis is a multi-time All-Star who can be the hub of an offensive system. Cut from a similar cloth as Nikola Jokic and Nikola Vucevic, Sabonis offers tantalizing ability as a finisher, playmaker and elite rebounder. Meanwhile, Turner is exactly what teams want nowadays in a modern-day center: floor-spacing and the ability to anchor strong defensive units.
What's the next step for the Pacers when it comes to handling their current conundrum with Sabonis and Turner? Diving back into advanced metrics, the best bet for Indiana would be to have Turner as the first one to substitute out of games within the first four-to-six minutes. Playing Turner with the bench guys showed immense success in a manageable sample size this past season, unlike Sabonis surrounded by second-unit players.
Indiana's three main pieces off their bench were backup point guard T.J. McConnell, Holiday and Doug McDermott -- who was pressed into early starting action following Warren's foot surgery. Cobbling together 4-man lineup data between how Sabonis and Turner played with these three together helps discover an interesting net rating conclusion.
Sabonis-McDermott-McConnell-Holiday 4-man lineup (214 minutes) = 109.2 ORTG, 108.8 DRTG, +0.4 NET
Turner-McDermott-McConnell-Holiday 4-man lineup (96 minutes) = 109.2 ORTG, 100.0 DRTG, +9.2 NET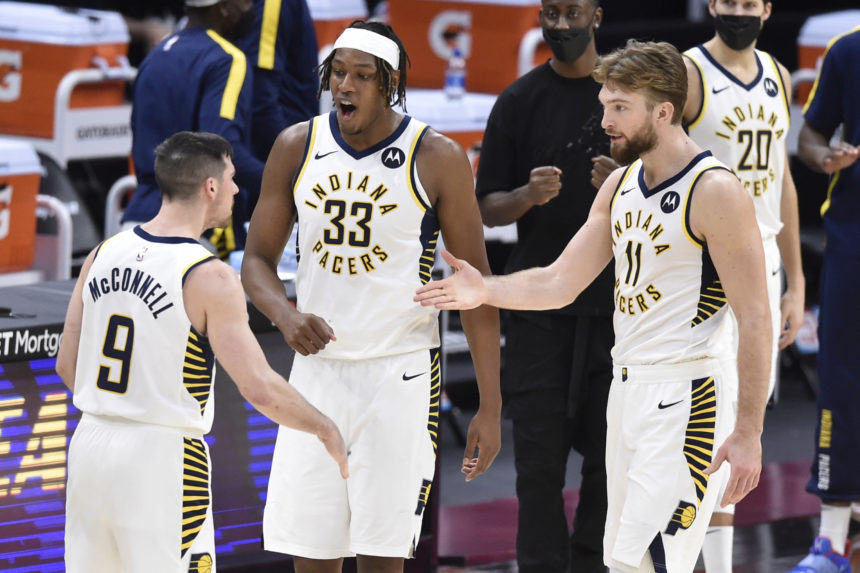 There's hope within the numbers showing that the Sabonis-Turner duo can coexist, albeit with not much playing time together on the court. If Carlisle continues to have Sabonis be the fulcrum point of Indiana's offense, Turner is best served to be surrounded by shooters and versatile defenders in the second unit more often. It's a tough juggling act that Indiana will have to figure out during the 2021-22 season, if both even remain on the roster once opening night comes around.
Indiana would be foolish not to at least explore trade options for either one throughout this offseason. Seeing what the Orlando Magic received from the Chicago Bulls at the trade deadline for Vucevic -- Wendell Carter Jr., Otto Porter Jr. and two first-round picks -- the haul would be even bigger for someone like Sabonis.
However, the smarter bet would be shopping Turner while keeping Sabonis in his optimum role alongside LeVert, since the two showed budding chemistry late in the season. Many teams around the Association could use a modern big like Turner, which could ensue a bidding war. If the Pacers were to receive a lottery pick plus an intriguing young prospect to add to their core, dealing Turner in the right situation makes a ton of sense.
Being one week away from the 2021 NBA Draft, and two weeks away from free agency, keep an eye on the Pacers.
How they go about solving their big-man puzzle could cause ripple effects within the NBA.