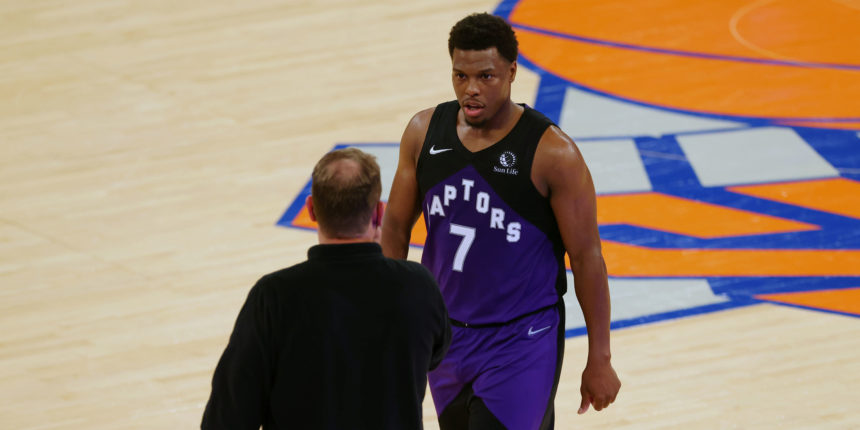 Examining possible free-agency destinations for Kyle Lowry
The NBA's free agency is set to kick off this weekend, with the potential to be a wild period with a flurry of game-changing transactions. While three of the top names are expected to stay put — Kawhi Leonard (Los Angeles Clippers), Chris Paul (Phoenix Suns), Mike Conley (Utah Jazz), there is one big name that could emerge as the top-dog on the market: Toronto Raptors point guard Kyle Lowry.
It's not often a 35-year-old floor general is the most coveted name on the open market, but Lowry's two-way prowess and leadership skills will be coveted by any and every organization looking to make a championship push next season. And, after the league watched Paul propel the Suns to an NBA Finals appearance after missing the playoffs for 11 consecutive seasons, many rebuilding teams wanting to jump a tier or two up the proverbial ladder may give Lowry a call in the hopes he can do the same.
Although the Raptors will try to keep Lowry around, it's likely in the best interest of both parties to split off and begin anew after a down year that saw the Raptors earn the No. 4 overall pick. If Lowry were to say no thanks to re-signing with Toronto, it could begin an extensive rebuilding period north of the border. Pascal Siakam's name has continued to billow in trade talks in the lead up to draft night, which could signal Toronto is ready to build their future core around OG Anunoby, Fred VanVleet, and the No. 4 pick.
Lowry's decision in free agency will cause ripple effects wherever he signs, potentially shifting the balance of power in the Association. So, with him more than likely to leave his longstanding post in Toronto, let's dive into which destinations make the most sense for the 15-year veteran.
MIAMI HEAT
Miami flirted with the idea of acquiring Lowry at the NBA trade deadline, but ultimately passed. This time around, the Heat are well-positioned should they decide to go all-in on adding Lowry alongside Jimmy Butler and Bam Adebayo.
Lowry is an excellent fit within the world-renowned "Heat Culture," while playing alongside Butler and Adebayo would take pressure off of him as a playmaker. Being able to settle into an organization that not only identifies with his effortless drive to win, but one that already has a supremely talented duo in place to flank him, a Lowry-Miami match is one of the strongest potential pairings.
In a sign-and-trade scenario, which could be the preferred option wherever Lowry goes so as not to leave Toronto empty-handed, shipping KZ Okpala and multiple future second-round picks could get the job done.
Next season, Miami would trot out a rotation featuring Butler, Adebayo and Lowry while also having the flexibility to retain Victor Oladipo and Duncan Robinson as a restricted free agent. Toss in promising young prospects Tyler Herro and Precious Achiuwa and the Heat have a rotation stocked with immediate, talented contributors.
LOS ANGELES LAKERS
Mutual interest between Lowry and the Lakers has picked up steam recently, according to Los Angeles Times' Broderick Turner. Lowry and his former Raptors teammate DeMar DeRozan recently expressed interest in joining the purple and gold, per Turner's intel. That could open up a new potential fit for Lowry alongside LeBron James and Anthony Davis.
Los Angeles has been scouring the market for an elite point guard to alleviate the playmaking pressure off James, while also spacing the floor for the dynamic duo to do damage inside. In free agency, there's no better fit for this role than Lowry, who averaged 7.3 assists on 39.6% shooting from three-point range.
The Lakers won a championship in the Orlando Bubble with Rajon Rondo as their primary point guard outside of James. Not only would Lowry prove a massive upgrade over Rondo, but he would elevate Los Angeles to a completely different level as contenders. The Lakers' new trio could go toe-to-toe in a Finals series with Brooklyn's super-team featuring Kevin Durant, James Harden, and Kyrie Irving.
For the numbers to work, Los Angeles would need to pull off a sign-and-trade for Lowry, a familiar theme throughout this exercise. A structure that would make sense for both sides without forcing Los Angeles to overpay would include Kentavious Caldwell-Pope's $13 million salary, Montrezl Harrell's $9.7 million player option, Alfonzo McKinnie's non-guaranteed $1.9 million, and multiple future second-round picks. Such a scenario would also keep the team's options open should another potential sign-and-trade, for DeMar DeRozan or Buddy Hield, perhaps, present itself, utilizing Kyle Kuzma and Talen Horton-Tucker.
Adding Lowry would vault Los Angeles from a top title contender to arguably the favorite heading into 2021-22.
LOS ANGELES CLIPPERS
The Clippers can potentially throw their name in the hat to court Lowry, but it's a tricky process. With limited future draft picks and overall player assets, could they realistically entertain a Lowry sign-and-trade? Unless Kahwi Leonard and Paul George successfully pulled off a recruitment effort for Lowry, forcing the Raptors' hand, then it's a very tough task.
The other Los Angeles squad can offer up all of the following to Toronto for Lowry, assuming he wants to join his former Raptors teammate with whom he won a title: Patrick Beverley, Luke Kennard, the No. 25 overall pick and future second-round picks.
A first-round pick for Lowry is an enticing piece, but Beverley's $14.3 million expiring contract and Kennard's 4-year deal might not get the job done. Unless the Clippers can re-route Kennard elsewhere in a complicated three-team sign-and-trade, the ingredients just aren't in place for this to happen.
Luckily for the Clippers, the Oklahoma City Thunder could be the perfect place to send Kennard in this scenario. In full-on asset collection mode, Los Angeles could package Kennard with multiple second-round selections to Oklahoma City to get them to facilitate a deal.
A potential framework for a Lowry sign-and-trade involving the Clippers, Raptors, and Thunder could look something like this:
Los Angeles receives: Kyle Lowry (3-year, $72 million deal)
Toronto receives: Patrick Beverley, No. 25 pick, 2023 second-round pick
OKC receives: Luke Kennard, 2022 second-round pick (via Kings), 2022 second-round pick
Although Leonard is expected to miss most of next season with a partially torn ACL, George and Lowry would help keep the Clippers afloat before his presumed postseason return. All three together would give Los Angeles such a great mix of shooting and defense. Lowry adds a completely different element to the Clippers' system, having them rival or potentially exceed what the Lakers can do on the court.
A big-time dark horse given what they can offer, the Clippers are certainly a team to keep an eye on. Even if they can't land Lowry, look out for them to try and package Beverley and Kennard together to make some splashy move this offseason.
DALLAS MAVERICKS
Unlike the other teams listed above, the Dallas Mavericks can outright sign Lowry to a lucrative multi-year contract without any issue. If Dallas was able to find a trade partner for Josh Richardson's $11.6 million player option, which he will almost certainly accept, while also renouncing all of their free agents (Tim Hardaway Jr., JJ Redick, Boban Marjanovic, Willie Cauley-Stein), they would have $34.4 million in salary cap space, per Cleaning The Glass. That's more than enough to sign Lowry, who might need a more expensive annual value to be persuaded by Mark Cuban's Mavericks.
The Mavericks are in a massive predicament this offseason. After back-to-back years not living up to his max contract extension, Kristaps Porzingis has put Dallas' future flexibility in a bind. Playing more like a third option behind Luka Doncic and Hardaway Jr. throughout last season, the Mavericks have to be savvy to find a more suitable star running mate than Porzingis alongside their young superstar.
This is where Lowry enters the mix, and his fit next to Doncic could produce some beautiful basketball on a nightly basis. Lowry and Doncic sharing ball-handling duties, while also creating endless pick-and-pop scenarios with Porzingis, would make the Mavericks' offense even more explosive than the record-setting unit it was just two seasons ago.
Finishing as the No. 5 seed in the Western Conference in 2020-21, Dallas could enter the discussion of being a top-three seed with Lowry onboard. With Doncic expected to take another leap in his game, an MVP campaign shouldn't be out of the question for him, while Lowry's arrival would take Dallas from being a fun playoff team to a real Finals contender.
NEW YORK KNICKS
The New York Knicks are projected to have over $50 million in salary cap space this offseason. More than enough to make a big splash, if they so desire. But could Lowry be the splash that makes New York an even stronger contender in the Eastern Conference?
Under head coach Tom Thibodeau, Julius Randle and former No. 3 overall pick R.J. Barrett produced career-best seasons. Bolstered by their young talent — Immanuel Quickley, Obi Toppin and Mitchell Robinson — New York is a team ripe to take a leap next season should they add the right veteran voice to the mix.
Lowry would bring so much credibility to an already improving organization like the Knicks. An ideal mentor for Barrett, Lowry would also serve to further elevate the game of the All-Star Randle.
It would take an overpay, potentially $30+ million annually, but Lowry playing in Madison Square Garden on a more regular basis would be a fun sight to behold.
NEW ORLEANS PELICANS
If you're looking for one team that could be ultra-aggressive this offseason to mirror the shocking success of the Phoenix Suns, look no further than the New Orleans Pelicans. Led by Zion Williamson and Brandon Ingram, New Orleans is that last big piece to vault them out of the lottery and into the playoffs next season.
Lowry could certainly be the Pelicans' version of Chris Paul, who brought strong leadership to a young core starved of a playoff maturity. The result was an NBA Finals berth for Phoenix after missing the playoffs for 11 straight seasons.
And the clock has also started already on Zion Williamson, all the more reason to be proactive in their search this offseason. Discontent from Williamson's camp has been growing louder, and something drastic might need to happen for the former No. 1 overall pick not to make history as the first player to play his fifth year on the restricted tag.
To avoid the worst-case scenario down the line, New Orleans would be wise to make a full-court press on Lowry. Making room for him under the salary cap would be an intricate juggle, though. To sign Lowry to a deal worth $25+ million per year, New Orleans would have to renounce their restricted rights to Lonzo Ball while also moving Eric Bledsoe in a salary dump. Should Lowry want closer to $30 million annually, the Pelicans might need to let go of their rights on restricted free agent Josh Hart as well.
That said, the Pelicans should do whatever is necessary to land Lowry. They are one of the few teams around the Association that feels like something splashy needs to happen to appease their young stars and truly take the next step.
PHILADELPHIA 76ERS
Philadelphia is a huge long shot in the Lowry sweepstakes, but that doesn't mean they won't try their hardest to make it happen.
A construct for a Lowry-to-Philadelphia sign-and-trade would need to revolve around Ben Simmons. According to Marc Stein, Toronto has sniffed around on Simmons' availability, so there could be something to work with here. But what type of package would make sense for both sides in a Lowry-Simmons swap?
In what would be one of the biggest blockbusters in recent memory, it would have to revolve around the Raptors' No. 4 overall pick. Like, say, Lowry, the No. 4 pick, and potentially another future first-round pick for Simmons.
Toronto would kickstart a new era led by Simmons, OG Anunoby, and Fred VanVleet. Pascal Siakam could then be flipped to a team like Golden State for their own lottery picks to recoup lost draft capital in this proposed sign-and-trade. Meanwhile, the Sixers' new big three would consist of Joel Embiid, Tobias Harris, and Lowry. Add into the mix Philadelphia acquiring a win-now prospect atop the draft such as Gonzaga's Jalen Suggs or Florida State's Scottie Barnes.
Lowry holds the key to a lot of potential dominos in the NBA this offseason. Wherever Lowry wants to go, it will have huge ramifications. Stay tuned to BasketballNews.com for all the latest on the NBA's top free agents.