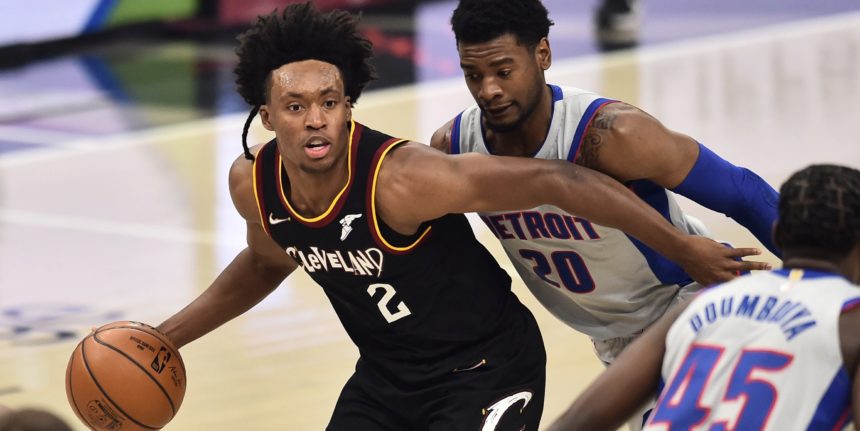 Examining potential trade destinations for Collin Sexton
It's odd for a rebuilding team to have a tough decision to make with one of their three best players. It's even more odd when that player is still on his rookie contract. It's especially odd when that player is coming off a season in which he averaged over 24.0 points per game.
But that's where the Cleveland Cavaliers find themselves with Collin Sexton.
If you aren't part of Draft Twitter, your first introduction to Sexton was likely his 3-on-5 showing at Alabama. Literally, 3-on-5 basketball.
That's the kind of competitor he is. As such, it's no surprise that he's an incredibly hard worker. That work has turned him into one of the better scorers in the NBA.
As referenced earlier, Sexton is coming off a season in which he averaged 24.3 points with a 51/37/82 shooting split. He's turned himself into a reliable pull-up threat, particularly from the mid-range area. The jumper complements his natural burst, making him a booger to deal with in the half-court.
When Sexton runs hot, he can completely bend games. His 42-point masterpiece against the Brooklyn Nets' Big 3 -- a game in which he dropped 22 of those points between two overtime periods -- stands out as the quintessential Sexton game.
With such a premium on three-level scoring, why would the Cavs even consider trading this guy before his second contract?
There are a couple of limitations at play.
Offensively, scoring is Sexton's best asset. At this stage, it's his only ++ asset. Sexton's assist numbers are underwhelming based on the usage. Beyond the counting stats, Sexton's ability to make reads -- proactive or reactive -- are below what you'd like from an offensive engine.
That can be mitigated to a degree if you're special as a scorer. Sexton is very good, but he isn't that. There's low-hanging fruit to be grabbed in regards to his shot profile. This isn't an anti-mid range argument; however, Sexton's split between pull-up twos (5.1 attempts) and threes (4.4 attempts, only 1.9 pull-up attempts) needs to shift a little. At the rate that he hits those middies, they should be a counter. Right now, they feel like his diet.
Defensively is where the real issue comes in. Sexton is a guard's guard in terms of stature (6-foot-1, 190), which limits his defensive versatility. He simply doesn't have the size or length to truly bother wings. His screen-navigation issues hinder his effectiveness as a point-of-attack defender.
Though effort generally isn't an issue, we're three years in and Sexton still finds himself being washed out by screens pretty often. He's fine when spinning under a pick; trying to fight over is, well, let's just call it an adventure.
Add in the emergence of Darius Garland last season, the Cavs' draft positioning for this year, and the fact that Sexton is up for a (likely max-level) extension this summer, and you have the ingredients of a "sell-high" case. You can quibble about if that would be the right decision to make, but it's at least a valid option to consider. (And the Cavs shouldn't rush this decision, as Spencer Davies recently wrote).
The purpose of this piece to determine where Sexton could go. Finding teams that need Sexton's skill set, have the personnel and/or coaching to mitigate his weaknesses, have the assets to pull off a deal, and are prepared to pay him wasn't easy. There are holes to poke, because that's an incredibly tough needle to thread. But these are the teams, from my view, that could make some sense for him.
TOP SPOT: MIAMI HEAT
Why the Fit Makes Sense
Sexton isn't a strong playmaker? That's fine. Jimmy Butler and Bam Adebayo are two of the best at their respective positions.
Sexton isn't strong at the point-of-attack? That's fine. Butler and Adebayo are two of the best helpers in the league, period.
The defensive infrastructure instilled by head coach Erik Spoelstra is sound, regardless of the multiple coverages thrown out. They'll switch if necessary, play drop with weakside helpers pinching in to clutter driving lanes, or scrap all of that to go zone.
What Sexton brings in the scoring department is missing in Miami. It's not just the rim pressure, though Butler can use a consistent option to take some of that burden off of him. Sexton would immediately become Miami's best pull-up threat. Teams can't duck under picks against Sexton like they can against Butler.
Potential Pitfall
Making the money work is easy. Making the money make sense for both parties is where this discussion gets tough.
Very loudly, there's a case to be made to make this deal bigger. Sexton is the headliner of course, but this could be a way for the Cavaliers to cut ties with Kevin Love. The Heat have the expiring contracts (Goran Dragic, Andre Iguodala) to get to Love's salary pretty easily. Add in Tyler Herro, maybe a tertiary asset (KZ Okpala, anyone?) and boom.
The Heat get their guy in Sexton. They also add a 4 in Love who can complement Adebayo offensively. A happier and healthier Love could add some juice to a frontcourt that scrambled for Adebayo-adjacent pieces for a large portion of last season.
The Cavs get a solid prospect in Herro who provides more (movement) shooting equity, some secondary playmaking chops to take some of the creation burden off of Garland, and also kicks the rookie-extension can down the road for another season.
Dragic solves Cleveland's woeful backup-point-guard situation for at least half a season; Iguodala can share defensive tricks of the trade with Isaac Okoro. The books get clearer moving forward, which matters considering Garland and Larry Nance Jr. will be up for paydays soon. Everyone wins, right?
Not quite.
Herro is promising, and adds a little bit more size to the backcourt. He is not as good as Sexton is right now, and the Cavs would feel the dip in rim pressure between Sexton and Herro. The added size and help-effectiveness on defense makes the situation more tenable. It doesn't make it good.
From Miami's side, that is a lot of money to commit. They would need to throw the bag at Sexton, most likely this summer. They would have Love's money on the books moving forward. They'd still need to pay Duncan Robinson, their most prized restricted free agent and one of the best shooters on the planet. Committing north of $18 million per year to Robinson, Sexton, Love, Adebayo (whose max extension kicks in this summer/season), and Butler is hefty.
Does that core, and whatever other pieces you add during the offseason, put Miami on par with Milwaukee or Brooklyn? The best answer you could give this in good conscious is "maybe."
That "maybe" might be worth it for Miami. And don't forget: this is a team well-versed in getting off of less-than-favorable contracts. It hasn't always been pretty, but it's gotten done.
OTHER LANDING SPOTS
TORONTO RAPTORS
If Cleveland is going to commit to a small backcourt, Garland and VanVleet -- one of the best guard defenders in the sport AND A SNUB FOR AN ALL-DEFENSIVE TEAM THIS SEASON -- would be a high-end version.
Toronto is in need of a bucket-getter like Sexton, and they surely have the defensive infrastructure and coaching to limit some of Sexton's shortcomings.
The issue isn't just the "what else"; it's trying to decipher who is giving more.
VanVleet is flat-out better and more impactful than Sexton at this stage, and it's not like VanVleet is an old man. He's 27, smack dab in the middle of his prime. And again, Sexton is up for a bag -- a heftier one than VanVleet's.
But Sexton is good, and also five years younger. Not only does he already boast a tremendous work ethic, Toronto's development system is among the best in the league. Saying Sexton will eclipse VanVleet at some point in the near future is not a hot take.
Does Cleveland add a piece (Cedi Osman, for example) to make up for the current gap in impact? Does Toronto sweeten the pot because of the age gap and the salary they're sending for this season?
It's hard to envision a scenario in which their first-round picks (#3 for Cleveland, #4 for Toronto) are offered in any capacity.
This feels like a slight no for both sides, but one that isn't far off from being feasible.
BOSTON CELTICS
Along the same lines of the VanVleet package, a deal centered around a Marcus Smart-Sexton swap could be workable. The Celtics would have to add more here; they have intiguing wing options (Romeo Langford, Aaron Nesmith) and nearly all of their first-rounders available to cobble something together.
New head coach Ime Udoka made a point to emphasize ball movement during his introductory presser. Let's just say Sexton wouldn't necessarily solve Boston's playmaking issues.
But Sexton would fit the timeline of The Jay's -- Jayson Tatum and Jaylen Brown -- and would give Boston another late-game creator. It's worth looking into.
LOS ANGELES LAKERS
They're more of an obligatory mention than a serious suitor. They don't have the pick capital to move Cleveland. Talen Horton-Tucker is a good prospect, but he certainly isn't Sexton right now.
Their only avenue would be going the "we'll-take-Love-off-your-hands-too" route. THT, Kyle Kuzma, Kentavious Caldwell-Pope, and a so-far-out-you'll-forget-about-it first-rounder for Sexton and Love is technically possible; I just don't see that being enough for Cleveland.