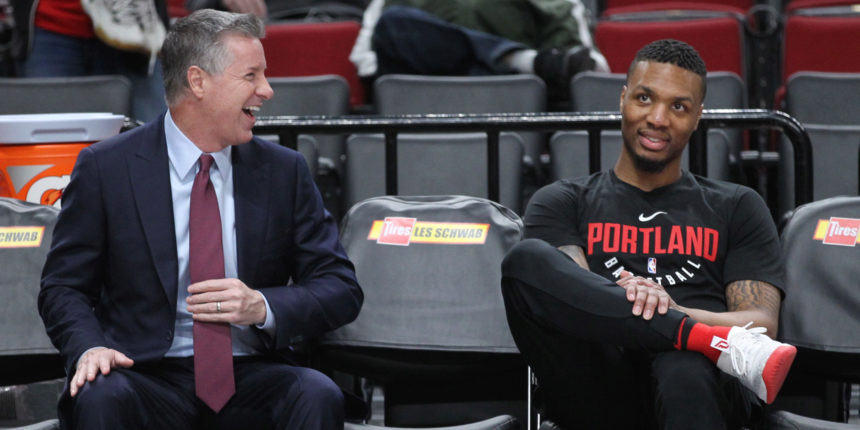 Roundtable: Which NBA team had the worst offseason?
This summer, there were a handful of teams that got better through the NBA Draft and free-agency period. Recently, our staff discussed the organizations that had the best offseason as well as the most underrated moves of this summer. But who didn't take advantage of this window to add to their roster?
Today, we asked our writers:
Which NBA team had the worst offseason?
Nekias Duncan: I'm just not a fan of what the Portland Trail Blazers did. Their coaching hire of Chauncey Billups was mired in controversy. There's been no major swing on the roster, with their best free agent acquisition being Cody Zeller. They got virtually nothing from the draft, then followed that up by building a summer league roster that frankly didn't make much sense. I can't say I'm a fan of how things have been handled.
Jackson Frank: It's the Dallas Mavericks for me. They didn't get substantially better in an offseason when they touted lots of cap space and resemble a very similar team to last year. They still need a secondary creator to aid Luka Doncic. The wing defense is lackluster. The center rotation is worrisome. This just felt like a considerable misstep, given Luka's superstardom and the financial flexibility drying up moving forward.
Alex Kennedy: In one of the most important offseasons in the Portland Trail Blazers' history (given what's at stake with Damian Lillard's future), Neil Olshey and Co. dropped the ball. The team lost Carmelo Anthony, Enes Kanter and Zach Collins, and their only notable moves were re-signing Norm Powell and adding Cody Zeller, Tony Snell and Ben McLemore. Entering this offseason, Lillard said: "I think if you look at our team as it is going into next season, I don't see how you can say, 'This is a championship team. You just need a new coach.'" He's 100% right, and now the roster is arguably worse than when he made that comment. When asked about Portland's free-agency moves, Lillard was honest and said, "We weren't able to go out there and get some of the guys that we would have liked."
Spencer Davies: Surprisingly, I am asking myself what the San Antonio Spurs are doing with their money. Bringing in veterans like Thaddeus Young, Doug McDermott, Zach Collins, Bryn Forbes and Al-Farouq Aminu would make more sense if they were contending for a postseason spot... but that almost certainly won't be the case. From a developmental standpoint, it should be good to have these guys around to mentor Dejounte Murray, Derrick White and Keldon Johnson. Still, it kind of takes time away from Lonnie Walker Jr. and Devin Vassell, and that's the last thing you want for a team that's going to reset after losing DeMar DeRozan and a slew of vets who had been around for years. That said, taking Josh Primo as a take-your-time project is intriguing... just maybe not so much for the other young players who play that position. Oh, and Jakob Poeltl signed an extension not too long ago too, yet R.C. Buford decided to invest in Collins. This summer just seemed like an interesting, maybe not-so-smart way to use cap space for one of the best-run organizations in sports.
Imman Adan: The New Orleans Pelicans. They went all in, giving up two future first-round picks in the Memphis Grizzlies deal for Jonas Valanciunas, and a pick swap. They also didn't re-sign Lonzo Ball, moved off of Eric Bledsoe and Steven Adams' money and gave up Wes Iwundu with very little to show for it. I'm all for big swings, but this didn't feel all that calculated. It's hard to understand what they're trying to accomplish, and they certainly took a step back.
Evan Sidery: I have no idea what the Spurs are doing. Why sign Doug McDermott to a big contract, while also signing Bryn Forbes? Zach Collins on a multi-year deal was another head-scratching move. The Spurs should be trying to tank this year, but that might not be their plan internally. Give those minutes opened by veteran departures to your young core, not new free agents. Now, players like Devin Vassell and Lonnie Walker are still stuck to the bench.
Ethan Fuller: Portland could win this off of the Chauncey Billups hiring (and subsequent fallout) alone, and I'm sure some of our fellow writers picked the Trail Blazers. So I'll add another team in the Dallas Mavericks, whose offseason consisted of a front-office blowup, three minor roster additions headlined by Reggie Bullock and the hiring of Jason Kidd as head coach. Kidd not only was convicted of domestic abuse in 2001 — and has done little publicly to atone for it — but he also has a 183-190 record as the head coach of talented teams. And there is anecdotal evidence of a problematic past in Milwaukee. It's hard for a team to regress with a rising star, but that seems to be what the Mavs are doing despite Luka Doncic's ascension.
Jesse Blancarte: In an offseason where the Portland Trail Blazers are at risk of superstar Damian Lillard demanding to be traded, the franchise failed to make any moves that would quell the situation. Re-signing Norman Powell was a good move. However, Portland lost notable players like Enes Kanter, Carmelo Anthony and Zach Collins. The only other additions so far include Cody Zeller on a minimum contract, Tony Snell and Ben McLemore. Unless Portland has a few tricks up its sleeves, it seems likely Lillard and C.J. McCollum are going to lack the support they need on the court to take Portland on a deep playoff run next season.
Drew Maresca: I was on the fence between the Dallas Mavericks and Portland Trail Blazers, but Doncic's re-signing made the difference for me. Ultimately, Dallas is now where Portland was two years ago. The Blazers needed to do something to impress Damian Lillard, and they failed. Lillard is insanely loyal, but even the most loyal among us has limits. Lillard will end up giving Portland an ultimatum at some point in the near future, and the Blazers might find themselves stonewalled into trading Lillard instead of building around him. Who knows, it might already be too late.
Chris Sheridan: That is a tough one because the summer is a time of hope for all 30 teams. But the Orlando Magic are the winners of this category. They added Robin Lopez and head coach Jamahl Mosley, but little else outside of their draft picks. I hated the Nikola Vucevic trade when they made it. I hated it even more when Khem Birch was waived and outplayed his replacement Wendell Carter Jr. with the Toronto Raptors late last season. I do not see much hope here for an Orlando win total north of the teens.