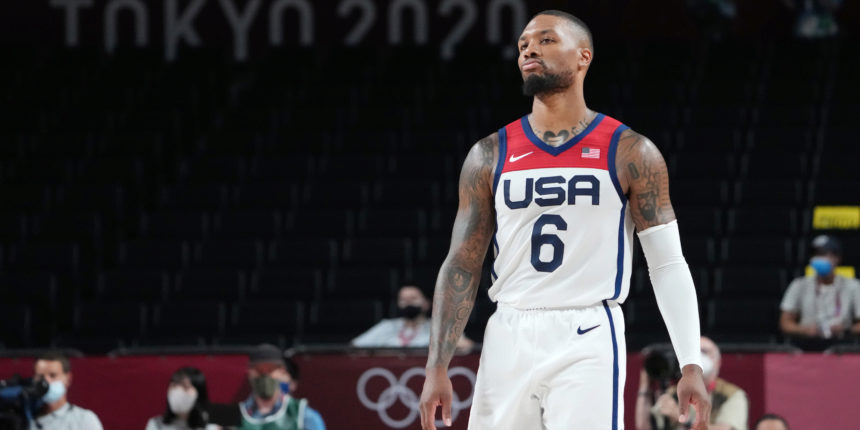 Damian Lillard not unhappy with Blazers despite losses in free agency
Damian Lillard has watched from afar as Carmelo Anthony left for Los Angeles, Enes Kanter departed for Boston and Norman Powell stuck around.
As he takes part in the Olympics with Team USA and prepares for the gold medal game against Team France, he is neither happy nor upset with what has gone down this week concerning his Portland Trail Blazers.
"Honestly I haven't really dove too deep into it. I've really been focusing on here," Lillard said Friday on a USA Basketball conference call.
"There are a lot of things that are out of my control. When you go into free agency and things like this, you never know what's going to happen. You never know where guys are going to end up and why they go there. You just try to have conversations and try to convince guys to be a part of our team."
None of the major free agents signed with Portland, which was knocked out of the playoffs in the first round in six games by the Denver Nuggets. It was the second straight first-round departure for the Trail Blazers after advancing to the Western Conference Finals in 2018, and it has fueled speculation that Lillard will ask for a trade from Portland at some point during the upcoming season.
The Blazers fired head coach Terry Stotts at the conclusion of the postseason and have hired Chauncey Billups as head coach and former Washington Wizards head coach Scott Brooks as an assistant, so there will be a new bench regime in Portland when the 2021-22 season gets underway.
The marquee players who found new homes — a group that included Kyle Lowry, Lonzo Ball, DeMar DeRozan, Spencer Dinwiddie, P.J. Tucker, Kemba Walker and Otto Porter Jr. — chose teams that are not based in Oregon.
The Blazers landed Cody Zeller and Tony Snell while also inviting Michael Beasley, Kenneth Faried and Emmanuel Mudiay — all of whom played in China last season — to play for its summer league team.
"Obviously, this go-round, we weren't able to go out there and get some of the guys that we would have liked," Lillard said. "You know, you go down the list and you go through the guys you like that are out there and haven't committed to another team or that was a part of your plans in free agency and you get the ones that want to be a part of what you are doing, and I think that's what we did."
Barring any trades over the remainder of the summer, Portland figures to go into training camp with Lillard and C.J. McCollum as the starting guards, Powell as the small forward, Robert Covington as the starting power forward and Jusuf Nurkic and Zeller as the centers. Anfernee Simons, Nassir Little and Ben McLemore are among their reserves, and 6-foot-9 Greg Brown of the University of Texas is the only rookie after the Blazers, who did not have any of their own picks, acquired the No. 43 pick from the Pelicans in exchange for a 2026 second-round pick.
That certainly does not make the Trail Blazers the winners of the offseason, an award that may end up going to the Chicago Bulls, Miami Heat, Charlotte Hornets or Detroit Pistons.
But Lillard sounded anything but upset. More like matter-of-fact.
What next season brings is among the many, many unknowns that everyone in the NBA and around the world must deal with as 2021 rolls along.
For now, Lillard's focus is on getting a gold medal against France. By the time Saturday arrives in the United States, we will all know whether that particular goal was accomplished.