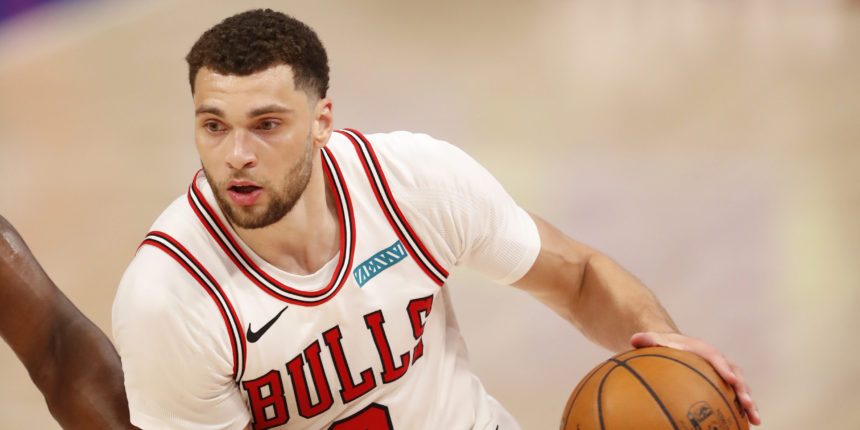 After years of star movement, 2022 offseason shapes up to be an outlier
Before the beginning of this offseason, 2022's free-agency period was supposed to be the next super-class of stars potentially moving elsewhere. However, three weeks later, those dreams have died rather quickly with teams either securing long-term extensions or future cap space dissipating.
Now, we're staring down the barrel of Bradley Beal and Zach LaVine as the headliners. And even then, all signs point to both players eventually signing lucrative extensions with their respective organizations. Projected 2022 restricted free agents — headlined by Deandre Ayton, Michael Porter Jr., Mikal Bridges and Jaren Jackson Jr. — figure to also sign long-term deals before next season even begins, further dampening an already weaker-than-expected crop of talent movement.
So, who's ready for a potential free agency period where T.J. Warren and Aaron Gordon are the biggest names that might hit the open market via unrestricted free agency? Marcus Smart and Terry Rozier recently signed multi-year extensions, so two of the other top names are already off the board a year in advance.
If you thought 2021's top-tier of free agents was a downtrodden year compared to years past, next summer looks to be an even more disappointing collection of franchise-changing talent.
Many players are taking the guaranteed long-term security in order to avoid a situation we just saw unfold with Dennis Schroder. After declining a four-year, $84 million extension with the Los Angeles Lakers, Schroder ended up signing a 1-year deal with the Boston Celtics late in free agency. It goes to show that sometimes betting on yourself to improve your annual value can be a dangerous game to play when there are no guarantees. And in the days of player empowerment, where a simple trade request can get you out the door of an organization at a moment's notice, you can still do that a few years into your new deal if it's not going well for either side.
Another reason why there isn't expected to be much player movement via free agency next offseason is due to projected cap space available elsewhere. Currently, only three teams look to have enough to go star-hunting if they so desire: the Orlando Magic, Detroit Pistons and New Orleans Pelicans. Those are not exactly the markets that big-fish free agents are desiring to chase nowadays.
With limited flexibility amongst NBA teams, the best bet for extensive player movement next offseason is via trade. Beal is the obvious name to watch under this scenario if he decides to pass on a Supermax extension from the Washington Wizards. If Beal wants to decline a future in Washington, but also not leave them empty-handed, a sign-and-trade is a strong possibility.
Zooming back out and looking ahead to the 2022 class of unrestricted free agents, here are the top names still projected to hit the open market as of today:
Ball-Handlers: Bradley Beal (player option), Zach LaVine, Victor Oladipo, Dennis Schroder, Ricky Rubio, Goran Dragic, Patrick Beverley
Wings: T.J. Warren, Aaron Gordon, Otto Porter Jr., Robert Covington, Kyle Anderson, Gary Harris, Joe Ingles
Bigs: Jusuf Nurkic, Jonas Valanciunas, Blake Griffin, Serge Ibaka, Thaddeus Young, Tristan Thompson, Thomas Bryant, Montrezl Harrell
Outside of Beal and LaVine — as mentioned, unlikely both even hit the open market a year from now — there's no true "star" free agent. Unless an organization makes an aggressive push for a B-level player like Warren or Gordon, and maybe even Oladipo if he proves to be 100% healthy following a lingering quad issue that has altered his career trajectory, the talent crop is not exactly awe-inspiring.
Be ready for another quiet free agency period next offseason. In 2021, we at least had a few players who had the potential of altering potential ceiling outcomes for their new organizations. Looking ahead, that appears not to be the case for 2022 unless something drastic occurs.
All eyes now will be focused upon the future of Beal and LaVine. They hold all the cards for what could either be an explosive 2022 offseason, or one of the quietest in terms of summer movement we've seen in a very long time.
It's safe to say we're not used to seeing this limited amount of talent entering into an open market, especially where organizations seem to prioritize continuity over splashes with very few projected max-contract slots open around the NBA.