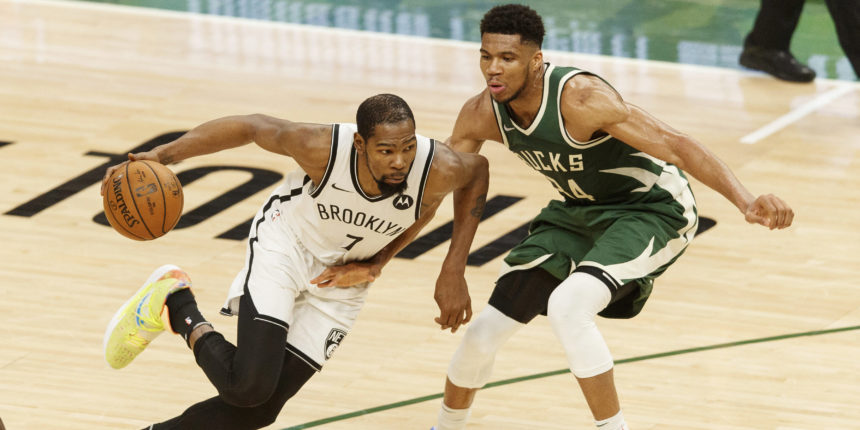 Ranking the NBA's top-10 unicorns
Nowadays, a unicorn-type player in the NBA is becoming more commonplace than ever. We're hitting a golden age of talent in basketball where so many unique body types develop into mismatch nightmares at the professional level. What was now a rarity is more frequent than usual, which is a testament to how far the game has come — and also what is valued at the highest level in prospects.
How should a unicorn be classified? For reference, there are a few criteria I'm putting in place, so if you're wondering where a player is and why he might not be on the list — don't fret. I am categorizing unicorns as multi-faceted players who provide more than one element on the basketball court standing at least 6-foot-10.
"Where's Zion?! Where's LeBron?! Where's Luka?! Where's Bam?!"
There's your answer. Even with those criteria put into place, this list is pretty darn impressive if I must say so myself. It's a perfect blend of elite-level pros who provide so much versatility. We're at the peak of the unicorn age, and it seems like this prototype is just now beginning to pick up steam.
Without further ado, here are my top-10 unicorns currently in the NBA:
1. KEVIN DURANT
The original himself. Kevin Durant is a "cyborg unicorn," if we want to make a new term for it. Durant's sharpshooting equity as a jumbo floor-spacer, who has also shown an improved awareness as a defender, makes him consistently one of the best players in the Association. Even after tearing his Achilles and missing the entire 2019-20 season, Durant returned and became an MVP contender once more. That's even more jaw-dropping from that aspect. Durant is the original unicorn, and he certainly deserves to lead off this list.
2. GIANNIS ANTETOKOUNMPO
Antetokounmpo's resume at this stage of his career is already absurd, but his fluidity as an athlete with his size is outrageous. Giannis can cover the full length of the court in just a dribble or two. His ability to glide around and make impact plays on both ends is what makes Giannis one of the best players on the planet. After winning his first NBA championship, Giannis is near the top of the pedestal for unicorns. Providing amazing two-way versatility as a Shaquille O'Neal-esque finisher around the basket with solid rim protection, Giannis could soon supplant Durant and become No. 1.
3. NIKOLA JOKIC
🗓 SEASON REVIEW ◆ AWARDS 🏆

🏆 MVP Nikola Jokic
📼 Season mixtape#NBA | #NBAAwards pic.twitter.com/BVzWTxCqwr

— NBA France (@NBAFRANCE) August 27, 2021
Last season's MVP award-winner inspired the idea for this article. Jokic is everything you look for in a unicorn — a large player who provides a unique ability on the court. As a seven-footer, Jokic is a triple-double machine, averaging 26.4 points, 10.8 rebounds and 8.3 assists during his miraculous MVP run. Add in the fact that Jokic can spread the floor as an adequate three-point shooter, and his unicorn qualities shine even brighter.
4. JOEL EMBIID
Everything you want in a unicorn Embiid possesses in spades. Above-average three-level scoring, defense, basketball IQ — Philadelphia's "Process" stays near the top of award races for a multitude of reasons. Embiid just signed a max extension with the 76ers, and Philadelphia will continue to build a roster that bests suits Embiid's transcendent abilities. If Embiid can become an even better three-point shooter, he could challenge for the top unicorn spot down the road. But everything else in Embiid's bag is already what makes him one of the best giants walking around the NBA today.
5. ANTHONY DAVIS
Davis has long been one of the best unicorns in the NBA. As a multi-time All-NBA player who provides elite production as a two-way big, Davis is slowly but surely becoming the 1A to LeBron James' 1B with the Los Angeles Lakers. Just now entering his prime years, Davis is poised to eventually take the mantle from LeBron as the best player on the Lakers' roster. In the meantime, Davis is the best complementary piece in the league that can go off for 40-plus points, 10-plus rebounds and 5-plus blocks on any given night. With that type of potential, Davis had to crack the top five of the NBA's best unicorns.
6. KARL-ANTHONY TOWNS
Karl-Anthony Towns stuffs the stat sheet in the @Timberwolves victory.

26 PTS
18 REB
5 AST
4 BLK
64.1 FPTS pic.twitter.com/bwEzES2xLK

— NBA Fantasy (@NBAFantasy) April 21, 2021
Towns is a fantastic scorer for any big man. Did you know the face of the Minnesota Timberwolves has shot above 40% on his three-pointers since the 2018-19 season? Seemingly way too far under the radar, Towns has become one of the NBA's best scorers. Towns would've been even higher on this list if not for his lack of consistent effort on defense. If it ever clicks for Towns on that end, he will become the best big man in the league. Minnesota has so much young talent on its roster to accompany KAT, including former No. 1 pick Anthony Edwards. If the Wolves take a leap, Towns will get more national respect that he deserves for the caliber player that he is.
7. MICHAEL PORTER JR.
This may seem high for Porter Jr., but his breakout sophomore campaign (technically MPJ's third season, but he sat out Year 1 due to back surgery) helped him surge up the list of unique talents within the NBA. Porter's shooting ability among 6-foot-10, score-first wings is only matched by Durant, as Porter shot an incredible 44.5% on 6.3 three-point attempts per game last season. Having such an unguardable shot launch-point, Porter can go off for 20-plus points on any given night.
With an expected leap coming from Porter next season — and also a flash of some better defense before a regression in the playoffs — he could become one of the best under-25 players in the league. Discussing jumbo-sized young prospects, Porter is one of the most intriguing of the bunch. If Porter hits his sky-high ceiling for Denver, the Nuggets will have a potent trio of scorers who could go up against anybody and win.
8. BEN SIMMONS
Simmons has become a controversial player to discuss after his disappointing playoff run with Philadelphia. Passing up a wide-open dunk because of his lack of shooting confidence, Simmons could soon be on the way out of the Sixers' long-term plans. But even if that's the case, it still doesn't knock all that the 2016 No. 1 overall pick can provide to any organization. Although the shooting is woeful, to say the least, he's still a jumbo-sized point-forward who offers All-NBA defense and above-average playmaking chops for his size.
In the right situation that optimally spaces the floor, Simmons could look more like a Giannis-type of player who attacks the basket with reckless abandon on every possession. In the meantime, Simmons' stock is at an all-time low. It wouldn't shock me if Simmons cracked the top-five on the 2022-23 unicorns list if he gains some semblance of scoring ability outside of the paint.
9. KRISTAPS PORZINGIS
Porzingis made the unicorn phrase popular within NBA circles. After beginning his career with the New York Knicks, Porzingis' 7-foot-3 frame would single-handedly carry his team to victory in some games. With such a unique frame and an ability to protect the rim and shoot three-pointers so fluidly, Porzingis used to be a player many thought you could build a team around. Nowadays due to injury concerns, Porzingis is settling in as a second or third option with the Dallas Mavericks alongside Luka Doncic and Tim Hardaway Jr.
New head coach Jason Kidd's top task in Dallas is to bring back the New York version of Porzinigis which terrorized opposing gameplans. If it all clicks back together for Porzingis, the Mavericks will be a force in the Western Conference, with a top MVP contender already on their roster in Doncic.
10. EVAN MOBLEY
It's bold to put a rookie who has yet to play a single NBA game at No. 10 on the unicorns list, but I'm going for it. Mobley was one of the safest big man prospects we've seen enter the NBA in years. His ability to shoot, defend multiple positions and even facilitate made many believe he was a transcendent prospect coming out of USC. Now with the Cleveland Cavaliers, Mobley will likely be a starting power forward alongside Jarrett Allen in the frontcourt. Add in an interesting backcourt combination in Darius Garland and Collin Sexton, plus Isaac Okoro on the wing, and the Cavs have an exciting young core to build around.
Mobley should soon become the No. 1 building block in Cleveland with his immense upside as a multi-faceted seven-footer who can impact the game in so many different ways. Eventually, Mobley could see himself be one of the game's top unicorns if his skill set translates as smoothly as it's expected to.