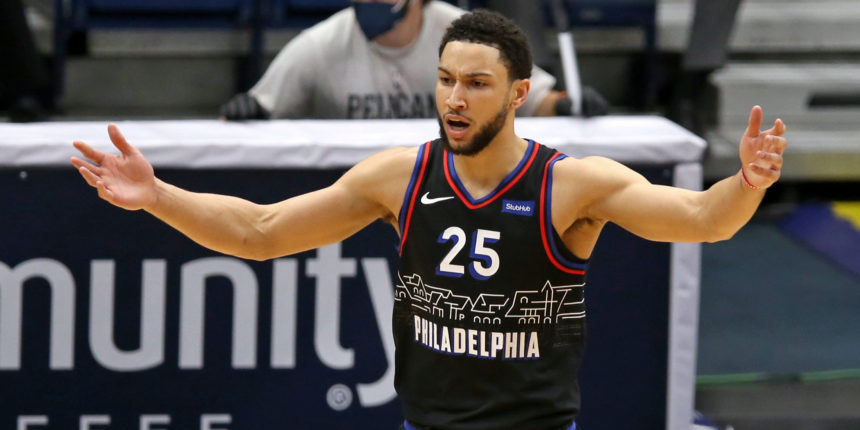 NBA Roundtable: What should the 76ers do with Ben Simmons?
Following the Philadelphia 76ers' Game 7 loss to the Atlanta Hawks, the basketball world is wondering: What does the future hold for Ben Simmons?
During the series, Simmons averaged 9.9 points, 8.6 assists, 6.3 rebounds, 1.3 steals and 0.9 blocks (while shooting 60.0% from the field). However, he was extremely passive, particularly in the fourth quarter (taking just three shots in seven games). He seemed scared of the big stage and he even passed up an open dunk in crunch time of Game 7, which Joel Embiid described as the contest's "turning point."
When head coach Doc Rivers was asked if Simmons can be the point guard on a championship team, he replied: "I don't know the answer to that question right now."
Clearly, there are people within the organization that are frustrated with the 24-year-old, who signed a five-year max extension with Philadelphia back in 2019 that's worth roughly $167 million (or 25% of the Sixers' cap room).
While Simmons' struggles are obviously concerning, it's worth noting that he is a three-time All-Star and one of the best defenders in the league (finishing as the runner-up for the 2020-21 Defensive Player of the Year award). With all of that in mind, we asked our writers:
What should the Philadelphia 76ers do with Ben Simmons?
Spencer Davies: You ever hear of the phrase buy low, sell high? Well, there should be teams lining up at the gate for Ben Simmons after what just happened in the Philadelphia 76ers' second-round loss. The Aussie point guard appears to be mentally shot, unwilling to shoot and unconfident heading into this offseason, and after the team's postgame comments following their winner-take-all loss to the Atlanta Hawks, it is all but certain that Simmons will be headed elsewhere for his fifth season. But there's something about mailing it in on a 24-year-old who's not even near his prime to this point that seems like a knee-jerk reaction. Some other ballclub should be able to take advantage of dealing for this three-time All-Star with incredible defensive chops, and they might not have to give up a haul in order to do so. Leverage is at its lowest for Daryl Morey and Elton Brand, with the on-the-record comments and a lowly performance hurting Simmons' trade value. When thinking of destinations, the Oklahoma City Thunder is a popular guess considering their recent acquisition of Kemba Walker, although I don't know if I like the Shai Gilgeous-Alexander/Ben Simmons tandem on the offensive end. Plus, would Philly be willing to roll the dice on an oft-injured Walker with less burst than in years past? The Portland Trail Blazers seem logical, but again, are the Sixers comfortable with CJ McCollum as their primary playmaker? The Indiana Pacers make some sense if Malcolm Brogdon was the centerpiece of the deal. And while the Sacramento Kings would probably ask for a king's ransom regarding their franchise face De'Aaron Fox, I do get the feeling that an established, slightly more experienced player with a defensive mentality such as Simmons' could be enticing for them in some way, shape or form. It could be that none of these work, but it's pretty clear that Simmons won't be in Philadelphia come 2021-22.
Alex Kennedy: While I think the Philadelphia 76ers and Ben Simmons are approaching an inevitable break-up, I wouldn't trade him just yet. I've always been adamantly opposed to dealing a player when their value is at an all-time low. Even if the Sixers are determined to move Simmons, it would make more sense to hold onto him for now and let him start next season in Philly. If this postseason was a wake-up call, perhaps he puts in the necessary work this offseason and shows improvement (which would drastically improve his trade value). Even if that doesn't happen, at least he could show teams that he's still the same player who averaged 14.3 points, 7.2 rebounds, 6.9 assists and 1.6 steals and finished as the runner-up in Defensive-Player-of-the-Year voting this season. Showcase him and let him intrigue some teams again, and then move him sometime before the trade deadline. If they try to move him now, the Sixers likely won't get much in return. They shouldn't trade Simmons just to trade him.
Chris Sheridan: They should secure a verbal and/or written commitment from him, if permitted by CBA rules, explaining how exactly he is going to work on his free throw shooting, jump shooting and three-point shooting in the offseason. That "deal" would include a specific number of hours he plans to practice each day, an exact time commitment, the number of shots, the distance of those shots, etc. This would be a way to put Simmons and his people "in charge" of the process, but the Sixers would also need to be able to check in on his progress from time to time. It's sort of like summer school for a student who just failed his final. He'll lose some free time, but it's absolutely necessary to get to the next level. Simmons' trade value is very low right now because of the size of his contract and his sustained inability to improve in his worst areas.
Ethan Fuller: I don't think Philadelphia should necessarily rush a Ben Simmons trade, but after four years of playoff disappointment culminating with Sunday's loss, it's time to move on. Simmons is clearly not fitting on the court, and he probably needs a change of scenery to act as a reset button for his own mentality. A trade with Portland jumps out as sensible for both sides. The Trail Blazers crave some defensive stability and Philly needs a shot-maker to take pressure off Joel Embiid. Portland can afford to move C.J. McCollum since they have Norman Powell and Anfernee Simons waiting in the wings. This feels like a move that could help two teams who simply must shake things up this offseason.
Ben Nadeau: The Philadelphia 76ers' best course of action with Simmons is to have patience. Of course, it wasn't that long ago that the point guard was the centerpiece of a potential James Harden trade, but now his value is at an all-time low. Although his shortcomings were glaring in the 76ers' elimination, selling him for pennies on the dollar won't help their current championship-or-bust standards. If a great fit presents itself in a trade – like Bradley Beal or C.J. McCollum – then they should consider making the move. But Simmons is an elite playmaker that'll be just 25 years old in 2021-22, so the 76ers would be remiss to move on from a once-foundational piece at a cut rate. There's a time and place to make a big, roster-altering move like this, so they'll need to wait for the right move to come along instead of panicking.
Moke Hamilton: If I'm the Sixers, I think I'd lean toward keeping him. I can understand everyone's frustration with Simmons, and I myself was critical of him long before the Sixers got knocked out by Atlanta, but there are two things to consider. First, what if Simmons and the Sixers coaching staff simply dedicate themselves to turning him into a more complete player? Becoming a better shooter, honestly, is one of the easier things to do as an NBA pro. You can't teach instincts or height, for example; but shooting 2,000 shots a day can work wonders. If Simmons can develop a 15-footer, it would change everything. Second, and more importantly, is that the Sixers probably wouldn't be able to get comparable value back for a player with Simmons' impact. Trading him to the Thunder in exchange for Kemba Walker and plenty of draft capital would make sense if Kemba was healthy, but that's not seeming to be the case. A sign-and-trade for Kyle Lowry, on its face, makes sense, but Lowry is 11 years older than Simmons, so Toronto would have to find other compensation to send to the Sixers, and who knows if they could (or would). I certainly couldn't trade Simmons for Lowry straight up if I'm Philadelphia. If I'm Daryl Morey, I'd probably put some feelers out to get an overall idea of Simmons' market, but I think I'd rather try to continue developing him than trade him for pennies on the dollar. My priority would be maximizing Joel Embiid's potential and trading Simmons for expiring contracts and draft picks (for example) wouldn't exactly help the Sixers accomplish that, so I'd default to keeping him at this point.
Jonathan Concool: The process is over, and I 100% expect Ben Simmons to be moved by GM Daryl Morey before next season begins. Joel Embiid's window to win is now and it's becoming increasingly smaller as he continues to pile up injuries to his knees. Philly certainly won't be able to get as much for Simmons as they could've last season, but the 24-year-old All-Star can still warrant a solid return. Boston stands out as a team that could trade for Simmons, considering they just dealt their starting point guard in Kemba Walker to OKC. And I don't hate the fit of Simmons on the Celtics. If new GM Brad Stevens can land Simmons without giving up Jaylen Brown, I think a trio of Jayson Tatum, Brown, and Simmons could work. Simmons will be a third option to Tatum and Brown, so he can focus more on his instinctive point-guard duties and lock in on the defensive side. This situation will take a lot of offensive pressure off of Simmons.