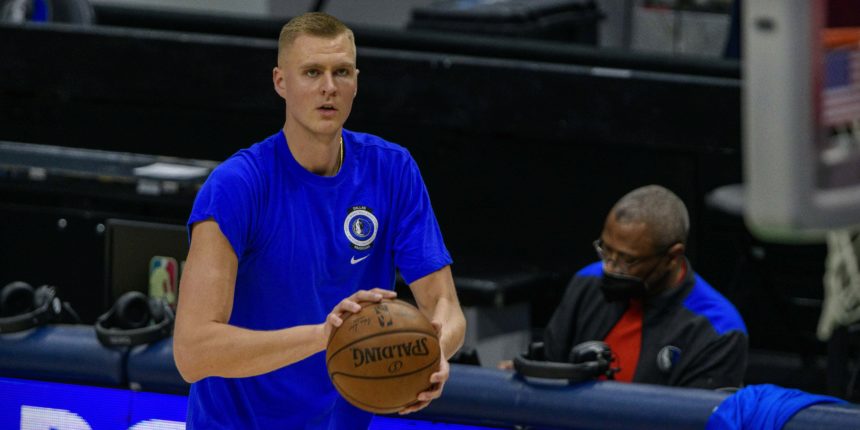 The balancing act of Kristaps Porzingis
What do you do with Kristaps Porzingis?
It's a simple, if not reoccuring question that was asked as the Dallas Mavericks controlled, then faltered, then ultimately lost their seven-game first-round series against the Los Angeles Clippers.
Porzingis was a mixed bag at best, a massive disappointment at worst during the battle. His per-game averages -- 13.1 points (57.8% from two, 29.6% from three, 84.2% from the line), 5.4 rebounds -- were well below what the Mavericks needed from him. In a broader sense, they were well below what you'd expect from someone in his tax bracket.
ESPN's Tim MacMahon reported that Porzingis was frustrated with his role. And as MacMahon noted in his piece, this isn't the first time that there have been rumblings about Porzingis' usage, or his on-court relationship with superstar Luka Doncic.
There seems to be a chasm in regards to the way Porzingis performed this postsesaon. He did not produce at a high level. He also was not very involved in the offense; as noted by many, especially my podcast co-host Steve Jones Jr., Porzingis spent quite a bit of his time chilling in the corner while the action flowed elsewhere.
The immediate counter to that, though, is that Porzingis' skill set -- and the things the Clippers did defensively -- only left so much on the table. The counter to that counter is that there didn't seem to be much effort put forth into figuring out alternatives.
I'm already exhausted.
The Mavericks are now entering a pivotal offseason. They'll have well north of $30 million to play with in free agency, though that comes with caveats. Tim Hardaway Jr. is up for a new deal, and his play from this season warrants a bump in pay. Between Hardaway's impending raise and Doncic being extension-eligible, this may be the last offseason in the foreseeable future that the Mavericks can make major splash in this way.
That, of course, begs the question again: what do you do with Kristaps Porzingis?
To understand where the Mavericks could go from here, we must first examine the context of Porzingis -- what he is, what he isn't, and how that shapes his usage.
WHAT HE IS
At his core, Porzingis is the largest stretch-5 the NBA has ever seen.
It's one thing to be able to shoot at that size. It's predictably difficult to bother Porzingis' release. Not only is the launching point absurdly high, his trigger is a quick one. Asking a defender to stunt off of Porzingis to muck up a drive, then recover back to contest is a tall task.
Yes, the pun was intended. No, I'm not sorry.
But seriously, what the heck are you supposed to do with this?
Helping off the strong-side corner is typically #not #a #good #idea. Even with that caveat, this is a pretty clear example of the issue of helping off Porzingis. Nicolas Batum did a solid job of recovering, and did virtually nothing to affect the shot. Too high, too quick.
Porzingis doesn't just spot up. What makes him unique is his ability to fire shots off movement. He's able to pick-and-pop, pick-and-slip, operate as a ghost-screener, or fly off screens himself. If you lose touch of him, he'll fling before you can blink.
All Porzingis needs is a pocket of space. He'll find it. He'll flow into it. Those pockets of space come naturally in drop coverage, which is why most of his best work this season -- and in this series -- came with him at the 5. Not many teams want to switch their bigs onto ball handlers; they surely don't want to do that against Doncic.
WHAT HE ISN'T
Where things get murky for Porzingis is when there aren't large pockets of space to flow into. They're apparent in drop or ICE coverage. It's easy to slip into space against aggressive hedges or all-out traps. Switching doesn't present the same opportunities.
The Clippers were intentional about limiting the amount of possessions that Porzingis could get the Ivica Zubac matchup, which meant no drop coverage looks. It mirrored the regular-season series in which one of the forwards -- mostly Kawhi Leonard, but Paul George, Marcus Morris, and Batum also got reps -- would get the Porzingis assignment so that they could switch any Doncic-Porzingis actions.
Not only did the Clippers switch, they were physical with their switches. They made the tight windows even tighter by bodying Porzingis as he tried to slip.
The last clip in that compilation is key. There's obviously no shame in not being able to beat Kawhi off the bounce, but there are inherent issues with Porzingis as a self-creator.
He doesn't have much wiggle, a reasonable limitation for a 7-foot-3 man. On the season, Porzingis shot 35.7% from the field when taking three-or-more dribbles. Attacking a hard close-out with a one- or two-dribble pull-up was well within the Porzingis wheelhouse. Clearing a side for him and letting him get his And-1 on... not so much.

Porinzigis also doesn't have much core strength, a massive issue that permeates the rest of his game. We'll stick to offense, though.
Porzingis struggles to knock players off-balance. It's why, despite his size, he's been an underwhelming post player for the majority of his career. Porzingis also knows he isn't that strong, which shapes his shot selection.
Here's a fun stat for you, courtesy of Second Spectrum tracking data: The average start distance of a Porzingis post-up this season was 12.5 feet. The average ending distance was... 10.8 feet. Less than two feet of difference.
Among 78 players to log at least 50 post possessions this season, only five players had a lower differential than Porzingis (+1.7): Kevin Durant (+1.5), Draymond Green (+0.8), James Wiseman (+1.4), Deandre Ayton (0, which is hilarious), and Isaiah Stewart (0).
Think about that group of players. Green is primarily used as passing hub on the block. Stewart roams around the basket area as is, and doesn't get things ran for him (35 post-up shot attempts, per Synergy). Wiseman, Ayton, and Durant are the closest stylistic analogs, but, like, one is Kevin freakin' Durant. Ayton and Wiseman are both face-up heavy, though Ayton can move dudes when he wants to. The jury is out on Wiseman, who, to this point, has played about two weeks worth of basketball in the past two years.
(Also, if we're comparing rookie-year, wet-behind-the-ears, growing-into-his-body Wiseman to an on-his-second-contract version of Porzingis...)
The post-up film on Porzingis is littered with turnarounds. They make sense within the context of his strength limitations and his frame -- hello, high-release point! -- but those aren't the kind of shots that force defenses to rotate.
There are makes and misses in the video above. What should stand out, however, is the lack of help given on thost post-ups. 6-foot-7 Kawhi, 6-foot-8 George, 6-foot-8 Morris, and 6-foot-5 Terance Mann are the defenders in those clips. And the Clippers were more than okay living with single coverage.
This is why Rick Carlisle was ultimately okay with stashing Porzingis in the corner. The Clippers were not going to drop coverage, nor were they going to send two to the ball with Porzingis in action.
That, uh, was not the case with Boban Marjanovic as the screener. His vertical presence and, most importantly, his scoring gravity on the block forced the Clippers to scramble a bit. That led to things like this.
There are multiple things working here.
1) Porzingis is at his best against a particular scheme (drop, ICE).
2) Because of his physical and some skill limitations, he can be schemed out a bit with switches.
3) There are still exploits within switching, particularly with ghost/brush screens or slips.
4) From a personnel standpoint, the Clippers are uniquely equipped to switch effectively against Porzingis and take away those opportunities.
Squint hard enough, and there's an "82-game player vs. 16-game player" discussion to be had. It's fair to argue that Porzingis is more of the former than the latter. The question then becomes: how large is the gap between the two, and how much faith do you have in it closing?
WHERE TO GO FROM HERE
What's clear, taking a 10,000-foot view of this thing, is that the Mavericks need a third guy. That third doesn't necessarily have to be better than Porzingis overall (though that'd be great for obvious reasons), but there is a pressure-the-rim, make-the-defense-bend gap that needs to be bridged.
It can't all be on Doncic to do the defense-bending. The Mavericks may not also face a Clippers-level of switchable defenders to neutralize Porzingis the way that he was in this series, but the blueprint is out there. And if the Mavericks plan to get into -- and ultimately beat -- the upper echelon in the West, they'll need to solve that issue.
That help could come this summer. For as much smoke as there was about Kyle Lowry being moved to Miami or Philadelphia (or I guess Los Angeles), Dallas would be a tremendous fit for him if he wanted to go that route. That level of pull-up shooting, driving equity, playmaking, and off-ball randomness could be enough to bring out the best in Doncic and Porzingis.
It could just be internal improvement. Jalen Brunson was a borderline Sixth Man of the Year candidate for a reason. He's pretty freaking good, in my opinion. For what it's worth, the Mavericks had a 118.2 offensive rating with the Brunson-Doncic-Porzingis trio on the floor this season, per PBP Stats.
If you're of the mindset that Porzingis in Dallas just can't work, it's worth exploring some landing spots for him.
Miami is intriguing. The spacing that Porzingis provides would be a natural complement to Bam Adebayo in the frontcourt. Having Adebayo's versatility and Jimmy Butler's off-ball prowess could help shield some of Porzingis' defensive shortcomings in a way that isn't possible with the Mavericks' personnel.
The Heat can get there pretty easily from a financial standpoint by exercising the team options on Goran Dragic and Andre Iguodala. The question becomes what assets are they willing to give up on top of that.
They're pretty short on pick capital, and could be outbid by others if a market develops. I find it hard to believe that Precious Achiuwa would intrigue the Mavericks enough, and Tyler Herro seems to be in "move-him-for-a-(super)star-only" territory.
(Debate amongst yourselves if that status is warranted, but that seems to be the status at least.)
My guy Keith Smith (jokingly?) floated out a Porzingis-for-Kemba Walker swap. It's one that would probably take a little more from... somebody's side, probably Boston's considering the age gap and "small-guard-with-a-knee-history" concern that comes with Walker. But as Keith noted, this is a deal both fanbases would probably hate. I'm contractually obligated to root for it just for the laughs.
Some other fits that could intrigue: the Warriors (the money is tough, though), the Pelicans (please give Zion Williamson some space to work with), and maybe the Thunder as a wildcard.
From my view, it'll be easier to add a piece to complement Porzingis than it would be to trade him for the type of talent you need. That's probably okay. Even with the flaws, Porzingis is coming off a season in which he averaged north of 20 points with a True Shooting percentage eclipsing 58.
And even that came following an offseason of injury recovery from the bubble. A full offseason could do wonders for the 25-year-old. There's something to work with here. Adding a piece or two in free agency could alleviate a good deal of his shortcomings.
Let's revisit this in a year.