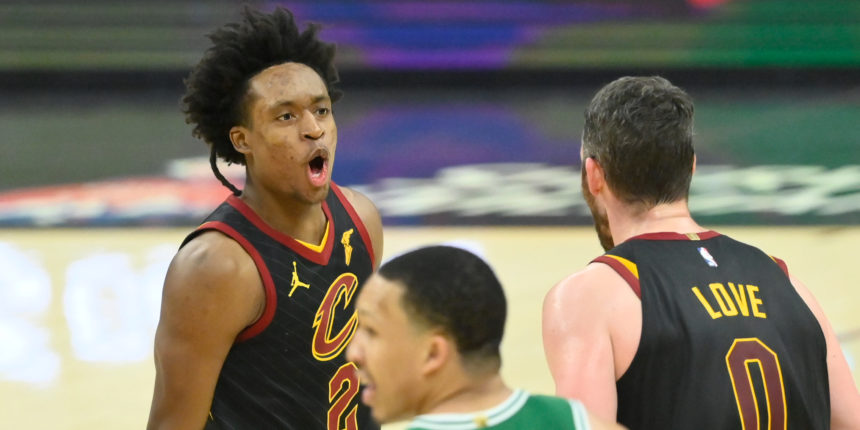 Cavs banking on organic growth, supplementing talent to take next step
When the Cleveland Cavaliers concluded their season with a loss in Brooklyn on May 16, it was the team's 13th defeat in 14 games to finish with a 22-50 record. Bruised, battered and disappointed, the organization decided that it was best for everybody to leave town once they touched back down in Northeast Ohio. At that time, having the chance to collectively exhale was healthier than bogging the guys down with what was coming next.
However, by Friday of last week, the franchise finished up its traditional exit interviews -- many of them virtual -- before players return to Cleveland starting Monday. According to a Cavaliers team source, the feedback was really positive, though the message that resonated most was how badly the guys want to compete for something meaningful in 2021-22, and to devote their time and energy to at least putting themselves in a position to have a shot at the playoffs. Seeing the likes of the Phoenix Suns, Atlanta Hawks and Memphis Grizzlies in the postseason is not easy for any of them.
"It definitely whets the appetite," the Cavs team source said of the players' desire to be on such a stage. "You want to play in those games, and our guys have the talent to eventually get there... I think in everyone's head, we realize we have really good talent in-house, but how does that now translate to daily habits that translate to winning?"
According to the source, the wine-and-gold's younger talents will file back in over the next couple of weeks. When they arrive, the Cavs will essentially lay the groundwork and implement guiding principles for what the players need to work on, whether in Cleveland or elsewhere. Strength and conditioning, diet and nutrition are the pillars of that foundation. Coaches are also going to visit with them over the summer when they aren't in town.
The plan is to have four or five of them back at a time for a week's time, and then the following week, do the same thing with a different group.
"We're back to the work," the source said. "They're locked in."
OFFSEASON FOCUS IN-HOUSE
Just as the players are locked in, so is the Cavs front office. This offseason rings extremely important, as they and the NBA's developing squads can make up for the time lost last year due to the pandemic. There was a lack of preparation, practice time and summer league, making it a difficult period for a team trying to mature. Now, everybody is able to plan, communicate and approach things tactically.
That begins with the Core Four.
When you look at the Cavs' future, it is all about Darius Garland, Collin Sexton, Isaac Okoro and Jarrett Allen.
Before his season came to an abrupt end after an injury in Washington in mid-May, Garland was just hitting his stride. Post-All-Star break, he averaged over 18.0 points and 6.0 assists per game, knocking down over 40% of his threes. And though he was taking over five triples per game, the team would like him to shoot even more --- putting up as many as eight a night, in fact.
He also thrives in what the coaching staff calls "butter situations." According to Statcenter, of the 14 players that have taken 100 or more field goal attempts in the last four seconds of the shot clock, Garland had the top effective field goal percentage in the league (50%) ahead of Devin Booker, LeBron James, Julius Randle and Nikola Jokic. Cavaliers general manager Koby Altman referred to some of his plays as "holy sh*t" moments during his end-of-season press conference.
From a physical standpoint, the Cavs are looking forward to seeing Garland grow into his body more.
"What does Darius look like with five, 10 more pounds of just lean muscle? He's just naturally gonna get bigger because he's gonna grow up," the source said. "He's still 21. But what does that look like with some shoulders on 'em? That's scary."
Then there's Garland's backcourt partner, Sexton, who is coming off a career-year in his own right. An elite scorer, the third-year guard put up over 24.0 points per game and, more importantly, increased his assist average to over 4.0 per contest. The team wants him to continue to focus on upping those; in May, he dished out 6.1 assists per game.
"He's adding that piece to his game, which he knows he needs to add," the source said. "Being a better facilitator. Making his team around him better."
Year 4 for Sexton is coming up, and it's a time where adding wins to the resume is the next step in the 22-year-old's growth. The Young Bull has been the most visible player for the wine and gold, often in the spotlight for performances such as the overtime victory vs. the Brooklyn Nets when he dropped 42 points in a takeover effort against a title favorite. Even the league noticed his talents, as Sexton was double-teamed on 44.2% of his possessions this season per game, as specified by NBACourtOptix; only four other players saw more double-teams on average.
Such glimpses bring up the question of whether he's "the guy" for Cleveland, specifically as it pertains to a potential rookie-scale maximum contract extension when he's eligible this coming fall. In a press conference on May 28, Altman said that the team doesn't have to make a decision on that until the start of the 2021-22 season.
"I think we'll talk to his representation when the time is right, and we have a lot of time for that," Altman said. "That's not something that has to happen right away; we have until the start of the next year to do something there. So plenty of time to discuss that."
Cleveland doesn't want to put the weight of being "the guy" on Sexton's shoulders; the franchise believes that would be an unfair ask. Everybody in the building sees the work he puts in, and the desire he has to win, to the point that Sexton hasn't watched any of the playoffs thus far.
"He's been a pillar of our culture in terms of what he's been able to do here in a really difficult situation for him, personally -- how he came in and where we were, and he's just gotten better every single year," the source said. "He's a tireless worker and a huge part of our culture, so we want him here long-term."
There's another contract situation to be handled more immediately, and that is with Jarrett Allen. The budding 6-foot-11 big man is entering the summer as a restricted free agent, and he will be a top priority for the Cavs to retain. Altman said at his presser that Allen has expressed that he loves Cleveland and wants to be there.
Allen fit right in with Cleveland off the bat, then suffered a concussion that halted his momentum late in the season. The Cavs are enamored by his instincts, and his statistical output of 13.2 points, 9.9 rebounds and 1.4 blocks per game is noticeable in its own right, all while being a low-usage player.
"This is the first time he's been relied upon as a starting franchise center. And so, there's a lot more responsibility that he has to take on and there's more weight on his shoulders," the source said. "He needs to, certainly in terms of physicality, get a little bit stronger. But he brings so much to the table for us that we need, and he's just a wonderful human being and a great fit culturally with us. And so, this offseason, which we hope he's gonna spend a good amount of time in Cleveland, we're gonna give him more things to work on, to get better at offensively.
"A lot of stuff he does is innate; it's not even things you can work on -- his rim-protection numbers, his ability to guard at the rim without fouling, which he's one of the best in the league at 23 years old. He's just scratching the surface of what he's gonna be. This was just Year 4."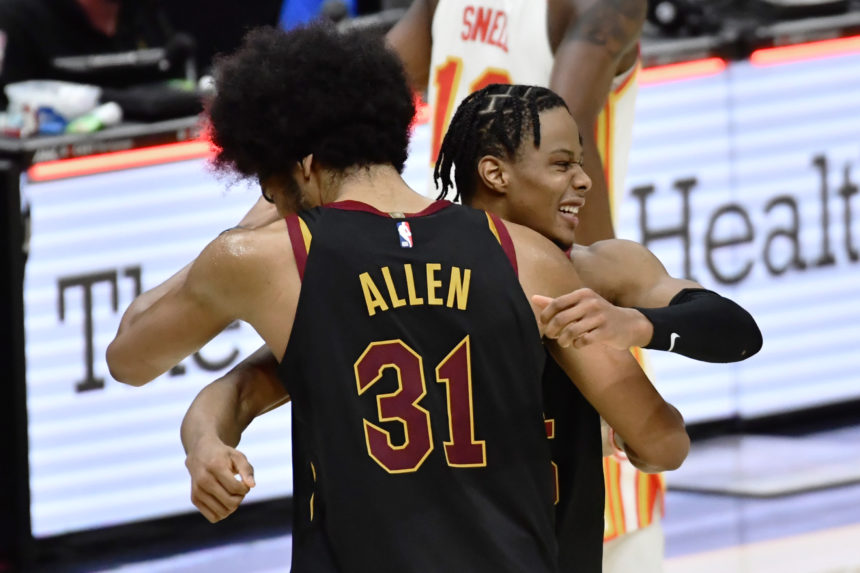 The final, and youngest, member of the Cavs' quartet is Okoro. The 20-year-old swingman was tasked with adjusting to the NBA during one of the most difficult rookie seasons in quite some time due to the pandemic. No summer league, a couple weeks of training camp and away he went, guarding the stars of each team on a nightly basis with fluctuating offensive results. Altman is confident in the work he'll put in with his shooting from deep. Okoro led all first-year players in minutes per game (32.4), and was available for all but five games of the season as an everyday starter.
In May, Okoro averaged 16.6 points per game with his highest usage of the campaign at 20.5%. According to the team source, the Cavs are planning to feature him more within the offense next year.
"He's labeled as defense, athleticism and strength, and usually you don't associate that with skill and touch, touch around the rim. So he has a lot of that stuff, and he has a high basketball IQ. He's gonna be pretty good," the source said.
"You were seeing a lot more of his talent come out at the end of the year -- what he can do with the ball. He's a really good passer, and he's efficient. He's not a high-usage guy, but you put the ball in his hands and he can make a play and get the defenses shifted. I think you're gonna see a lot more stuff with him next year in the mid-post and in the post and in pick-and-roll, because he can do all those things and he can really pass out of that stuff."
The source indicated that the Cavs are planning to showcase Okoro at the NBA Summer League. Although he likely won't play in too many of those games, the idea is to get Okoro more reps on the court in preparation for his sophomore season.
ADDING MORE TALENT
The word of the day at Altman's press conference was "supplement."
That's going to start with the NBA Draft and trickle into free agency. Per the source, the Cavs view the 2021 class as "really talented" and deep, with some future All-Stars in the mix. Even in the late-first round, they believe there are solid rotational players. We won't know where the team will be picking until June 22; currently, Cleveland is slotted in at fifth leading up to the NBA Draft Lottery.
Depending on whether the Cavs jump or fall in the lottery, the source said they'll be open-minded to dealing the pick.
Speaking on free agency, Altman said that Cleveland can utilize its full mid-level exception to add talent, likely in the form of more veterans. The team understands the need to add length and athleticism, in addition to shooting, and figuring out the backup point guard situation is key. The Cavs also have a number of second-round picks acquired from previous deals that could be used in possible trades.
With that being said, there likely won't be any earth-shaking, drastic moves, but rather decisions to bolster the core.
"It doesn't necessarily have to be something over the top that's this high-end talent," the source said. "It's locker-room help. You look at what a Taj Gibson gave the Knicks, [for example]. There's guys out there who can really help our locker room as well. We just need to continue to add those pillars of support and help on the court."
Not asking for sympathy, yet recognizing the reality of the situation, Altman also made it clear in his presser that health played a major factor in Cleveland's shortcomings. There were 300 games missed in total, and head coach J.B. Bickerstaff had to employ 30 different starting lineups. The organization feels that improvement can come simply by keeping its current players on the floor, moreso when it comes to the veterans.
Per Cleaning The Glass, the Cavs' defensive rating dipped by 9.3 when Larry Nance Jr. was off the floor. He played in a career-low 35 games, dealing with an undisclosed illness that caused him to lose close to 20 pounds; less than two weeks after he came back from that, Nance's year came to an end prematurely when he fractured his right thumb. (That April 25 game in D.C. saw four Cleveland players get hurt).
Taurean Prince had a stretch at the beginning of April where he looked healthy and locked in, returning from a previous setback of a nagging ankle injury, and averaged nearly 17 points a game and shot 50% from deep off the bench in a 3-3 span. Though it's a small sample size, he was a legitimate forward with good length and size who was contributing in a crucial way as a reserve. As it would turn out, Prince's campaign ended soon thereafter due to arthroscopic surgery on his left ankle.
Though Matthew Dellavedova is heading into the summer as an unrestricted free agent, it can't be understated how good of a job he did in organizing the team. His return, coupled with Prince, gave the Cavs a jolt they needed in wins at San Antonio, Oklahoma City and Charlotte.
Of course, there's the elder statesman of the group: Kevin Love. The five-time All-Star is going to be 33 at the start of next season. Altman assured he wasn't at 100% at any point of the season in his presser due to his calf injury, and insisted that Love "eats humble pie" when he sees his public displays of frustration all over the internet. The Cavs GM added that they're the only ones who see Love's vulnerability.
"He has his moments, but he's ours and he's uniquely Kevin Love," Altman said.
The source added that if Love was a drain on the organization and had a poor attitude indicative of these "very highly visible" moments that the Cavs would be thinking about going in another direction. However, they do not see that as the case. (Editor's Note: Spencer Davies wrote an article explaining why he feels the Cavs should part ways with Love this offseason).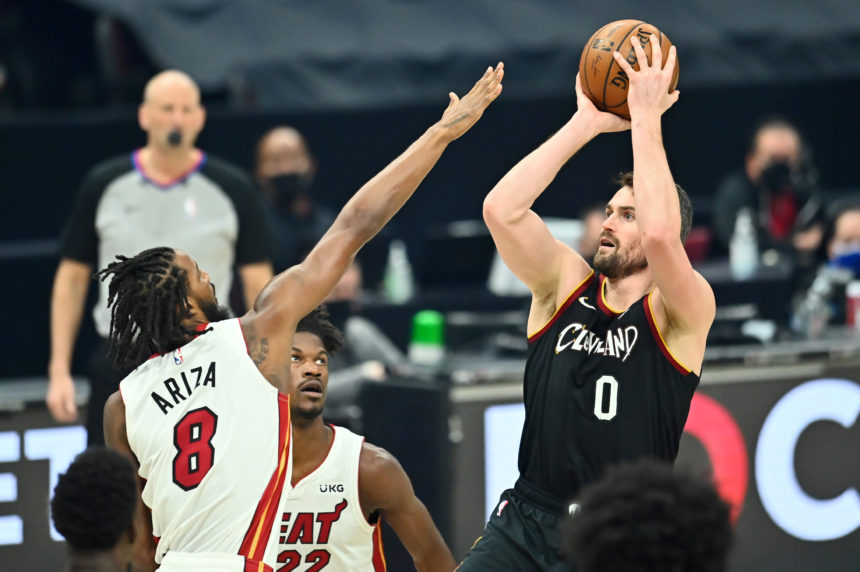 On the floor, Altman values Love's ability to space the floor and credits him for helping Garland make the jump that he did. The team views his gravity as an essential part of the offense that needs room to operate.
"I think he has a place here with us because we need that veteran leadership," Altman said. "When we talk to the younger group about that leadership, Kevin does that for us, and off the court as well. And so we wanted him to be here... We signed him to an extension for that reason, to be here when we want to make that next step.
"I think what he's excited about is the talent of the young crew. If we got it wrong and whiffed on some of these picks, I can see him being even more frustrated; but don't get me wrong, he's frustrated with the losing — that'd be like anybody. But I think he sees the future... I think he likes what we have in-house and he's genuine about that."
Altman believes that much of that frustration came from Love being unable to play like his old self. The team knows he has to get his legs back, train in the weight room and hone in on his craft in the gym. Altman revealed that he and Love have had conversations about working on his body, too.
Ideally, per the source, Love sticks in Cleveland and produces at a high-level with the young core.
"Probably at reduced minutes, but more efficient minutes and with a guise to try and get him in as many games as he can play because we're a better team when he's healthy and playing games. We just have to manage that better," the source added.
Offensively, the Cavs were one of three teams to attempt fewer than 30 three-pointers per game. When they were taking more, Love and, to a lesser extent, Dylan Windler were in the lineup. Altman loudly said what everyone is thinking in regards to getting more triples up as a team. The source went further and put a number on that.
"It's something that we're gonna really, really be focused on because we know we need to be taking 30-plus [threes]. We just have to," the source said. "Between Collin and Darius, they need to be at eight a game just 'cause they can really shoot. They have firepower.
"It's a combination of certainly adding more shooting, but we need to take 'em. We passed up a lot of 'em this year. We need to generate some more; I think that's part of it. We need to generate some more extra passes, some more drive-and-kicks-that-lead-to-one-more passes, so we've got the defenses shifting and they're moving the ball. We got stagnant at times this year... It's the attempts."
Dean Wade gave them a boost in that area, nailing 36.6% of his perimeter shots. It's players such as he and Lamar Stevens that Altman praised Bickerstaff for developing and helping mold into legitimate rotational guys. He went on to say that Bickerstaff did an excellent job communicating, using his interpersonal skills to navigate through losing 17 games a season ago, COVID protocols and injury woes this year and restrictions that put he and the team in a tough position.
It was a nearly impossible task for Bickerstaff to maintain a consistent rotation because of both setbacks and the roster turnover. Going off Altman's earlier point of 30 different starting lineups, the most consistent one played just seven games together. No other starting lineup played more than five.
Towing the line between excuse and explanation has to be difficult for the Cavs, but it's just the truth, no matter what the public's view of this team is. Coming up on Year 3 of the rebuild (or four, if you want to count the leftovers from the Finals team that tried to compete in '18-19), there is absolutely a need to advance forward. Time is precious, and patience from fans and local media members is wearing thin.
Koby Altman on not making excuses vs. valid reasoning/lack of continuity in evaluating #Cavs: "We gotta start winning...That's on everybody. Myself, J.B. [Bickerstaff], how the players commit this offseason. And I think they know it, and they're hungry for it." @basketbllnews pic.twitter.com/SZtQL3752p

— Spencer Davies (@SpinDavies) May 28, 2021
The Cavs understand that, especially with the optics of the franchise's ghastly record without LeBron James around (171-413, per StatMuse). Knowing how chairman Dan Gilbert operates, it will be interesting to see if he gives this current iteration the proper time to continue building.
"I think there's patience, but I think we all collectively want to take a step forward because we've been there before. We know how exciting playoff basketball is," the team source said. "There's no better teacher than that experience. We all want our guys to have that experience, and so there's definitely... there's a good pressure. I'd say it's a really good pressure, that 'let's see what these guys can do.'"
While the team doesn't want to put the playoffs-or-bust label on its youth, Cleveland is banking on its leap happening organically.
Nobody on the team, coaches and players included, has addressed the media since the 22-50 campaign came to a close. Altman is the lone voice we've heard, and even he took nearly two weeks to have his end-of-the-year press conference after that disappointing, unnatural end to the season.
"We learned a lot this year. That was a big part of the year, evaluating the talent on hand," Altman said. "And so, knowing what we know and what some of these guys are capable of, now we want to push them.
"Let's supplement that talent because we know what they're capable of. Let's move this thing forward. Let's add more wins to the ledger. Let's play meaningful games at the end of the season. We know these young, talented core [players] have a really bright future ahead of them. And we're adding another young, talented young man soon. So the future's really bright. We have a great coaching staff led by J.B. We have wonderful support from ownership and Dan Gilbert, who continues to give us great support resources. And so, we're ready to take the next step. I don't know quite what that looks like until after free agency and the draft, but we'll get better. And there's going to be some exciting basketball at Rocket Mortgage FieldHouse next year."
Whichever way people interpret that, the silence from everybody else is deafening. Cavs players are hungrier than they've ever been, especially in regards to the young core. They're poised to move on to the next stage, and we'll see if it happens the way the franchise is hoping it will.
"If we didn't have these guys, it would be much more dire in terms of our outlook," the source said. "We haven't won a ton of games, but if you don't get excited about the young talent that we have, you're not really watching our games. You're just not."