Editors Note 11-20-20: This article has been updated at a new link
With the Los Angeles Lakers being crowned the 2019-20 NBA champions, it's officially the end of a twisting, turning season. That means it's time to look toward the offseason, a time when the league picks up steam with the NBA Draft and, afterwards, free agency, which begins on Nov. 20.
BasketballNews.com has ranked the top free agents available by position:
In this piece, we're going to rank the top-10 free agents overall.
10. Goran Dragic, Miami Heat -- Unrestricted
STATS: 16.2 PPG, 5.1 APG, 3.2 RPG, 0.7 SPG, 36.7% 3P
At 34 years old, Dragic is getting up there in age, but he produced exceptionally for the Heat. Unfortunately, he tore his plantar fascia in his left foot, so he wasn't able to make his usual impact in the NBA Finals. We'll see how that injury affects his status in free agency. But as a sixth man for the first time since the early part of the decade, the Slovenian vet accepted his role and thrived (and eventually regained his starting job). He establishes a strong rapport with everybody he plays with. He's difficult to defend as a ball-handler in pick-and-roll situations, either dropping the perfect pass to a rolling big, darting toward the bucket with conviction or jacking up a three to punish the defense.

9. Danilo Gallinari, Oklahoma City Thunder -- Unrestricted
STATS: 18.7 PPG, 5.2 RPG, 1.9 APG, 0.1 BPG, 0.7 SPG
Perhaps the most overlooked player in the NBA, Gallo is always going to put the basketball in the bucket. As a three-level scorer, he can hurt you by penetrating the defense, getting to the free-throw line and, most noticeably, draining triples. What he lacks in lateral ability, he makes up for with his length as a defender. As somebody who's gone through a ton of injuries and trades in his life, Gallinari is a sure bet to stay the course and produce. Several teams tried to acquire Gallinari prior to this year's trade deadline, which was likely a preview of the interest he'll receive in free agency.
8. Gordon Hayward, Boston Celtics -- Player Option
STATS: 17.5 PPG, 6.7 RPG, 4.1 APG, 0.4 BPG, 0.7 SPG

About three years after a gruesome leg injury left him on the sidelines for his debut season with the Celtics, Hayward returned to form and is confident in what he's doing on the floor. He's no longer hesitating to drive the lane, and he can take contact and finish as strong as he did pre-injury. He was super efficient this season, shooting 50 percent from the field, 38.3 percent from three and 85.5 percent from the free-throw line. And he was able to score all over the floor, with impressive shooting percentages whether he was finishing at the rim, shooting mid-range jumpers or attempting three-pointers. On defense, he held his own next to some of the best young guards in the league. It's unfortunate he missed a good chunk of the postseason with an ankle injury, but he bounced back nicely for Boston when he came back. (UPDATE: Hayward ultimately decided to opt out and test free agency, leaving nearly $35 million on the table.)
7. Serge Ibaka, Toronto Raptors -- Unrestricted
STATS: 15.4 PPG, 8.2 RPG, 2.1 OREB, 1.4 APG, 0.8 BPG

While Ibaka's defensive prowess got him noticed early in his career, it's been his scoring uptick that should catch the eye of teams around the league now. He was a major cog in Toronto's playoff run, soaking up a lot of minutes in favor of Marc Gasol off the bench. The Raptors utilized his improved ability to stretch the floor and allowed him to fire up shots from distance, as he shot 38.5 percent from three this year. Additionally, he sets good screens and rolls to the basket well.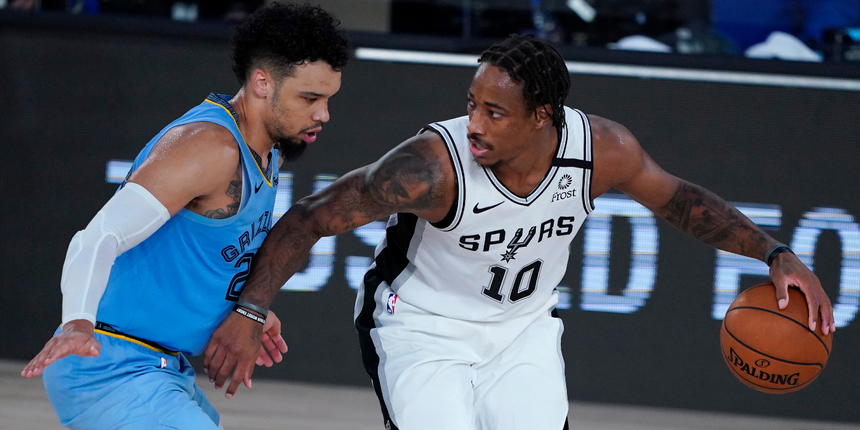 6. DeMar DeRozan, San Antonio Spurs -- Player Option
STATS: 22.1 PPG, 5.5 RPG, 5.6 APG, 0.3 BPG, 1 SPG

Individually, year two in San Antonio went much better for DeRozan even though the team missed the postseason. He got back to his normal self, dribbling to the nail or the baseline and letting it fly from the mid-range with great success. He took the initiative to go to the cup with a full head of steam and play-make for his teammates. His willingness to get others involved has really made him a complete offensive player. Earlier in the year, Chris Haynes of Yahoo Sports reported that DeRozan plans on declining his player option to become an unrestricted free agent. (UPDATE: DeRozan decided to opt in, returning to the Spurs).
5. Mike Conley, Utah Jazz -- Early Termination Option

STATS: 14.4 PPG, 4.4 APG, 3.2 RPG, 0.8 SPG, 37.5% 3P
This season was Conley's first with the Jazz and while he got off to a slow start, he showed up to the NBA bubble with a vengeance. He can run a team with the best of them. He has a knack for facilitating, has a solid three-point shot and uses a unique right-handed floater when he gets into the paint. He has an early termination option that would allow him to hit free agency this summer, but considering how he and Donovan Mitchell worked in the backcourt (and how much money he's set to earn), it seems like he'll see things through. If he chooses not to exercise his ETO, he'll make $34,502,132 next season with Utah. (UPDATE: Conley decided to opt in and will return to Utah).
4. Montrezl Harrell, LA Clippers -- Unrestricted
STATS: 18.6 PPG, 7.1 RPG, 2.6 OREB, 1.7 APG, 1.1 BPG

At 6-foot-7 with a 240-pound frame, Harrell plays much bigger than his size. His nose for the ball is up there with anybody in the NBA, he knows how to find room to get into the paint and he uses his strength to his advantage. He was one half of the deadliest second-unit duo in the league with Lou Williams. Harrell won this year's Sixth Man of the Year award because of his terrific two-way contributions. Yeah, the NBA bubble didn't do him any favors -- and there were a number of factors that played into his struggles in Orlando -- but he's still at the top of the food chain among centers in this free-agent class. Harrell should still get paid handsomely.
3. Fred VanVleet, Toronto Raptors -- Unrestricted
STATS: 17.6 PPG, 6.6 APG, 3.8 RPG, 1.9 SPG, 39% 3P
Can you believe the crown jewel of the 2020 point-guard class went undrafted four years ago? VanVleet might be the smoothest operator in the league at the one. You can credit smart decision-making, aggressiveness and stellar defensive IQ as the reasons for his rise to the top. Learning from one of the best in the league, Kyle Lowry, certainly didn't hurt, but VanVleet got here on his own volition. There's no question that he's been a key piece for last year's champions; he's incredibly consistent and he just does his job at an extremely high level. There's a good chance that some team is going to break the bank for VanVleet this offseason. Long-term security is going to be the key, and, despite his public desire to re-sign, that might hurt the Raptors' chances of retaining him.
2. Brandon Ingram, New Orleans Pelicans -- Restricted
STATS: 23.8 PPG, 6.1 RPG, 4.2 APG, 0.6 BPG, 1 SPG

Ingram adapted well to a change of scenery and found a niche with the fast-paced Pelicans, winning the Most Improved Player award. The 22-year-old quickly became the focal point of the team, notching magnificent performance after magnificent performance before ZionMania came around. He's put in the work to freely take looks instead of being timid to do so, improving his shot selection in the process. He effectively finds different angles to get to point-blank distance. A first-time All-Star, Ingram's development curve is rising quickly. It'd be wise for New Orleans to match any offer that comes his way because we could be looking at a max-contract player.
1. Anthony Davis, Los Angeles Lakers -- Player Option
STATS: 26.1 PPG, 9.3 RPG, 2.3 OREB, 3.2 APG, 2.3 BPG

Will AD stay or will he go? Well, he and LeBron James just led the Lakers to their 17th NBA championship, so you'd think staying with the Lakers would be his top option. They're the most dangerous duo in the NBA today. Davis can score from anywhere, and he's one of the nastiest finishers in the game. He'll take your lunch money on the defensive end too. When healthy, he's one of the best all-around players in the league. He declined Los Angeles' max extension after the New Year and seemed to be set on declining his player option in favor of earning a maximum contract offer this offseason. With the salary cap taking a hit due to the coronavirus, we'll see if that's still the case. Davis' deadline to make his decision official is Oct. 14 (with the date subject to change). If he does decide to opt in, he would earn $28,751,775 next season. (UPDATE: Davis opted out.)
Check out our ranking of the top point guards, shooting guards, small forwards, power forwards and centers. Stay tuned to BasketballNews.com for in-depth coverage of the 2020 NBA offseason!