The second round of the NBA playoffs is underway and a champion will be crowned in a month. After that happens, we'll transition into one of the most unique offseasons in NBA history. The NBA has announced that it will push back the start of free agency, but transaction season is still rapidly approaching.
BasketballNews.com has sorted out the top 50 free agents position-by-position. We've already ranked the point guards, shooting guards, power forwards and centers. Here's a look at the available small forwards.

Honorable Mention: Maurice Harkless, New York Knicks -- Unrestricted

STATS: 5.8 PPG, 3.9 RPG, 1.1 APG, 0.5 BPG, 0.9 SPG
Harkless started the season with an NBA-title favorite and ended it with one of the worst teams in the league. The constant you get with him is his defensive awareness and intensity, which almost always results in deflections and steals going the other way in transition. At 27 years old, he's been both a starter and a key bench piece for four different franchises. Harkless is in his prime and, at this point, his offensive game is just a bonus on top of what he provides defensively.

10. Torrey Craig, Denver Nuggets -- Restricted
STATS: 5.4 PPG, 3.3 RPG, 0.8 APG, 0.6 BPG, 0.4 SPG

Every team could use somebody like Craig. He cracked the Nuggets' rotation several years ago by playing harder than everybody else on the court. His primary contribution comes through picking up tough matchups on the defensive end. The numbers seem to show that he has little impact on offense; however, head coach Michael Malone clearly trusts him (and sometimes starts him), so clearly he has a positive impact on the game.
9. Rodney Hood, Portland Trail Blazers -- Unrestricted

STATS: 11 PPG, 3.4 RPG, 1.5 APG, 0.2 BPG, 0.8 SPG

Hood was dealt a bad hand when he went down with an Achilles injury in December. He had a pep in his step, playing the three next to Damian Lillard and CJ McCollum and improving his decision-making and shot selection in the process. He was money from the corner, knew when it was his turn to score and seamlessly fit into head coach Terry Stotts' system. With Gary Trent Jr. bursting onto the scene in the bubble, it will be interesting to see whether Hood returns to Portland. In April, he said that he's expecting to stay -- new contract or not -- and he declined his player option to explore the free-agent market.

8. Glenn Robinson III, Philadelphia 76ers -- Unrestricted
STATS: 11.7 PPG, 4.4 RPG, 1.5 APG, 0.3 BPG, 0.9 SPG

A victim of poor circumstances, Robinson went from having a tremendous contract-year with the Golden State Warriors to playing half as many minutes once he got traded to the Philadelphia 76ers. When I spoke with him in March, he aired his frustration about his limited playing time. In the bubble, outside of the injuries forcing the team's hand, he was booted from Brett Brown's rotation. Before that, Robinson was producing the best numbers in his career (by far). He had confidence in his jumper and put plenty of pressure on his opponents on the perimeter. That's who Robinson really is, not this square peg in a round hole that we've seen since the move.
7. Otto Porter Jr., Chicago Bulls -- Back with Bulls

STATS: 11.9 PPG, 3.4 RPG, 1.8 APG, 0.4 BPG, 1.1 SPG

Before we get into Porter's short season, there was no reason for him to opt-out. He's had injury after injury during his tenure in Chicago, so he opted into the $28,489,239 player option that he's owed next season. With that said, Porter hasn't quite had the chance to show everybody that he's one of the better forwards in the league because he hasn't been on the floor. When he's healthy, he should be able to showcase his three-and-D prowess.
6. Jae Crowder, Miami HEAT -- Unrestricted
STATS: 10.5 PPG, 5.9 RPG, 2.5 APG, 0.4 BPG, 1.1 SPG

Crowder started this season with the Memphis Grizzlies and wasn't quite as successful as one would hope in a contract year. But since being traded to the HEAT, he has looked as good as ever. Defensively, he's bought into Erik Spoelstra's team-first scheme. Offensively, he's benefiting from the attention drawn by Jimmy Butler and Miami's plethora of shooters. He's one of many sizzling shooters that just waits for an opportunity to strike. Credit Crowder for making the most out of his opportunity after being sent to a different team. It should pay off in the offseason.
5. Joe Harris, Brooklyn Nets -- Unrestricted
STATS: 14.5 PPG, 4.3 RPG, 2.1 APG, 0.2 BPG, 0.6 SPG

Harris should get a significant raise this offseason. He's one of the best shooters in the league, as he's averaged 2.3 three-pointers per game (on a ridiculous 43.9 percent shooting) over the last three seasons. He's also steadily gotten better on dribble-drives, being able to put the ball on the floor to attack the rim for lay-ups. Harris has gotten more aggressive and turned into an all-around contributor rather than just a three-point specialist. He's become a solid, consistent starter in the league (right in time to get paid).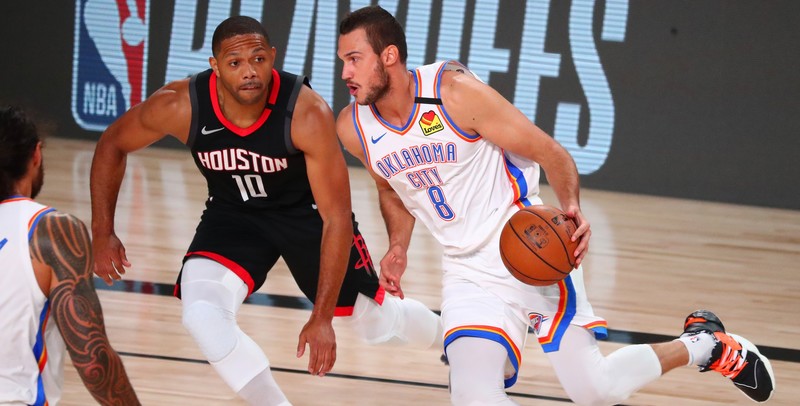 4. Danilo Gallinari, Oklahoma City Thunder -- Unrestricted
STATS: 18.7 PPG, 5.2 RPG, 1.9 APG, 0.1 BPG, 0.7 SPG
Perhaps the most overlooked player in the NBA, Gallo is always going to put the basketball in the bucket. As a three-level scorer, he can hurt you by penetrating the defense, getting to the free-throw line and, most noticeably, draining triples. What he lacks in lateral ability, he makes up for with his length as a defender. As somebody who's gone through a ton of injuries and trades in his life, Gallinari is a sure bet to stay the course and produce. Several teams tried to acquire Gallinari prior to this year's trade deadline, which was likely a preview of the interest he'll receive in free agency.
3. Gordon Hayward, Boston Celtics -- Unrestricted
STATS: 17.5 PPG, 6.7 RPG, 4.1 APG, 0.4 BPG, 0.7 SPG

About three years after a gruesome leg injury left him on the sidelines for his debut season with the Celtics, Hayward returned to form and is confident in what he's doing on the floor. He's no longer hesitating to drive the lane, and he can take contact and finish as strong as he did pre-injury. He was super efficient this season, shooting 50 percent from the field, 38.3 percent from three and 85.5 percent from the free-throw line. And he was able to score all over the floor, with impressive shooting percentages whether he was finishing at the rim, shooting mid-range jumpers or attempting three-pointers. On defense, he held his own next to some of the best young guards in the league. It's unfortunate he missed a good chunk of the postseason with an ankle injury, but he bounced back nicely for Boston when he came back. Despite $34 million on the line courtesy of his player option, Hayward declined to enter unrestricted free agency.

2. DeMar DeRozan, San Antonio Spurs -- Back with Spurs

STATS: 22.1 PPG, 5.5 RPG, 5.6 APG, 0.3 BPG, 1 SPG

Individually, year two in San Antonio went much better for DeRozan even though the team missed the postseason. He got back to his normal self, dribbling to the nail or the baseline and letting it fly from the mid-range with great success. He took the initiative to go to the cup with a full head of steam and play-make for his teammates. His willingness to get others involved has really made him a complete offensive player. Earlier in the year, Chris Haynes of Yahoo Sports reported that DeRozan plans on declining his player option to become an unrestricted free agent. DeRozan changed his mind, seemingly though, since he exercised his $27 million player option this past week.

1. Brandon Ingram, New Orleans Pelicans -- Restricted
STATS: 23.8 PPG, 6.1 RPG, 4.2 APG, 0.6 BPG, 1 SPG

Ingram adapted well to a change of scenery and found a niche with the fast-paced Pelicans, winning the Most Improved Player award. The 22-year-old quickly became the focal point of the team, notching magnificent performance after magnificent performance before ZionMania came around. He's put in the work to freely take looks instead of being timid to do so, improving his shot selection in the process. He effectively finds different angles to get to point-blank distance. A first-time All-Star, Ingram's development curve is rising quickly. It'd be wise for New Orleans to match any offer that comes his way because we could be looking at a max-contract player.