The second round of the NBA playoffs is underway and a champion will be crowned in a month. After that happens, we'll transition into one of the most unique offseasons in NBA history. The NBA has announced that it will push back the start of free agency, but transaction season is still rapidly approaching.
BasketballNews.com has sorted out the top-50 free agents position-by-position. We've already ranked the point guards, shooting guards, small forwards and power forwards. We'll round out the field with the best crop of centers.

Honorable Mention: Meyers Leonard, Miami Heat -- Unrestricted
STATS: 6.1 PPG, 5.1 RPG, 0.6 OREB, 1.1 APG, 0.3 BPG
One of the more underrated big men in the game, Leonard is like a Swiss Army knife. He can set solid screens, slip inside for a rolling bucket or pop back and fire up a triple. He makes opposing centers stay attached to him on the outside, which opens up the lane for his teammates. And if they choose to ignore him, Leonard will make them pay from three at a very high clip as a spot-up shooter. This year, he shot 41.4 percent from three-point range on 2.5 attempts per game. Also, he has a knack for hand-off situations and his vision is quite impressive too.

10. Enes Kanter, Boston Celtics -- Back with Celtics

STATS: 8.1 PPG, 7.4 RPG, 2.8 OREB, 1 APG, 0.7 BPG
If you need an instant boost off the bench, Kanter is your guy. Still in the prime of his career, the 6-foot-10 big man makes a living off of grabbing rebounds and finishing with a soft touch at the rim. He's elite on the offensive glass and constantly provides extra possessions for his team. If the Celtics continue to leave him out of the rotation, the team will almost assuredly pursue a center this offseason. Despite that, Kanter exercised his $5 million player option to remain with the Celtics.

9. Dwight Howard, Los Angeles Lakers -- Unrestricted
STATS: 7.5 PPG, 7.3 RPG, 2.5 OREB, 0.7 APG, 1.1 BPG

Howard has done a fantastic job of accepting a role fit for this stage of his basketball life. He's no longer the go-to guy down low in the post. He's doing the dirty work, cleaning up on the boards, blocking shots and leaping for high handoffs. He has proven that he's still super athletic. His four field goal attempts per game were by far a career-low (which he handled well), but he sported a career-best 72.9 percent field goal percentage.
8. Aron Baynes, Phoenix Suns -- Unrestricted
STATS: 11.5 PPG, 5.6 RPG, 1.7 OREB, 1.6 APG, 0.5 BPG

Averaging career-highs across the board, Baynes has become a solid all-around frontcourt player. He's extended his range to help spread the floor (shooting 35.1 percent from three), while also using his burly frame to set hard-nosed screens and succeed as a roll man. The 6-foot-10, 260-pound Kiwi is an imposing figure and tough to match up against.
7. Derrick Favors, New Orleans Pelicans -- Unrestricted
STATS: 9 PPG, 9.8 RPG, 3.2 OREB, 1.6 APG, 0.9 BPG

Lost in the shuffle of Zion Williamson's arrival and Brandon Ingram's development is the consistency of Favors. Still only 29 years old, you know what you're going to get from him. The veteran big man is going to fight for every rebound on both ends of the floor and dart to the basket in the pick-and-roll. He's plenty reliable when he pops for a mid-range shot as well.
6. Hassan Whiteside, Portland Trail Blazers -- Unrestricted
STATS: 15.5 PPG, 13.5 RPG, 3.9 OREB, 1.2 APG, 2.9 BPG

With Jusuf Nurkic missing the majority of the season, Whiteside took this opportunity in a contract year and ran with it. He erases attempts in the paint left and right, as evidenced by his league-leading three blocks per contest. He gobbles up boards on both ends of the floor, and, when he's focused, he can be a game-shifter as a double-double machine.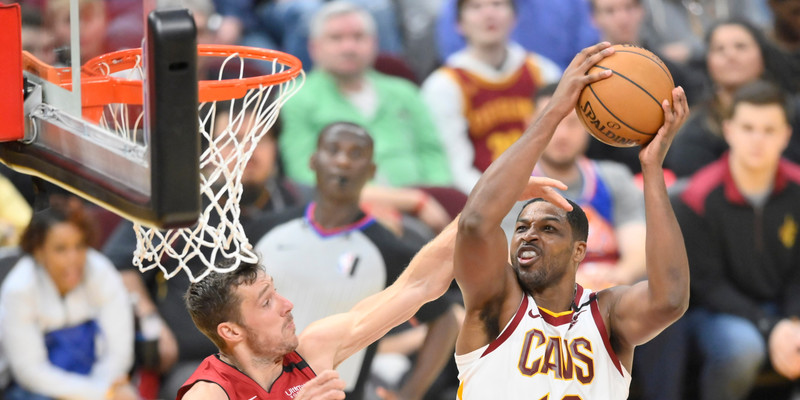 5. Tristan Thompson, Cleveland Cavaliers -- Unrestricted
STATS: 12 PPG, 10.1 RPG, 4 OREB, 2.1 APG, 0.9 BPG

Thompson is a consummate professional. He could've grown frustrated and made a fuss with the post-LeBron James era Cavaliers, yet he has gone about his business and racked up back-to-back seasons averaging double figures in points and rebounds. He's a tip-in machine, loves to guard the opponents' best players and embraces a good challenge when presented with one.
4. Marc Gasol, Toronto Raptors -- Unrestricted
STATS: 7.5 PPG, 6.3 RPG, 0.7 OREB, 3.3 APG, 0.9 BPG
On the back nine of his career, Gasol is still as heady as they come. His basketball IQ makes up for his physical limitations. The 6-foot-11 Spaniard exhibits a soft touch on his three-balls (shooting 38.5 percent from three-point range this season), but also on his precision passes. On the both ends of the floor, he does a lot of things that don't register in a box score -- specifically with dribble handoffs. Defensively, he stands stout and rarely gives ground as one of Toronto's toughest players.
3. Serge Ibaka, Toronto Raptors -- Unrestricted
STATS: 15.4 PPG, 8.2 RPG, 2.1 OREB, 1.4 APG, 0.8 BPG

While Ibaka's defensive prowess got him noticed early in his career, it's been his scoring uptick that has been the most impressive as of late. The Raptors have utilized his improved ability to stretch the floor and allow him to fire shots up from distance, as he's shot 38.5 percent from three this year. Additionally, he sets good screens and rolls to the basket well.
2. Andre Drummond, Cleveland Cavaliers -- Back with Cavs

STATS: 17.7 PPG, 15.2 RPG, 4.4 OREB, 2.7 APG, 1.6 BPG

Drummond has exercised his $28.7 million option to stay in Cleveland. He's a shoo-in for at least 10 points and 10 rebounds each night. His athleticism makes him one of the most difficult assignments for opposing bigs, topped off by a tight handle on the ball and an ability to push the ball up the floor in transition.
1. Montrezl Harrell, LA Clippers -- Unrestricted
STATS: 18.6 PPG, 7.1 RPG, 2.6 OREB, 1.7 APG, 1.1 BPG

At 6-foot-7 with a 240-pound frame, Harrell plays much bigger than his size. His nose for the ball is up there with anybody in the NBA, he knows how to find room to get into the paint and he uses his strength to his advantage. He's been one half of the deadliest second-unit duo in the league with Lou Williams. Harrell won this year's Sixth Man of the Year award because of his terrific two-way contributions. In a somewhat mediocre free-agent class, Harrell should be getting paid handsomely.