There's no question that the NBA is loaded with superstar talent. And in today's NBA, these big-name players often want to join forces in their pursuit of championship rings. Since there are so many terrific duos around the NBA, BasketballNews.com decided to rank the league's best one-two punches.
Not every one-two punch could make the list and it was difficult to leave certain players out. For example, there are a ton of solid one-two punches like Fred VanVleet and Pascal Siakam, who are coming off a championship and led the Toronto Raptors to a 53-19 season despite the departure of Kawhi Leonard and Danny Green last summer. However, one could argue that Kyle Lowry is just as (if not more) important to Toronto, so there's not a clear duo to rank. You can also argue the case for D'Angelo Russell and Karl-Anthony Towns or Ja Morant and Jaren Jackson Jr. as up-and-coming tandems. There's really no right or wrong answer, so we're just going off of the best combinations of talent.
Honorable Mention: Joel Embiid and Ben Simmons, Philadelphia 76ers
COMBINED STATS: 39.4 PPG, 19.4 RPG, 11 APG, 1.9 BPG, 3 SPG
The prize package of the Philadelphia 76ers' "Trust the Process" era, this pairing has been together for the last three-and-a-half years. They don't complement each other or fit together as well as some other one-two punches, but the reason they're mentioned here has more to do with their individual skill-sets and how they positively affect the Sixers. Embiid is a handful in the post, blocks a ton of shots and is as agile as any 7-footer in the league. He dances his way to the rim with nifty footwork and can run the floor well in transition. Simmons thrives in fastbreak situations and an up-tempo offense. He has eyes on every part of his head, instantly knowing the right read between passing and attacking in the open floor. Things can get jammed up in the half-court if the pace slows down and spacing isn't adequate, though, which is why some question how much longer they'll be together.
10. Giannis Antetokounmpo and Khris Middleton, Milwaukee Bucks
COMBINED STATS: 50.9 PPG, 19.9 RPG, 10 APG, 1.2 BPG, 1.9 SPG
The Milwaukee Bucks had the best regular-season record in the NBA. Yes, Giannis is the reigning MVP and seems poised to win the award in back-to-back years. He was also just named the Defensive Player of the Year. We know what Giannis brings to the table. But can we show a little love to Khris Middleton? In year one of his first major long-term contract, Middleton nearly had a 50-40-90 season while averaging 20.9 points, 6.2 rebounds and 4.3 assists per game. Rather than feeling the pressure of a big deal or getting complacent, he elevated his game even more. It's true that these two players have a lot of help around them on the perimeter. Does that mean we should exclude the two best players on the top team in the Association from this list? Absolutely not.
9. Jayson Tatum and Jaylen Brown, Boston Celtics
COMBINED STATS: 43.7 PPG, 13.4 RPG, 5.1 APG, 1.3 BPG, 2.5 SPG
The Boston Celtics selected Tatum and Brown with back-to-back No. 3 picks and they've emerged as rising stars. Despite their one-year difference, Tatum and Brown have taken that "next step" this season as the go-to guys offensively. They're taking good, smart shots and confidently hitting those looks (which are rarely forced). On both ends of the floor, they've been noticeably more aggressive and assertive, with Kemba Walker, Gordon Hayward and (recently) Marcus Smart deferring when it's the young guys' night to shine. Those nights are happening more and more often. This duo can win now, but they also have untapped potential since Tatum is only 22 years old and Brown is just 23.
8. Jimmy Butler and Bam Adebayo, Miami Heat
COMBINED STATS: 35.8 PPG, 16.9 RPG, 11.1 APG, 1.9 BPG, 2.9 SPG
Arguably the best thing about the 2019-20 Miami Heat is the natural flow of their offense. Butler (6 APG) and Adebayo (5.1 APG) are both averaging career-highs in assists. In spite of the positional distinctions, each is able to handle the ball and get their teammates involved. Butler is more of your drive-and-kick, drive-and-dropoff type, whereas Adebayo will execute dribble handoffs with the Heat's lethal guards. It goes without saying that both of these players have the ability to score the ball and fluster opponents on the defensive end with their pressure and length. Just ask the Milwaukee Bucks about that.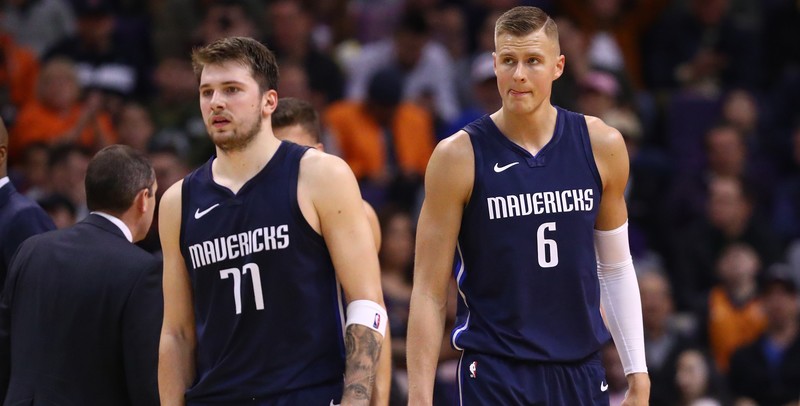 7. Luka Doncic and Kristaps Porzingis, Dallas Mavericks

COMBINED STATS: 49.2 PPG, 18.9 RPG, 10.6 APG, 2.2 BPG, 1.7 SPG
Perhaps the deadliest duo under 25 years old, Doncic and Porzingis are a nightmare for teams to strategize against. First, you have an undeniable superstar talent in Doncic who literally does it all - passes, rebounds, drives, shoots, scores, you name it. The moment is never too big for him to step up and make things happen. Porzingis, his 7-foot-3 partner who is a Unicorn in every sense of the word, exudes confidence on the floor. After a down period of injuries and getting back to form, he is firing on all cylinders. The Latvian big man stretches the floor nicely, leaving room for Doncic to knife inside. He can also get on the block and shoot over the top when he finds mis-matches, as well as cause all sorts of issues on the defensive end with his size. Let's just hope Porzingis can move past his injury issues.
6. Damian Lillard and CJ McCollum, Portland Trail Blazers
COMBINED STATS: 52.2 PPG, 8.5 RPG, 12.4 APG, 0.9 BPG, 1.9 SPG
When you bring up the Portland Trail Blazers, the very first thing that comes to mind is this immensely talented duo. Offensively, though their games differ tremendously, you can think of Lillard and McCollum as Portland's Splash Brothers Lite from a strictly scoring perspective. Unlike their counterparts in the Bay Area, these guys love to hit pull-up threes and take matters into their own hands more often than not - even though they've benefited from darting to the bucket for easy points underneath with Jusuf Nurkic back in the fold. Also, both players step up in clutch moments and they've propelled Terry Stotts and Co. to quite a few tight victories.
5. Kyrie Irving and Kevin Durant, Brooklyn Nets
2018-19 COMBINED STATS: 49.8 PPG, 11.4 RPG, 12.8 APG, 1.6 BPG, 2.2 SPG
Unfortunately, we have yet to see this one-two punch officially hit the hardwood. However, both superstars should be at 100 percent for the start of next season. These two are elite in isolation, which begs the question: How will opponents be able to stop them when both can get a bucket any time they please? Irving dazzles and gets inside to convert early and often, using all kinds of angles off the glass. He's also one of those players who goes to the back-down, turnaround fadeaway with great success. Durant moves effortlessly around the floor and is a human bucket. He can score from literally anywhere. One play, he might pull the trigger beyond the arc. The next play, he'll stop on a dime and hit a mid-range jumper. Then, he'll dunk on you. The options are endless, and there's a good chance this team will be dangerous once Uncle Drew and KD develop cohesiveness on the court.
4. Stephen Curry and Klay Thompson, Golden State Warriors
2018-19 COMBINED STATS: 48.8 PPG, 9.1 RPG, 7.6 APG, 1 BPG, 2.4 SPG
Along with Draymond Green, the Splash Brothers have tortured defenses for the better part of the last decade. While everybody looks at the barrage of threes, it's the movement away from the ball that's truly exhausting for opponents. Curry is in perpetual motion, running all over the half-court looking to receive a pass, but also opening up the floor by dragging his defender along with him. Thompson is always at the ready on the perimeter for catch-and-shoot opportunities. It's very rare to see him put the ball on the floor; however, he is ridiculously good at squaring his shoulders and knocking down triples off of screens. He's a pest as a defender both on and off the ball too. Curry and Thompson won three championships together and went to five-straight NBA Finals. It's a shame injuries halted their momentum this year, but they'll be ready to go in 2020-21 - with Andrew Wiggins and the No. 2 pick in the draft now by their side.
3. James Harden and Russell Westbrook, Houston Rockets
COMBINED STATS: 61.5 PPG, 14.5 RPG, 14.5 APG, 1.3 BPG, 3.4 SPG
The Houston Rockets' backcourt is comprised of two former MVP guards who can get hot in a hurry, albeit in different ways. On one hand, Harden is a long-range assassin who can utilize his shooting ability to destroy teams from deep, get into the paint for an easy score or kick-out to P.J. Tucker (or whoever) in the short corner. He plays at a deliberate, methodical pace and can draw fouls with the best of 'em, as well as finding the drop off to the roll man. And contrary to popular opinion over the years, The Beard is a pretty decent individual defender - especially stout in the post. Westbrook's style is almost the opposite of Harden's. He has his foot on the gas pedal all game long. If you get him in the open floor, even at 31 years old, nobody's catching up to him. He has a burst like no other after he gets one step on you. That mid-range jumper at the corner of the key is a deadly weapon when he gets hot. Equal to his backcourt partner, after drawing in multiple defenders to converge on an attack, he finds his open teammates on the outside for open looks. Chemistry has come naturally for these two (since they played together in OKC). They each know when it's their turn to take over, they can run an offense smoothly and, most importantly, Mike D'Antoni can stagger them when one needs a break.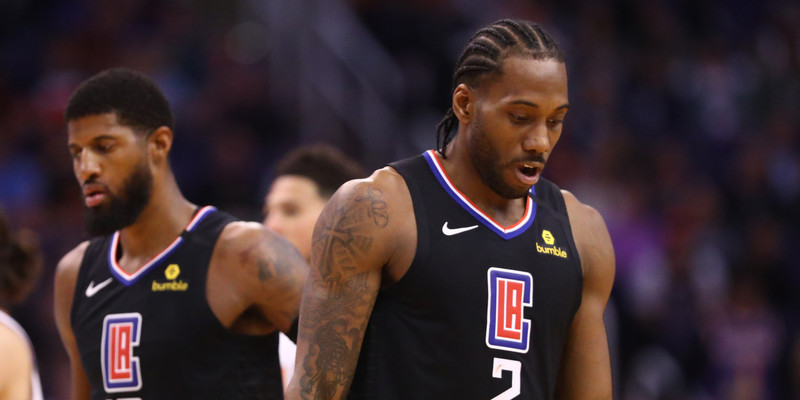 2. Kawhi Leonard and Paul George, LA Clippers
COMBINED STATS: 48.6 PPG, 13.8 RPG, 8.8 APG, 1 BPG, 3.2 SPG
The Battle for Los Angeles is very real thanks to the Clippers' aggressiveness this past offseason, which created the partnership between Leonard and George. Individually, these lockdown defenders are extremely difficult to gameplan against. Together, they're damn near impossible to figure out. With their long frames, finding an opening in the passing lanes is not fun for opposing teams. On the ball, both of them are in their opponents' shirts to force a turnover. If you like old-school basketball, you'll have a blast watching them compete on this end of the floor. However, they are also three-level scorers who can take over a game in an instant. Leonard's specialty is getting to the rack and drawing fouls, as well as keeping the handle tight for a stepback from 15-feet (right in his defender's eye). George tends to be more of a perimeter threat when the defense shrinks on Leonard, but he drives the lane as well. Both make hard cuts off the ball, can hit from long distance and play-make for their teammates, making this pairing a tough match-up on either side of the court.
1. LeBron James and Anthony Davis, Los Angeles Lakers
COMBINED STATS: 51.4 PPG, 17.1 RPG, 13.4 APG, 2.8 BPG, 2.7 SPG
If anybody has an argument against The King and The Brow being the most dominant duo in the NBA, please present it. LeBron and AD run the pick-and-roll as smoothly as you'll ever see a forward and big man do it. Good luck stopping a perfect pocket pass to a seven-footer with a 7-foot-6 wingspan on a hard roll to the basket, or finding a way to contest that same man when he stretches the floor. If that doesn't work, the former can elect to just pull up from distance or drive with the speed of a runaway freight train and force of a linebacker. Those nearly-full-court alley-oops aren't half bad, either. Defensively, you're not going to be able to finish over either - and that's only if you can find your way past either of them in a one-on-one scenario. There's a reason the Los Angeles Lakers are so hard to gameplan against, and it starts right here.