The second round of the NBA playoffs is underway and a champion will be crowned in a month. After that happens, we'll transition into one of the most unique offseasons in NBA history. The NBA has announced that it will push back the start of free agency, but transaction season is still rapidly approaching.
BasketballNews.com has sorted out the top-50 free agents position-by-position. We have ranked the top point guards, shooting guards, small forwards and centers. Today, we look at the power forwards.
Honorable Mention: Jabari Parker, Sacramento Kings -- Back with Kings

STATS: 14 PPG, 5.6 RPG, 1.6 OREB, 1.8 APG, 0.4 BPG

It's been tough sledding for Parker, to say the least. He's been looking for a home ever since his stint with the Milwaukee Bucks came to an end, and he hasn't had any luck. In every situation, he's given his all. Though he's not the athletic stud he was before the devastating injuries, Parker can use his size to bully his way to the bucket. He has a respectable mid-range game, too, and his best years should be ahead of him. Parker chose to stay put in Sacramento, opting into his $6.5 million player option.

10. Harry Giles III, Sacramento Kings -- Unrestricted
STATS: 6.9 PPG, 4.1 RPG, 0.9 OREB, 1.3 APG, 0.4 BPG

Whether it was due to Luke Walton's new system not being a fit or rotational strategy, many were curious when the Kings decided to decline Giles' third-year option. What makes him such an attractive option is the spring in his step. There's a burst there, which, accompanied by his length, allows him to block shots and finish strong inside. Remember, this was a first-round pick whose status was affected by an injury in college at Duke. Being only 22 years old, Giles could easily be a diamond-in-the-rough find for a team.
9. Derrick Jones Jr, Miami Heat -- Unrestricted
STATS: 8.5 PPG, 3.9 RPG, 1.1 OREB, 1.1 APG, 0.6 BPG
The man they call Airplane Mode is so much more than just a ridiculous athlete who can leap to the moon and jam from unimaginable heights. He is a legitimate two-way player who shows his knack for baseline cuts, speed in transition to push it down the floor and utilizes the dribble drive from the perimeter to get to the cup. Defensively, although he's not the biggest guy, he uses his seven-foot wingspan to stay in front of his assignments and get deflections in passing lanes, which often results in points the other way. Despite still finding the feel for his three-ball consistently, Jones definitely made himself some money with his play in Miami these last couple of years.

8. Dario Saric, Phoenix Suns -- Restricted
STATS: 10.7 PPG, 6.2 RPG, 1.5 OREB, 1.9 APG, 0.2 BPG

Saric has emerged as a solid stretch-four. He'll hang out on the perimeter and occasionally find his way on the block to position himself down low. Production-wise, he consistently scores in the double figures and grabs six or seven rebounds per game. It is worth noting that he's shooting 47.6 percent from the field (which is a career-high). Even if Saric has a significant amount of suitors, the Suns will have the opportunity to match any offer.
7. Paul Millsap, Denver Nuggets -- Unrestricted
STATS: 11.6 PPG, 5.7 RPG, 1.9 OREB, 1.6 APG, 0.6 BPG

There's going to be plenty of contending teams interested in adding Millsap. He's a smart player who brings veteran leadership. He won't try to do too much and he will scrap for you. He's a dependable shooter from any distance. He'll still sniff around the rim and get you easy points inside. The best thing about Millsap is he'll adapt to any situation he's in, which his executives and coaches appreciate.
6. Carmelo Anthony, Portland Trail Blazers -- Unrestricted
STATS: 15.4 PPG, 6.3 RPG, 1.2 OREB, 1.5 APG, 0.5 BPG

The rebirth of 'Melo has been an absolute pleasure to watch. Playing alongside Damian Lillard and company has truly given him a path to flourish the way everybody knows he can. He was playing within the flow of an offense and making sacrifices, and he'll be rewarded for it. Knocking down mid-range face-up jumpers is his calling card. He shot 38.5 percent from three-point range in 58 games with Portland too. Defensively, his effort has been superb. We don't know how long he plans on playing, but it's clear that he has plenty left in the tank if he wants to keep going.
5. Jerami Grant, Denver Nuggets -- Unrestricted
STATS: 12 PPG, 3.5 RPG, 0.8 OREB, 1.2 APG, 0.8 BPG

The last two years of Grant's career have been his best. Be it as a starter or as a backup, he brings the same energy every time he steps on the hardwood. His versatility allows teams to slot him three through five, and he can guard every position. His impact comes as a defensive pest and, offensively, as an attacker and reliable weapon beyond the arc. Considering his success and the emergence of Michael Porter Jr., it would be surprising for him to pick up his option. Grant is a free agent now after opting out of his $9,346,153 player option.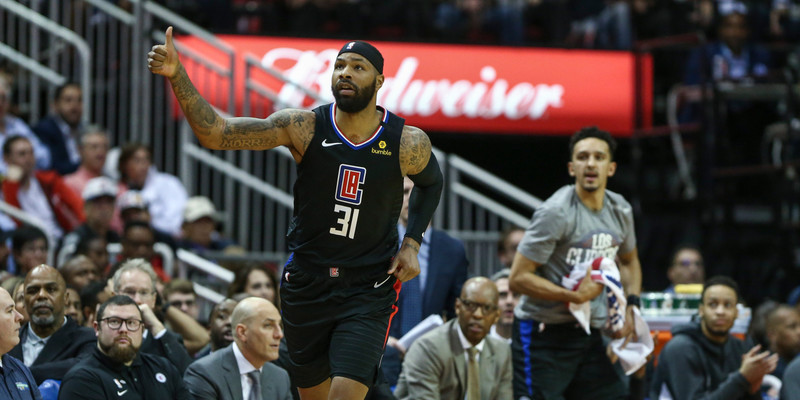 4. Marcus Morris, Los Angeles Clippers -- Unrestricted
STATS: 16.7 PPG, 5 RPG, 1 OREB, 1.4 APG, 0.5 BPG

Morris significantly helped his stock by putting on a clinic earlier this season with the New York Knicks. As the third or fourth fiddle in LA, his usage has taken a huge hit, so it isn't truly indicative of how dynamic of a player he is. As we've seen in these playoffs, he can be incredibly consistent with his production in any role. The veteran forward is as rugged as they come, yet he has a finesse feel on the offensive end. When he gets going, it's hard to stop him from deep. There's a reason the Clippers traded for him.
3. Davis Bertans, Washington Wizards -- Unrestricted
STATS: 15.4 PPG, 4.5 RPG, 0.6 OREB, 1.7 APG, 0.6 BPG

Few players boosted their stock as much as Bertans did in his first season with the Wizards. Playing nearly 30 minutes per game for the first time in his career, he took advantage. A dead-eye shooter, the Latvian sniper has one of the quickest releases in the league and he made 3.7 three-pointers per game (while shooting 42.4 percent from long range). He has no problem pulling up on the break from any spot on the floor, which is his specialty. Good luck cooling this man off when he's hot.
2. Christian Wood, Detroit Pistons -- Unrestricted
STATS: 13.1 PPG, 6.3 RPG, 1.7 OREB, 1 APG, 0.9 BPG

There wasn't a whole lot to be excited about when it came to Motown basketball this season. Wood was the exception. From the G League to the end of the teams' benches to now, he has demonstrated a tremendous work ethic and it's paid off. Once Andre Drummond was traded away, Wood exploded onto the scene with some gigantic performances in the points and rebounds columns. And while that may be a small-sample size, it's not the first time Wood's done this when given an opportunity.
1. Anthony Davis, Los Angeles Lakers -- Unrestricted
STATS: 26.1 PPG, 9.3 RPG, 2.3 OREB, 3.2 APG, 2.3 BPG

Will AD stay or will he go? Well, he and LeBron James have the Lakers in a prime position in the Western Conference. They're the most dangerous duo in the NBA today. Davis is one of the purest shooters and nastiest finishers in the game. He'll take your lunch money on the defensive end. When healthy, he's one of the best all-around players in the league. He declined Los Angeles' max extension after the New Year and seemed to be set on declining his player option in favor of earning a maximum contract offer this offseason. Davis did just that, making himself an unrestricted free agent.