The second round of the NBA playoffs is underway and a champion will be crowned in a month. After that happens, we'll transition into one of the most unique offseasons in NBA history. The NBA has announced that it will push those dates (and the season) back a bit, but either way, transaction season is rapidly approaching. We'll start with the point guards. Check out our ranking of the top shooting guards, small forwards, power forwards and centers too.
Honorable Mention: Rajon Rondo, Los Angeles Lakers -- Unrestricted
STATS: 7.1 PPG, 5 APG, 3 RPG, 0.8 SPG, 32.8% 3P
Rondo is closer to the end of his career than to his prime. With that being said, when the postseason comes around, there are few veterans in the NBA you'd rather have to direct an offense. This wasn't the prettiest regular season for the 34-year-old, but he has played better in the postseason (especially in Game 2 against the Houston Rockets when he recorded 10 points, 9 assists, 5 steals, 3 rebounds and was a game-high +28 off the bench). Remember, he worked wonders with Anthony Davis in New Orleans a few years back. Rondo declined his player option with the Lakers.

10. Shaquille Harrison, Chicago Bulls -- Unestricted
STATS: 4.9 PPG, 1.1 APG, 2 RPG, 0.8 SPG, 38.1% 3P
Part of the Bulls' best defensive lineups, Harrison is an annoying match-up for opposing guards. He's 6-foot-7 with arms that go on for days, leading to deflections and steals to get his team out on the break (which is why he was one of Jim Boylen's favorite weapons to throw off opposing offenses). The 26-year-old doesn't command too much usage on offense, but he can get the occassional bucket when called upon. Harrison has shown if you put him on the floor, he'll reward you for it. Chicago declined its team option on Harrison, making him an unrestricted free agent.

9. Shabazz Napier, Washington Wizards -- Unrestricted
STATS: 10.3 PPG, 4.7 APG, 2.8 RPG, 1.2 SPG, 31.7% 3P
Napier is an ideal back-up point guard with a scoring punch and a willingness to get his teammates involved. He's apt to put up smart shots, whether that's catching fire beyond the arc or driving into the teeth of the defense to finish or draw a foul. In 20 games with the Wizards, he averaged career-highs in points (11.6), threes (1.5), field goal percentage (42.8%) and steals (1.5). He has suited up for six NBA teams in six seasons, which is unfortunate because he should have a permanent home with his play.
8. Michael Carter-Williams, Orlando Magic -- Unrestricted
STATS: 7.2 PPG, 2.4 APG, 3.3 RPG, 1.1 SPG, 29.3% 3P
In somewhat of a career resurgence, Carter-Williams has made some noise as the anchor of the Magic's bench bunch. The 2013-14 Rookie of the Year is now 28 years old and he continues to pester his opponents with his impressive length and quick hands. He thrives in transition and finds his teammates on the dribble drive. You can even see the work he's put in to improve his shooting. Carter-Williams hasn't signed a long-term deal in his career to date; this could be his chance.
7. D.J. Augustin, Orlando Magic -- Unrestricted
STATS: 10.5 PPG, 4.6 APG, 2.1 RPG, 0.6 SPG, 34.8% 3P
A 12-year veteran in the Association, Augustin's been consistently steady and heady. He is adept at taking care of the basketball, getting his teammates involved and knocking down threes at a high clip. He isn't too afraid to go into the trees and get to the foul line, either. Perhaps most valuable is Augustin's tendency to turn it up in the postseason and take on a leadership role. It's a classic case of "you know what you're going to get" with him, and sometimes he'll even go above and beyond that.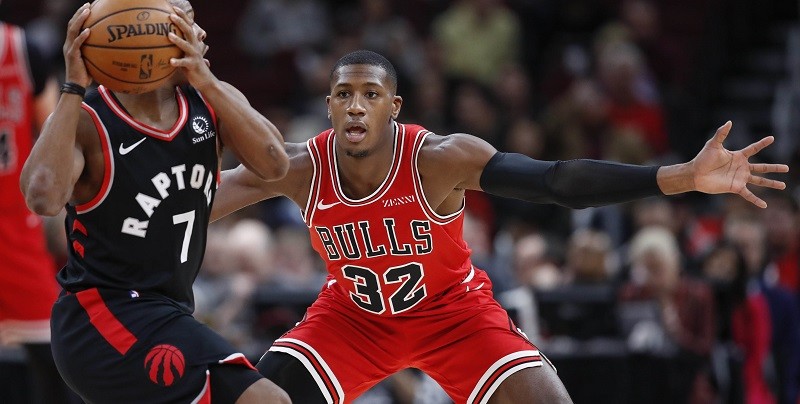 6. Kris Dunn, Chicago Bulls -- Unrestricted
STATS: 7.3 PPG, 3.4 APG, 3.6 RPG, 2 SPG, 25.9% 3P
Dunn is as pesky as can be, and he's one of the NBA's best perimeter defenders. He gets into your shirt without fouling, prohibits you from getting around him and forces you out of your comfort zone on the floor. Despite his jumper leaving much to be desired, he has gotten better at knifing into the paint and scoring that way. You can't keep him off the floor with his defensive chops, though. He gets stops and starts fastbreaks for easy points. The Bulls' guard room is pretty full at this point, and the team decided against extending a qualifying offer, making Dunn an unrestricted free agent.

5. Jeff Teague, Atlanta Hawks -- Unrestricted
STATS: 10.9 PPG, 5.2 APG, 2.4 RPG, 0.7 SPG, 36.8% 3P
A pro's pro for all these years, Teague's days of starting may finally be behind him. That doesn't mean he wouldn't make one hell of an addition to a second unit and locker room. He loves to facilitate and draw attention to himself in the key, which opens up looks for his teammates either underneath or on the outside. Teague still has a nice floater and a legitimate three-ball, too. Any contending team should take a look at him, unless he's content with sticking around in Atlanta as a mentor to Trae Young.
4. Reggie Jackson, Los Angeles Clippers -- Unrestricted
STATS: 11.9 PPG, 4.1 APG, 3 RPG, 0.4 SPG, 39.3% 3P
Jackson's tenure with the Detroit Pistons ended on a somewhat sour note. He had to take on a lot of the load with Blake Griffin sidelined early on. The good news is he's been able to stay healthy the last couple of years after battling injuries in the two seasons prior to that. Now, the 30-year-old guard looks fresh and rejuvenated under Doc Rivers. He's running the offense beautifully when called upon, taking half the amount of shots that he was in Detroit and focusing on making good decisions on the floor.
3. Goran Dragic, Miami Heat -- Unrestricted
STATS: 16.2 PPG, 5.1 APG, 3.2 RPG, 0.7 SPG, 36.7% 3P
At 34 years old, Dragic is getting up there in age, but he produced exceptionally for the Heat. Unfortunately, he tore his plantar fascia in his left foot, so he wasn't able to make his usual impact in the NBA Finals. We'll see how that injury affects his status in free agency. But as a sixth man for the first time since the early part of the decade, the Slovenian vet accepted his role and thrived (and eventually regained his starting job). He establishes a strong rapport with everybody he plays with. He's difficult to defend as a ball-handler in pick-and-roll situations, either dropping the perfect pass to a rolling big, darting toward the bucket with conviction or jacking up a three to punish the defense.
2. Mike Conley, Utah Jazz -- Back with Jazz

STATS: 14.4 PPG, 4.4 APG, 3.2 RPG, 0.8 SPG, 37.5% 3P
This season was Conley's first with the Jazz and while he got off to a slow start, he showed up to the NBA bubble with a vengeance. He can run a team with the best of them. He has a knack for facilitating, has a solid three-point shot and uses a unique right-handed floater when he gets into the paint. He has an early termination option that would allow him to hit free agency this summer, but considering how he and Donovan Mitchell worked in the backcourt (and how much money he's set to earn), it seems like he'll see things through. He chose not to exercise his ETO, he'll make $34,502,132 next season with Utah.
1. Fred VanVleet, Toronto Raptors -- Unrestricted
STATS: 17.6 PPG, 6.6 APG, 3.8 RPG, 1.9 SPG, 39% 3P
Can you believe the crown jewel of the 2020 point-guard class went undrafted four years ago? VanVleet might be the smoothest operator in the league at the one. You can credit smart decision-making, aggressiveness and stellar defensive IQ as the reasons for his rise to the top. Learning from one of the best in the league, Kyle Lowry, certainly didn't hurt, but VanVleet got here on his own volition. There's no question that he's been a key piece for the reigning champions; he's incredibly consistent and he just does his job at an extremely high level. There's a good chance that some team is going to break the bank for VanVleet this offseason. Long-term security is going to be the key, and, despite his public desire to re-sign, that might hurt the Raptors' chances of retaining him.
Check out our ranking of the top shooting guards, small forwards, power forwards and centers.