The second round of the NBA playoffs is underway and a champion will be crowned in a month. After that happens, we'll transition into one of the most unique offseasons in NBA history. The NBA has announced that it will push back the start of free agency, but transaction season is still rapidly approaching.
BasketballNews.com ranked the top-50 free agents position-by-position. We've ranked the top point guards, small forwards, power forwards and centers. Today, we'll go over shooting guards.

Honorable Mention: Jordan McRae, Detroit Pistons -- Unrestricted
STATS: 11.5 PPG, 3.4 RPG, 2.5 APG, 0.6 SPG, 35.7% 3P

Until this season, McRae hadn't gotten a true opportunity to showcase his talents with consistent minutes. With the Washington Wizards, he rapidly hit the scene in the winter months as the team's second-unit catalyst and a perfect secondary option with Bradley Beal on the court. Unfortunately, the Denver Nuggets traded for him and ultimately buried him in their rotation. He had a cup of coffee with the Detroit Pistons before the pandemic halted the season. Still, with his scoring ability and length, he should be able to secure a solid deal.
10. Kent Bazemore, Sacramento Kings -- Unrestricted

STATS: 8.8 PPG, 4.3 RPG, 1.4 APG, 1.1 SPG, 34.4% 3P

Statistically, Bazemore had his worst offensive season in quite some time. Much of that had to do with playing fourth or fifth fiddle on a stacked Portland Trail Blazers roster. Between starting and coming off the bench, it looked like he couldn't truly get in a rhythm there. When he was traded to Sacramento, he was much more aggressive (and successful as a result) with a consistent second-unit role. Now a 30-year-old veteran, there has to be a contending team that can afford Bazemore, bring him off the bench and benefit from his leadership.

9. Kentavious Caldwell-Pope, Los Angeles Lakers -- Unrestricted
STATS: 9.3 PPG, 2.1 RPG, 1.6 APG, 0.8 SPG, 38.5% 3P

With less of the onus on his plate, Caldwell-Pope has proven that he can be a solid three-and-D guy. His length proves difficult for most guards and wings to get around, and his perimeter pressure makes it difficult for guys to get clean looks. He's looked comfortable with the new-look Lakers after a shaky start with the franchise, but chose to decline his player option to feel out the market as an unrestricted free agent.

8. Austin Rivers, Houston Rockets -- Unrestricted
STATS: 8.8 PPG, 2.8 RPG, 1.7 APG, 0.7 SPG, 35.6% 3P

Due to Houston's All-Star backcourt, Rivers has been the leader of the Rockets' bench bunch for the past couple of years. His basketball IQ has tremendously improved, and he's become a solid scorer and better shooter beyond the arc. At 28 years old with his prime years just getting started, Rivers declined his player option to become a free agent.

7. De'Anthony Melton, Memphis Grizzlies -- Restricted
STATS: 7.6 PPG, 3.7 RPG, 2.9 APG, 1.3 SPG, 28.6% 3P

Maybe one of the best-kept secrets in basketball, Melton just plays the game the right way. He doesn't require the ball in his hands to be effective. He's a below-average three-baller, but he makes a significant difference as a distributor and as a defender with his lengthy frame. His career is only getting started at this point. The Grizzlies have a lot of talent on their hands, so we'll have to wait and see if they match an offer this offseason.
6. Alec Burks, Philadelphia 76ers -- Unrestricted
STATS: 15 PPG, 4.3 RPG, 2.9 APG, 0.9 SPG, 38.5% 3P

Burks has battled injury after injury in his career. Fortunately, in the last couple of seasons, he's been able to stay on the floor and make a big-time difference as a pure scorer. With the Golden State Warriors, he was putting together his best season since his early days with the Utah Jazz. As the Philadelphia 76ers' primary option off the bench, he showed that he's still one of the better pull-up shooters in the game when he has it going.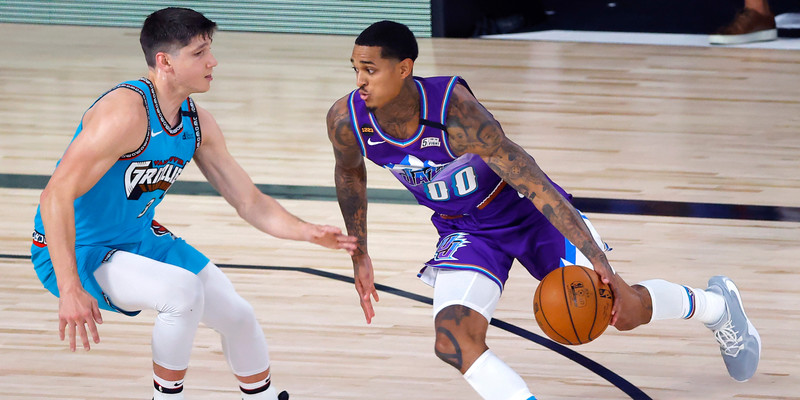 5. Jordan Clarkson, Utah Jazz -- Unrestricted
STATS: 15.2 PPG, 2.6 RPG, 1.9 APG, 0.6 SPG, 36.8% 3P
Following a two-and-a-half year stint with the Cleveland Cavaliers, Clarkson moved to the Utah Jazz and he looked right at home. He's probably the least bashful player in the NBA as far as getting to the rim and putting up shots left and right. His vast improvement as a perimeter shooter is huge, considering the direction of the league. When he's locked in and willing to share the ball, he is tough to stop.
4. Tim Hardaway Jr., Dallas Mavericks -- Back with Mavs

STATS: 15.8 PPG, 3.3 RPG, 1.9 APG, 0.6 SPG, 39.8% 3P

Remember how the New York Knicks wanted to get rid of Hardaway because of his contract status in the Kristaps Porzingis trade? It's ironic because the 28-year-old swingman is having one of his best seasons as a pro. As the supplemental option to Luka Doncic and Porzingis, he is dead set on shooting the ball and taking advantage of the open lanes to attack the basket. Hardaway opted-in for $18 million to stay with the Mavs.

3. Malik Beasley, Minnesota Timberwolves -- Restricted
STATS: 11.2 PPG, 2.7 RPG, 1.4 APG, 0.7 SPG, 38.8 3P
Small sample sizes can be deceiving, but Beasley showed what he's truly capable of in his 14 games with the Minnesota Timberwolves. All he ever needed was an opportunity to expand his role, and he rarely found that with the Denver Nuggets (who drafted him). Beasley is a bucket-getter just waiting to break out. The 23-year-old's rookie-scale contract is expiring, meaning that the Wolves will extend a qualifying offer. He can either sign the qualifying offer (which would let him hit unrestricted free agency after one season) or decline and become a restricted free agent this offseason. With a dry 2020 free-agent class, it might be smart for him to try to get his deal now. At the same time, the offers could be larger in 2021. It's not an easy choice, although continuing to build toward something bigger and better next to D'Angelo Russell and Karl-Anthony Towns wouldn't be a bad decision.

2. Bogdan Bogdanovic, Sacramento Kings -- Restricted
STATS: 15.1 PPG, 3.4 RPG, 3.4 APG, 1 SPG, 37.2% 3P

Since Bogdanovic joined the Kings three years ago, he's been the poster child of consistency. The Serbian guard has a quick first step and a tendency to create for his teammates. His three-point shooting is above-average as well. With Sacramento, he's done most of his damage with the second unit, but he always finishes games. In a dry free-agent class, a team could come with a significant offer. Luke Walton seems to like his game, though, so it'll be up to the Kings on whether to match a deal or not.
1. Evan Fournier, Orlando Magic -- Back with Magic

STATS: 18.5 PPG, 2.6 RPG, 3.2 APG, 1.1 SPG, 39.9% 3P

Fournier is enjoying his best year to date. The eight-year French pro can get going in a hurry, punishing opposing teams with a confident jumper and versatility on both ends of the floor. He's been a consistent starter for the last six seasons in Orlando, yet he's just hitting the prime of his career. Fournier exercised his $17 million player option, making him remain with the Magic.

Be sure to check out BasketballNews.com's ranking of the top free-agent point guards.