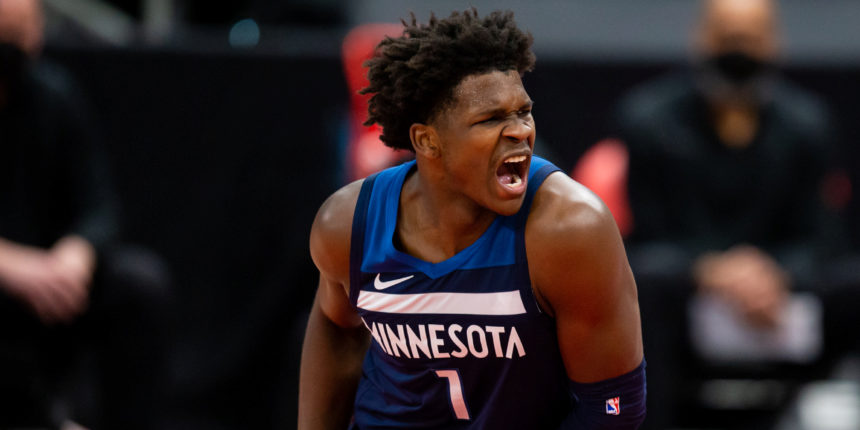 Anthony Edwards is running away with the Rookie of the Year award
Recency bias is one heck of a factor in how perceptions are created surrounding end-of-season awards in the NBA, but in the case of Rookie of the Year, Anthony Edwards' late-season surge is scooting him closer to the driver's seat.
Though the Minnesota Timberwolves have an atrocious record when you look at the overall standings, considering the hardships the team has gone through in this 2020-21 campaign, they've been able to roll with the punches and stick with it under new head coach Chris Finch.
Edwards dealt with a tough start (what 19-year-old with no summer league and a shortened offseason wouldn't?). However, he has gradually improved despite playing under two different coaches. Consistency is so crucial in the development curve, and for Edwards to respond to adversity with star performance after star performance in the second half of the season says a lot about his maturity. The other impressive portion about his debut season is that he's played in all 61 games, making him an ironman of sorts in a tumultous calendar year. Only five other players around the NBA have done this.
Looking at the splits, Edwards' improvements appear to be based on comfortability. Surely it's beneficial to share the floor with All-Star teammates, but it's not like his mindset has ever differed. Adjusting to the NBA is a feel-out process, and his took a little longer than, say, a Tyrese Haliburton or an Immanuel Quickley.
23 pts., 9 reb., 4 ast., 5 stl.

Ant furthered his Rookie of the Year case in Utah. pic.twitter.com/X3mKBDwakc

— Minnesota Timberwolves (@Timberwolves) April 25, 2021
Whether he's talking to the media or playing the game, Edwards boasts the same confidence he's always had. It's manifesting itself into success now, as the No. 1 overall pick is shining and the Wolves have gone 10-16 over the last two months.
During that 26-game span, and especially in April, the rookie guard has been more aggressive putting the ball on the floor, whether that be in isolation situations or catch-and-drives (0.95 points per possession the last two months vs. 0.82 PPP prior, per InStat). Edwards is getting to the line as a result, and making a respectable 76.9% of his free throws. He hasn't been bashful letting it fly from deep either, and his favorite spots beyond the arc are the elbows, notably the right side where he's converted 11 of 29 triples.
It's interesting to see his home and road splits as well. When he's a visitor, Edwards is averaging 20 points per game with a 42% clip. If he's playing in front of the hometown fans in Minneapolis, those figures dip to 16.5 points and 37.8%, respectively. It's the variation of three-point percentage that really stands out as well (35.1% on the road, 29.4% at home).
There are times when he's taken ill-advised shots and turned the ball over. He tends to be inefficient sometimes. He's also had multiple instances when he's been late to close-out and flat-out lost his spot on the defensive end. With that said, those occurrences are going to become fewer and farther between with the more experience he gets.
Post-All-Star break, Edwards is blowing the rookie-class competition away with his statistical production; he is averaging 23.3 points, 5.0 rebounds, 3.0 assists, 2.9 threes and 1.6 steals on 43.6/34.8/76.6 shooting splits. Aside from maybe LaMelo Ball, nobody else in the 2020 NBA Draft class has taken on the same level of responsibility as Edwards, and LaMelo's played 20 fewer games. Pretty much the only valid argument that can be used against Edwards for Rookie of the Year is that he's getting more of an opportunity than the others as rotations shorten going into the postseason (and that LaMelo is on the sidelines).
Although efficiency is important, having to carry the offensive load with a higher usage rate kind of works against that being possible. (Even with Karl-Anthony Towns and D'Angelo Russell back in the mix -- that trio isn't a great defensive combination, but it can damn sure produce. According to PBP stats, it has a 129.09 offensive rating in 128 minutes).
In the fourth quarter, Edwards ranks in the top-five with a 120.8 offensive rating (min. 20 games and 8 minutes played), just ahead of superstars such as Jayson Tatum and Luka Doncic.
So what does that tell you? Edwards is stepping up in the biggest moments. His most memorable performances have come against top-tier teams: a career-high 42 points in a win at Phoenix, going shot for shot with Damian Lillard in a home victory againt Portland, putting on a show twice against the defending-champion Lakers and impressing in Minnesota's lone nationally televised game against Stephen Curry and the Warriors.
That in and of itself shows how special Edwards is -- and is going to be.