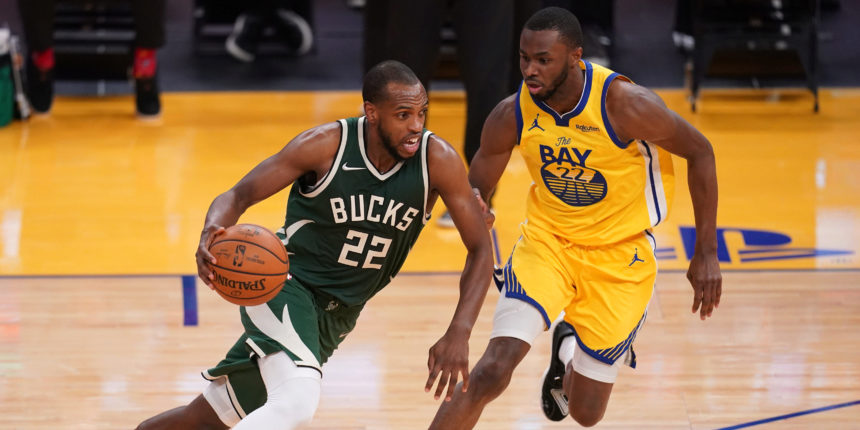 NBA Roundtable: Which player are you higher on than the consensus?
Each week, we assemble our BasketballNews.com writers for a roundtable discussion where we ask them to share their thoughts on an NBA-related prompt. This week, we asked:
Who is a player that you're much higher on than the general consensus?
Nekias Duncan: Khris Middleton. I've been on Khris Middleton Island for too many years — dating back to an article I wrote on his 2014-15 campaign for a now-defunct website — to not have him as my answer. Multi-time All-Star. All-NBA-caliber seasons under his belt. One win away from an NBA-Finals berth, in large part (not the largest, that's obviously Giannis Antetokounmpo) due to his creation burden. And it feels like people still don't entirely grasp how good he is.
Ethan Fuller: Andrew Wiggins. It's the hill I'll die on: Wiggins can absolutely be a core piece on a championship team. After shooting a career-high 38% from beyond the arc, he's proven to be a versatile scorer in all areas. Wiggins also has turned into a quietly stalwart defender, and I'll go to bat calling him one of the more underrated passers in the league. He should be a secondary ball-handler in Golden State, with Draymond Green and behind Steph Curry. I don't know if he warrants that max contract, but it's past time people give Wiggins credit as a legit weapon on both ends of the court.
Alex Kennedy: Larry Nance Jr. Sure, Nance is a fan favorite in Cleveland, but he doesn't get nearly enough national attention. He had an injury-plagued season, but he was terrific for the Cavaliers when he was healthy. At one point in January, the Cavs had the NBA's top-ranked defense thanks in large part to Nance, who was leading the league in steal percentage (3.3%), steals (2.4), deflections (4.8) and loose-balls recovered (2.1), while ranking second in Defensive Win Shares (.9) and Defensive Box Plus-Minus (2.3). When Nance was on the floor, Cleveland held opponents to a 109.9 offensive rating; when he was off the court, that increased to 116.9. Nance is one of the NBA's most underrated players, which we I asked him about on my podcast. I love his defense, his motor, his hustle plays, his work ethic, his positivity, his loyalty to Cleveland (where he grew up), and his leadership. But, most of all, I love his story. Like me, Larry was diagnosed with Crohn's Disease as a kid, yet he was still able to achieve his NBA dream. After making it to the league, Larry started a foundation called Athletes vs. Crohn's & Colitis, which pairs children who are suffering from Crohn's or Colitis with an athlete mentor who has the same disease. He's also making a difference locally, raising $322,000 for 72 small businesses that were impacted by the pandemic. Admittedly, I may be biased, but Larry is a great guy and I'm a fan of everything he does — on and off the court.
Spencer Davies: Russell Westbrook. This is an easy one. Every year that we think he's going to step back athletically, it doesn't happen. Clearly hampered by an injury in the first month or two of the season, Westbrook delivered a triple-double run like this league has never seen before. Washington was 15 games under .500 on April 5, and if it wasn't for Westbrook's infectious energy, playmaking and aggressiveness, that team wouldn't have even sniffed the play-in tournament. They went 17-9 to close the season. Yes, Bradley Beal is the head of the snake and the best player the Wizards have, but when you talk about real leadership and giving it 150% every night, nobody comes close to the compete level of Westbrook, who surpassed the great Oscar Robertson for the most triple-doubles in NBA history with his 32nd of the season on May 10 (he finished with 34 total, and his career mark is 184 and counting). By the time the postseason got here, Beal and Westbrook seemed exhausted from lifting the Wizards to that position. So while Russ has his questionable moments, and he has his inefficiencies from time-to-time, you cannot challenge his heart or his impact. His teammates will assure you of it.
Moke Hamilton: Kyle Kuzma. Kuzma seems to have gone from being slightly overrated to completely underrated. I think he's absolutely a starter in the NBA, but the arrival of LeBron James and Anthony Davis in Los Angeles caused him to be miscast as a "defensive-minded" reserve wing. If he finds himself in a new situation where he's able to regain his confidence and have a bit of offensive freedom, I think we'll see a new player, especially given his newfound championship experience.
Jannelle Moore: Draymond Green. I'm definitely higher on Green than the general consensus. Despite his issues scoring, Draymond is still terrific defensively. Also, his facilitating is still a very valuable part of the Golden State Warriors' engine and will be even more so when Klay Thompson returns.
Check out some of our other NBA Roundtables including:
Which player from a previous era would fit perfectly in today's NBA?
What is your "what-if" scenario in NBA history?
Who is the most untouchable player in the NBA?
Which NBA team has the best young core?