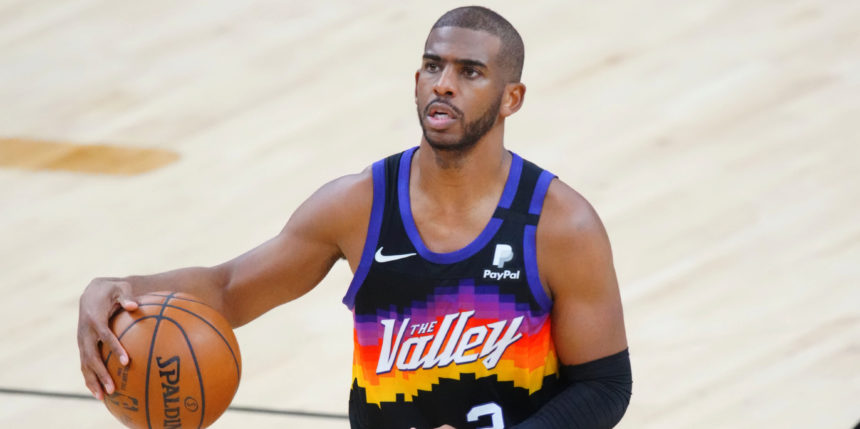 Suns' Chris Paul is now favored to win NBA Finals MVP
Chris Paul is now favored to win the NBA Finals MVP award, one day after he and Devin Booker of the Phoenix Suns were co-favorites in the legalized U.S. sports gambling market.
Both were 2-1 (+200) on Friday, but on Saturday, the market had shifted with Paul going to +175 and Booker to +230 at DraftKings Sportsbook. Deandre Ayton is the only other Phoenix player with odds lower than 100-1, sitting on DraftKings' board at +2500.
The start date of the NBA Finals is not yet known because we still must learn whether the Milwaukee Bucks can finish off the Atlanta Hawks in Game 6 tonight or whether the series will return to Milwaukee for a Game 7 on Monday night. Atlanta is favored by 2 points despite Trae Young being listed as questionable. Giannis Antetokounmpo of the Bucks is out with a hyperextended knee.
It is unknown whether Antetokounmpo will even be able to play again this postseason after injuring his knee in Game 4, yet he is the third choice on the Finals MVP wagering board at +400, followed by teammates Khris Middleton at +700 and Jrue Holiday at +1200.
Young is +1600, and no other players are lower than 100-1 at DraftKings.
Paul has accounted for 25% of the handle and 15% of the bets at DraftKings, said spokesman Stephen Miraglia. Booker's percentages are 10% of handle and 12% of bets; Antetokounmpo's percentages are 8 and 6; Young's are 7 and 5, Middleton's are 6 and 6 and Ayton's are 3% of handle and 5% of bets.
So, the way the sportsbooks see it, only six or seven guys have a chance at the award. Somewhere in America, Andre Iguodala is rolling his eyes. So, too, perhaps, are Cameron Johnson, Bobby Portis and P.J. Tucker, all of whom are 500-1 at DraftKings. The longest odds anywhere are +12500 on Lou Williams, Onyeka Okongwu, Tony Snell and Solomon Hill at Bet MGM, which has Giannis listed at only +275.
The last five NBA Finals MVPs (LeBron James twice, Kevin Durant twice and Kawhi Leonard once) have averaged at least 25.0 points per game in the postseason. However, six years ago, Iguodala averaged only 7.8 points and still won the award for his defense against James, a four-time Finals MVP. Nobody had ever won the award before with a scoring average in single figures.
It is notable that Ayton is taking 5% of the bets, because his price is enticing.
When the Suns played the Bucks during the regular season, Ayton had 17 points on 7-for-10 shooting in the first game, a 125-124 Phoenix victory. In their second meeting, he had 20 points on 8-for-11 shooting with 13 rebounds in a 128-127 Suns overtime victory.
When the Suns played the Hawks, Ayton had 13 points and 14 rebounds in a 117-110 victory, and then 7 points and 8 rebounds in a 135-103 loss to the Hawks in Atlanta. (Clint Capela shot 8-for-11 and had 18 points in that second game with 10 rebounds, so it should be noted that his odds for Finals MVP are +25000 at BetMGM and FanDuel.)
But first things first, which is getting to the NBA Finals.
The Bucks and Hawks are still not there yet, and if Atlanta wins tonight, we have to prepare for an epic Game 7 on Monday. That is a lot of time for the odds to move, and given the popularity of Paul, his odds may get even shorter.
No matter who comes out of the East, it is worth noting that Jae Crowder, who would draw the defensive assignment on Antetokounmpo if the Suns play the Bucks, is not even on the board at DraftKings Sportsbook and FanDuel Sportsbook. BetMGM.com has Crowder listed at +12500 and Brook Lopez listed at +6600.
DraftKings and Fan Duel both have Lopez at +10000. If he continues shooting 93%, that is not a bad bet.