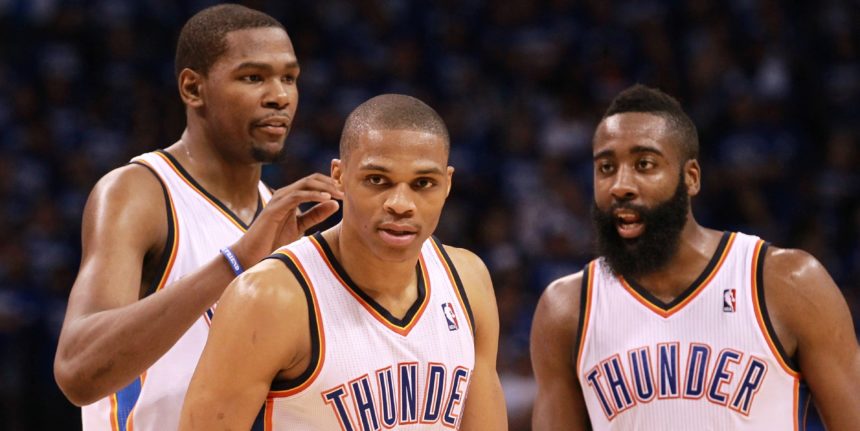 Roundtable: What is your favorite 'what-if' scenario in NBA history?
There are many "what-if" scenarios throughout NBA history. It's always fun to discuss these hypotheticals that could've had an enormous impact on the NBA landscape. In order to discuss some of the best "what ifs" throughout NBA history, we asked our BasketballNews.com writers the following question:
What is your favorite "what-if" scenario in NBA history?
Alex Kennedy: The first thing that pops into my head is, "What if the Thunder's Big Three of Kevin Durant, Russell Westbrook and James Harden had stayed together?" How many championships would they have won? Would KD have remained in Oklahoma City? Sure, Westbrook and Harden may not have become the MVP-caliber players we know today, but that group definitely would've been fun to watch in their collective prime. However, since that's one of the most obvious NBA-related what-ifs, I also want to bring up a lesser-known scenario. Entering the 2012 NBA Draft, the New Orleans Pelicans (who were the Hornets at the time) had the No. 1 pick and the No. 10 pick. Anthony Davis at No. 1 was a no-brainer, but they had a decision to make at No. 10. According to a source in New Orleans' front office, the team's top option throughout the process was a guard from Weber State: Damian Lillard. Initially, due to his age and mid-major school, Lillard was being projected as a late-lottery pick, so he was a realistic target. The Pelicans loved the idea of landing their big man of the future and point guard of the future. They had zeroed in on Lillard, but once he shot lights out at the NBA Combine and started dominating pre-draft workouts, his stock started soaring. He eventually climbed all the way up to No. 6, where the Portland Trail Blazers selected him. New Orleans settled for a different scoring guard instead: Austin Rivers. In 2014, Lillard confirmed to NOLA.com that he initially thought he'd end up in New Orleans: "I knew they had the 10th pick in that draft. That was within the range I could have gone in. In my head, it was like, 'They're going to draft AD and I could be the point guard.' Me and him talked... That was definitely what I was thinking could happen at that time." If this happened, does AD stay in New Orleans long-term? Are they a perennial contender? We'll never know, but it's fun to imagine that incredible one-two punch.
Nekias Duncan: If the prompt was "biggest," I'd be inclined to bring up the health of one Tracy McGrady because it's a shame that he could never completely put it together. But that's depressing. I'll stick with McGrady, though: what if Doc Rivers doesn't botch the Tim Duncan meeting in 2000 — or schedules it at a different time, whatever — and we get a McGrady-Duncan-Grant Hill trio in Orlando? Having McGrady and Hill dazzle in the open floor while Duncan brings it home in the half-court seems like a formula for success.
Moke Hamilton: Probably gotta go with Kyrie Irving's game-winning three-pointer over Steph Curry in Game 7 of the 2016 NBA Finals. Had he missed, the 73-win Warriors' legacy would've been completely different and LeBron James may have never left Cleveland. Could he leave without winning a title after writing the "I'm Coming Home" piece in Sports Illustrated? If Kyrie still ended up leaving — and it stands to reason he would've — could LeBron have been trapped in Cleveland? Hell, had the Warriors won that series, would Kevin Durant still have signed there? What if he stayed in Oklahoma City? I mean… there was so much fallout from that shot, so it's an easy answer for me, all things considered.
Spencer Davies: This may sound a little biased (and it probably is because this is the last season that I was a diehard fan), but I always think about the end of Game 7 between the Cleveland Cavaliers and Golden State Warriors in 2016. It was exciting as is, with the infamous sequence: The Block by LeBron James on Andre Iguodala, The Shot by Kyrie Irving over Stephen Curry and The Stop by Kevin Love against Curry to secure the Cavs' first championship. But what if the basketball gods would've allowed a fourth part of that chain of events: The Dunk. Or if you really want to describe it honestly, The Poster. As the Cavs were up 92-89 with 18.7 seconds left in the game, Irving received the inbound pass and took it up the right side of the court. He drew a defender and left the lane wide open for a diagonally-cutting LeBron, who rose up with the most purpose we'd seen since his first stint with Cleveland. The moment was tailor-made for the history books, as Draymond Green attempted to contest LeBron's slam way too late and came within inches of being on the receiving end of an eternal highlight reel. Instead, LeBron took it inside with so much force that it ricocheted off the iron, and he ended up actually hurting his own wrist as a result. Had that dunk actually happened, it would've been one of the best punctuations on a championship victory in NBA Finals history in an already unprecedented 3-1 series comeback. Somewhere in an alternate universe or different timeline, LeBron's title-winning exclamation point exists.
Ethan Fuller: Quiz your friends with this one: Who is believed to be the all-time leading scorer in pro basketball history? It's Oscar Schmidt, who racked up over 49,000 points between his Brazilian national team and club careers — but never played in the NBA. Schmidt is the all-time leading Olympic scorer with 1,093 points, and once scored 46 to help Brazil beat the United States in the 1987 Pan-American games. He was a 6-foot-8 forward and three-point marksman who averaged a ridiculous 42.0 points per game in the 1988 Olympics. Would he have been able to make the successful transition to the NBA? We'll never know, but it's worth shouting out one of basketball's underrated legends.
Check out some of our other NBA Roundtables including:
Which player from a previous era would fit perfectly in today's NBA?
Who is currently the most untouchable player in the NBA?
Which NBA team has the best young core?