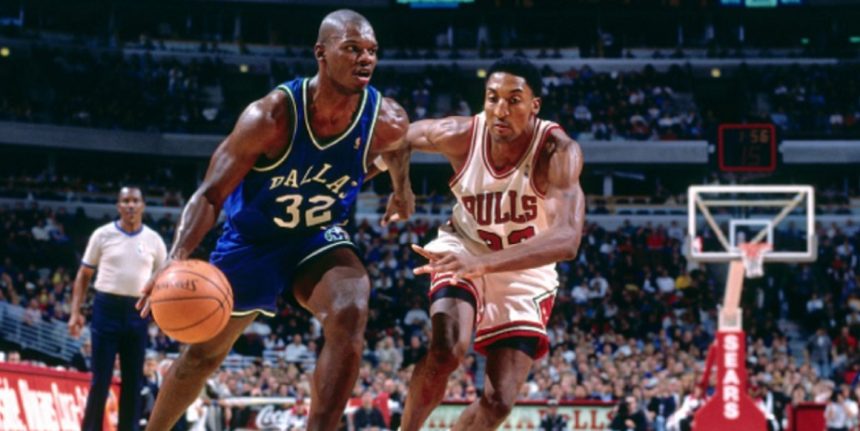 Roundtable: Which former player would fit perfectly in today's NBA?
In the latest BasketballNews.com roundtable, we asked our writers the following question:
Which player from a previous era would be a perfect fit in today's NBA?
Alex Kennedy: Rather than selecting a legend like Larry Bird who would obviously be incredible in today's NBA, I chose a player who was solid in his era but whose career would've played out very differently if he was drafted today: Jamal Mashburn. In his prime, Mashburn averaged 21.6 points, 6.1 rebounds, 5.6 assists, 1.5 threes and 1.0 steal while shooting 38.9% from three. He was 6-foot-8 and roughly 250 lbs. (the same size as Julius Randle). Here's how a 1993 pre-draft scouting report described him: "Mashburn is a jack of all trades. He can play either inside or outside. Inside, he has a variety of moves, a la Kevin McHale, with all sorts of head fakes and turnaround moves. He can be virtually unstoppable in the low post. If that isn't enough, he can take his game outside, where he can easily stroke the three-pointer. He is an excellent ball-handler, and he can score from a set shot, posting up, and off the dribble." In today's NBA, Mashburn would play multiple positions; he would be a terrific stretch-four and small-ball five. But back in the day, he played 84% of his 16,217 NBA minutes at small forward. These days, he'd also attempt more than just 3.6 threes per game. A team could run their offense through Mashburn since he could create his own shot and get his teammates involved. Today, he'd be highly coveted due to his versatility, athleticism, shooting, touch around the rim and playmaking. He was incredibly talented (and underrated), and it's unfortunate that he wasn't born a few decades later.
Spencer Davies: It's not as if Rashard Lewis had a poor career -- especially judging by his contributions over a decade with the Seattle SuperSonics and Orlando Magic, where he averaged 18 points and nearly six rebounds per game on 39.4% from long distance -- but it is so easy to picture him in the modern NBA stretching the floor and jacking up 8-to-10 threes and nailing 40-plus percent of them. Later down the line, he was a bigger body with more strength, however, in the mid-2000s, he just had the length that would bother you defensively. Lewis would probably be able to easily average 20-plus points these days. He was quite adaptable despite being a 3/4 tweener, but in June 2021, he would be exactly what these teams are frothing at the mouth for: length, athleticism and most importantly, shooting.
Moke Hamilton: Definitely an interesting question. Vlade Divac and Arvydas Sabonis are two that immediately come to mind for me, with Sabonis being particularly interesting. For those of you who are younger than me, Sabonis — the father of NBA All-Star Domantas Sabonis — is a great "what if?" in NBA history. Without taking a long stroll down memory lane, Sabonis was a truly gifted big man whose NBA career never became what it should have been. He was able to make plays from the interior, had magnificent court vision and shot 32% of his career looks from more than 10 feet from the basket. He shot over 100 three-pointers in each of his first three seasons in Portland and connected on about 34% of them. But when Mike Dunleavy took over head-coaching duties prior to Sabonis' fourth year, things changed, to say the least. Seriously, go Google Arvydas and check out his personal story. It's incredible… And he would've fit right in with today's NBA… Just like his son.
Nekias Duncan: I'll go off the cuff: I would've loved to see how scalable Detlef Schrempf's game would've been today. A 6-foot-10 forward who could shoot (criminally low three-point volume), and play-make the way he could would've been incredibly valuable.
Jannelle Moore: Scottie Pippen is the quintessential choice for a player from a previous era who would be great today. Why? Because Scottie would kill on defense -- a versatile wing who could guard all positions. Furthermore, he can facilitate. And Pippen in transition with today's space and tempo would be scary.
Ethan Fuller: I beg younger basketball fans to go watch highlights of Dana Barros in the 1990s. Barros was a simply unreal shooter caught in an era where three-point shooting took a back seat. He shot at least 39% from three in 10 of his 13 full seasons while flying around off screens and off the dribble. At his peak with the 76ers in 1994-95, Barros averaged 20.6 points, 7.5 assists and 1.8 points per game while hitting 50 points in one contest. But Barros only attempted at least 5.0 threes per game in one season. If he played today, he'd be a premier shot-making point guard and absolutely lethal with the emphasis on floor spacing. Think peak Isaiah Thomas with even more shooting upside.