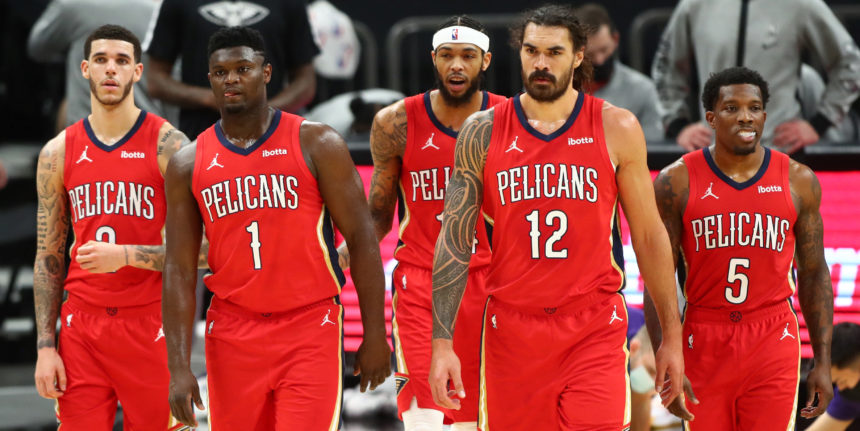 Roundtable: Which NBA team has the best young core?
Looking around the NBA, there are quite a few teams with a talented, up-and-coming nucleus. But of all these teams, which franchise has the best young core? We asked our BasketballNews.com writers to share their thoughts.
Which NBA team has the best young core?
Alex Kennedy: Give me the New Orleans Pelicans' young core. Zion Williamson (20 years old) and Brandon Ingram (23) are both All-Stars with insane upside. Williamson could become the face of the NBA if he realizes his full potential. Lonzo Ball (23) is another franchise cornerstone who continues to make huge strides. However, this young core is also deep, with Nickeil Alexander-Walker (22), Jaxson Hayes (20), Kira Lewis Jr. (20), Naji Marshall (23), Wenyen Gabriel (24) and Didi Louzada (21). Steven Adams (27) and Josh Hart (26) aren't as young as the others, but they are great complementary pieces. The Pelicans project to have a top-10 pick in the 2021 NBA Draft, so they'll likely add another top prospect to this core; plus, they'll receive multiple first-rounders from the Los Angeles Lakers and Milwaukee Bucks over the next few years (due to the Anthony Davis and Jrue Holiday trades).
Nekias Duncan: I'd go with the Phoenix Suns, narrowly edging out the Memphis Grizzlies for me. Devin Booker is a foundational talent. Mikal Bridges is one of the best wing defenders in the league, while also providing value as a shooter and cutter. Deandre Ayton has serious two-way potential. Those three plus Cam Johnson give you a pretty darn good quartet under 25.
Spencer Davies: If we're talking about the here and now, my answer would be the Atlanta Hawks. Trae Young, De'Andre Hunter, Bogdan Bogdanovic and John Collins (if he returns) is a solid core and they're about to get their first taste of playoff basketball. They're all guys with four years of experience or less. This goes without mentioning Cam Reddish, a defensive-minded wing with size who was out for a good part of this year with an injury, and Onyeka Okongwu, the No. 6 overall pick from this past draft who has shown signs of his development with big second-unit minutes. Even Clint Capela just turned 27, and he was one of the most underrated centers in the NBA this season, serving as a perfect partner for Young on lobs and a menace on the glass.
Ethan Fuller: The Oklahoma City Thunder, without any hesitation. OKC has already locked in a surefire star in Shai Gilgeous-Alexander. The franchise boasts budding role-players and specialists (Lu Dort, Kenrich Williams, Theo Maledon, Svi Mykhailiuk), athletic upside swings (Darius Bazley, Isaiah Roby, Moses Brown) and one player who's in his own tier due to his game-changing potential in Aleksej Pokusevski. That doesn't even account for the 2021 NBA Draft; the Thunder could nab a top prospect with their own pick, and then get another if Houston's pick lands outside the top-four. This is a masterclass in asset accumulation.
Sharon Brown: Memphis. I believe this team hasn't quite tapped into its potential just yet. Granted, they have exceeded expectations for two years in a row. But I believe veteran leadership on the roster -- plus another go-to player to complement Ja Morant and Jaren Jackson, Jr. -- could put them over the top in the tough Western Conference.
Moke Hamilton: For the sake of this question, I am going to define "young" as 25 or under. So Joel Embiid (27), Nikola Jokic (26) and Giannis Antetokounmpo (26) don't factor in. I boil this down to the Celtics and Pelicans, and although New Orleans failed to qualify for the postseason, I'll take them. That does assume they re-sign Lonzo Ball this summer, which is no certainty. With Ball, Brandon Ingram and Zion Williamson, you'd be hard-pressed to find another trio that's this young and has that high of a ceiling. The Celtics get an honorable mention here, with Jaylen Brown, Jayson Tatum and Robert Williams giving me similar feels, but New Orleans is my easy pick.
Chris Sheridan: If 28 if not considered "old," I will give it to the Atlanta Hawks, whose only 28-year-old player is Bogdan Bogdanovic. Younger than him are Clint Capela (27), John Collins and De'Andre Hunter (23), Kevin Huerter and Trae Young (22), and Cam Reddish (21). They will get their feet wet in the postseason against a decent New York Knicks team with a similar lack of playoff experience among young key players, and it'll serve them well going into next season.
Jonathan Concool: The Memphis Grizzlies. Memphis has the league's youngest team and they have essentially closed the door on the rebuilding process after competing in the league's play-in tournament for the second-consecutive year. With a young core of Ja Morant (21 years old), Jaren Jackson Jr. (21), Brandon Clarke (24), Desmond Bane (22), Dillon Brooks (25), De'Anthony Melton (22), Xavier Tillman (22) and more, Memphis fans must be feeling pretty optimistic about the future. The Grizzlies have nailed their past three draft classes (with some help from the lottery, of course). But finding Bane in the late first round and Tillman in the second round of last year's draft were big wins for the Grizzlies. Memphis finished 38-34 this season, beating out their Vegas win prediction for the second-consecutive year.