Referring to a contract as a "bargain" is saying that a player's talent overwhelmingly exceeds what they are paid. When you look around the NBA, plenty of these value deals exist, especially in the realm of rookie-scale contracts. But outside of that, there are teams that have gotten the best bang for their buck with the players they've signed.
Since a lot of the noise tends to be around the bigger contracts, BasketballNews.com wanted to take a different spin and look at some of the deals that teams were smart to negotiate, so we asked our staff:
Which NBA contract is the biggest bargain?
Alex Kennedy: Back in 2019, Caris LeVert signed a three-year, $52.5 million extension with the Brooklyn Nets. That's why he's earning just $16,203,704 this season, despite being one of the league's rising stars. Eric Bledsoe, Ricky Rubio and Gorgui Dieng are some of the players who earned more than LeVert this season. Now, as our Spencer Davies noted, LeVert is producing at a high level (averaging 21.6 points, 5.3 rebounds, 5 assists, 1.4 steals, 1.3 blocks this month) for the Indiana Pacers, who have to be thrilled about January's trade.
Spencer Davies: There are too many obvious rookie-scale players that come to mind for this topic, so let's stick to players with contracts that don't fall under that criteria. Even though he falls under a similar age group, Luguentz Dort went undrafted in 2019 and signed a two-way contract that summer with the Oklahoma City Thunder. From that point on, the burly guard shot up the depth chart, earned a four-year standard minimum deal in June 2020 and ended up giving James Harden all he could handle in the first round of last year's playoffs in the bubble. Last offseason, Dort signed a four-year, $5.4 million deal (and it was only partially guaranteed until recently!). He's earning $1,517,981 this season, and he'll make $1,782,621 next year. In 2022-23, he has a team option worth $1,930,681. That's a damn steal for an everyday starter who has made a marked improvement on the offensive side of the floor (did you *see* his career-night Tuesday?) and continues to be tasked with the most difficult assignments defensively.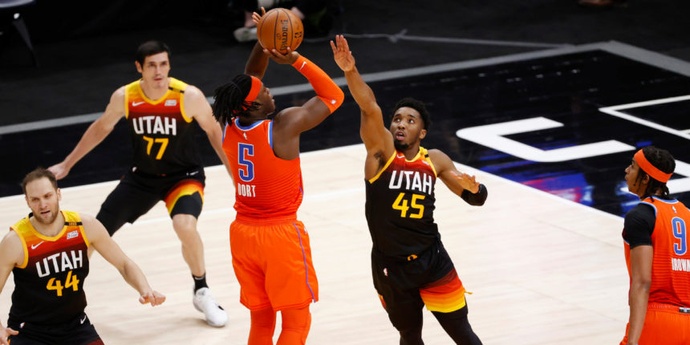 Nekias Duncan: The easy answer would be someone Luka Doncic or Zion Williamson since they're still on their rookie contracts. That feels like cheating. Instead, I'll go with Julius Randle, an All-NBA caliber player this season while making a shade under $19 million.
Chris Sheridan: Easy. LeBron James. If there was not a salary cap, he would be making $150 million or more. Instead, he makes the max, just like a whole bunch of guys who have NOT been to 10 NBA Finals.
Ethan Fuller: Excluding rookie deals, I would say Jaylen Brown's four-year, $107 million contract is fantastic for the Boston Celtics. We're talking about a third overall draft pick who rapidly ascended the league's hierarchy and became a potential perennial All-Star. Brown's value as a two-way wing and long-term piece is tremendous. Most young players at his stage earn maximum rookie extensions, making this contract quite a bargain.
Mark Gunnels: If we're not including players on their rookie contract, then the obvious answer for me is Duncan Robinson. I mean, we're talking about one of the top five shooters in the world whose base salary is only $1.6 million this season. Unfortunately for the Miami Heat, Robinson is a restricted free agent this summer.
Jonathan Concool: Considering the state of today's NBA contracts, Jordan Clarkson gets my vote. He is making just $11.5 million this year, and he's having a career year with the Jazz. The current favorite to win the Sixth Man of the Year award is currently averaging 17.2 points. 3.9 rebounds, and 2.2 assists in just over 25 minutes per game. He's the second-leading scorer on the team with the best record in the NBA. Clarkson also leads the league in free-throw shooting percentage (95.5%), which is up from 78.5% last season. Tony Snell, Taurean Prince, Dion Waiters and Trevor Ariza are among the players who are currently making more money than Clarkson.
Who do you think has the NBA's biggest bargain contract? Tweet us your answer @basketbllnews!