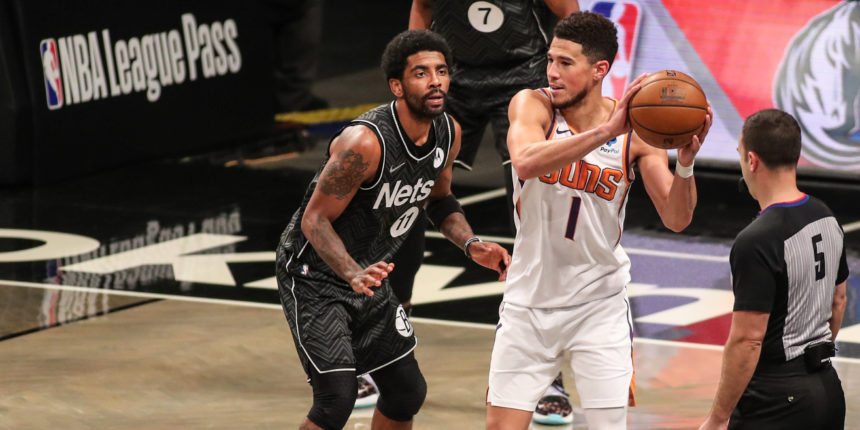 2021-22 win-total odds: 5 NBA teams you should hammer the over on
With such a quick turnaround, the 2021-22 NBA season is right around the corner. Here at BasketballNews.com, we'll be covering the upcoming campaign from every possible angle, including ramped-up sports betting coverage.
Recently, Las Vegas released their over/under lines for each NBA team. Which ones stand out the most as a smart bet? In this two-part series, we will dive into the five teams who are strong candidates to exceed their over/under win total followed by a look at who seems poised to underachieve. Without further ado, let's get into the best bets to go over on their win total.
BROOKLYN NETS: OVER 55.5 WINS
Despite having an over/under set in the mid-50s, Brooklyn is a solid bet since their rotation is even better than it was last season. Add in the fact that Kevin Durant, James Harden and Kyrie Irving will have a full offseason of preparation together and this trio should run roughshod through their 82-game schedule.
55.5 seems a little low for the Nets, even though it's Vegas' highest win total this season. Health-permitting, Brooklyn is a 60-plus win squad with multiple MVP candidates on their roster. The Nets and the Milwaukee Bucks are in their own tier in the new-and-improved Eastern Conference, which still gives them real separation in the standings.
Hammer the over on the NBA's best team entering the 2021-22 season.
PHOENIX SUNS: OVER 51.5 WINS
The Suns improved an NBA Finals roster, turning their weaknesses into potential strengths with the offseason additions of Landry Shamet and JaVale McGee. Also, Phoenix is reportedly pursuing Thaddeus Young on the trade market, which would be a terrific addition. The Suns' bench is already considered one of the NBA's best, so adding Young would give Phoenix the league's top second unit. The Suns didn't lose anyone from their regular rotation except Torrey Craig, who was their 10th or 11th man in the playoffs.
Chris Paul is showing no signs of slowing down, while the Suns' young core pieces (Devin Booker, Deandre Ayton and Mikal Bridges) have not even reached their prime years yet. Believing that the Suns are poised to take a step back is a foolish exercise. Phoenix is poised to finish near the top of a loaded Western Conference, and it's fair to say a top-three seed is a near-lock at this rate.
I'm on record saying that the Suns will flirt with a 60-win season, potentially exceeding their best mark in franchise history (which was 62-20 in 1992-93 and 2004-05). Set at 51.5, it's an easy over hit for bettors.
CHICAGO BULLS: OVER 41.5 WINS
There will surely be an adjustment period after adding talented players like Lonzo Ball and DeMar DeRozan into the starting lineup; however, Chicago's core is legit. Zach LaVine and Ball form a formidable backcourt tandem that plays perfectly off one another. DeRozan should settle into a great No. 3 option within the Bulls' offense while also providing underrated playmaking ability. Nikola Vucevic will have less pressure on him since DeRozan is joining the frontcourt and former No. 4 pick Patrick Williams should continue to make strides.
Many seem to be questioning the Bulls' defensive potential, which is a valid concern. However, the offensive firepower should override it. LaVine took a real step forward last season, and now the Bulls are pushing their chips into the middle of the table as they go for a playoff spot.
Chicago seems destined to flirt with a 45-win campaign in 2021-22. Finishing with a .500 record would be well under expectations in the Windy City, and the Bulls should achieve those relatively simple benchmarks and secure a playoff spot by season's end.
CHARLOTTE HORNETS: OVER 36.5 WINS
The Hornets had a record above .500 before Gordon Hayward went down in March with a season-ending injury. Even as LaMelo Ball was adjusting to the NBA (and then missing time with his own injury), Charlotte's roster was still holding their own on most nights against a tough schedule. Charlotte improved their roster across the board, emerging as one of the Association's most underrated offseason winners.
Adding Kelly Oubre Jr., Mason Plumlee, James Bouknight and Kai Jones into the Hornets' promising rotation should push them into playoff contention. The swing factor here revolves around a Year-2 leap from the 2020-21 NBA Rookie of the Year. Ball looks the part of a future superstar, and the Hornets' roster is built to maximize his strengths (particularly in transition).
Hammer the over for the Hornets, as this talented roster should allow them to flirt with a near-40 win season. If the young core takes steps forward, plus Hayward and Terry Rozier stay healthy, Charlotte has all the makings of a sleeper playoff contender.
WASHINGTON WIZARDS: OVER 34.5 WINS
Vegas is not high at all on the Wizards' roster following their offseason moves, which is understandable on the surface with Russell Westbrook's departure to the Los Angeles Lakers. However, Washington has actually put together a more competent team around their superstar Bradley Beal. Entering the final year of his max contract, it's go-time for the Wizards to prove to Beal why he should sign a potential five-year supermax extension in D.C. after next season.
Spencer Dinwiddie is an excellent backcourt complement who will set up easier shot opportunities for Beal and others. Kentavious Caldwell-Pope and Kyle Kuzma add more shooting on the wing. Washington also has a promising nucleus of young talent (Rui Hachimura, Deni Avdija, Daniel Gafford) that should take developmental steps forward in 2021-22.
34.5 wins seems too low for my taste as it relates to the Wizards' current outlook. Don't be surprised if this team is actually a near-40-win squad. With Beal and a more balanced attack around him, they should be competitive on most nights. If the Wizards finish under or even around Vegas' estimated total, it seems likely that Beal would leave for greener pastures after this season.