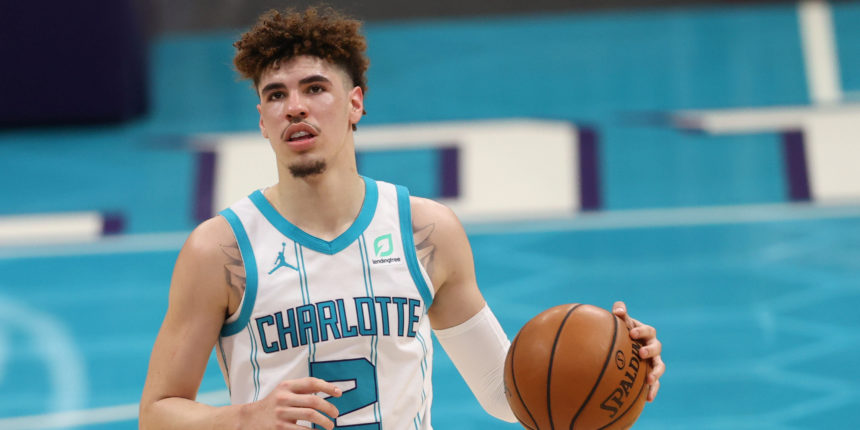 Hornets ready to fly up standings following strong offseason
LaMelo Ball has put the Charlotte Hornets back on the map.
The 2020-21 NBA Rookie of the Year helped energize a fanbase that was yearning for a long-term building block after Kemba Walker's departure in 2019. Ball provided a spark of youthful energy and displayed extremely intriguing two-way upside, averaging 15.7 points, 6.1 assists, 5.9 rebounds and 1.6 steals per game. In the process, the 19-year-old accelerated the Hornets' development curve.
Since 1996-97, only seven rookies have put up a year-long 15-6-1.5 statline: Allen Iverson, Steve Francis, Chris Paul, John Wall, Michael Carter-Williams, Ben Simmons and Ball. Throw in Ball's 5.9 rebounds and only Carter-Williams and Simmons matched his first-year production. And once Ball became a full-time starter, his numbers were even more impressive: 18.1 points, 6.2 assists, 5.9 rebounds and 1.7 steals on a 54.5 True Shooting percentage.
The Hornets have a budding superstar who's ready to take the NBA by storm in short order, which is a key component for any organization looking to take the ever-important leap forward.
Quietly, Charlotte has been one of the biggest offseason winners. Across the board, the Hornets improved their roster and made moves that will allow them to compete in the immediate future while also developing an enticing young core. Take a look at how they tinkered with their roster to best fit Ball's strengths as a fast-paced floor general with blossoming three-level scoring ability:
Outgoing: Devonte' Graham, Cody Zeller, Malik Monk, Bismack Biyombo, Brad Wanamaker, Caleb Martin
Incoming: James Bouknight, Mason Plumlee, Kelly Oubre Jr., Kai Jones, Ish Smith, Wes Iwundu, JT Thor, future first-round pick (via the New Orleans Pelicans)
The Hornets drew huge praise for their draft-night haul, for obvious reasons. Landing James Bouknight, one of the best pure scorers in the 2021 draft class, was a massive steal at No. 11. Charlotte traded up to acquire tantalizing big man Kai Jones, who possesses unicorn-esque traits, which gives their backcourt a future transition running mate who can protect the rim with further physical development. JT Thor, who has been described as a possible diamond-in-the-rough, is an upside swing who could also pay huge dividends down the road. BasketballNews.com's NBA Draft experts Matt Babcock and Derek Murray both named the Hornets as one of their biggest draft-night winners.
Add Charlotte's strong 2021 draft haul alongside Ball, Miles Bridges and P.J. Washington and the Hornets' core should be set for years to come. Ball and Bouknight are an awesome one-two scoring punch who can play off one another seamlessly. Bridges and Washington have flashed immense upside already in their young careers. If Jones and Thor reach their max ceilings, Charlotte has a terrifying big duo that can do things on both ends of the court.
Pivoting over to the veterans that Charlotte acquired, these three immediate contributors will add a much-needed boost to a rotation that's filled to the brim with youth.
Recently signed to a two-year, $25 million deal, Kelly Oubre Jr.'s run-and-gun mentality should allow him to flourish alongside Ball, who will set him up for easy looks in transition. If Oubre completely buys into a sixth-man role, there's real potential for him to garner Sixth-Man-of-the-Year consideration next season. One year ago, Oubre was coming off a career-best season with the Phoenix Suns in which he averaged 18.7 points, 6.4 rebounds, 1.3 steals and 0.7 blocks while mastering his role as a cutter in Monty Williams' "0.5 Offense." After a down year with the Golden State Warriors, it's very possible that the 25-year-old can have a strong bounce-back season in Charlotte.
Mason Plumlee is an upgrade over Zeller as a starting center, and he can also be an underrated secondary playmaking engine. Charlotte only had to give up the No. 57 pick for Plumlee and the No. 37 pick (which became Thor) since the Detroit Pistons wanted to dump Plumlee's salary due to Isaiah Stewart's emergence. It seems like a draft-night steal for the Hornets. With the Pistons, Plumlee's high-basketball IQ allowed him to set up opportunities for others around the rim as a high-post initiator, averaging a career-best 3.6 assists. And if Jones' development is accelerated during his rookie campaign, Plumlee would accept a bench role, or he can be flipped at the trade deadline for a future asset.
Ish Smith is a reliable backup point guard and a steady presence, who can also play alongside Ball in spurts. With 11 years of experience, Smith is a great veteran leader who can teach Ball some more tricks of the trade throughout the season.
To top things off, Charlotte was also able to swindle a lottery-protected 2022 first-round pick from the Pelicans in the Devonte' Graham sign-and-trade, which was another big offseason win. Graham's role in the Queen City was capped, especially after Bouknight was drafted No. 11 overall. Now, the Hornets have another first-round pick at their disposal.
Even with all of these moves by GM Mitch Kupchak, the Hornets still have two key pieces already on their roster: Gordon Hayward and Terry Rozier. Both were integral parts to the Hornets reaching the Eastern Conference play-in tournament last season.
In Hayward's best season since 2016-17 with the Utah Jazz, he poured in 19.6 points, 5.9 rebounds and 4.1 assists while shooting 41.5% on three-pointers. Before Hayward's season-ending right foot sprain in early April, the Hornets were above .500 at 25-23. Once Hayward went down, Charlotte finished their season 8-17 if you include their 144-117 blowout defeat versus the Indiana Pacers in the play-in game. A healthy Hayward should slide right back into a primary role within the Hornets' offense.
Meanwhile, Rozier finally put together an efficient season in which he reached another level as a scoring dynamo. Rozier averaged a career-high 20.4 points, 4.4 rebounds, 4.2 assists and 1.3 steals while hitting three-pointers at a 38.9% clip. During his two-year stint in Charlotte, Rozier has stabilized as a high-volume perimeter scorer, converting 39.6% from deep on 7.5 attempts per game.
Entering the final year of his contract, Rozier is unlikely to be in the Hornets' long-term plans with Bouknight's arrival. This means Rozier could be used later this offseason or near the trade deadline to add another future asset. However, if Charlotte becomes a true playoff threat, Rozier's bucket-getting ability will be big for the Hornets.
Entering into an important season for prospect development and immediate improvement, here's how the Hornets' rotation shapes out:
Starters: Ball, Rozier, Hayward, Bridges, Plumlee
Second Unit: Smith, Bouknight, Oubre, Washington, Jones
Many teams in the Eastern Conference have assembled strong rosters that seem poised to leap into playoff contention. Charlotte has joined this ever-growing list with their eye-opening offseason haul. If the Hornets are able to finally crack through into postseason play for the first time since 2016, it will prove their rebuild is finally heading in the right direction.
Ball headlines a new era that's generating plenty of buzz in Charlotte, but there's a lot more depth to this roster that's ready to surprise the Association this upcoming season.