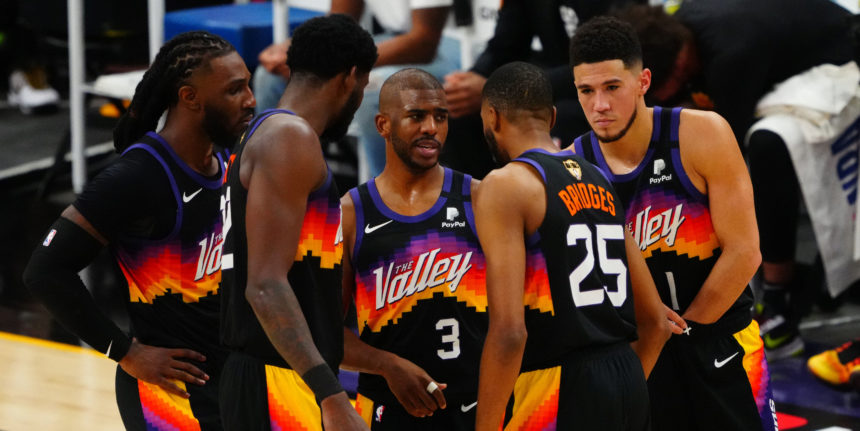 Suns have the depth, stability to stay formidable in the West
At the moment, the Phoenix Suns are an even better team than they were last season. They improved an already strong roster that was good enough to make the NBA Finals two months ago, which should be a scary thought for other organizations around the Association.
Chris Paul re-signed on a four-year, $120 million extension. However, only the first two years are fully guaranteed. Backup point guard Cameron Payne re-signed for a bargain three-year deal worth $19 million. Phoenix acquired Landry Shamet via trade, sending the No. 29 overall pick plus Jevon Carter to the Brooklyn Nets on draft day. Then, the Suns signed JaVale McGee to a one-year, $5 million deal to become Deandre Ayton's backup.
The Suns still might not be satisfied with their rotation; Thaddeus Young continues to be a name that's connected to Phoenix in trade rumors. If the Suns were to bring Young aboard, he's another win-now piece who would give Phoenix arguably best 10-man rotation in the NBA.
Simply put, Phoenix isn't going anywhere. They're only getting better with four primary building blocks age-25 or under in Devin Booker, Deandre Ayton, Mikal Bridges and Cameron Johnson. Phoenix showed during their magical run in the Bubble that they were on the cusp of taking a significant leap. Little did we know it would be CP3 as the catalyst, helping propel the Suns from missing the playoffs for 11 consecutive seasons to their first NBA Finals since 1993.
The elite tier in the Western Conference is still fortified, and many teams are preparing for a big-time run of their own. As many as 12 teams in the conference have realistic playoff aspirations in 2021-22, which is not only great parity for the league, but also a sign of how tough the West has truly become. Phoenix used to always be the cellar-dwellers, but the script has completely flipped.
General manager James Jones and head coach Monty Williams have built a rock-solid culture with a family-like environment in which everyone holds each other accountable. So many good things have transpired since this duo took over the organization, giving Phoenix perhaps one of the best GM-head coach combos in the league. The entire young core is developing nicely. Ayton, in particular, has become one of the best two-way centers in the NBA. Bridges is closing in on an offensive leap that could vault him into the conversation as one of the most underrated two-way wings. Booker is Booker, continuously improving his flaws intro strengths every offseason.
Phoenix has become an attractive destination for win-now veterans, and their incredible run to the NBA Finals made them even more appealing. With the perfect blend of veterans and young talent, the Suns will contend for titles in the short-term. However, they are also in terrific position for the future and their window is wide open, even post-Paul and Jae Crowder.
Jones had to pick up the pieces left behind by former GM Ryan McDonough, who made head-scratching player-personnel decisions while alienating management-player relations along the way. Now, under Jones, the Suns are widely regarded as one of the best organizations in terms of management-player cooperation – another feather in his cap that flies well under the radar nationally. After winning the NBA's 2020-21 Executive of the Year award, Jones' championship mentality is showing through in his first offseason without assistant GM Jeff Bower by his side. Making the trade for Shamet added even more floor-spacing equity for Booker and Ayton to work with, while McGee is the exact prototype of a big man that's been missing within the Suns' rotation over the last two seasons.
Jones realizes the Suns' window is open right now and they may never have a better opportunity to win their first championship in franchise history, especially since Paul will turn 37 years old in May. (Although, Paul's game is aging wonderfully – similar to what we've seen from Tom Brady – so betting against him probably isn't a smart investment.)
The infrastructure around Paul is perfectly set up for him to age gracefully and potentially remain a full-time starter into his age-40 season. Booker is still a few years away from his prime and his potential is truly limitless as a three-level scorer. If Ayton reaches his full potential, he could become a more well-rounded Rudy Gobert in the near future. Bridges and Johnson are terrific complementary, low-usage wings who could also thrive with more offensive sets run for them. There's a scenario where Paul transitions to the team's third or fourth option within the next two seasons, and I think that's exactly how Paul and the Suns hope it plays out.
It remains to be seen if the Suns can swing a trade for a win-now piece like Young, who would slide right in to the role that Dario Saric vacated after tearing his ACL in Game 1 of the Finals. However, even they can't land Young, their rotation is excellent and their strengths beautifully complement one another.
Starters: Chris Paul, Devin Booker, Mikal Bridges, Jae Crowder, Deandre Ayton
Bench: Cameron Payne, Landry Shamet, Cameron Johnson, JaVale McGee
The Suns have kept one roster spot open and are one of the few teams poised to truly capitalize once the NBA's buyout season gets underway. Since they still have half of their mid-level exception ($4.5 million) as well as their bi-annual exception ($3.7 million), Phoenix is primed to pounce on ring-chasing veterans.
Who wouldn't want to play alongside Paul, Booker and a roster that has already proven it can succeed at the highest levels of playoff-intensified basketball? It truly is remarkable how the Suns have gone from laughingstock to potential juggernaut in seemingly record time. Remember, during the 2018-19 season, Phoenix won just 19 games and ranked dead last in the Western Conference. Two years later, they made it to the NBA Finals and were two wins from hoisting the Larry O'Brien trophy. A storybook turnaround like this is unprecedented: the Suns became the first team in NBA history to miss the playoffs for a decade or more and then bounce-back with a Finals run.
Phoenix has star power (Paul, Booker and potentially Ayton if he makes a big Year 4 leap), continuity, a strong bench, plus a head coach and GM who have league-wide respect. This is a well-put-together team that can go 10 players deep on any given night. There's little reason to doubt the Suns, and it's very possible that this team could return to the NBA Finals for a second-straight year. Sure, they had some injury luck during their Finals run (with Anthony Davis, Jamal Murray and Kawhi Leonard going down). However, I think they still would've won each of those matchups (albeit in much closer series) had those stars been healthy. And with an ascending core that isn't close to its collective prime, they have the staying power to remain atop the West for a very long time.
The Phoenix Suns are not a fluke. What they are is a well-run organization that pressed all the right buttons when needed. That's why many rebuilding teams will try to follow the Suns' model moving forward. Potentially a 60-win team during the 2021-22 season, Phoenix is poised to keep their elite-contender status thanks to a balanced roster that improved its weaknesses throughout the offseason.