Several marquee players who were expected to hit the open market in 2022 have signed extensions, so next summer's free-agent crop isn't nearly as star-studded as other classes.
However, there are still plenty of quality players who may be up for grabs. In this three-part series, we'll examine the best players who will potentially enter free agency next July.
After previously ranking the best guards set to hit free agency next summer, let's examine the top free-agent forwards ready to enter the open market in 2021.
1. Michael Porter Jr. - Denver Nuggets - Restricted
Due to a back injury sustained in college, Porter Jr. was considered a boom-or-bust prospect when the Nuggets selected him with the 14th overall pick in the 2018 draft. Well, three years later, MPJ has boomed. After Jamal Murray tore his ACL last season, Porter emerged as Denver's second option alongside Nikola Jokic and exceeded even lofty expectations. Over a 25-game stretch from late March through mid-May, MPJ averaged a whopping 24.0 points, 7.4 rebounds and 3.4 made three-pointers, while shooting a scorching 56.9% from the floor, 47.2% from downtown and 82.5% at the free-throw line. After the season, Denver's president of basketball operations Tim Connelly said: "Our M.O. is when we can, we try to lock guys up and reward them for what they've done." According to a report by the Denver Post, Connelly and his staff want to reach a contract extension with MPJ rather than have him hit the market as a restricted free agent next summer. However, per the report, "given Porter's history of back injuries, it's likely the Nuggets add some type of provision to help protect them." Porter is eligible for a five-year, $168 million extension.
2. Mikal Bridges - Phoenix Suns - Restricted
Another member of the 2018 draft class, Bridges isn't as offensively gifted as Porter Jr., but he has established himself as a phenomenally well-rounded player and integral part of a Suns team that advanced all the way to the NBA Finals last season. In the process, Bridges averaged a career-high 13.5 points, 4.3 rebounds and 1.9 threes while posting a True Shooting percentage of 66.7%. According to ESPN's Zach Lowe, rival executives expect Bridges to secure a deal in the neighborhood of $20 million per season on his next contract.
3. Joe Ingles - Utah Jazz - Unrestricted
Ingles matched a career-high last season by averaging 12.1 points per game to go along with 4.7 assists, 3.6 rebounds, 0.7 steals and a career-best 2.7 made three-pointers per game. He finished the year ranked fifth among qualified players in three-point percentage (45.1%) and posted a phenomenal True Shooting percentage of 67.2% (with a 48.9/51.3/84.4 slash line), which was the third-best mark in the NBA and best among non-centers. In a league that places a high value on efficient scoring, Ingles' skill set is a highly sought-after commodity.
4. T.J. Warren - Indiana Pacers - Unrestricted
At the end of the 2019-20 season, Warren was playing the best basketball of his career. Over the six games the Pacers played in the Orlando bubble, Warren averaged 31.0 points, 6.3 boards and 3.7 made treys, while shooting over 57% from the floor and 52% from downtown. Unfortunately, that's the last time we've seen him healthy. He appeared in just four games last season before undergoing surgery for a stress fracture in his foot in January. Worse yet, the Pacers announced earlier this month that Warren's recovery from the surgery has been slower than anticipated, and he will remain sidelined indefinitely. Warren will have to prove he is healthy over the second half of the 2021-22 season to boost his stock before hitting the open market.
5. Miles Bridges - Charlotte Hornets - Restricted
After a relatively slow start to the 2020-21 campaign, Bridges exploded over the season's final six weeks. With LaMelo Ball, Gordon Hayward and Malik Monk all sidelined by injuries late in the year, Bridges was a focal point of the Hornets' offense. Over his final 15 games, Bridges averaged 21.0 points, 6.9 rebounds, 3.1 assists, 1.1 blocks and 3.1 made three-pointers while shooting over 50% from the floor, 42% from downtown and 84% from the charity stripe. If the Hornets don't sign Bridges to an extension, he'll be a restricted free agent next summer.
6. Kevin Huerter - Atlanta Hawks - Restricted
This offseason, the Hawks locked up both Trae Young (five-year, $207 million extension) and John Collins (five-year $125 million contract). Will they be able to come to an extension agreement with Huerter as well? In early August, Atlanta general manager Travis Schlenk told reporters the team would speak with Huerter's representatives: "His agent wanted to wait a little bit and get all his free agents signed before he went into extensions — less time-sensitive matters like the extension — but certainly his agent and Kevin are hoping to have that dialogue, and certainly we are as well. Our intention is to try and get something done with Kevin, for sure." According to Sports Illustrated, "there is speculation that Huerter could garner between $15-$20 million a season."
7. Thaddeus Young - San Antonio Spurs - Unrestricted
Young proved last season in Chicago that he is still capable of playing at a high level. In his age-32 season last year, Young averaged 12.1 points (on 55.9% shooting), 6.2 rebounds, 1.1 steals and 0.6 blocks in just 24.3 minutes a night off the bench. Most notably, he dished out a career-high 4.3 assists per game. Young had the highest plus/minus (+4.1) of any rotational regular on the Bulls roster, and Chicago was outscored by 5.9 points per 100 possessions with Young on the bench. Expect plenty of contenders to try and pry Young loose from San Antonio at the trade deadline next winter.
8. Blake Griffin - Brooklyn Nets - Unrestricted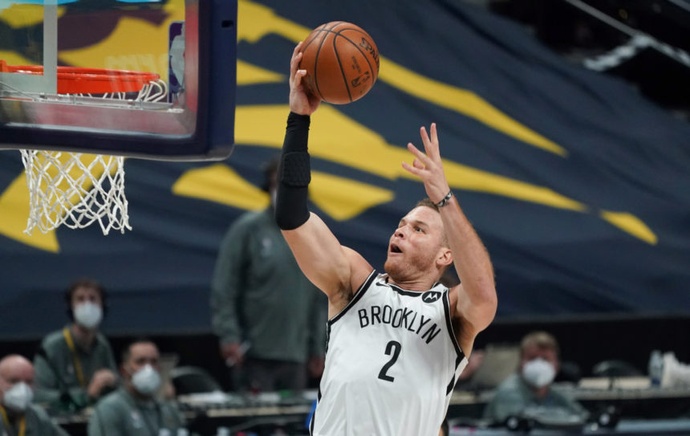 After a disappointing two years in Detroit, Griffin reached a buyout agreement with the Pistons last March, enabling him to join the Nets. He signed with Brooklyn on March 8 and looked like a new player, as Griffin averaged 10.0 points, 4.7 rebounds and 2.4 assists in 26 appearances. Over the final three games of Brooklyn's playoff series vs. the Bucks, Griffin averaged 15.3 points (on 58% shooting), 6.7 rebounds and 2.3 made treys. He signed a one-year deal with the Nets for the 2021-22 campaign and will hit the free-agent market again next offseason.
9. Marvin Bagley III - Sacramento Kings - Restricted
Unfortunately for Kings fans, after three years in the league, Bagley is probably best known as being the player selected ahead of Luka Doncic and Trae Young. While both Doncic and Young have led their teams to the postseason and secured $200+ million max extensions, Bagley has been unable to stay healthy (appearing in just 118 out of a possible 230 games since being drafted), and has seen his scoring average decrease in each of the past three seasons. However, Bagley won't turn 23 until March of next year and is blessed with the rare combination of size and athleticism that led to him being selected second overall in the 2018 draft. Assuming he doesn't ink an extension, Bagley will look to boost his stock by staying on the floor long enough to showcase his skill set in 2021-22.
10. Kyle Anderson - Memphis Grizzlies - Unrestricted
It seems as though he's been around forever, but Anderson is just 27 years old and is coming off the best all-around campaign of his career. The man affectionately nicknamed "Slow-Mo" averaged a career-high 12.4 points last season to go along with 5.7 rebounds, 3.6 assists, 1.2 steals and 1.4 made three-pointers in 27.3 minutes per contest. Only three other players in the league matched or exceeded those per-game averages in each of those statistical categories: Kawhi Leonard, LaMelo Ball and James Harden.
Best of the Rest
Robert Covington, Otto Porter Jr., P.J. Tucker, Jeremy Lamb, Derrick Jones Jr., Carmelo Anthony, Nicolas Batum (player option), Bobby Portis (player option), Al-Farouq Aminu, Andre Iguodala, Taurean Prince