Growing up in different neighborhoods near Philadelphia, Mikal Bridges was the class clown in his early school years. He constantly found himself in trouble, getting kicked out of the room by teachers and making frequent visits to the principal's office for being the funny kid. It wasn't anything too serious -- just enough to show his juvenile immaturity.
The guidance was always there. His mother, Tyneeha Rivers, raised him the right way as a single parent. It just took some time for Bridges to realize he needed to leave his childish ways behind him.
"Once you get to high school, it might not be as funny anymore," Bridges told BasketballNews.com in an exclusive phone interview. "People are starting to think about colleges, and they take life a little bit more seriously. You kind of get that as you get older, and obviously having my family around me who made me this person just kind of taught me the ways and made me mature."
Villanova University played a significant part in that personal growth, too. Bridges credits Wildcats head coach Jay Wright, former assistant (and now La Salle head coach) Ashley Howard and the rest of that team's staff for turning him into a man before he left school.
Bridges recalls his redshirt season at 'Nova, a time when he hated working out. Heading to the gym didn't mean just getting some shots up; it was working to exhaustion. When his freshman season came around, Bridges would actually try to duck the workouts because he knew he'd get "smoked." Over time, he developed a close relationship with Coach Howard, who pulled him through those dreaded days. By the time he was a senior, he couldn't be in the gym enough, getting in early and staying late, putting in extra hours to improve his game.
"I think they played a big part in getting me mentally tough," Bridges told BasketballNews.com. "Those two were the guys who really embedded that in me and got me to have that mindset, to enjoy working out and to love it and to love getting better. Those two guys really got it going for me. They helped me."
Now in his third NBA season with the Phoenix Suns, Bridges has taken that disposition into the pros. It's just who he is now. In fact, the 24-year-old relays that these recent string of COVID-related game postponements have frustrated him because he's so used to routinely working out in the gym, whether it's getting a few shots up or properly recovering.
This has been a breakout campaign for Bridges thus far. Looking at his individual statistics, you'll see significant boosts in his offensive numbers: points per game, true shooting percentage, three-point percentage, field goal attempts, box plus-minus -- you name it. One week ago in a road win at Indiana, Bridges scored a career-high 34 points on 12-for-18 from the field, including 6-for-8 from deep.
"I was just hoopin', man," Bridges said of the performance. "Just playing basketball. Reading things, being aggressive, taking shots when I'm open. The Pacers do a lot of things out there, so still keying in on the other end, but just being more aggressive and taking the shots where I thought I could be aggressive.
When asked about his noticeable leap in Year 3, Bridges took it back to his days as a Wildcat.
"Just got a lot better," Bridges said. "I mean at all points, every player, you've always been a scorer in your life -- high school, end of my college career -- so it always comes back to you. When you get the opportunity and you get more comfortable and confident, you've gotta go out there and you put the work in, (it'll) be just how you was playing before. It wasn't too long ago where I was scoring the ball in college, so just kinda getting that feel again, trying to be that aggressive and confident."
Aggressive is the go-to word for Bridges, who is firing 56.6 percent of his attempts from three-point distance and converting on 45.3 percent of those six tries per game. He attributes that to his Suns teammates looking for him and trusting that they'll fall.
"All the praise goes to them," Bridges said. "They find me and I just know I'll be ready to shoot 'cause you can't turn down good shots. If I'm open, I feel like they're gonna go in, so I shoot."
Mikal Bridges dropped a career-high 34 PTS last night â˜€ï¸ pic.twitter.com/MSpKyzWn7j

— NBA TV (@NBATV) January 10, 2021
While assertiveness and an uptick in usage are crucial to taking his game to the next level, smarts are just as important. Bridges has the league's lowest turnover percentage -- defined by Basketball-Reference as the estimated amount of turnovers every 100 plays -- at 2.4 percent. Taking care of the basketball seems simple; actually doing it is impressive.
Bridges came into the season with a specific focus on limiting travels, ensuring that in the off-the-catch situations he'd keep his pivot foot down before making the next decision. He's aiming to curb jump passes mid-air where it's easy to get stuck in no man's land, something he's admittedly had issues with in previous years.
"Leaving your feet really. Once you leave your feet, you've gotta get rid of the ball to come back down," Bridges said. "If you just kinda jump stop and pivot, you'll be fine. You have more opportunities where you don't have to pass the ball right away -- you could, pivot, pivot and then pass out. I think it's just what I did at 'Nova kinda solidified that, for sure."
Above all else, he's not overthinking.
"Just trying to be solid, not trying to do the home run play," Bridges said. "Always trying to make the simple pass. The simple pass always can be the best pass. Just trying to simplify, making it easier and also just reading the game."
As he's accomplishing these feats on offense, Bridges is more than holding his own on the defensive end, as per usual. In your face and tenacious as ever, he'll fight over screens and make opposing teams earn every point. According to NBA.com's play-type data, Bridges has guarded 76 possessions against pick-and-roll ball-handlers (second-most in the league) and is yielding a mere 0.71 points per possession.
He has a partner in these situations though, and his name is Deandre Ayton. The 6-foot-11 Bahamian is Bridges' safety net in the rare case that somebody does get by him. The versatile duo also offers a unique ability to switch when necessary, with Ayton sometimes challenging guards and wings outside of the paint, and Bridges matching up with a bigger assignment. Among 64 two-man lineups that have defended at least 50 pick-and-rolls, the Bridges-Ayton combination ranks fifth in points allowed per possession (0.73) and ninth when they're attacked directly (0.77), per Second Spectrum data.
The versatility of Ayton and Bridges makes this duo quite a challenge for opponents, especially since they've developed a lot of trust in one another over time. Since they were rookies, Bridges and Ayton have used film study to their advantage. They'll point out opportune examples to switch early -- Ayton's preference -- and communicate why one might have difficulty getting back on defense. From these sessions, a friendship blossomed, and it's translated on the floor.
"We just play hard, man," Bridges said. "We've been together for a third year and getting to know how each other plays. He's a threat down there. He can defend down there. He's tall, big, he blocks shots, he can guard... He does an unbelievable job and it makes my job a little bit easier."
Surveying Bridges' aforementioned stats, the likely conclusion is that he is a 3-and-D player, which was used to describe him when he was a prospect in the 2018 NBA Draft. He gets that analysts have the right to their opinions, and he undoubtedly demonstrates both of those capabilities, but the developing Suns swingman isn't a fan of labels (notwithstanding "The Warden" nickname that local fans have given him, which he finds funny; Devin Booker also calls him "Fig" as an ode to his old gamertag when they'd play Call of Duty together).
Just because an outside talent evaluator puts you in a box doesn't mean you can't step out of it.
"I don't take that stuff to heart," Bridges said. "I understand why they say that and that's perfectly fine. I just work out and try to get better and improve my game every day and every year and try to just be a complete player when it's all said and done.
"I just take people as basketball players, man. We do a lot on the court," Bridges added. "The best teams, obviously they have their star players -- but the other players, they can do everything as well. I just think to be the best team and have the best chance, everybody out there knows how to play the game and play the right way besides just doing one single thing or two things. It's harder to guard when five players (are) out there. I've been through that in college, when five players can shoot, put it on the ground, finish, pass -- it's tough to guard. And playing against teams like that in the NBA, it's a different type of energy and mental stability you have to have guarding at the whole 24 seconds."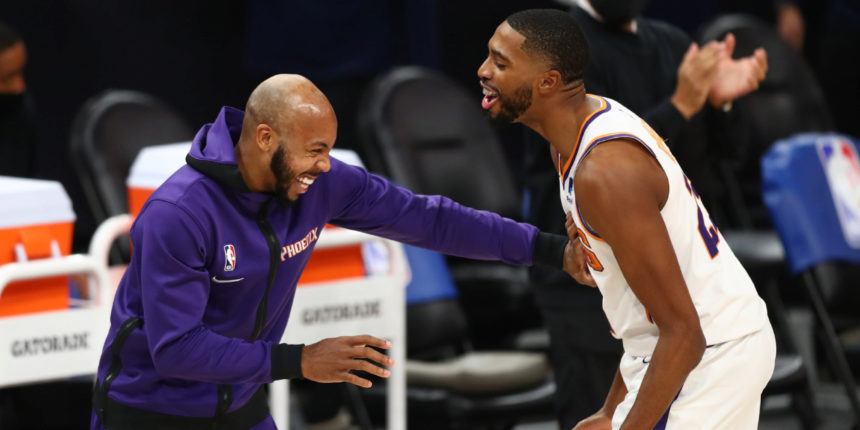 Asked point-blank whether the Most Improved Player award is on his radar, Bridges downplays the individual accolade.
"Nah, man. I just try to get better. That's always my goal at the end of every year is to be better the next year," Bridges told BasketballNews.com. "I really don't think about awards like that. My biggest thing is just, 'What can I do to help our team win?' Just go out there and try to play the best I can on both ends and try to win as many games as we can. The ultimate goal is to win, and I'll do whatever it takes, whatever my role has to be for that... but things come and happen if you just play the game of basketball and work hard, then things like that will always eventually happen."
Bridges prioritizes the team over himself. From the outside looking in, there are a lot of players on Phoenix's roster with that same frame of mind. As a team, the Suns rank third in the NBA in assists per 100 possessions with 26.6 and have six (basically seven) players averaging double-figure scoring.
"It starts with off the court -- how close we are as friends and how we interact with each other, so the ball moves with us. No selfish ways," Bridges said. "Obviously, plays we call for other players more, but that's the thing about a team -- who gets the ball, you usually don't shoot it all the time, they make a play for somebody else. (It's a testament) to the group of guys we've got and how much we care about each other to move the ball. It's great to play with a team like this. You definitely can't take it for granted."
Defensively, they lean on each other to cover for one another, which is evident in the way they've slowed teams down to play their half-court-centric pace. Opponents on average are only getting 30 perimeter attempts and a little more than 84 total attempts per game up against Phoenix, the least and second-least marks in the NBA, respectively.
It goes without saying that the Suns' bench is one of the top second units in the Association, boasting a plus-minus of +4.1, just a tenth short of the Indiana Pacers' group. Bridges notes how much their energy gets them going as a whole and helps win games, and the unbelievable job Cam Payne has done running the show as a playmaker and defender.
The Suns' selflessness all comes back to their head coach. It's a staple of a Monty Williams team. We've seen a remarkable turnaround since he took over in May 2019, and it was particularly on display this past summer in the Orlando bubble when Phoenix went a perfect 8-0. Williams can relate to his players because he's been in their shoes, and Bridges recognizes his passion.
"He always talks about how he knows how our body feels right now and this and that," Bridges said. "So he'll be a little more lenient to maybe not going as hard in practice, knowing we just played X amount of games or we have five-games-in-seven-days or something like that coming up. And emotionally as well, he knows that too.
"He loves the game, he loves the players, he loves his staff. He's a great guy as well. He cares so much," Bridges said. "Not a lot of coaches care about their guys as much as he does. He gives me a real college coach atmosphere. Obviously, he wants to win games and stuff, but he really checks on you and sees how you're doing off the court. If you have any problems, you can go to him, talk to him. I went to college for four years, so I know how that is. It's dope, man... we all love him. It's just easy once you trust somebody like that. (When you) trust your coach, everything else is gonna work out pretty well."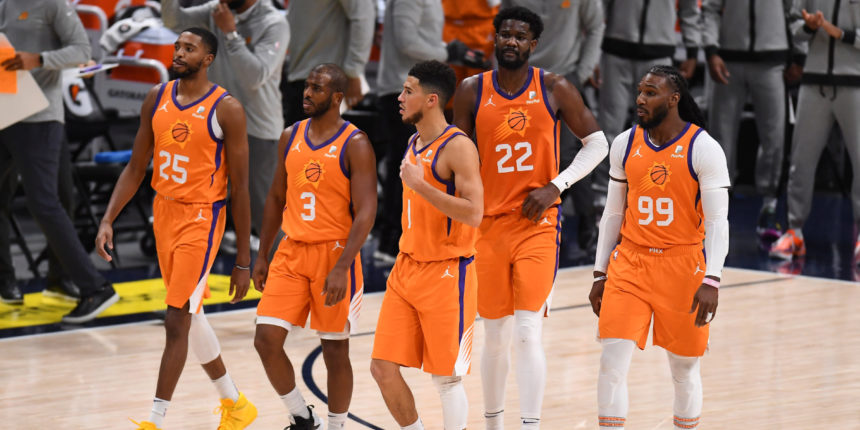 The 2020 offseason kicked off with a bang when Phoenix acquired Chris Paul from the Oklahoma City Thunder. When a team trades for a superstar of that caliber, the hype skyrockets. The spotlight was already on the team since they went undefeated during the NBA restart. With Paul, it got even brighter. Bridges insists that the Suns aren't fazed by the outside expectations; he's just thrilled to play with the 10-time All-Star.
Bridges has learned so much from him already, pointedly the little things that nobody thinks about. Paul is a leader by example on the court, as well as off of it.
"It's just cool to kinda hear his story," Bridges said. "Just being himself. You don't know who he is really; you know of him, but never got to know him, never being around him. But getting to know him, just how he is; he's a dad, but he's just cool, man. He's always there for the young guys, for sure, always looks out for them. You can just tell. He gives great vibes to everybody."
On the young season, the Suns are 7-4. They've dropped two out of their last three on the road in Detroit and Washington with a victory over the Pacers in between. Just as he has to continue to work on his individual game, Bridges understands there's still a ways to go in improving collectively.
"We've gotta embrace the toughness where we saw slip-ups when we're not playing our best, and take the tough criticism from our coaches and staff and prepare to be better," Bridges said. "We've gotta get better and sustain our talent and how hard we play for 48 minutes out there, because a 20-point lead could go by very, very fast in the NBA.
"You've got to come out paying attention to detail. Come out early, start the game strong. For us starters, we've got to go out and do that because our bench do a heck of a job when they come in, so we've just got to learn and just get better."
Enter a conversation with Mikal Bridges and it feels like you're speaking with a seasoned NBA veteran. The budding Suns forward possesses a maturity beyond his years, and it manifests itself in a cool, calm, collected demeanor with every word he says.
And that's a big reason why Phoenix is off and running out of the gate.