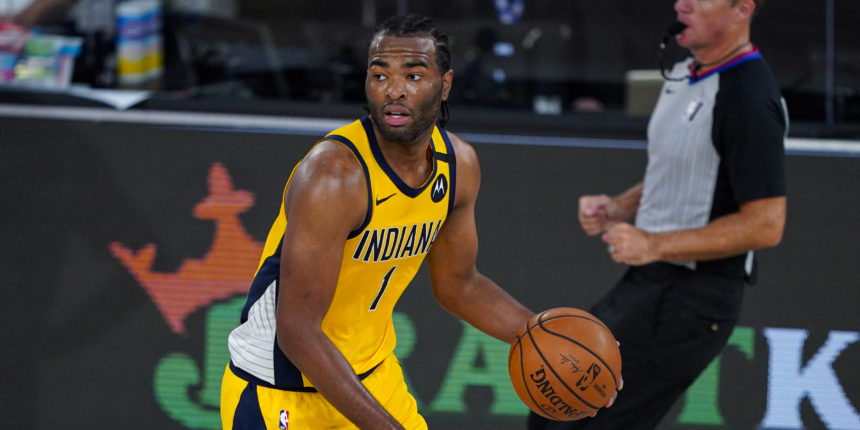 T.J. Warren could earn himself a lucrative payday in contract year
T.J. Warren is one of the most interesting players in the NBA for a multitude of reasons. His journey from one-dimensional scorer to full-blown star during the Orlando Bubble led to Warren being more nationally recognized.
After being selected No. 14 overall in the 2014 NBA Draft, Warren was stuck for five years on a Phoenix Suns team with no true direction. While the Suns searched for better lottery ball odds at season's end, Warren's scoring binges went unnoticed in large part due to a lack of NBA talent around him. For a few years, Warren and Devin Booker were the only notable pieces on the Suns' roster.
Over time, Warren's fit in Phoenix fizzled out due to the arrival of wings in consecutive seasons. The Suns drafted Josh Jackson No. 4 overall in 2017, but the bigger component revolved around Kelly Oubre Jr.'s arrival in Dec. 2018. Quickly, Oubre's infectious energy and two-way game made Warren expendable to the Suns' future plans.
Although Warren provided endless buckets, his game was missing simple elements that left him off the mark of underrated players. Warren was allergic to shooting three-pointers, possessing a retro game that would have made him a superstar in the 1980s and 1990s. Also, Warren's lack of playmaking and defensive versatility forced him into a box of how Phoenix could best utilize him.
When the Suns needed to make a decision around who best fit their inside-out duo of Devin Booker and 2018 top pick Deandre Ayton in the 2019 offseason, the choice was obvious. Suns general manager James Jones, who was hired on a full-time basis after the 2018-19 campaign, rolled with Oubre and Mikal Bridges to be the squad's wings of the future. When diving into the advanced metrics, the Booker-Ayton-Warren trio was far and away the worse three-man lineup combination when compared with Oubre and/or Bridges.
Add in a surprising No. 11 overall pick in Cameron Johnson that year, and Warren was squeezed out immediately. Both Warren and Jackson — the latter of which failed to live up to top-five expectations — were shipped out for pennies on the dollar to clear cap space to sign veteran point guard Ricky Rubio and re-sign Oubre.
Warren's tenure in Phoenix was known for missed opportunities. Not being able to consistently carve out a long-term role alongside continuous injury issues led to a mutual parting of ways after his fifth season in the Valley. Warren could take over a game for a few minutes with incredibly unique scoring creativity, but everything else was lacking when trying to convince yourself of his potential fit on a great Suns team in the future around Booker and Ayton.
Warren was traded to the Indiana Pacers for cash considerations... that's it. No additional players or draft capital were included for the scoring wing from North Carolina State. It turned heads around the Association for the lack of value received, but, as mentioned, it was a cap-clearing maneuver for Rubio and Oubre Jr.
A motivated Warren arrived in Indiana, a much better fit for his score-first game to be insulated by a strong defensive foundation led by Victor Oladipo, Myles Turner and Malcolm Brogdon. During Warren's first season with the Pacers, he thrived within his role while also showcasing a newfound effort on the defensive end when seeing how others around him cared so much about it. Warren averaged a career-high 19.8 points while shooting 40.3% on three-pointers.
The added element of an outside shot appeared during Warren's final season in Phoenix, where he converted on a blistering 42.8% on 4.2 attempts per game. For years, Warren missed this ever-important offensive feature, but he's now been a 40.5% three-point shooter since the 2018-19 season. The Suns still wanted to get rid of Warren because of his high usage, which would take away shot opportunities from Booker and Ayton — even with added floor-spacing acumen. In Indiana, Warren was able to realize how lethal he could be as a three-level scoring threat.
During the Orlando Bubble, Warren's status around the league reached an entirely new level: an unexpected rise to pseudo-star on ESPN's Wide World of Sports campus in Florida. Warren was incredible for the Pacers during this stretch in the midst of a worldwide pandemic, averaging 26.6 points, 6.3 rebounds, 2.9 threes and 2.4 assists per game while shooting an incredible 47.5% on long-distance opportunities. When Warren scored a career-high 53 points against the Philadelphia 76ers, helping Indiana seal a victory late, the forward's confidence grew to extremely high levels. Warren saw himself on a different tier, and for good reason.
T.J. Warren still hot from his 53-point performance last game

34 PTS
11 REBS
4 ASTS
3 STLS
4 BLKS

Man did it all. pic.twitter.com/h13cRYmIJA

— Bleacher Report (@BleacherReport) August 3, 2020
Exiting a bubble environment, expectations were sky-high internally and externally from Warren and the Pacers. They saw him as an important member of their core who had the potential to carve out an even larger role throughout the 2020-21 campaign.
Unfortunately, the injury bug bit Warren once again before his most important season yet got off the ground. Warren opted for season-ending foot surgery after four games, which kicked off a roller-coaster season for Indiana that was littered with injuries and drama revolving around first-year head coach Nate Bjorkgren. Warren's absence was felt throughout the season, because Indiana at points struggled to generate consistent offense without a primary option available. Shortly after Warren's surgery, Oladipo was traded to Houston in a four-team deal where Indiana netted promising young wing Caris LeVert in return.
Now the Pacers face the proverbial fork in the road. Rick Carlisle is back in the saddle again as Indiana's head coach after a decade-plus-long stint with the Dallas Mavericks. Carlisle's modern coaching philosophy plays right into Warren's strengths, particularly those that were showcased throughout the jaw-dropping bubble run. The Pacers believe the coach was the main issue, canning Bjorkgren for Carlisle. If Carlisle is unable to improve an underachieving Pacers roster, huge changes could be in store once 2022-23 rolls around. Warren's future is at the top of that list of potential outcomes where the pendulum could swing one way or another.
Entering the final year of his $50 million extension signed in 2017, Warren has certainly outplayed his annual value with his offensive evolution and improved defensive versatility. Looking ahead to a 2022 free-agency class where stars will be lacking across the board, a jackpot opportunity awaits Warren if he returns to Orlando Bubble-form on a daily basis. There's a chance for Warren to enter 2022 free-agency as the No. 1 option available for teams with flexible cap space. A $100 million or more contract is in arm's length from Warren. All he needs to do is replicate his resurgent debut season with Indiana, while avoiding another injury to add to the laundry list of prior setbacks.
Warren will either be a member of the Pacers long-term or serve as a launching pad for another organization — at February's trade deadline or next summer as a unrestricted free agent. As a player who can score 20 points per game in his sleep, while also giving more consistent effort as a defender, Warren can help change the fortunes of many franchises looking for one last punch of offensive firepower.
The soon-to-be 28-year-old wing knows this is his big opportunity for a massive payday during his prime. For that reason alone, plus his continued all-around evolution on the basketball court, Warren is certainly one of the most intriguing players to follow throughout the 2021-22 season.