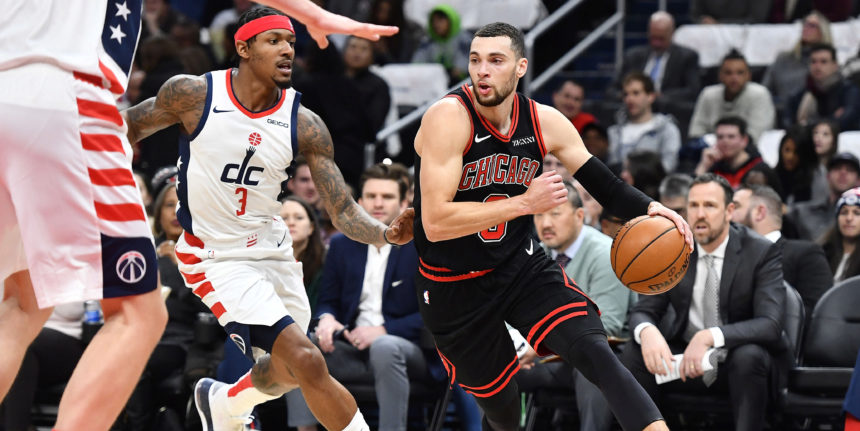 2022 NBA Free-Agent Rankings: Harden, Beal, LaVine among top-10 guards
Several marquee players who were expected to hit the open market in 2022 have signed extensions, so next summer's free-agent crop isn't nearly as star-studded as other classes.
However, there are still plenty of quality players who may be up for grabs. In this three-part series, we'll examine the best players who will potentially enter free agency next July. Today, we start with the top-10 guards who could be available.
1. James Harden - Brooklyn Nets - Player Option
Harden is under contract through the upcoming 2021-22 campaign and holds a player option worth $47.4 million for the 2022–23 season. Considering the massive amount of assets the Nets parted with to acquire Harden (including Caris LeVert, Jarrett Allen, Taurean Prince, their 2022, 2024 and 2026 first-round picks, plus pick swaps in 2021, 2023, 2025 and 2027), the Nets would undoubtedly love to lock up Harden long-term rather than risk losing him for nothing next year. Kevin Durant has already inked a max contract extension this summer; we'll see if Harden does the same. The most Brooklyn can offer is $161.1 million over four years.
2. Bradley Beal - Washington Wizards - Player Option
It seems as though the basketball world has been waiting for Beal to demand a trade out of D.C. for years now, yet the Wizards' star shooting guard has opted to remain patient despite the team's struggles. Washington would prefer to sign Beal to a four-year extension this offseason, worth roughly $181.5 million, but the three-time All-Star can earn more money if he waits until next offseason to ink a new deal. Beal has a player option worth $37.3 million for the 2022-23 season and he can become an unrestricted free agent next summer if he chooses not to exercise it. Should he go that route, the Wizards could still offer Beal a super-max pact worth around $235 million over five years.
3. Kyrie Irving - Brooklyn Nets - Player Option
Like his backcourt mate, Irving has a player option for the 2022–23 season (worth $36,934,550). At the press conference announcing Durant's extension last month, GM Sean Marks said that the Nets were talking to Irving and Harden about contract extensions. Marks added that he is "very confident" that both deals will get done by the time training camp starts. Brooklyn can offer Irving a four-year extension that would pay the point guard approximately $181 million.
4. Zach LaVine - Chicago Bulls - Unrestricted
LaVine is entering the final year of his current contract. It's widely assumed that he will choose not to sign an extension this offseason, as the most the Bulls can offer is $105 million over four years, which is well below LaVine's market value. Speaking to the media from the Tokyo Olympics in early August, the 26-year-old was asked about free agency and replied, "I just want my respect. I think that's the main thing. I outplayed my [current] contract, I've been very loyal to Chicago, I like Chicago. I just want my respect. If it's now, later, it's something that we gotta work out internally and we'll go from there." If the Bulls don't extend LaVine this summer, he will hit the market as an unrestricted free agent. Chicago controls his rights, so they can offer him more money and years than any other team in free agency.
5. Russell Westbrook - Los Angeles Lakers - Player Option
Westbrook's player option for the 2022-23 season is worth a whopping $47,063,478, making it highly unlikely that he would decide to test his luck on the open market. However, last year at this time, most pundits felt close to 100% confident predicting that Chris Paul would exercise his $44.2 million player option for the 2021-22 season. Instead, after greatly exceeding expectations and helping lead the Phoenix Suns to the NBA Finals, CP3 opted out last month and inked a four-year deal that could be worth up to $120 million.
6. Dennis Schroder - Boston Celtics - Unrestricted
Schroder was burned badly in free agency, and his current situation highlights the perils of turning down a lucrative extension offer. During the 2020-21 season, Schroder reportedly rejected a four-year, $84 million contract extension from the Lakers, as he was confident he'd be able to secure a deal worth close to $100 million in free agency. However, after a bout with COVID-19 and a subpar showing in the playoffs, Schroder didn't have nearly as many suitors as he'd hoped. Ultimately, he ended up settling for a one-year deal worth $5.9 million to join the Boston Celtics. Schroder will be looking to recoup some of those lost wages next summer.
7. Collin Sexton - Cleveland Cavaliers - Restricted
Sexton is a polarizing player. On the one hand, he's proven he is a potent offensive weapon. Last season, Sexton poured in 24.3 points per game and dished out 4.4 assists while shooting 47.5% from the floor, 37.5% from downtown and 81.5% from the free-throw line. In the process, he became the second-youngest player in NBA history (behind only Kevin Durant) to average more than 24.0 points per game while shooting above 47% from the floor and 37% from deep. However, some critics will argue Sexton has put empty-calorie stats on bad teams. The Cavs are just 60-159 since drafting Sexton, and they have been outscored by 1,446 points with Sexton on the court over his first three seasons in the league. Sports Illustrated reported in June that the Cavaliers began to explore trade options involving Sexton, noting that there's a "belief around the league that Cleveland prefers to move on from Sexton, rather than sign him to a deal that would greatly inhibit their flexibility moving forward."
8. John Wall - Houston Rockets - Player Option
Wall has a massive player option worth $47.4 million for the 2022-23 campaign. Thus, despite showing flashes of his former self last season (when he averaged 20.6 points and 6.9 assists per game for the Rockets), it's incredibly improbable that Wall would leave all of that guaranteed money on the table. Even if Wall had another strong season in Houston, his alarming injury history would significantly limit his free-agent appeal.
9. Victor Oladipo - Miami Heat - Unrestricted
Just three years ago, Oladipo was named the league's Most Improved Player after averaging 23.1 points, 5.2 rebounds and 4.3 assists along with an NBA-best 2.4 steals. He was selected to the All-NBA Third Team in 2017-18, and he became a two-time All-Star. However, his career has since been derailed by injuries. Oladipo will not be ready for the start of the 2021-22 season as he recovers from surgery to repair a partially torn tendon in his right quad and he could reportedly be sidelined until the All-Star break or beyond. He re-signed with the Miami Heat on a one-deal worth the veteran's minimum last month (around $2.4 million). If he can prove he is healthy toward the end of the upcoming season, he'll be able to cash in next July. Miami will have Oladipo's Bird rights and will have the inside track on keeping him.
10. Gary Harris - Orlando Magic - Unrestricted
Harris, who was dealt from Denver to Orlando at the deadline last March, has one year remaining on the four-year, $84 million pact he signed in 2018. Harris has proven himself as a solid, versatile two-way player, but he hasn't been able to stay healthy in recent years. He has appeared in fewer than 58 games in each of the past three seasons. In 2020-21, Harris missed nearly two full months due to a left adductor ailment. If he can remain on the court in 2021-22 and put up solid numbers for the rebuilding Magic, Harris should be able to boost his stock in advance of his foray into free agency.
Best of the Rest
Tomas Satoransky, Ricky Rubio, Jalen Brunson, Goran Dragic, Patrick Beverley, Delon Wright, Patty Mills (player option), Kendrick Nunn (player option), Malik Monk, Luguentz Dort (team option), Lou Williams, Facundo Campazzo (restricted), Bruce Brown