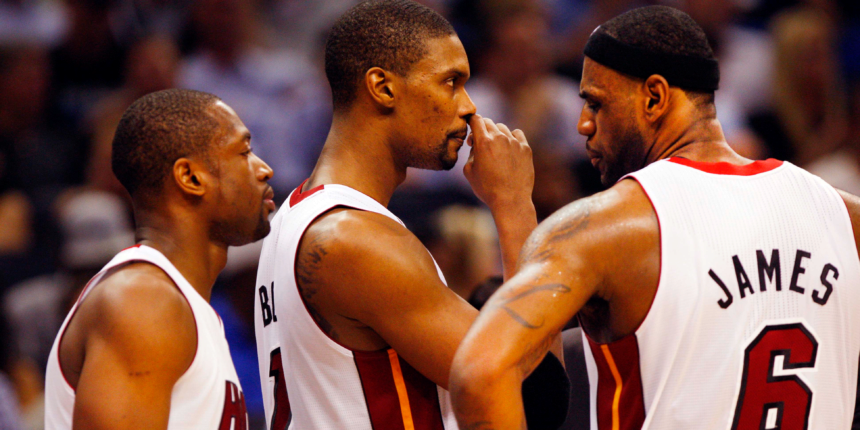 Which NBA teams had the best supporting casts of all time?
The GOAT argument has heated up in recent years, with a growing contingent claiming LeBron James over the incumbent greatest of all-time, Michael Jordan. But no matter if it's Jordan, James, Bill Russell, Wilt Chamberlain or Kareem Abdul-Jabbar, championships are a prerequisite.
Of course, team success is predicated on talent, and in basketball, one player impacts outcomes more so than in football or baseball. Still, the idea that the best player ever should inevitably be a decorated champion is oversimplified.
Ultimately, I posit that great players can achieve only so much on their own. A great supporting cast is also necessary. And if you examine the GOAT list, it becomes clear that great supporting casts are also a prerequisite. And with that being said, let's identify the best supporting casts of all time.
5. Boston Celtics, 1980-1988
Key role players: Kevin McHale, Robert Parish, Cedric Maxwell, M.L. Carr, Danny Ainge, Nate "Tiny" Archibald, Dennis Johnson
Championships: 3 (1980-81, 1983-84, 1985-86)
These teams saw some turnover, but the core remained mostly intact throughout the '80s – Bird, McHale, Parish and Archibald or Johnson. The 1983-84 and 1985-86 iterations had five players average 30 or more minutes per game, and all three championship teams featured five players averaging double figures in points per game. They were incredibly role-oriented and players were intimately familiar with those roles. But ultimately, the main case for the Celtics is that they boasted three of the 50 greatest players ever for their entire run in the '80s.
Side note: Despite having a reputation for being banged up, Bird missed very few games in his prime, making it incredibly difficult to examine how the Celtics fared in his absence. In fact, between the 1980-81 and 1985-86 seasons, Bird missed only five regular-season games. While that's clearly a ridiculously small sample size, the Celtics were 5-0 in those games without Bird. It's not enough to make the case that the Celtics' supporting cast achieved anything significant in his absence, but it's something.
4. Miami Heat, 2012-2016
Key role players: Dwyane Wade, Chris Bosh, Ray Allen, Udonis Haslem, Mike Miller
Championships: 2 (2011-12, 2012-13)
The Heat were a surprisingly deep team. All we really remember is the Big Three and Ray Allen's clutch three-pointer in Game 6 of the 2013 NBA Finals. But there was far more depth in Miami than we care to remember. Udonis Haslem, Shane Battier, Mike Miller, Mario Chalmers, Chris Anderson and Norris Cole all played big roles for the Heat. While there was a high degree of turnover in Miami in the 2010s, the key contributors were mostly the same. And they utilized lots of players; the 2011-12 team played 12 guys for 13 or more minutes per game, and the 2012-13 squad did so with 11 players.
But clearly nothing was more important for Miami than the Big Three. James was obviously the team's engine, but Wade and Bosh were crucial to Miami's success. Wade averaged more than 21 points per game in both championship seasons, whereas Bosh averaged slightly less than 20 points per game while taking on significantly more defensive responsibilities than in Toronto. Wade and Bosh combined to make the best one-two punch of any of the supporting casts on this list, making their inclusion here obvious.
3. Golden State Warriors, 2014-2018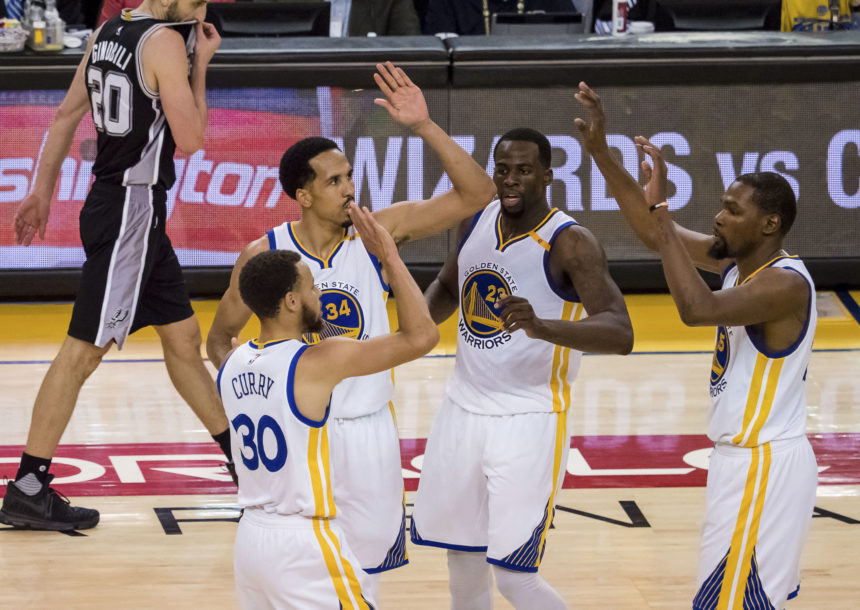 Key-role players: Kevin Durant, Klay Thompson, Draymond Green, Ande Iguodala, Shaun Livingston
Championships: 3 (2014-15, 2016-17, 2017-18)
This team is the hardest to write about, mainly because calling Durant a role player feels like it's backwards. Durant has half as many MVP awards as Curry and more scoring championships. But the premise of the article is that the great teams have supporting casts and that great supporting casts support starts – and Curry is that star. He was in Golden State for their first championship without Durant, and he remains there following Durant's departure. In total, Golden State won three championships in a relatively short amount of time, and in the one year which they did not win the championship, they set a new single-season NBA win record (73).
But however you view this team, it accomplished a great deal – and it was not predicated on one star. On the contrary, the Warriors spread the wealth. The 2017-18 Warriors, for example, averaged 113.5 points per game, 73 of which came from Curry, Durant and Thompson. And everyone on this team felt like part of the supporting cast at times. Further, 14 players averaged 13 or more minutes per game – which is more than any other team on this list.
2. Chicago Bulls, 1995-1998
Key role players: Scottie Pippen, Dennis Rodman, Ron Harper, Toni Kukoc, Steve Kerr, Luc Longley
Championships: 3 (1995-1996, 1996-1997, 1997-1998 — six in total, but the teams and supporting casts are distinctly different, separated by Jordan's retirement)
Eras make a difference. And the 1990s Bulls, featuring Scottie Pippen and Dennis Rodman, were just flat-out better than every other team in the NBA in the 1990s. Want proof? The Bulls were one of only five teams with two starters in the All-Star games in 1996, 1997 and 1998. Oh, and their second All-Star, Pippen, was second runner-up for MVP in 1993-94, leading the Bulls to the third-best record in the Eastern Conference in 1993-94 without Jordan. Ironically, Pippen was probably the most equipped to go head-to-head with Jordan.
Jordan, Pippen and Rodman brought unmatched defensive versatility, and Jordan and Pippen were unstoppable, thanks to an unprecedented combination of size and skill. Add in a 6-foot-6 point guard (Harper), a big, ultra-skilled wing (Kukoc) and a dead-eye shooter (Kerr), and it was just too much for teams in the 90s to handle. Bottom line: Jordan was obviously unstoppable. But one player can't do everything on his own, and the fact that this team is still arguably the best team ever more than 30 years since they were dismantled speaks to just how great their supporting cast really was.
1) Los Angeles Lakers 1979-1988
Key role players: Kareem Abdul-Jabbar, Byron Scott, James Worthy, Mychal Cooper, A.C. Green and Mychal Thompson.
Championships: 5 (1979-80, 1981-82, 1984-85, 1986-87, 1987-88)
The Showtime Lakers are about as unique a team as you'll come across in basketball history. Their most important player was unquestionably their point guard, Magic Johnson, evidenced by his leading the Lakers to a championship as a rookie while filling in as center in a decisive game. Abdul-Jabbar is the NBA's all-time leading scorer and arguably, at his peak, the best player ever. James Worthy is also an all-time great, having been named a member of the NBA at 50's top 50 players of all time.
But nothing speaks to the team's versatility more than this – Byron Scott led the Lakers in scoring in 1987-88 (21.7 points per game) despite the presence and health of Johnson, Abdul-Jabbar and Worthy.
Great players are clearly the building blocks on which great teams are built. But great supporting casts are a necessary part of all dynasties, too. Without them, teams run out of gas and get out-maneuvered by complicated defensive schemes. At the end of the day, you need both – and sometimes more – to win championships in the NBA.