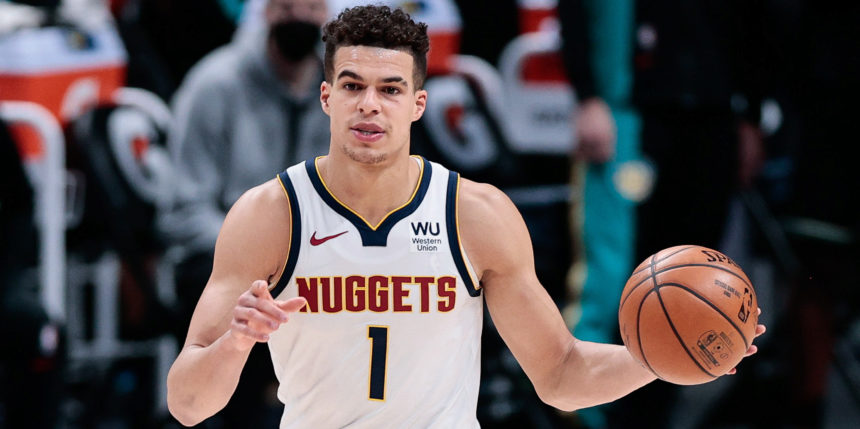 Michael Porter Jr. relives 2018 NBA Draft: 'I was in so much pain'
Michael Porter Jr. didn't have the NBA Draft experience that he'd always imagined.
After being ranked the top high school player in the country, he ended up slipping to No. 14 in the 2018 NBA Draft due to a back injury that required spinal surgeries in 2017 and 2018. Worst of all, he was in a ton of pain as he waited for NBA commissioner Adam Silver to call his name.
"On draft night, I hadn't had the [second] surgery yet and I was in so much pain," Porter recalled on J.J. Redick's podcast (The Old Man and the Three). "Even if you get picked at 14, you're there for like two hours before you get picked. So, I'm sitting there and just trying to deal with this pain."
Porter had herniated-disc material "pressing against a nerve." He also opened up about slipping in the draft and what he was dealing with from a health perspective.
"I've never really talked about this too in-detail on anything like this," Porter told Redick. "I had rehabbed from my first surgery that happened at Mizzou and I'm getting ready [for the pre-draft process]. I'm not working out for any teams. I just have one pro day; all of the teams came to me in Chicago. I worked out pretty well; I was in some pain, but I just thought that was part of the rehab process. I worked out really well. Sacramento brings me in [for an interview] and is like, 'Yo, if you feel good, we're going to take you with the No. 2 pick.' I'm like, 'Bet, that's dope!' But my agent wanted to have a second pro day just for the top-10 teams because he was like, 'Man, these guys are raving about you. If you do really well, there's a chance you can still go No. 1 even after the surgery.' So I'm like, 'Bet.' The pro days were only one week [apart].
"So, I'm getting ready and then two days before, all of the pain is down my leg and it's crazy again [like] after I had the first surgery. I called my agent and I'm like, 'I can't get out of bed, bro.' He tells me, 'The teams are already on their way, just let them evaluate you.' So for that second pro day, I'm laying on a table and all of the top-10 teams have their doctors there and they're just evaluating me. The guy from the Clippers was the head doctor and he's the one who wrote the report like, 'Yeah, he'll probably never play again.'"
This isn't the first time that Porter has called out this unnamed Clippers doctor. Los Angeles had two lottery picks (No. 12 and 13), but the team passed on Porter twice due to his medical red flags. Instead, they picked Miles Bridges (whose draft rights were traded to Charlotte) and Jerome Robinson. Former Clippers head coach Doc Rivers later described missing on Porter as "brutal."
Porter's agent, Mark Bartelstein, set up a meeting with the Denver Nuggets a day before the draft just in case he was still on the board by the end of the lottery.
"The day before, Mark was like, 'Michael, I want you to talk to the Nuggets just so you have a floor that you won't fall past,'" Porter said. "So the Nuggets ended up saying, 'We don't think he'll be there, but if he's there, we'll take him.' The first time I talked to [Nuggets executive] Tim Connelly was, like, the day of the draft and I didn't really even think of the Nuggets as a possibility. And then, I got drafted [by Denver]."
The Nuggets selected him in the lottery almost entirely based on the glimpses of brilliance he showed in high school. After all, Porter only appeared in three collegiate games during his lone season at Missouri, averaging 10.0 points, 6.7 rebounds, 2.3 threes and a steal (while shooting 33.3% from the field and 30.0% from three).
It was a risk, but it has certainly paid off. Porter seems poised for stardom after averaging 19.0 points, 7.3 rebounds, 2.8 threes, 0.9 blocks and 0.7 steals (on 54.2/44.5/79.1 shooting splits) as a 22-year-old last season.
"I said this on draft night, but just because of them believing in me, I want to be their best draft pick ever, and I [said] I was going to work as hard as I could to become that," Porter said. "And I still feel like every year, there's little-by-little growth. I went through a lot, but it's all God's timing and I'm blessed to be in the situation I'm in. I'm blessed to even be playing in the NBA."
Porter doesn't hold any ill will against the teams who passed on him. In fact, he completely understands their choice because even he was scared that he might never be the same player.
"I understood it, and I don't have any bitterness toward any team because I was low-key scared myself," Porter admitted. "Like, I didn't know if I was going to bounce back the way I wanted to either. It's been a slow process, and I still feel like I'm getting there."
Porter is glad that he landed in Denver, since there are fewer distractions than Los Angeles. It also helps that the Nuggets could afford to be patient with him and bring him along slowly.
"With the Clippers, to be honest with you, it might have a God thing because who knows [what would've happened in Los Angeles]? You know how crazy L.A. is," Porter said. "Living in L.A. as a rookie who's strictly doing rehab without even playing? I might've got into some stuff. So, I'm where I'm supposed to be."
Over the final two months of the 2020-21 season, Porter had an incredible 25-game stretch in which he averaged 24.0 points, 7.4 rebounds, 3.4 threes and a block while shooting an insanely efficient 56.9% from the field, 47.2% from three (on 7.2 attempts per game) and 82.5% from the free throw line.
Porter's strong finish has some people predicting that he'll take another leap during the 2021-22 campaign. While he used to set specific goals and compare himself to his peers, he said dealing with so many health issues that were out of his control changed his perspective.
"I used to be like, 'Man, I want to be better than him and better than him, and I want to be the best.' Now, for me, because of the uncontrollable things that have happened to me, it changed my perspective to, 'Nah, I'm just gonna get up every day and try to be better than I was the day before and then leave the potential up to God,'" Porter explained.
"If I'm giving my best every day and making sure my mental game is strong and playing with confidence... I don't want to put a ceiling on myself like, 'Oh, if i'm better than him, then I'll feel like I had success.' No. If I'm working as hard as I can every day and God continues to keep me healthy, then I'm good."