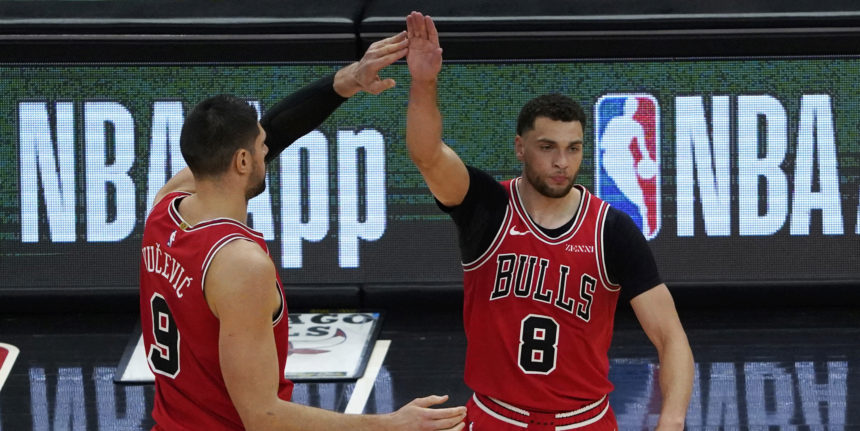 Revamped Bulls ready to finally ascend in the East
The Chicago Bulls are all-in. After acquiring Lonzo Ball and DeMar DeRozan in free agency, Chicago has made headlines around the NBA as a new up-and-coming threat in the reloaded Eastern Conference. Chicago wallowed in mediocrity for years after Derrick Rose's prime was short-lived, which led to some downtrodden seasons where the Bulls failed to lift into serious contention. In 2021-22, that's all about to change in the Windy City.
Zach LaVine is the headliner for the upcoming 2022 free-agent class, which is on pace to be the worst crop we've seen in the modern era, but Chicago is signaling to its star shooting guard that the team is ready to finally build a contender around him. LaVine has fallen under the radar in NBA circles, but he's quickly revamped his game to become one of the most well-rounded three-level scorers in the league, averaging a career-high 27.4 points on an outstanding 63.4% True Shooting percentage.
Among players who averaged at least 25 points on a 60% TS mark or better last season, the company LaVine stands alongside is elite: LeBron James, Nikola Jokic, Kyrie Irving, Kevin Durant, Zion Williamson, Joel Embiid, Giannis Antetokounmpo, Damian Lillard, Stephen Curry. LaVine notched his first-ever All-Star appearance with his performance leap, and now his job should be even easier with what the Bulls' front office has surrounded him with.
Ball is the perfect backcourt complement to LaVine. Being able to handle primary playmaking duties while also handling the toughest assignment defensively, he is the ideal buffer for LaVine to focus his efforts entirely on scoring in bunches. In the right environment, Ball is the launching pad for a team to become a strong playoff squad. With the Bulls, LaVine and Ball have all the makings of becoming a lethal combination thanks to how well-balanced their games are. Ball's improvement as a three-point shooter also allows him to play off the ball when LaVine wants to run the show.
DeRozan adds more scoring and playmaking chops to the Bulls' already-potent offensive attack. As one of the best mid-range scorers in the Association, DeRozan's hidden equity as a tertiary passer takes even more pressure off LaVine and Nikola Vucevic to do the heavy lifting. DeRozan averaged a career-high 6.9 assists per game while limiting his turnover percentage below 10% (9.7). Within the Bulls' system, DeRozan fits right into what head coach Billy Donovan wants to do. As we saw with the Oklahoma City Thunder, Donovan loves playing as many ball-handlers on the court together as possible. Employing the trio of LaVine, Ball and DeRozan provides maximum playmaking equity while each one can contribute their own creative boost to the Bulls' scoring attack.
The Bulls' offense has potent potential in 2021-22. The LaVine, Ball and DeRozan trifecta fits very well around Vucevic as the floor-spacing big man. If former No. 4 overall pick Patrick Williams takes a leap, which looks like a strong possibility after his dominant summer league showing in Las Vegas, the Bulls have a top-10 offense waiting to spread its wings come October.
Where it gets interesting is on the defensive end. LaVine, DeRozan and Vucevic fall below the bar for average defenders in the NBA. With how the Bulls are constructed, a lot of pressure is going to be placed upon the shoulders of Ball and Williams to cover up some potentially fatal issues. Ball has been a good defender, but not exactly excellent. He'll need to take a leap from being a great off-ball defender to one who can lockdown some primary guards in one-on-one situations more frequently. Meanwhile, Williams will draw the toughest wing assignments. In the East, Williams is going to be up against players such as Giannis, Durant, Jayson Tatum and Jimmy Butler. It's a tough gauntlet, but if Williams receives even a passable mark in those situations, that's a win for Chicago entering his sophomore campaign.
While the Bulls have an elite offense ready to be unleashed, their defensive potential could be the true fulcrum point to how they ascend up the standings in 2021-22.
The Bulls have a solid starting unit, but, how does the overall rotation look in entirety? Let's check it out:
Starters: Lonzo Ball, Zach LaVine, DeMar DeRozan, Patrick Williams, Nikola Vucevic
Second Unit: Alex Caruso, Coby White, Troy Brown Jr., Derrick Jones Jr., Tony Bradley
Chicago is betting big on its starters to be one of the best units in the East — because the depth behind those first five is rather unproven. Although Alex Caruso was a huge boost to their identity as a pass-happy, improved defensive team, he could be the only one in the Bulls second unit to be confident in betting on right now. White has struggled with injuries and inefficiency throughout his career, and he's now the only recent draft pick not selected by Arturas Karnisovas on the roster. Brown and Jones make up an intriguing wing duo, but they will need to show improvements as scorers. Bradley being the primary backup to Vucevic is concerning, too, because he hasn't flashed much consistently himself either.
The Bulls have pushed the chips in to be not only a playoff team this year, but also well beyond throughout the decade. LaVine is ready to win, and so are the Bulls. Trading away three first-round picks for Vucevic and DeRozan, then adding Ball via a lucrative restricted free agent sign-and-trade move from New Orleans, means the time is here for Chicago.
Now, we'll get to see how this exciting group coalesces together over a full 82-game regular season. If everything clicks, Chicago is going to be battling for a top-five or six seed in the East, which is a huge jump from what the Windy City has experienced over its most recent years.