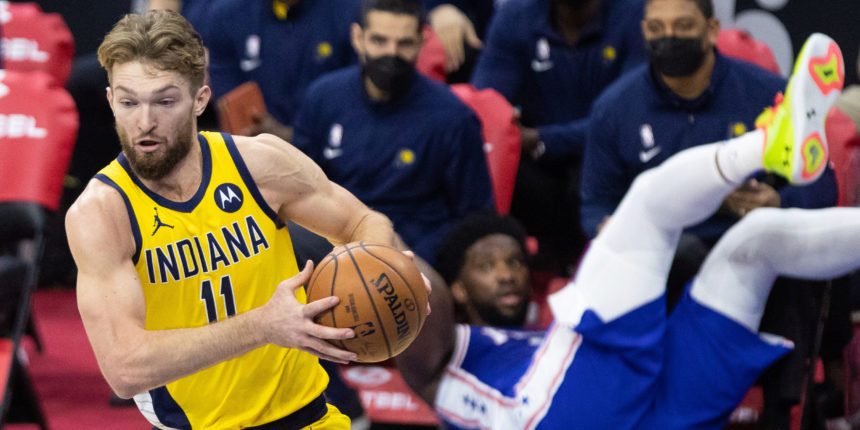 2021-22 win-total odds: 5 NBA teams you should hammer the under on
Yesterday, we covered the best NBA win-total bets to hammer the over on and now it's time to flip the script and discuss the most intriguing under options available. With so many teams pushing the chips in for a 2021-22 playoff run, it'll be tougher for teams to separate from the pack. Which squads will ultimately regress or fail to meet preseason expectations?
Without further ado, let's dive into the five-best under bets to make entering this season.
PHILADELPHIA 76ERS: UNDER 51.5 WINS
The Sixers currently find themselves in a tricky situation. The Ben Simmons drama has reached a new boiling point, as the 2016 No. 1 overall pick has officially requested a trade from Philadelphia. Although Simmons' offensive struggles are well-documented, his defense helped him finish second in the Defensive-Player-of-the-Year race behind Rudy Gobert last season.
Just now entering his prime years at age-25, Simmons has shown unicorn-like tendencies as a jumbo playmaker who can defend five positions on the basketball court. Simmons' impact will be missed in Philadelphia, and it'll be interesting to see what the Sixers receive in return for him.
With the Simmons rumors reaching a fever pitch, plus the inconsistent availability of Joel Embiid over the years, taking a swing on the under at 51.5 makes sense to me. Do we trust Tobias Harris to carry an Embiid-less team on the nights he eventually sits out? Especially with a more jam-packed Eastern Conference than ever, I expect a small step back from the Sixers. Fifty wins feels like the ceiling to me, which means I'm hammering the under here.
ATLANTA HAWKS: UNDER 47.5 WINS
Atlanta caught fire last season when they moved Nate McMillan over to the head-coach seat with Lloyd Pierce's midseason firing. However, will that mojo continue over a full 82-game schedule? The Hawks have built a great infrastructure of talent around their superstar Trae Young. However, I feel like Las Vegas might be overestimating Atlanta after this recent run.
Maybe I'm too pessimistic when it comes to the Hawks, but I need to see this success continue to fully buy-in. Reaching the near-50-win mark is a huge milestone for an organization that has been stuck in the lottery for years. Atlanta added more young talent in the draft, but didn't add any veterans into the equation.
I'm going to play it safe and roll with the under on Atlanta. If Trae lights up the NBA in his fourth season, plus other pieces of their core take steps forward, I would be happy to be proven wrong here. There's a real possibility that their late-season run was lightning in a bottle, and that their win total will be in the mid-40s. In my opinion, 47.5 is a steep over to hit.
INDIANA PACERS: UNDER 43.5 WINS
The Pacers were dealt potentially the NBA's worst hand last season with injuries. T.J. Warren only played four games. Malcolm Brogdon and Myles Turner dealt with various ailments. Caris LeVert had to sit out an extended period of time following his arrival (via the Victor Oladipo trade) because a cancerous tumor was discovered on a physical.
With Rick Carlisle back in Indiana as head coach, will the Pacers' talented nucleus finally put it all together? I have my doubts, especially considering how much the East has improved. No longer will a team comfortably make the playoffs with a record around .500.
Indiana also feels like the most obvious team to hit the reset button midseason, especially if they get off to a slow start. Outside of Domantas Sabonis and LeVert, everyone could be on the table in trade talks. Warren is on an expiring contract, while Brogdon and Turner have been floated in trade discussions over the last calendar year. If Indiana floats around .500 or below, the Pacers would be wise to sell-high on those players at their last opportunity to receive positive value.
Although Indiana had only one down year, the East is now a beast. It might be too little, too late for this core to make a run, which leads me to feel comfortable hammering the under on 43.5.
MEMPHIS GRIZZLIES: UNDER 41.5 WINS
Coming off their first playoff appearance since the Grit-n-Grind era, Memphis is bubbling with excitement to see if the Grizzlies can take the next step forward. Led by Ja Morant, Memphis has done a fantastic job of building around their young star point guard.
However, with the Golden State Warriors now back to full health, plus other young teams hoping to take a leaps (such as the New Orleans Pelicans and Minnesota Timberwolves), Memphis will have to work even harder to return to the play-in spot they secured last season.
With how the Grizzlies have operated this offseason, it feels like they're content waiting to make a move — not getting antsy off of their early success after making the No. 8 seed. The Grizzlies' main offseason additions were Steven Adams and No. 10 overall pick Ziaire Williams (plus they acquired Kris Dunn and Carsen Edwards today).
I'm betting on a slight regression form Memphis, especially if they get off to a slow start. With Dillon Brooks recently floated in trade talks, it makes me wonder if we see the Grizzlies emerge as sellers at this year's trade deadline, which further pushes me to hit the under on 41.5.
SACRAMENTO KINGS: UNDER 35.5 WINS
After officially bowing out of the Ben Simmons derby due to the 76ers' asking price – which is disappointing since Simmons would've been a perfect fit on the Kings – Sacramento seems destined for another disappointing season.
Buddy Hield was nearly traded to the Los Angeles Lakers on draft night for Kyle Kuzma and Montrezl Harrell, so who knows how long he will remain a member of the Kings? Sacramento re-signed Richaun Holmes and drafted one of the most NBA-ready prospects in Davion Mitchell, but is that enough to really make a big leap in the West? I doubt it.
The Kings have a solid young cored led by De'Aaron Fox, Tyrese Haliburton and Mitchell, but everyone else could be moved down the road. Hield and Harrison Barnes stand out as obvious candidates to be moved to contenders at the trade deadline, especially if Sacramento falls out of the playoff race before the All-Star break.
I'm hammering the under on 35.5 wins for the Kings, and feeling pretty comfortable doing so, which would unfortunately extend their playoff drought to an incredible 16 consecutive seasons.