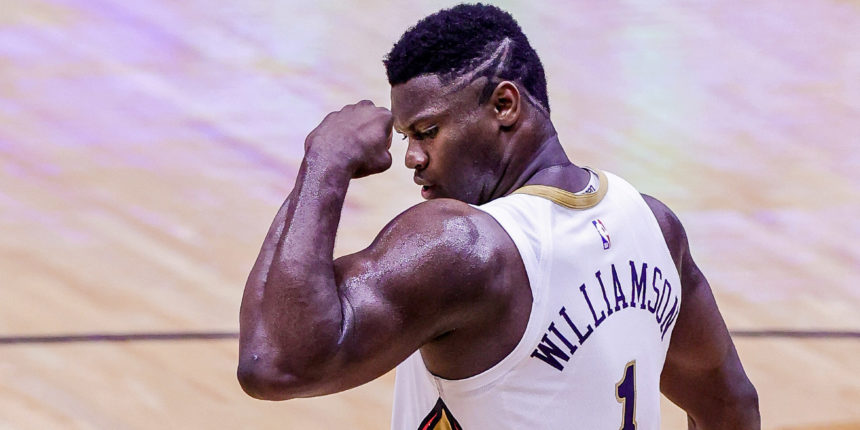 Led by Zion Williamson, new-look Pelicans may have playoff potential
Are the New Orleans Pelicans finally ready to ascend up the Western Conference standings?
With an enticing young core led by Zion Williamson, who's on the brink of superstardom (if he's not there already), New Orleans could easily become this season's surprise breakout team. In addition to Williamson's freakish talents, New Orleans has Brandon Ingram, who made his own leap to near-star status after the Pelicans acquired him as the centerpiece of the Anthony Davis trade.
Williamson and Ingram form a terrific one-two punch and they should have the Pelicans competing for a playoff spot. However, put quite simply, New Orleans hasn't been able to construct a roster around their young duo that is best suited to their strengths. With a lack of spacing – a death sentence in today's NBA – the Pelicans clipped their wings and were unable to fly towards legitimacy. Also, last season, the coaches didn't connect with the young core. Stan Van Gundy was a fun idea on the surface, but his old-school ways didn't fit with the Pelicans' roster and there was reportedly tension behind the scenes. That's why hiring former Phoenix Suns lead assistant Willie Green as their new head coach is significant.
Green was an integral piece to the Suns' puzzle over the last two seasons, serving as head coach Monty Williams' right-hand man. The former NBA veteran was tasked with running Phoenix's defense and helping as a primary player development assistant. Green thrived in both roles, helping the Suns go from a completely undisciplined squad on the defensive end to one of the NBA's best with the flip of a switch.
Meanwhile, key pieces of the Suns' young core such as Deandre Ayton, Mikal Bridges and Cameron Johnson improved their all-around games under Green's tutelage. Even NBA castaway Cameron Payne revived his professional-basketball career in the Valley after joining the Suns right before the Bubble. Now, given what the team needs from their new head coach, Green and the Pelicans are a perfect match. Not only will Green have New Orleans' key players hustling on both ends (and likely improving their 23rd-ranked defense), he'll be able to connect with the young core and help them reach their full potential while also providing a calm, relaxing presence since he's seen just about everything at the NBA level.
While Green seems like a perfect solution to the Pelicans' on-court issues from a schematics standpoint, how did GM David Griffin do from a roster-construction perspective? Acquiring Eric Bledsoe and Steven Adams last offseason was a mistake, but Griffin seemingly owned up to that by sending them packing this summer in a trade with the Memphis Grizzlies.
Although the Pelicans gave up the No. 10 pick in the 2021 NBA Draft (which became Ziaire Williams) in the deal, they only moved down seven spots and obtained Jonas Valanciunas to replace Adams. And with the No. 17 pick, New Orleans selected sharpshooting wing Trey Murphy III, who's widely regarded as one of the most high-character, NBA-ready prospects in the entire draft and exactly what the Pelicans needed. Valanciunas is a smoother fit next to Wililamson compared to Adams since he provides a bit of extra spacing. While Adams didn't have any range (making just one three-pointer throughout his career), Valanciunas will at least keep defenses honest at times since he shot 35.8% on 1.1 three-point attempts over the last two seasons. During NBA Summer League, Murphy showed that he's already too good for that stage, so he may be poised for a 20-plus-minute-per-game role right out of the gate in New Orleans.
The Pelicans' biggest blow this offseason was losing Lonzo Ball to the Chicago Bulls in a sign-and-trade that saw them acquire veteran guards Tomas Satoransky and Garrett Temple. Ball and New Orleans were ready to move on from one another, as the former No. 2 overall pick wanted a fresh start and the organization didn't feel comfortable paying him over $20 million annually on a new deal. Valanciunas, Satoransky and Temple will provide veteran leadership to a young locker room in desperate need of it.
To offset the loss of Ball in the starting lineup, New Orleans hoped to sign six-time All-Star Kyle Lowry, but he opted to join the Miami Heat. Instead, the Pelicans made their most interesting offseason move: dealing a future protected first-round pick to the Charlotte Hornets as part of a sign-and-trade for Devonte' Graham. In Charlotte, Graham's ceiling was capped after LaMelo Ball and Terry Rozier thrived last season and the Hornets drafted James Bouknight at No. 11. In New Orleans, Graham should slide right in as a starting guard who provides even more floor-spacing value for Williamson and Ingram. Graham's offensive profile is unique and rather inefficient — 37.6 FG%, 36.4 3PT%, 53.4 TS% — however, he won't be asked to do anything but provide a little playmaking and stay beyond the three-point line.
Last season, Graham's three-point attempt rate was at 71.3%, which is well above-average and a significant jump from his 60.7% rate in 2019-20. If Graham shoots 8-to-10 threes per game at a near-40% clip, he will have done a fantastic job for the Pelicans.
This offseason, New Orleans' main focus was to ease the scoring burden for Williamson, who just averaged 27.0 points per game in his age-20 season. The only players in NBA history to score at least 27.0 points per game before turning 21 years old are LeBron James, Luka Doncic and Williamson. That's legendary, best-player-in-the-world company for Zion.
And as he began to get even more comfortable in the second half of the 2020-21 campaign, New Orleans made him a point-forward and ran the offense through him on every possession. Despite Williamson's youth, that's absolutely the right decision because he could become a LeBron-esque bully in one-on-one situations driving towards the rim. Williiamson flashed that potential during his lone collegiate season at Duke, and he's already doing this on a regular basis in the NBA, taking veterans' lunch money in scoring situations.
The Pelicans set out to make Williamson's job easier, which in turn should help everyone around him as well. Now, there's real potential for Williamson to average around 30.0 points per game this season, which could lead to some dark-horse MVP discussion if all goes well for New Orleans and they take the next step as a team. Add in Ingram's ascension as one of the best young wings in the NBA and New Orleans just needs their new additions to play their role to the best of their abilities in order to climb the standings. If that occurs, the Pelicans should (at the very least) fight for a spot in the play-in tournament. And if Williamson makes an even bigger leap and becomes a top-10 player in the league (which could actually occur given his insane ceiling), New Orleans could comfortably make the playoffs for the first time since 2018.
Entering the 2021-22 season, here's a look at the Pelicans' projected rotation:
Starters: Devonte' Graham, Nickeil Alexander-Walker, Brandon Ingram, Zion Williamson, Jonas Valanciunas
Reserves: Kira Lewis Jr., Tomas Satoransky, Josh Hart, Trey Murphy III, Jaxson Hayes
With all the youth New Orleans has added in recent years, this is a team that is just now turning the corner and cracking open their contention window. Led by Williamson, who's poised to be one of the faces of the Association for the next decade-plus, the Pelicans seem to have aced this offseason after being rightfully questioned at various points.
By adding the right complementary pieces around their superstar and hiring Willie Green to help the young core continue their development, the Pelicans seem to be pushing all of the right buttons.