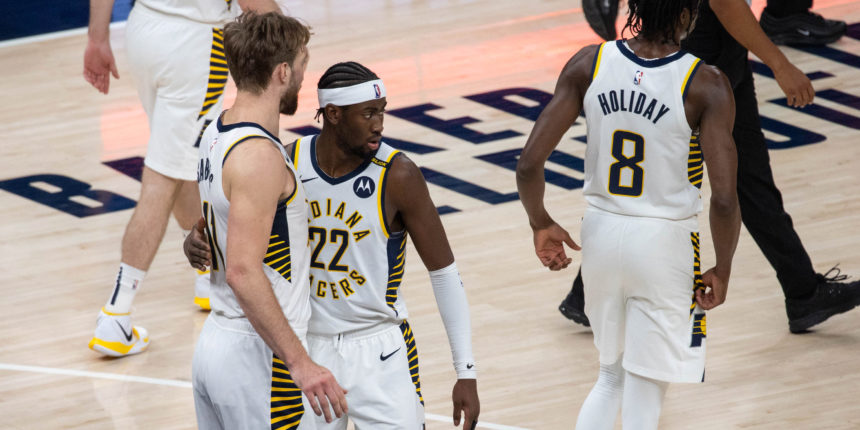 Pacers' roster faces make-or-break 2021-22 season
The Indiana Pacers are at a crossroads, with the 2021-22 season looking like their final opportunity to make significant noise with this current core. On paper, Indiana's roster is strong, especially with their projected rotation of Domantas Sabonis, Caris LeVert, T.J. Warren, Myles Turner, Malcolm Brogdon, T.J. McConnell, Justin Holiday, Chris Duarte and Torrey Craig.
But it's led to little success in recent years. The Pacers created one of the Association's best rivalries with the Miami Heat, with Paul George, Roy Hibbert, David West and Lance Stephenson leading the charge versus LeBron James, Dwyane Wade and Chris Bosh. Ever since those days, Indiana has struggled to be competitive in a playoff series.
As long as the Simon family owns the Pacers, Indiana will never hit the reset button completely. It's why they traded George to Oklahoma City for Victor Oladipo and Sabonis instead of accepting a draft-pick-heavy package from another team. Indiana later shipped off Oladipo for Caris LeVert in the massive James Harden trade early last season.
Although Indiana is a smaller market, and tanking would probably be their best bet to ensure long-term success, the franchise has made a living off of finding these win-now deals and making playoff appearances. For small-market teams, playoff revenue matters. The Pacers are the perfect example of this, especially since they're so against selling off any of their core players for picks.
The Nate Bjorkgren experience was disastrous for the Pacers, as the first-time head coach not only failed to connect with the locker room, but his style of play also did not fit Indiana's personnel. It was like trying to fit a square peg in a round hole. Enter one of the league's best head coaches in Rick Carlisle, who used to coach Indiana before his decade-plus stint with the Dallas Mavericks. The Pacers coughed up a pretty penny to land Carlisle (over $7 million) in hopes that he can help this roster jell together and climb the Eastern Conference standings.
Carlisle was the Pacers' big offseason addition. He's viewed as their saving grace – someone who can potentially turn the team around without drastic changes (health-permitting). If Carlisle isn't able to deliver, it may be time for Kevin Pritchard and Chad Buchanan to seriously assess what happens next in the Hoosier State.
Warren is entering the final year of his $50 million extension and if he's anywhere close to the player we saw in the Bubble, he could be headed for a potential $100 million deal next offseason since he projects to be one of the best scorers available. Meanwhile, LeVert, Turner and Brogdon each have two years remaining on their deals. Sabonis is the only core piece whose contract extends past the 2022-23 season. The window for this Pacers group is right now, and it may only be open for another year or two.
Since 2015, the Pacers' draft history has been gruesome. Outside of Turner, who very well could be entering his final season in Indiana, the front office has failed to find long-term answers. After Turner, Indiana's first-round draft picks have been T.J. Leaf (18th), Aaron Holiday (23rd), Goga Bitadze (18th) and, most recently, Chris Duarte (13th) and Isaiah Jackson (22nd). The 24-year-old Duarte certainly showed flashes during NBA Summer League in Las Vegas and he may be able to make an immediate impact since he's widely regarded as one of the most NBA-ready prospects in this class.
It remains to be seen what Duarte and Jackson will do, but Leaf and Holiday are already off the roster. Bitadze has failed to develop past a 10-to-15-minute-per-game role, and his playing time could stagnate even further with Jackson's arrival. Also, the Pacers have continuously missed on second-round picks in recent years. (In 2010, Lance Stephenson was a solid find at No. 40, but that was the previous regime.)
With missed opportunities in the draft and ownership that's completely against losing revenue, Indiana is constantly a fringe playoff team – stuck in the middle of the pack. It helps the bottom dollar, sure, but where does it get the organization in the end?
The 2021-22 season is a fork-in-the-road moment for Indiana. If the Pacers miss the playoffs or just barely squeak in with everyone healthy and Carlisle running the show, massive changes should ensue. Breaking up the jumbo-big duo of Sabonis and Turner should be in the cards. Warren could leave for nothing as an unrestricted free agent in a barren 2022 free-agent market. Brogdon and LeVert would enter contract years of thier own the following season.
Is it realistic to expect the Pacers to make a serious leap up the East standings? The defending champion Milwaukee Bucks and Brooklyn Nets are not vacating the top spots. The Miami Heat, Philadelphia 76ers, Atlanta Hawks, Boston Celtics and Chicago Bulls have all potentially leapfrogged them in the hierarchy. Unless we see a magical season in which everything falls perfectly into place, Indiana's ceiling looks to be around the No. 6 seed. It's possible they'll make another appearance in the play-in tournament.
Although Indiana's collection of talent keeps them around the playoff picture each year, is it really worth it if they keep getting bounced in the first round every single season? Bringing Carlisle onboard signals that the Pacers know the time is now to show how competitive they truly are. However, the hourglass may have already run out, as the expiration date with their current core seems to be fast approaching. Outside of Sabonis, LeVert and rookies Duarte and Jackson, everyone else could potentially be available come February's trade deadline or next offseason.
It takes such a delicate balancing act for small-market teams to compete nowadays. You have to luck into drafting a superstar or consistently hit home runs with signings and trades. When Indiana was at the peak of its powers and giving Miami's Big Three a run for their money, the franchise had an ascending superstar in George. However, as we all know, that relationship soured over time and they shipped him off to Oklahoma City. Now, it seems like the Pacers are betting on Sabonis to become a Nikola Jokic-type player or for LeVert to take a massive all-around leap that puts him the Most Improved Player discussion.
However you want to slice it, it'll be tough sledding for the Pacers moving forward. If everything coalesces under Carlisle, he could help make them a sleeper contender in the East. If the pieces fail to come together, Indiana could potentially blow it all up within the next calendar year. The stakes are raised, and it's time to either double-down or fold the hand with this current roster.