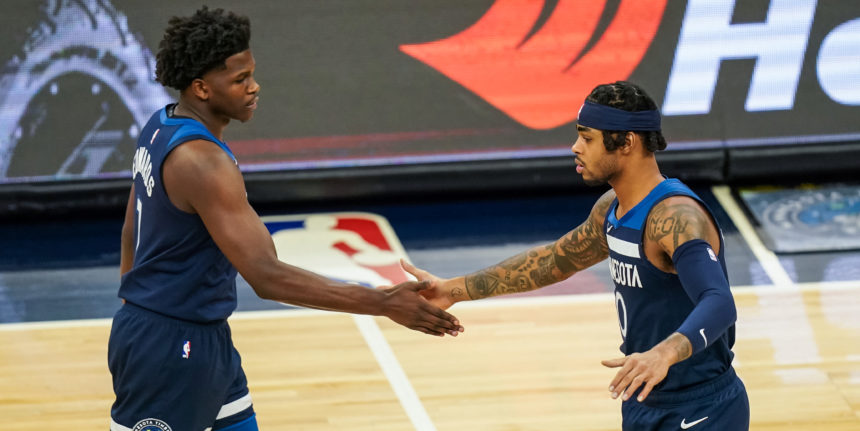 Can the Timberwolves step forward in the loaded Western Conference?
Heading into the 2021-22 NBA season, the Minnesota Timberwolves are one of the NBA's most intriguing teams. They have a solid young nucleus, a new head coach, new ownership, and a tough climb in terms of scaling the ladder in the Western Conference.
With so many teams either in win-now mode, or ascending rapidly thanks to internal development, Minnesota once again could be on the outside looking in for a real playoff opportunity in 2021-22.
In their current state, the T-Wolves have to rely on their 25-and-under trio of Karl-Anthony Towns, D'Angelo Russell and Anthony Edwards. When all of them were on the floor together last season, Minnesota was 13-11.
In a small sample size (324 minutes) featuring Minnesota's trio, their three-man lineup offensive rating was 120.9, which would've ranked No. 1 for any team last season. However, the defensive rating checked in at 116.0 — a mark that puts Minnesota last in the Association for team-wide advanced metrics. Although the overall net rating for Minnesota's young Big 3 still checked in at +5.3, they were relying on outscoring the opposition at a pace that seemed unsustainable over a full 82-game schedule.
Toss starting shooting guard Malik Beasley into the mix — who has canned 40.6% of his three-pointers since arriving in Minnesota two years ago — and the total sample size for the four-man unit was 13 minutes. Yes, you read that right, 13 minutes. That's all that Towns, Russell, Edwards and Beasley suited up together for during the 2020-21 campaign.
Minnesota is betting on its young core to take necessary steps forward, but new head coach Chris Finch must also figure out how to utilize his pieces more efficiently. Once Finch replaced Ryan Saunders — an incredibly tough adjustment coming over from the Toronto Raptors — Minnesota's offense started to click into high gear. One of the biggest beneficiaries from Finch's arrival was 2020 No. 1 overall pick Anthony Edwards.
Edwards began to turn heads over the final stretch of last season, with many ending the campaign under the belief that he could eventually become a consistent 25-plus point per game scorer. Edwards' emergence became one of the few bright spots from another downtrodden season for Minnesota.
Pre-All-Star Break: 14.9 points, 4 rebounds, 2.5 assists, 0.9 steals; 37.1 FG%, 46.6 TS%
Post-All-Star Break: 23.8 points, 5.3 rebounds, 3.4 assists, 1.4 steals; 45.4 FG%, 56.7 TS%
After the All-Star break, Edwards placed himself in elite company. Only six other players averaged his stat line and efficiency over that span: Stephen Curry, James Harden, Giannis Antetokounmpo, Nikola Jokic, Jayson Tatum and Julius Randle. During his rookie season at age 19, Edwards put the NBA world on notice; he's one of the brightest young wing scorers.
With Edwards' fast rise, another rookie for Minnesota turned into a legitimate rotation piece: No. 28 overall pick Jaden McDaniels. Although McDaniels' numbers weren't gaudy — 6.8 points, 3.7 rebounds, 1.0 blocks in 24 minutes — his improvement as a shooter late in the season provides promise for him complementing their core. McDaniels drained 38.3% of his three-pointers after the All-Star break for Minnesota, where he also forced Finch's hand with his plus-defensive versatility. At his peak, McDaniels figures to be a jumbo 3-and-D do-it-all big who doesn't need plays run for him. He's already passed the eye test with flying colors, and now he should slide right in as Minnesota's starting power forward alongside Towns, Russell, Edwards and Beasley.
Minnesota also drafted point-forward Leandro Bolmaro from Argentina in the 2020 draft, who plans to join the roster after being stashed last season overseas. After Ricky Rubio was traded to Cleveland for veteran wing Taurean Prince, Bolmaro figures to play an important role as a playmaker off the bench immediately.
"This draft class was a game-changer for this organization," Timberwolves GM Gersson Rosas recently told The Athletic's Jon Krawczynski. "When it happens like that, you want to be right more often than you're wrong. And nobody's always right."
With high hopes for the 2020 draft haul helping pull Minnesota into real playoff contention eventually, how does their rotation stack up for 2021-22?
Starters = Russell, Beasley, Edwards, McDaniels, Towns
Second Unit = Bolmaro, Josh Okogie, Jarrett Culver, Prince, Juancho Hernangomez, Naz Reid
Although the starting lineup has huge potential — especially with the projected sophomore leaps for Edwards and McDaniels — Minnesota's second-unit is shallow on NBA experience and net-positive players. For the Timberwolves to become a real playoff threat, the Towns/Russell/Edwards trio needs to be dominant. And it's fair to wonder if Edwards needs to become his post-All-Star break self every single night for Minnesota to take those necessary steps forward.
Minnesota's core is locked in for the foreseeable future. Towns and Russell are best friends on-and-off the court and have a bond that developed during the 2015 pre-draft process. But is the former No. 2 overall pick the best fit moving forward with Edwards' becoming a real 1B option?
Moving forward, there's no reason for Minnesota to not treat Edwards as their second star behind Towns. He's already proven to have more two-way ability than Russell, who is an above-average three-level scorer. Still, the point guard has been graded across multiple metrics as the worst defender for his position. For a team starved of impact defenders, Russell is the opposite. He brings scoring and some playmaking, but not much else.
For Towns, the clock is already ticking in Minnesota. He's experienced the playoffs one time in his six-year career after being selected No. 1 overall. And that one appearance was due to Jimmy Butler, who is no longer with the franchise. Towns' career record is nearly 100 games below .500 at 185-279. Halfway through his rookie-scale max contract extension — which expires after the 2023-24 season — the time is now for Minnesota to put the necessary pieces around him before it's too late.
Edwards feels like a lock to be a key cog in the Timberwolves' rise. McDaniels has shown flashes of a competent frontcourt partner alongside Towns. Questions still loom about Russell's overall value in a winning situation, but right now, Minnesota's roster is still on the youthful side of the spectrum.
Banking on the young core is a necessary risk for a small market like Minnesota, but there needs to be some urgency. If all goes well for the Timberwolves this season, these Towns-related concerns will wash away.
In the end, it'll be determined by whether this appealing core centered around he and Edwards stakes their claim as a rising team in the Western Conference.