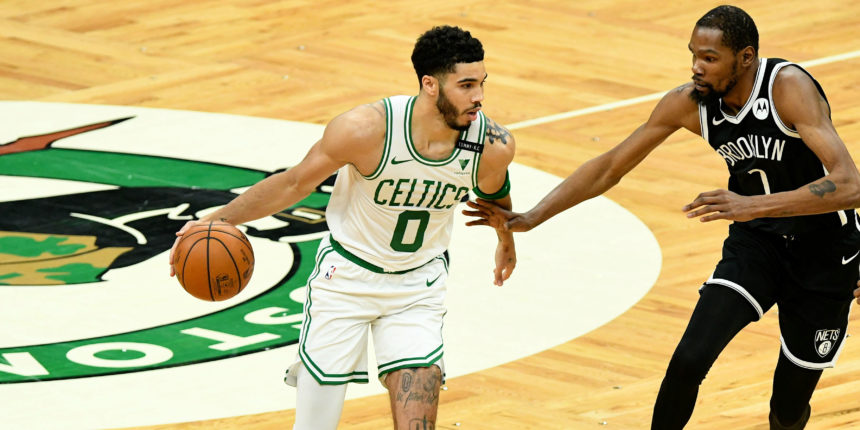 2021-22 NBA Season Preview: Atlantic Division
With the NBA's regular season set to tip-off on Oct.19, let's take a look at where each team in the Atlantic Division stands. We'll break down what's to like and dislike, a lineup to watch and a reasonable range for each team to finish in the standings.
Boston Celtics

WHAT TO LIKE: STAR WING TANDEM
Boston, like many other teams, dealt with its fair share of injuries and COVID-related absences during an uneven campaign. The brightest spots of the Celtics' season came from the wings: Jayson Tatum and Jaylen Brown continued their upward trajectory.
Tatum had his own bout with COVID, but still took a step up as a top option. The shot creation improved, as did his playmaking chops. Brown took a step up as a shot-creator in his own right, particularly with his pull-up shooting. With the league at large clamoring to add as much wing talent as possible, the Celtics are blessed to have two of the best wings in the sport. The fact that they're both under 25 years old is icing on the proverbial cake.
OTHER LIKES
- His offseason was a little funny to track, but I do like the Dennis Schroder signing at that price point ($5.9 million). The Celtics needed a boost in rim pressure to complement the pull-up chops of Tatum and Brown; Schroder should provide that in spades.
- Quick kudos to the Celtics for locking up Robert Williams (and Marcus Smart!) for the foreseeable future. I really like Williams long-term. He's a violent rim runner and shot-blocker with passing chops that more people should pay attention to. Boston trusted him a bit more in "Delay" sets above the break, and he delivered some delicious dimes to cutters.
- Speaking of bigs, I love Al Horford making his return.
- I was loudly wrong about the Payton Pritchard pick last year. No need to explain it to me like I'm five. He's a pretty fearless pull-up guy, and I'm curious to see what a second-year bump looks like for him.
- I hope I don't get proven wrong, but I still believe in Josh Richardson as a 3ish-and-D wing. Poor fit in Philadelphia, COVID-ravished season in Dallas. Surrounded by this kind of wing talent in Boston, I hope he can get back to knocking down spot-ups and countering with two-dribble pull-up middies like he did in Miami.
WHAT TO DISLIKE: PASSING
Ball movement was one of the emphasis points new head coach Ime Udoka spoke about during his introductory press conference. Numbers don't always tell the story, but sometimes they tell a good chunk of it: the Celtics ranked in the bottom-five in assist rate (56.6, 27th), potential assists (41.1, 28th) and hockey assists (2.6, 25th). Even beyond the obvious injury caveats, this wasn't a team that played with a ton of flow offensively.
The jury is out on the specifics of a Udoka-led offense (and how that may differ from what Brad Stevens did). But just looking at the roster: Who's the best passer on the team? Is it Smart, who's more reactive than proactive in that regard? Is it Horford? Schroder? Tatum? Heck, how far off is Williams from those guys from a he-can-make-this-pass perspective?
This doesn't seem to be a super-fluid group. Having Tatum and Brown as get-it-out-the-mud guys is a nice counter to have, but I hope they aren't required to do it as much as last year.
OTHER DISLIKES
- For a team that doesn't have a ton of natural playmakers (if any), it would be nice to have some true movement shooting to help bend the defense and create passing windows. They may be banking on Aaron Nesmith (good Summer League showing, from my view) to take a leap and fill that role. We'll see.
- I had this concern last year, but I am worried about the frontcourt size within a playoff context. Making a deep run means they'll likely have to face at least one of Milwaukee or Philadelphia. Horford/Williams/Enes Kanter just doesn't seem like enough.
LINEUP TO WATCH: Schroder-Smart-Brown-Tatum-Horford
The challenge is going to be the shooting. Smart has quietly turned himself into a solid one, and Horford still provides some value above the break. Neither guy forces "holy crap, we have to close out on that guy" attention, and that's before getting to Schroder.
If enough shots fall, though, this is a pretty nice blend of rim pressure, shot creation and defense. It won't shock me if Udoka goes to this unit as the closing five.
BEST CASE: No. 3 seed
It's hard not to bank on linear improvement from Tatum and Brown at this point. A healthier campaign from the former should lead to more victories. If the defense is a strong as it looks on paper, a high seed for the Celtics certainly isn't out of the question.
WORST CASE: No. 6 Seed
The top of the Eastern Conference is pretty strong, and I do have some concerns about this group in the half-court. Implementing a new offensive system could come with some growing pains, and that's before getting into some of the passing issues that could lead to stagnation.
Brooklyn Nets
WHAT TO LIKE: OFFENSIVE STAR POWER
Kevin Durant. James Harden. Kyrie Irving.
Those are three of the, what, 10 best shot creators in the world? Eight? Six? The number ain't big either way.
It almost doesn't matter what you put around those three guys; you're guaranteed an elite half-court offense. To that point, the Nets scored 121.6 points per 100 possessions with those three on the court last season.
OTHER LIKES
- It's not like the Nets were far off from title contention to begin with, but having the offseason they did should inspire more confidence. Cam Thomas and Day'Ron Sharpe were two picks I enjoyed from their draft. Adding Patty Mills, Paul Millsap and LaMarcus Aldridge (please be careful!) were solid veteran depth moves.
- I'm here for the random Tuesday night in January where DeAndre' Bembry does a little bit of everything.
- Getting out of DeAndre Jordan's contract and turning it into a Sekou Doumbouya gamble is pretty nice work. More importantly, this should open the floor for more Nicolas Claxton minutes... at least you'd think so.
WHAT TO DISLIKE: DEFENSE
I think it's clear the Nets have leaned into an identity defensively; they're going to switch a ton. They did so at a top-10 rate last season, per Second Spectrum tracking data, and their current personnel screams: "THIS TREND WILL CONTINUE."
I am a bit worried about said personnel, though. Though their offseason was strong, I'm not sure they actually addressed their biggest issues. Their best options for the Tatums and Butlers and Middletons and Harrises can't be 6-foot-3 Bruce Brown, or Bembry (though the Nets have the shooting necessary to mitigate his weak jumper), or Durant for that matter.
The Millsap/Blake Griffin/James Johnson triumvirate is... let's just say it's a sub-elite grouping for small-ball-5 units. As much as I love Claxton, he's much more of a switch answer than a guy you throw at Embiid and feel comfortable about it in a playoff setting. Aldridge was a better interior presence than I expected him to be last season, but he's still pretty limited from a scheme perspective. The mix-and-matching here is going to be interesting to track.
OTHER DISLIKES
- More to the interior point, the Nets were quietly bad at ending possessions last season, ranking 23rd in defensive-rebound rate. If Jordan couldn't do literally anything else, he could clean the glass. Who's filling that void?
- Okay, one last thing on the interior: I am irrationally annoyed at Claxton not having a clear pathway to 28 minutes a night. The young man is good! Play him! We know what the vets are!
LINEUP TO WATCH: Irving-Harden-Harris-Durant-Claxton
Multiple ball-handlers, shooting everywhere, length and mobility in the frontcourt. Unless you really have a behemoth, I'm not sure how you slow this unit down consistently.
BEST CASE: No. 1 seed
This should be the best offense in the league this year, likely by a healthy margin if they stay... well, healthy. If they're average-ish on defense, that could be enough to overwhelm teams in the regular season.
WORST CASE: No. 4 seed
I'm mostly trying to do these previews with a built-in "assume everyone is relatively healthy" caveat, but you just can't do that with this Nets team. Kyrie is always worth tracking in this regard. Durant was able to bounce back from the Achilles injury last year, but he is another year longer. Harden finally showed signs of not being indestructible. It wouldn't be a shock if the Nets went the maintenance route with their Big Three and punted some regular-season games in the process.
New York Knicks

WHAT TO LIKE: JULIUS RANDLE WITH HELP
When doing the previews last year, there was no team I was more wrong about than the Knicks. Their best case for me was missing the play-in, but looking like a competent group with a clearer roster plan post-trade deadline.
The Knicks not only made the playoffs, but earned home-court advantage. That's my "L" to take.
Julius Randle figuratively and literally had his fingerprints all over this team last year, operating as New York's best interior scorer, primary playmaker and, oddly, its best off-the-dribble creator.
It's cool that Randle could handle that role with the efficiency he did; it's even cooler that he shouldn't have to like he did last year. Kemba Walker and Evan Fournier add different layers of creation to a Knicks team that desperately needs it. I'm down to see Randle beating scrambling defenses instead of having to force the scramble all the time.
OTHER LIKES
- Walker and Fournier in the fold should help RJ Barrett, too. Barrett made a leap as a three-point shooter, and I'm still intrigued by the playmaking chops. His primary reps may go down some, but he should have a more spaced floor and/or more bent defenses to attack when he gets those reps. Quality over quantity, in this case.
- We'll have to see which version of Walker we'll get, but his pull-up proficiency in pick-and-roll should fill a pretty sizeable hole. I like Immanuel Quickley, especially moving forward, but he shouldn't be the best option on a playoff team in that area. (At least not right now.)
- Speaking of the backcourt, I'm here for more Rose-Quickley minutes. The inside-out nature of the duo is a tough one for defenses to deal with.
- Mitchell Robinson is back! The last time we saw him, he was doing his usual dirt as a lob threat and shot-blocker. The fun part about the latter was that he did so without hacking everything in sight. That version of Robinson — provided he builds on his campaign — is going to make him a lot of money this summer.
WHAT TO DISLIKE: HALF-COURT CREATION
This is less of a dislike and more of a mild concern: Randle got busy last year, and mixed dudes up with a combination of power drives and dribble-jumpers that seemed well above his pay grade entering last season.
I'm worried about what the Knicks' half-court offense will look like if he can't replicate that, much less build upon it. Walker should help, but he's not "top option" good in that regard at this stage. Even the healthy version of Walker doesn't get to the rim like he used to; a hampered version could border on "liability" status against good teams considering what he gives up on the other end.
OTHER DISLIKES
- It's a point Knick fans have heard or read about ad nauseam, but man... as good as the defense was last year, the shot quality given up was not great. That's scheme stuff, but a team that gives up as many corner threes as they do (fifth-highest share) while allowing that low of a percentage (35.1%, second-lowest) always makes me feel a bit iffy.
- Barrett is likely the Knicks' best perimeter defender. He was legitimately good from my view last year, but it's kind of the Royce O'Neale-Utah thing for me where I want to say "The Knicks have Player X, Player Y, and RJ Barrett to throw at dudes!" instead of it being Barrett and... whom, exactly?
- Probably a nitpicky thing, but I really do wish the Knicks had a true stretch option in their center room.
LINEUP TO WATCH: Walker-Rose-Fournier-Barrett-Randle
I would be surprised if we even got 75 minutes out of this group next season, but it's something I'd like to see against certain matchups. Barrett and Randle have to be in the 90th percentile or better in terms of strength at their position. Let 'em guard up a spot, spread the floor on the other end. Plenty of rim pressure, spacing and pull-up chops in this small-ball unit.
BEST CASE: No. 6 seed
I think the Knicks have a more talented roster than they did last year. I also think teams at the top of the East got better, or are already better if healthy. A minor slide in the standings wouldn't be indicative of them actually being worse, to me.
The offensive talent added should help Randle and Barrett. A better offense should force teams into more half-court situations, which should play into the Knicks' hands in an effort to grind things down.
WORST CASE: Play-In Tournament
There is some regression potential here. The shooting from Randle; the shooting from Barrett; the corner-three shooting percentage allowed. If any of those things swing the other way, the Knicks could see a slide in the standings. And that's before getting into the health concerns for Walker.
Philadelphia 76ers

WHAT TO LIKE: JOEL EMBIID
I mean, he's doing stuff like this now.
Embiid is basically scheme-proof as a scorer at this point. You must double him, or you'll be taking the ball out of the basket after a bucket or his second free throw attempt.
That he also doubles as one of the NBA's most fearsome rim-protectors makes him even more absurd. Giannis Antetokounmpo is probably the only player in the league that owns the paint, on both ends, to the degree that Embiid does.
OTHER LIKES
- Twitter isn't always a good gauge for consensus; one may argue it's typically a bad one. But I seem to be in the minority in thinking Andre Drummond should be an upgrade over Dwight Howard in the backup 5 role. This feels like Year 3,945,837 of trying to fill the non-Embiid minutes with someone competent; maybe they have something this year.
- Sign me up for Floater Gawd Tyrese Maxey getting more burn. The Sixers leaned on him some in the postseason last year; making any sort of jump as a shooter should make the path to playing time an easier one.
- (Ben Simmons teaming up with Embiid and Matisse Thybulle on the defensive end could have been the stuff dreams — or nightmares, for the opposing offense — are made of, but that's now looking less and less likely.)

WHAT TO DISLIKE: THE BEN SIMMONS SITUATION
What a freaking mess that is.
We have no clue if he's going to report to training camp (reports are indicating otherwise, to the degree of "intends to never play another game" for Philadelphia). We have no clue how long he'll be on the roster. Based on what we saw from him in the Hawks series, there's no telling what he'll net in a deal. Daryl Morey is certainly going to push for an All-Star caliber guy plus other stuff, but he'd have that stuff already if it was available.
OTHER DISLIKES
- Regardless of whether Simmons is on the roster or not, there are half-court creation concerns. You generally want a better perimeter creator than Tobias Harris as your top guy in a playoff setting, though the Bucks just won a title with Khris Middleton as that guy. Middleton is better than Harris, but not substantially so in that regard.
- Doc Rivers is going to have fun sorting out the guard rotation this year.
- If Simmons is dealt, I will be worried about the transition attack and overall passing ability of this team. As flawed as Simmons is, it's important to note that the roles he does fill won't be easy to replicate.
LINEUP TO WATCH: Curry-Green-Harris-Simmons-Embiid
In 765 minutes together, regular season and playoffs combined, this unit had a plus-14 net rating per PBP Stats. In the event that Morey plays hardball, or teams just don't offer enough, or if Simmons (and his representation) changes his (their) mind about things, the Sixers will have this group to look forward to.
BEST CASE: No. 1 seed
Maybe there exists a world in which the Simmons saga is solved, by trade or reconciliation, and Embiid is so freaking good that he drives this team to a top seed. The Sixers managed to earn that last year, and before Embiid went down with injury, were true contenders. The starting unit should be elite regardless, and the bench should be a little better between margin moves in free agency and internal improvement from their young guards.
WORST CASE: No. 6 seed
Locker room awkwardness. Injury woes for Embiid. A weird Danny Green shooting season could happen; he's shot 36.3%, 45.5%, 36.7%, and 40.5% from three in his past four seasons. That, combined with the top of the East getting stronger, could see the Sixers slide.
Toronto Raptors

WHAT TO LIKE: DEFENSIVE VERSATILITY

Losing Kyle Lowry hurts, but it's hard not to still be excited about what this defense could look like.
Fred VanVleet was snubbed for an All-Defense team last season, in my humble opinion. He's a menace at the point of attack, and a mean helper at the "nail" while operating off-ball. A healthy OG Anunoby is one of the best and versatile defenders on the planet. Pascal Siakam can fill a multitude of roles. Rookster Scottie Barnes profiles to be a darn good defender in his own right.
This could be a fun group.
OTHER LIKES
- For however long he's on the roster, Goran Dragic should help fill some of the pick-and-roll void left by Lowry. The north-south nature of his game has declined some with age, but he's countered that by becoming a better three-point shooter. He should help organize things while Malachi Flynn and, to a lesser extent, VanVleet find their ways as floor generals.
- I already wrote about it, but I'm here for Anunoby getting more on-ball reps.
- I'm not sure how the Raptors picked up Svi Mykhailiuk so late in the free agency process, but that's a solid move for them.
WHAT TO DISLIKE: HALF-COURT CREATION

Lowry obviously meant a ton to the Raptors organization; he's been dubbed as the greatest player in franchise history for a reason. But even this version of Lowry meant a ton to the on-court product.
Dragic will help fill some of the void, but you can't completely replicate the pick-and-roll chops, off-ball randomness and movement shooting Lowry brought to the table.
There will be a lot of pressure on Siakam not just to take the proverbial torch, but to bounce back from an up-and-down 2020-21 campaign. And he'll be tasked with doing that after surgery recovery.
OTHER DISLIKES
- I feel like, "Who's the best passer on the team?" is the theme of this division. With no Lowry, who is it?
- With all of these offensive questions, I'm not sure enough of them have been directed towards head coach Nick Nurse. He's a mastermind defensively, but the half-court designs have always been a bit lacking compared to other coaches in his tier. He'll certainly have his work cut out for him this year.
LINEUP TO WATCH: VanVleet-Anunoby-Barnes-Siakam-Achiuwa
Talk about a switch-everything group that would shape my League Pass habits tremendously. This would be it.
Don't ask me about the half-court offense. Just... don't even worry about it. Focus on the stops.
BEST CASE: No. 6 seed
There's a case to be made that this group being healthier — and also just, I don't know, being in their own country — could lead to a bump in wins. Even during the weirdness of last season, what would the actual result look like if they got 55 games apiece out of Lowry and Anunoby? What if they got 60 out of Siakam, or at the very least, he was healthier in the games he played in?
The defense should be enough to keep them in games against anybody; if they can piece together enough half-court buckets, they could be a plucky regular-season team.
WORST CASE: Bottom of the East

There also exists the world in which the half-court creation woes bury them. If Siakam does falter again as a top option when he returns, this could get ugly for the Raptors pretty early.